As a professional fitness instructor, I'm always looking forward to trying out the latest muscle massage gun. In this post, I share my Ekrin B37 Massage Gun review, why I decided to go with this brand, and my final recommendations.
I may earn a commission when you purchase through a link on this page.
Ekrin Athletics B37 percussion massager features ultra-quiet technology, ergonomic design, up to 56 lbs of force, 8-hour battery life, and more.
But how does it compare (Ekrin B37 vs Theragun) to the bigger brands in this space?
➥Reminder – Use this link to order directly from Erkin and use my discount code FF20 to receive an additional 20% off of your purchase price!
With literally thousands of massage guns on the market, ranging anywhere from $40 to over $500 in price, how do you decide on the best massage gun to buy?
Let's get started!
About Ekrin
$29.99 – Shop this product
Ekrin Athletics was founded in 2019 by former collegiate athletes who were looking to share their know-how and experience about fitness and staying healthy.
Ekrin Athletics is based out of Boston, MA, and is "focused on improving athletic performance through muscle recovery and injury prevention".
As a former college athlete myself and still physically active, I can appreciate the dedication the owners have to promoting healthy, active lifestyles.
➥See Massage Gun Pros and Cons
In researching their massage gun, I had a few questions about the product which were promptly answered. Customer service is a big issue for me.
Unpacking The Erkin B37
First impression
After researching the Erkin B37, I was excited to see if it was as good as advertised. When the package arrived a few days later, I was pleasantly surprised this massage gun kit was neatly contained in a carrying case.
I have received plenty of massage guns without cases, so again, Erkin started off in the right direction for me.
The Ekrin b37 was nicely packaged within a traveling case with accessories and a charging cord.
What's included
Travel case
Ekrin B37
Charging cord
(4) attachments – Fork, Bullet, Flat, Round
B37 Percussion Massager User's Manual
Design, Specs, and Features
When I grabbed the Ekrin b37 from the case, I was really impressed with the balance and feel. The gun design had heft but in a good way. It felt solid without being overweight.
One of my concerns with purchasing a massage gun is it has to be user-friendly for my entire family. So ergonomics, weight, and control are very important to me.
✔ Ergonomics, Weight, and Balance
Based on price point, this model falls in the prosumer range. With that in mind, I was curious about the Ekrin B37 vs Theragun comparisons. Before I discuss the comparison data, here are the Erkin B37 specs.
| | |
| --- | --- |
| | EKRIN B37 |
| Weight | 2.2 lbs |
| Stall Force | 56 lbs |
| Amplitude | 12mm |
| Noise | 35 – 55 dB |
| Battery life | 8 hrs |
| Speed range | 1400 – 3200 ppm |
| # of speeds | 5 |
| # of attachments | 4 |
| Price | Amazon | Order Direct from Ekrin (use code FF20 and save 20%) |
In reviewing the specifications, I was impressed with how well this product compared to higher-priced models. In particular, these numbers really stood out for me:
Battery life
Noise level
Stall force
In regards to features, the Erkin B37 comes with (4) attachments – Fork, Bullet, Flat, and Round. Unless you are a physical therapist, these are the best massage attachments you will use for the majority of your massage treatments.
After giving it time to charge, I was ready to give it a field test.
It takes 4 hours to fully charge the Lithium-ion 2550mAh battery for the Erkin B37. The charge cord plugs into the base of the handle.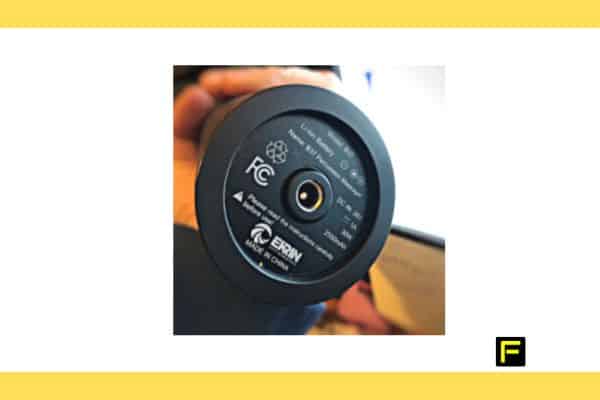 Once you have charged your device, the power on/off switch and speed gauge is located on the top of the handle.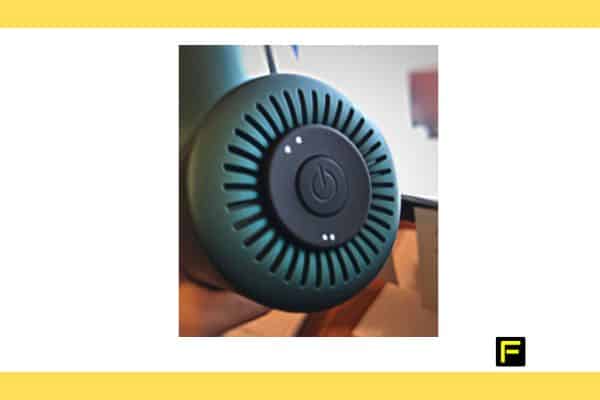 If you look at the photo above, the speed control lights (1-5) are across the top and it is currently running on speed 2.
Also in the photo above, the battery charge indicator lights are on the button. There are (4) different indicators that can be displayed.
4 lights – 100% full power
3 lights – 65% – 80% of power
2 lights – 40% – 60% of power
1 light – less power, please charge asap
✖ The battery can be charged at any time and at any battery level. But the machine cannot be turned on when charging.
➥Read also… Best massage gun for plantar fasciitis
Operating instructions
Press and hold the ON/OFF switch for more than 3 seconds to turn the device to the level 1 speed. Each press of the button will increase one level until reaching the level 5 speed. Press the button at level 5 to enter the standby mode (level 0), level 5 to level 0. Press again to turn the device to level 1, and so on.
Under any speed level, press and hold to close the device.
In the standby state, press and hold to directly shut down the device. This device will automatically shut down after 15 seconds of non-use.
The device will stop running after 10 minutes of continuous use for intelligent protection. Restart if you use it again after the device shuts down.
➥Read also… Best massage gun for sciatica
Maintenance, Cleaning, Storage, and Transportation
Use a slightly damp towel to clean the device and dry it with a soft cloth.
For storage or traveling, put the device in the supplied portable case.
Store the device in a dry, well-ventilated place with no corrosive gas.
If the device is not used for a long time, it should be cleaned, packaged, and stored. The device should be charged every six months.
The device is suitable for automobile, train, ship, and airplane transportation.
The device should be well secured when it is in transit to prevent violent vibration, collision, tumbling, and falling. It should be put upward and down gently and avoid exposure to rain
➥Read also… Best massage gun for tight calves
Performance
If your only exposure to muscle massage is via the use of a hand massager, be sure to proceed with caution.
✔ The Erkin B37 packs quite a punch!
Take some time to acclimate yourself to the speed, amplitude, and impact this device provides at the lowest level, before stepping up to the next level.
I have used several massage guns in the past, but I was very impressed with this device. For this review, I cycled thru to level 3 after a recent workout and that was more than enough for me.
For my test, I used the flat and round head attachments and they provided excellent muscle massaging.
I personally can't imagine using power levels 4 or 5, but it is nice to know that power is there if needed.
Several other of my family members were anxious to try the massager. Again, their reactions were the same. Great massager, with incredible power.
Besides the power, let me talk about the noise specs for this device. I was more than impressed with the low noise level. Even when tested at the highest level, I was pleasantly shocked by the overall noise performance.
As provided by Erkin, the motor on the B37 Percussion Massager is brushless. Also, here are the decibel ratings at each speed:
Speed 1 – 48.5db
Speed 2 – 49.7db
Speed 3 – 50.7db
Speed 4 – 52.2db
Speed 5 – 54.7db
To give more context to these and other specs, I compared them against top massage guns on the market.
Erkin B37 vs Theragun – By The Numbers
| | | | | |
| --- | --- | --- | --- | --- |
| | EKRIN B37 | Theragun Pro | Theragun Elite | Theragun Prime |
| Weight | 2.2 lbs | 2.9 lbs | 2.2 lbs | 2.2 lbs |
| Stall Force | 56 lbs | 60 lbs | 40 lbs | 30 lbs |
| Amplitude | 12mm | 16mm | 16 mm | 16 mm |
| Noise | 35 – 55 dB | 64-71 dB | ~65-68 dB | 65-69 dB |
| Battery life | 8 hrs | 150 min. | 120 min | 120 min |
| Speed range | 1400 – 3200 PPM | 1750-2400 PPM | 1750-2400 PPM | 1750-2400 PPM |
| # of speeds | 5 | 5 | 5 | 5 |
| # of attachments | 4 | 6 | 5 | 4 |
| Price | Check Price | Check Price | Check Price | Check Price |
Erkin B37 vs Theragun
I will let you come to your own conclusions with these comparisons. But the numbers speak for themselves. Prices are another big factor to consider when trying to purchase your deep tissue massager.
My thoughts
Pros
Love the fit and feel of this device. The rubberized handle offers a superior grip over the average massage gun
The travel case is a nice feature not typically seen in this category of massagers
Comes with (4) of the most common massage heads you will need
The specifications of this device compare and in some cases exceed those of top-rated massage guns in the field
One of the best massage guns for any price
Lifetime warranty
Erkin Athletics is a Boston, MA company with excellent customer
Cons
Lack of swappable batteries. This is not an issue for 99% of users, since the 8-hour battery life is quite adequate.
Summary
Overall, the Erkin B37 provides excellent value when reviewing the specs, features, and cost, as compared to other massage guns in this space. Whether you experience muscle soreness, tightness, and pain from day-to-day life, or you're a serious athlete seeking pre-workout and post-workout recovery, the Erkin B37 is an excellent choice for each use case.
This device comes complete with a carrying case, massage gun, attachment, and charger. Everything you need to get instant pain relief and muscle recovery at a great price!
➥Reminder – Use this link to order directly from Erkin and use my discount code FF20 to receive an additional 20% off of your purchase price!
---
FAQs
Disclaimer – The sample of this product was provided by ErkinAthletics to me to a conduct field test.
---
If you enjoyed, "Ekrin B37 Massage Gun Review", be sure to check out my other related posts below!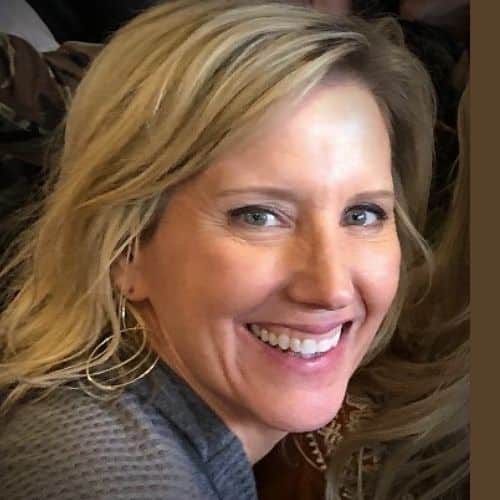 Claudia Faucher is a full-time fitness training expert and lifestyle blogger. She is also been a certified Les Mills BodyPump instructor for the past 5 years and a fitness instructor for over 20 years. Claudia is a personal trainer and creates fitness training programs for seniors and people of all ages. She likes to use her skills and experiences to help others on their fitness journeys.
Last update on 2023-08-31 / Affiliate links / Images from Amazon Product Advertising API