I may earn a commission when you purchase through a link on this page.
One of the best massage guns for the money!
When it comes to muscle soreness, nothing provides immediate relief like a quality muscle massage gun. Percussion therapy has also been shown to increase blood flow, reduce tension in muscles, and much more. In this post, I will share my thoughts on one of the newest entries in the home tissue massager gun market, the LAIRLUX Massage Gun model EM03.
About Lairlux
Lairlux is a wellness brand, based in Whittier, California, with a focus on creating "versatile, effective, and affordable massage solutions."
The target audience for their products ranges from casual athletes (Weekend warriors) to more serious competitors.
Disclosure – Lairlux provided this product to FitFab50 for review.
Unpacking
When unpacking the box I was pleasantly surprised to see a travel carrying case. Nice first impression!
When opening the carrying case, you are presented with the Lairlux EM03, AC charging cord, accessories – (6) interchangeable massage heads, and an owner's manual.
I haven't even turned this massage gun and I'm getting excited!
Getting started
To give this product a fair review, I wanted to be sure it had a good charge. I was glad to see this had a traditional AC charger. USB is fine and possibly more versatile, but I still prefer the AC version.
Out of the box, the Lairlux EM03 came with a charge, but it takes only 1.5 – 2 hours for a full charge.
Technical Parameters
| | |
| --- | --- |
| MODEL | EM03 |
| Power | 20 w |
| Motor Turn Speed | 1200-3200 RPM |
| Noise Level | 35-55 dB |
| Speed | 1-20 Speed Setting |
| Amplitude Length | 12mm |
| Rated Voltage | 24v DC |
| Adapter Input Voltage | 100 V – 240 V |
| Battery | Non-removable |
| Running Time | 2 – 6 hr (Depending on speed level) |
| Charging Time | 1.5 – 2 hr |
| Massage Head | 6 Interchangeable heads – accessories |
| Attachment Size | 18mm |
| Main Material | ABS & Silicone |
| G.W. / N.W. | 1900G / 1040G |
| Product Size | 7.08″ x 2.95″ x 9.17″ |
| Weight | 3.7 lbs |
| Certification | EMC LVD FCC REACH FDA UL GS CE PSE |
Fit and Feel – Handling Comfort
After getting a full charge, I was ready for my field test.
The first thing you notice is the nice styling. The gun features an attractive snakeskin design covering it.
The design also features a long handle, which I can see as a benefit for those hard-to-reach places on the back. However, this also benefits those with larger hands.
Control Panel
The control panel has a bright blue display that features the speed and battery life remaining.
The large number display is perfect for those of us that tend to need reading glasses more than we'd like to admit.
➥See Can a massage gun break up fat?
Attachments for Muscles Relief
There are six attachment heads provided. These are the most popular attachments most people will ever need.
For massage and relaxation of the waist, abdomen, buttocks, and legs
For chest and large areas of the body
For tissue massage relieve for shoulder, cervical spine, and bilateral muscles
For meridians, soles, palms, Achilles tendons, back rhomboid muscles
For the small muscles of the shoulder, neck, and leg
Used mostly for tender or bony areas. Perfect for overall use
If you want other massage gun attachments, this gun uses an 18 mm attachment size.
Operation
Selecting an attachment
The first thing you will want to do is select an attachment head. They attach by simply pushing them on and pulling them off.
The attachments fit tight and secure and stay in place during operation.
20 speed operation from 1200 RPM to 3200 RPM
The most popular attachment is the Big Ball Head. It provides a good all-around surface area for a wide variety of uses.
For more experienced massage gun users, the U-shaped head or forkhead attachment is good for larger muscle groups like the buttock or glutes, hamstrings, and quads.
Besides providing more coverage and a two-head massage, the fork gives you a more focused or directional massage. It's like using the bullet head times 2.
Power on
When you set the battery switch on the base of the handle to the "On" position, the battery indication and the screen light up.
Click the (+) button at the bottom of the screen and the massage gun will start running.
The number on the right of the display is the battery power indicator and the speed is on the left.
As I cycle through the speed range, I can't help but be impressed with how quiet and smooth this muscle massager is!!
Per the owner's manual…
Speed 01 is 1200 RPM
Speed increases by 100 RPM with each bump up in speed number
Speed 20 is 3200 RPM, the highest speed attainable
Field Test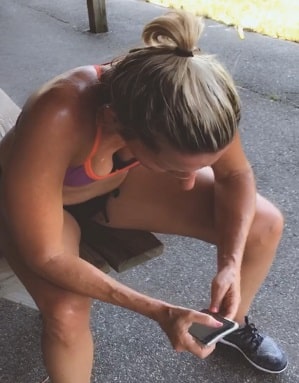 My go-to attachment is the fork or u-shaped attachment.
I started my massage on the quads since this is typically the muscle group that tends to get sore later in the day.
Beginning with a speed setting of 5, I slowly increased the speed to 10. At this speed, I continued my recovery session for a couple of minutes on each leg.
After I had completed the quads, I started on my hamstrings. This time I started at "10", and slowly increased to "20" just to see what it felt like.
At the "20" speed setting, it was not painful but it was more than I needed. The "10" speed was just right for me.
After completing my leg massage, I attached the big ball head to work the front and back of my shoulders. I typically don't have much pain after a workout, but a massage is always quite soothing.
The length of the handle comes in handy for those hard-to-reach places like the lower back and upper shoulder.
I also passed the massager around to friends after class, and they all enjoyed using it. While packing it away, I noted that the power was on "80". At this rate, I will probably only need to charge it once a week.
What is the difference between the Lairlux EM03 Massage Gun and competitors?
The deep tissue massage gun market is a crowded field. Prices range from $30 to over $500. The higher-priced models tend to offer superior customer service, better construction, more functions and capabilities, and top-notch performance required by physical therapists or serious athletes.
The Lairlux fits nicely in the middle of the field. This massage relieves muscle product features excellent performance, fit and feel, and design elements found in other models being sold for much more. I also found their customer service to be very responsive to the questions I had about this product.
Why is the Lairlux Percussion Massage Gun worth it?
Pros
Great design and styling
Comes with (6) attachments and a carrying case
Long battery life
Short recharging time
20 Speeds
Quiet operation
Comfortable in hand
Longer handle for added reach
Price
Cons
Weight – This model is slightly heavier than some other "lightweight" massage guns I have tested
Final thoughts
Whether you are in the market to try your first portable massage gun or searching for a new replacement for your current one, the Lairlux deserves serious consideration.
The Lairlux is an excellent deep tissue product to relieve muscle tension during pre-workout sessions and post-workout recovery.
This massage gun kit comes with all the equipment and accessories most users will ever require. No need to buy additional attachments as this comes with the (6) most popular heads.
When considering the performance, product, and price, this is a very good deal. You should check the price as there are often in-store codes and coupons, from time to time.
My final thoughts – The Lairlux is one of the best values in the massage gun market today. For the price of a good pair of running shoes, you can own this effective recovery tool that is portable, easy to use, and just a great all-around value!
If you enjoyed the Lairlux EM03 Gun review, be sure to see my other related posts below.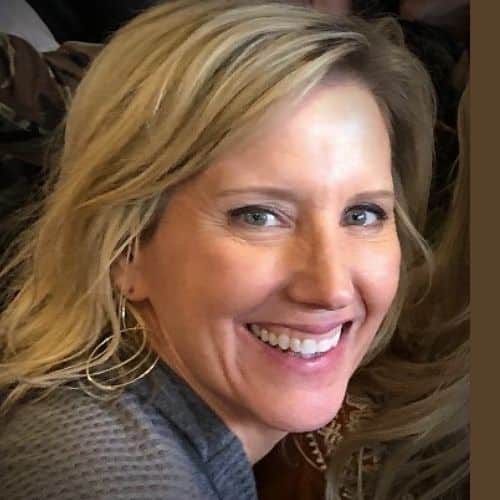 Claudia Faucher is a full-time fitness training expert and lifestyle blogger. She is also been a certified Les Mills BodyPump instructor for the past 5 years and a fitness instructor for over 20 years. Claudia is a personal trainer and creates fitness training programs for seniors and people of all ages. She likes to use her skills and experiences to help others on their fitness journeys.
Last update on 2023-11-28 / Affiliate links / Images from Amazon Product Advertising API