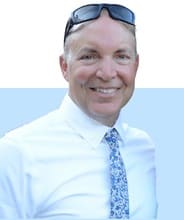 My name is Rick Huey. I am absolutely thrilled to have joined the team here at FitFab50.com. Claudia Faucher and the team have been super supportive since I arrived, and I look forward to contributing to their mission.
A little about me: I'm an avid runner, with over 30 years of experience. I still work out regularly at the gym—but I have changed my focus in recent years from performance only, to more of a lifestyle balance fitness regime.
I've been interested in fitness since I was a kid. Fitness and outdoor activities were always a big part of my family's life. Now that I'm a parent and grandparent, it's even more important for me to stay active for my own health, but to continue to be a role model for my children as they grow older.
Running is the best workout I have found for my physical and mental well-being.
While I do like weight training, nothing beats the feeling of completing a good run. When I have something on my mind, hitting the pavement always provides clarity and new insights into the issue.
One of my biggest thrills as an athlete and personal accomplishments was completing my first marathon. It was the Marine Corps Marathon, which is held annually in Arlington, VA. It's just outside of Washington, DC.
Believe it or not, Oprah Winfrey was my marathon inspiration!
I had no expectations, other than to finish and scratch it off my proverbial bucket list. Mission accomplished.
A couple of years later, I was inspired to run another one. This time my focus was to qualify for the Boston Marathon.
I chose the Shamrock Marathon in Virginia Beach, VA, since the race had great reviews and a beautiful setting. The goal was 3 hours and 10 minutes or less. I'm proud to say I did qualify for the Boston Marathon, with a few minutes to spare.
While I haven't run long distances in several years, I believe there is another marathon in me.
The beauty of fitness is how much variety you can add to your daily routines.
---
My writing started out with updating an online running tracker. Over time, my work has covered many more topics than just recording run times and what I ate before working out. Today, I have been blessed to work with several online magazines, and I look forward to sharing my insights on fitness and fitness-related products with you.
Feel free to contact me at hello@rickhuey.com or rhuey@fitfab50.com