Is a massage gun good for you – if you suffer from sciatica, muscle soreness, back pain, or tightness of the calves? In this post, you'll find massage gun pros and cons and if one is actually right for you!
As an Amazon Associate, I may receive a small commission (at no cost to you) on qualifying purchases which allow me to keep creating amazing free content for you. Support FitFab50 by using the links in my articles to shop. Thank you!
What is a Massage gun?
A massage gun, also known as a percussion massager, is a handheld tool that loosens muscles by delivering quick small bursts of pressure in concentrated pulses. These instruments are designed to be used if you experience muscle soreness or tightness.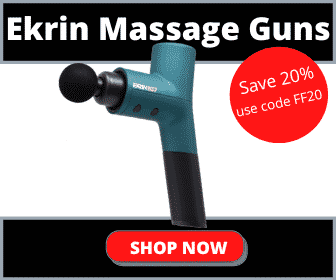 Who can Benefit from Massage Guns?
People who exercise frequently, especially those with DOMS (Delayed Onset Muscle Soreness), may benefit from using a massage gun often. Vibration therapy may help people release tension and fluid deep in the muscles to improve tissue metabolism, relieving stress and relaxing the body.
Percussion therapy through the use of a message gun allows more oxygen and nutrients to reach the muscles by increasing blood and lymphatic circulation.
Massage guns vs. traditional massage
The majority of traditional massage isn't powerful enough to massage deeply. Massage guns, also known as percussive massagers, contain stronger motors that penetrate deeper into muscle tissue, reducing pain and tension, and even improving range of motion.
Massage Gun Pros and Cons
Pros
Improves relaxation
Improves blood circulation
Provides powerful percussion massage [1]Eriksson Crommert M., Lacourpaille L., Heales L. J., Tucker K., Hug F. (2015). Massage induces an immediate, albeit short-term, reduction in muscle stiffness. Scandinavian Journal of Medicine and …

Continue reading

Portable
Only requires a few minutes per day to yield benefits
An effective way to get muscle recovery treatment
Affordable
Breaks up scar tissue
Provides effective treatment for DOMS or Delayed Onset Muscle Soreness
Provides instant relief for muscle tightness and soreness [2]Germann D., El Bouse A., Shnier J., Abdelkader N., Kazemi M. (2018) Effects of local vibration therapy on various performance parameters: A narrative literature review. Journal of the Canadian …

Continue reading

Great for pre-workout and post-workout recovery
A recommended treatment in a warm-up regimen to optimize the flexibility level of an athlete, without losing muscle performance. [3]Andreas Konrad,Christoph Glashüttner,Marina Maren Reiner,Daniel Bernsteiner,Markus Tilp (2022). The Acute Effects of a Percussive Massage Treatment with a Hypervolt Device on Plantar Flexor …

Continue reading
Cons
Overuse can lead to stretched collagen and elastin fiber
May cause further injuries if not used properly
Some massage guns are heavy to use for an extended period of time
Can lead to muscle tissue damage is done in excess
Are massage guns good for you?
Yes. Percussion therapy or massage gun therapy can be quite beneficial in the treatment of muscle tightness or soreness, warming up muscles during pre-workout, or as post-workout recovery. It can provide improved blood circulation and overall relaxation.
However, caution should be taken to fully understand the proper techniques for using a massage gun to prevent causing damage or additional injury.
Can massage guns be harmful?
Yes. Injury can occur when using a massage gun if the user is not informed or trained on how to use it in the treatment of muscle soreness or injury. It is worth spending some time before using a massage gun for the first time to ensure proper use.
➥Read also… Can you use massage gun on stomach?
Are massage guns worth the money?
Yes. In consideration of the type of performance improvement and muscle soreness management a quality massage gun can provide, the benefits clearly outweigh the drawbacks. While there is a short learning curve to understand the best attachment and speed to use for your particular issues, the outcome is amazing pain relief and recovery.
If you enjoyed, "17 Massage Gun Pros and Cons", be sure to check out my other related posts below!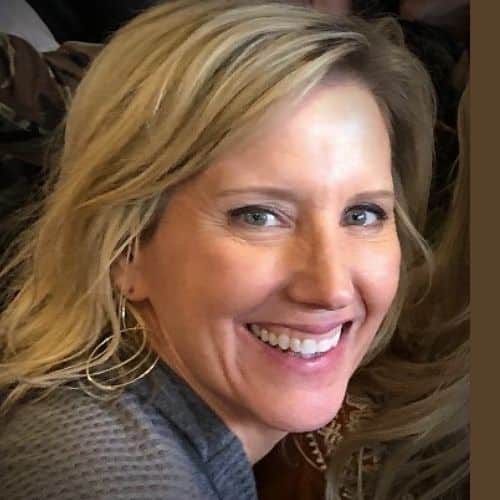 Claudia Faucher is a full-time fitness training expert and lifestyle blogger. She is also been a certified Les Mills BodyPump instructor for the past 5 years and a fitness instructor for over 20 years. Claudia is a personal trainer and creates fitness training programs for seniors and people of all ages. She likes to use her skills and experiences to help others on their fitness journeys.
Last update on 2022-08-30 / Affiliate links / Images from Amazon Product Advertising API
References

↑

1
Eriksson Crommert M., Lacourpaille L., Heales L. J., Tucker K., Hug F. (2015). Massage induces an immediate, albeit short-term, reduction in muscle stiffness. Scandinavian Journal of Medicine and Science in Sports 25(5), e490–e496. Article retrieved on 09 May 2022 from

https://www.ncbi.nlm.nih.gov/pubmed/25487283/

↑

2
Germann D., El Bouse A., Shnier J., Abdelkader N., Kazemi M. (2018) Effects of local vibration therapy on various performance parameters: A narrative literature review. Journal of the Canadian Chiropractic Association 62(3), 170–181. Article retrieved on 09 May 2022 from

https://www.ncbi.nlm.nih.gov/pubmed/30662072/

↑

3
Andreas Konrad,Christoph Glashüttner,Marina Maren Reiner,Daniel Bernsteiner,Markus Tilp (2022). The Acute Effects of a Percussive Massage Treatment with a Hypervolt Device on Plantar Flexor Muscles' Range of Motion and Performance. J Sports Sci Med. 2020 Dec; 19(4): 690–694. Article retrieved on 09 May 2022 from

https://www.ncbi.nlm.nih.gov/pmc/articles/PMC7675623/