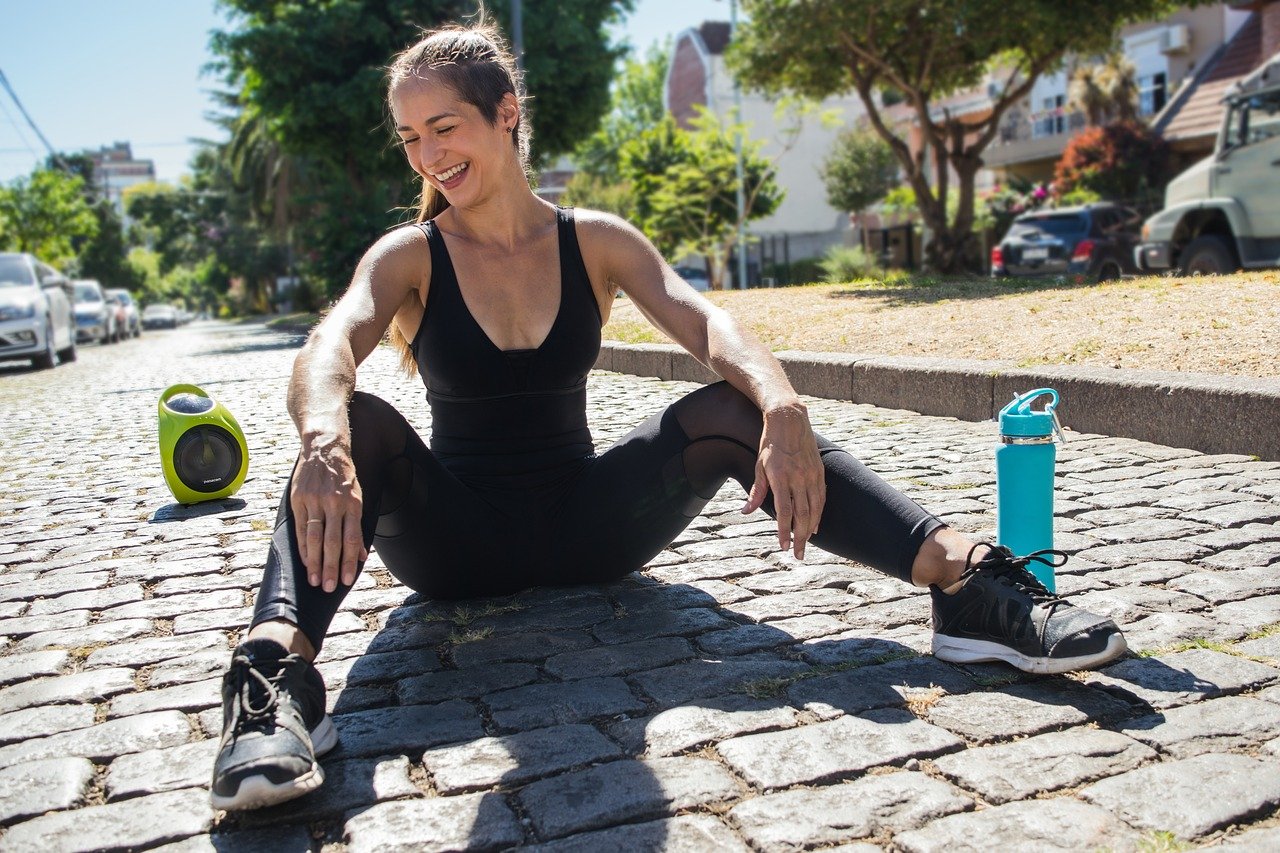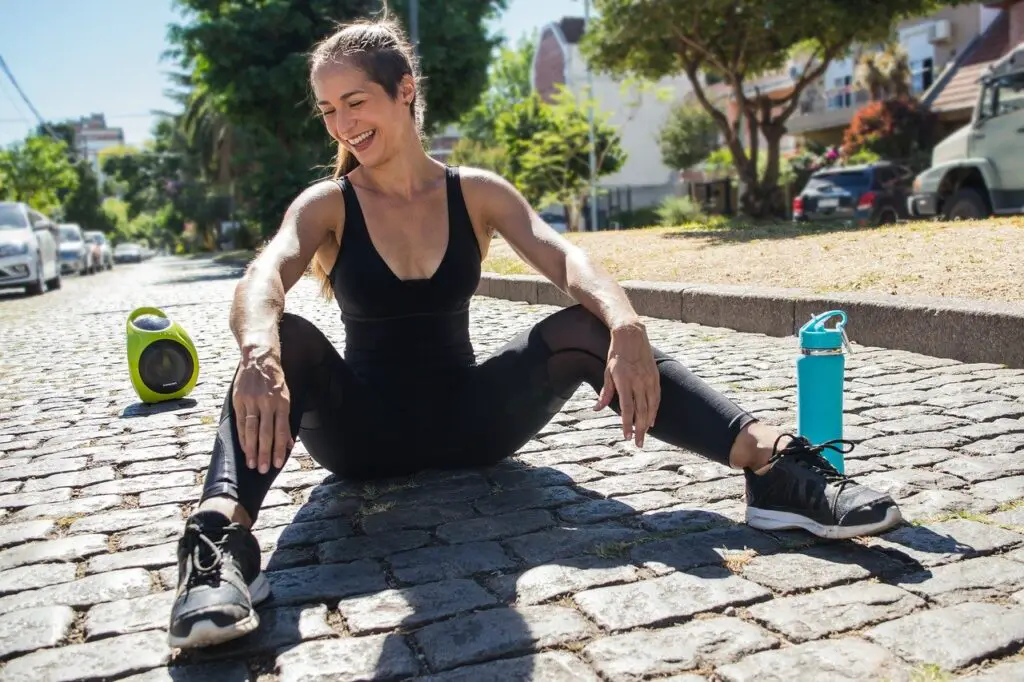 Our Top Picks – Best Yoga Pants for Women
Last updated 01/08/2022
Yoga pants have quickly become the most popular women's bottom clothing for their ability to stretch well and perfectly fit the shape of the body, especially the butt. Today, yoga pants are considered fashionable, athleisure wear, and no longer confined to the gym.
Lululemon has established itself as a leader in this category, while Gymshark is a new brand that is quickly growing its following.
Listed below we have compiled the 15 best yoga pants for women for 2021. Hope you enjoy it!
As an Amazon Associate, I earn from qualifying purchases.
Best Overall – Lululemon Athletica Align Full Length Yoga Pants
"Super soft and stretchy high-waisted yoga pants are designed to keep you cool and comfortable all day long…"
Best Budget Yoga Pants – 3pk Women's Leggings-No See-Through High Waisted Tummy Control Yoga Pant
"Extremely comfortable and extremely well made, softest leggings I've ever owned"
Best Style Design – Lululemon Align II Stretchy Yoga Pants – High-Waisted Design
"So comfy and lightweight. Thin but not see-through or so thin"
Best Compression Yoga Pants – Dragon Fit High Waist Yoga Leggings with Tummy Control
"Very comfortable and breathable material. Good quality."
Best Yoga Leggings – Ewedoos Women's Yoga Pants
"These pants are super comfy! Like, wow! "
Best Boot Cut Yoga Pants – Safort Bootcut Yoga Pants
"They fit wonderfully well! Not too tight or binding."
Best Yoga Pants with Pockets – Colorfulkoala Women's High Waisted Yoga Pants
"The stretch in these leggings is nothing like I've ever seen."
Best Crops – CRZ YOGA Women's High Waist Crop Leggings Workout Pants
"Absolutely captured the "naked feeling". They feel like silk against the body."
Best Maternity Yoga Pants – Foucome Women's Maternity Leggings Over The Belly Pregnancy Workout Tights
"Leggings are so incredibly soft and comfortable…NOT see-through AT ALL! "
Best Flare Yoga Pants – Yogipace Women's Cropped Kick Flare Yoga Pants
"The material is quality as well as the workmanship."
Best Yoga Capris – IUGA High Waisted Yoga Pants for Women
"Very pleased with this purchase and would definitely buy again!"
Best Anti Cellulite Leggings – AIMILIA Anti Cellulite Sexy Leggings for Women
"My butt and legs look amazing and now I want them in every color! "
Best Push Up Leggings – ILNME Anti-Cellulite Butt Lift Leggings Booty Yoga Pants
"Fit like a glove! Makes my butt look AMAZING"
Best Plus Size Push Up Leggings – Yoga Pants for Women Plus Size High Waisted Tummy Control
"Super comfy and great fit! Love all the colors available for these amazing pants!"
Best Yoga Pants Tummy Control – SEASUM Women's High Waist Yoga Pants Tummy Control Slimming Booty Leggings
"These are the best leggings I've ever bought! "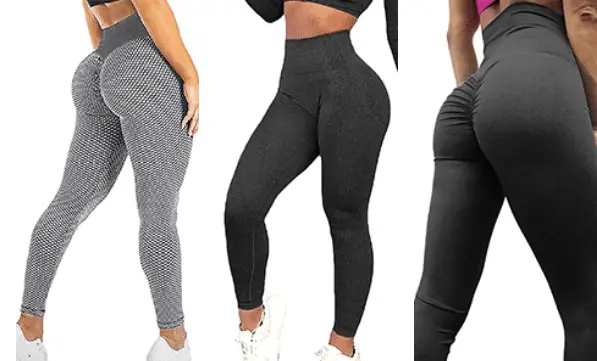 What is the difference between yoga pants and leggings?
Yoga pants for women are traditionally a thicker, looser fit than other yoga bottoms and can function as workout pants for a variety of both indoor and outdoor activities.
When yoga pants first became popular, one of the most popular yoga pants styles was the flare yoga pants which could be worn for working out, but also for the casual day in, and leisurewear in general.
Yoga pants are a more style-forward, and trendy version of sweat pants. They are commonly used as loungewear and workout apparel.
Yoga leggings are tighter and thinner than other types of workout pants and bottoms. They are most often worn under longer shirts or dresses, like sports bras.
The beauty of yoga leggings is that they are thick enough to wear without a long-length yoga top, but breathable enough to wick away sweat and keep you cool while you practice yoga, pilates, or any other fitness activity.
What is the best material for yoga pants?
Synthetic performance fibers like nylon and polyester are better than cotton for workout pants because they're often moisture-wicking, more durable, and have better stretch. Pick a smooth, shiny fabric to reduce chafing in high-impact activities like running.
Best Yoga Pants for Women in 2021
DESIGNED FOR MODERN MOVEMENT: Soft and stretchy yoga pants are designed to keep you comfortable while working out; A stylish and versatile activewear option for lounging at home, hitting the gym or running errands around town
LIGHTWEIGHT, BREATHABLE FABRIC: Our revolutionary Nulu fabric is ultra-soft, has a touch of Lycra for stretch, and is designed to feel like a second skin; Feel the barely-there sensation while sweat and moisture are wicked away to keep you dry and cool from downward dog to sun salutation
SLEEK, HIGH-WAISTED STYLE: Yoga pants feature a figure-flattering high-rise design that uses zoned compression to keep you supported in all the right places and smooths your hips and tummy for ultimate comfort during high-intensity workouts
BLACK LEGGINGS PREMIER DURABILITY : 3 pack basic black leggings can be used for a week's daily swap. The squat proof interlink fabric was developed to endure everyday wear and machine washings to last for years.
SOFT FABRIC: You will love these leggings once you put them on and experience a perfect combination of softness and stretchiness. They are made from 92% polyester and 8% Spandex.
HIGH WAIST TUMMY CONTROL: High waisted leggings are an unbelievable tummy tamer. The soft fabric offers contouring and gentle compression that hugs your abdomen and smooths all over.
The material is fabulous that it is soft and almost silky, which is also perfect for Fitness Enthusiasts and Everyday Athleisure Activities.
Super soft and lightweight!
It can also be used for Day-To-Day Wear for shopping, eating in a casual restaurant or coffee shop.
Non-see-through, super quick-drying, interlock fabric, breathable, and stretchy fabric perfect for exercise and daily wear.
High Waist Tummy Control Power Flex Leggings
Sport pants with pockets perfect for yoga, running, dancing, exercise, fitness, any type of workout, or everyday use!
These Women Workout Pants are a combination of Fashion, Function and Performance altogether.
Designed with High-Waist and elastic tummy control waistband to provide you with a smooth secure flattering fit and show off your figure to perfection!
The material is fabulous that it is soft and silky.
NON-SEE-THROUGH, totally safe to be used as pants for work and great athletic pants for training, and gym.
Moisture-wicking, breathable, soft and durable.
Perfect for yoga, exercise or any activity like going to work or lunch.
75% Polyester, 25% Spandex
Crafted from a brushed, buttery soft and stretch fabric for delivering you the naked sensation and the unrestricted movement
Side pockets allow you to store your personal items when you're on the go
High rise seamless waistband with tummy control shapewear slimming effect
Workout pants that stay up and put, buttery soft still offer compression
Perfect for yoga, running, fitness, gym, all types of workouts or everyday use
Full Belly Coverage provide more space for growing bump
Buttery-soft, seamlessly stretched microfiber fabric allow for freedom of movement and moisture-wicking fabrics keep you feeling cool
90%Polyester/10%Spandex.
87% Nylon/ 13% Spandex. No see-through, moisture-wicking, four-way stretch fabric and wide and comfortable waistband for superior comfort
Wide and non-pinching waistband. Drawstring on waistband for an adjustable fit.
Best yoga pants for yoga, running, lounging around the house, and other activities
IUGA is a lifestyle brand that combines style, comfort, and performance.
All the seams and the waistband are flat so you won't get that uncomfortable bunching or digging into your skin.
High rise tummy control leggings with pockets for women provide gentle compression, giving you a toned and trim appearance.
These Butt Lifting Pants for women are made from the highest quality fabrics – 92% Polyamide, 8% Spandex
Whether it's outdoor sports, dancing, running, fitness, horse riding, playing, boxing, work, traveling, or everyday leisure activities.
Custom design and comfortable feel are a second skin without the worry of possible irritation or chaffing on the insides of your thighs.
Workout scrunched booty lifting leggings for women are crafted with Non-cellulite material, offering compression to flatter all body shapes and sizes
Best yoga pants for eyecatching fashion!
Designed with enough compression to shape and lift while allowing your body to comfortably move without feeling restricted.
High waisted leggings for women, lifting yoga pants, anti-cellulite leggings, textured activewear, gym shapewear tights.
These workout leggings are a popular women's style for their excellent fit and soft comfort.
Women yoga pants are made from a Non-See through 4-way stretchy fabric, designed to remove moisture from your body and provide maximum comfort.
Shift from casual to dressy in minutes. Highlight your favorite accessories and heels, can be used throughout the year.
Super stretchy and very comfortable and soft like you wouldn't believe!
Brazilian Booty Enhance-Sexy butt lift push up high waisted leggings for women, lifting yoga pants, anti-cellulite leggings,
How to choose yoga pants
Yoga pants are an excellent option of clothing for taking a yoga class, exercising outside, or simply relaxing around the home. It might be difficult to choose the proper styles, cuts, and patterns when there are so many to choose from! Fortunately, there are a few techniques to narrow down your search and choose the best pair for your needs.
Capris or Full Length
Capri pants end at the calf muscle, whereas full-length pants end at the ankle. Capri pants may be best if you tend to get heated easily; if you use your yoga pants during the cooler months, go for full length instead.
Your height may also influence the length you pick. Full-length yoga pants may puddle around your ankles if you're tiny. If you're very tall, Capri yoga pants may extend too high up your leg.
Fitted or Relaxed Style
If you like leggings, go for fitted, and if you prefer pants, go for loose. Fitted trousers, which are skin-tight, are definitely ideal for you if you plan to undertake a lot of exercise in your yoga clothing.
If you want to wear your yoga pants out and about, opt for more casual styles.
As fads come and go, you may find it more difficult to get a certain sort of style. Relaxed yoga pants were fashionable a few years ago, but the fitted form is currently more popular.
High-waisted or Mid-rise
Choose high-waisted pants if you want pants with structure. If you're searching for extra comfort, go for a mid-rise instead.
Mid-rise pants have a propensity to tumble down, making them unsuitable for vigorous activity. Yoga pants with a drawstring waist may also be available. However, these aren't ideal for yoga since the knot might bulk up and cause pain.
Cotton or Synthetic Fabric
If breathability is your primary priority, use synthetic textiles. Cotton yoga pants are a better option if you don't want to deal with pilling (the little fibrous pills that form after washing).
Keep in mind, though, that cotton yoga pants are often warmer, so they may not be suitable for hot yoga.
All textiles will wear with friction over time. Pills (tiny knots of loose threads) arise in both cotton and synthetic textiles. However, pilling is more noticeable in synthetic textiles because minuscule plastic strands may attach pills more effectively than cotton fibers.
Bamboo is a new type of cloth that is being introduced by several businesses. These yoga trousers are soft and pleasant, but they pill more quickly than cotton or synthetic pants.
Thick or Thin
If you intend to perform a lot of exercise in your yoga pants, choose thin ones. Thinner materials breathe better and assist to wick moisture away. If you want to wear your yoga pants outside, choose a thicker material for added coverage.
Select The Stretch You Need
For maximum comfort, opt for flexible yoga pants. Choose less flexible yoga pants if you like them to keep form fitting and provide some structure. Cotton yoga pants are often more stretchy, whereas synthetic blends may be a touch tighter.
Solid Color or Print
Lighter hues tend to reveal more perspiration than darker colors. If you're concerned about sweat marks, choose a pair of yoga pants in a dark blue or black color. Alternatively, use a colorful fabric or pattern to hide any perspiration that may appear.
Because it is so easy to pair with shirts and shoes, black is the classic color for yoga pants. However, you may always spice things up by wearing a bright color or a complex design.
Look for squat proof yoga pants
The secret to creating squat-proof yoga pants—that is, a pant that does not become too thin and see-through when we bend down and reveal your workout underwear, if you wear them —is to start with the correct fabric. Too much cotton causes the leggings to sag, whereas 100% nylon stretches well but can be so thin that it reveals the impression of even no-show panties.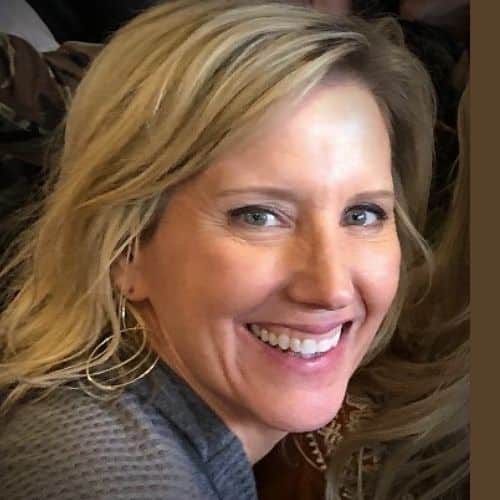 Claudia Faucher is a full-time fitness and lifestyle blogger. She is also been a certified Les Mills BodyPump instructor for the past 5 years and a fitness instructor for over 20 years. She likes to use her skills and experiences to help others on their fitness journeys.