This is my Cupshe bathing suits review for 2022. I have been a Cupshe customer since 2018, purchasing a variety of styles, from bikinis, tankinis, cover-ups, and more.
If you came here to learn is Cupshe legitimate, to review the Cupshe return policy, as well to shop the latest Cuphe swimwear trends for 2022, you'll want to read this post.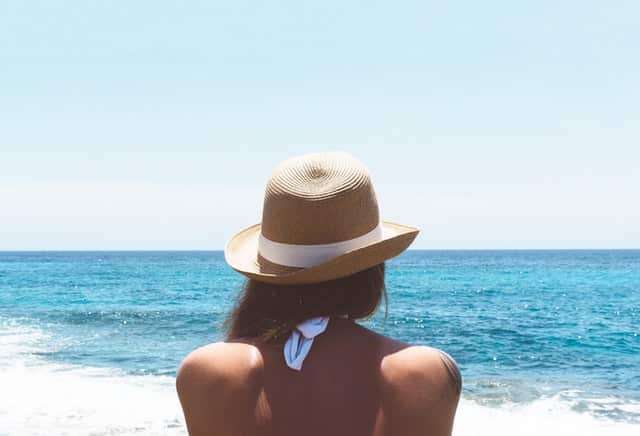 This post contains affiliate links. I may receive a commission for a qualifying purchase, at no additional cost to you. See my affiliate disclosure for more information. I hope you enjoy this post and thank you for your support!
In this Cupshe review, I discuss the quality of their swimsuits, their customer service, the fitting of their items, the returns process, and my general impression of them.
What is Cupshe swimwear?
Founded in 2015, Cupshe is a beachwear line inspired by and designed for the world's most colorful, joyful, and bold women.
Cupshe is focused on empowering women all over the world to look and feel their best in high-quality, fashionable, and affordable swimwear.
Amazon Cupshe
Cupshe sells direct to consumer from their own website and also have a large presence on Amazon.
Is Cupshe a good brand?
Yes. One of the best indicators of brand quality is customer feedback. Cupshe Amazon is consistently one of the top-selling swimwear brands, collecting hundreds of thousands of positive comments.
I personally prefer to order from their website, Cupshe.com. You will find the selection to be much better, and more sale items as well. [I've added Cupshe discount codes at the bottom of the page]
Overall, 70% of Cupshe's sales come from its own site and 30% come from Amazon. (source – ModernRetail.co)
I do order Cupshe swimsuits from Amazon when I have other items to purchase besides beachwear.
Is Cupshe legitimate?
Yes! Cupshe is a legitimate clothing company with annual sales now exceeding $250 million.
Cupshe, which was founded in 2015, has its design center in Los Angeles and manufactures in China, but sells to consumers mainly in Europe and North America.
Why I Love Cupshe
Over the years I have purchased swimwear from countless companies, from designer (expensive) brands to the opposite end of the spectrum, and have plenty of swimsuits for petites over 50.
Cupshe continues to evolve. From their fashion selections, styling, and sizes, you are seeing a greater range of products and offerings for more women and children.
Cupshe customer service has also responded for the need of improved service as the brand continues to grow globally. A quick search of the Cupshe return reviews are quite good as well.
For fast fashion styles, at great prices and selections, Cupshe is a winner!
Best Swimsuits 2022
Cupshe Reviews Bathing Suits
Hipster bikini
Cupshe one piece
See also… 17 Irresistible High-waisted bikini sets
Scalloped bikini
See also… Best bathing suits for women over 50
Tie dye bikini set
Cheeky bikini sets
Swimsuit for all reviews
I hope you enjoyed my Cupshe bathing suits reviews and other swimwear. Cupshe suits have a lot of colorful designs, colors, and prints. They manage to balance the fun and the seductive without showing too much.
Cupshe sizing chart
Here is the link to the sizing guide to help you find the right size. Please note that this guide provides general sizing information, which can vary depending on style and silhouette.
Do Cupshe bathing suits run small or large?
Cupshe size has sparked a lot of discussion and controversy on social media and in internet reviews. It's a conundrum to solve, and it's why that return policy is so crucial!
So, what really is the situation? Well, it's still a hot topic of discussion, so here's the scoop!
With the exception of high-waisted fashions, which run true to size, one-piece suits tended to run true to size, whereas two-piece suits tended to run roughly a size smaller than average.
Like many swimwear companies, fit can be an issue when it comes to two-pieces. To be fair, this is also true of any other matched set bikini.
When it comes to size, separates (buying tops and bottoms separately) seem to work best for most people, unless you are blessed with being perfecting sized.
What if I have a large bust?
This is something I struggle with when buying all brands of swimwear. If you're someone who has a larger bust than buttocks, buying bikinis as a set will be more challenging.
The majority of bikinis come as a set, Cupshe does sell individual tops and bottoms that are sold separately, If have found this to be useful, you don't always have the selections to choose from like ordering in sets.

Bikini Floral Reversible Rayas – $21.90
Retail Price: $24.36
You Save: $2.46
from: Cupshe
I'm a 34D breast and a 6/small in bottoms… so it can be quite difficult for the right size all the time!
If you are between sizes, go bigger
Cupshe two-piece suits run a size smaller than average true to size. That has been my experience.
Overall, I feel like the bottoms do tend to run a size smaller. However, the tops are more true to size.
This is not unique to Cupshe. For any shaping swimwear, you will feel more comfortable erring on the side with a bit more room than going smaller.
Quality
The quality of the fabric and the patterns of the swimsuit parts genuinely astonished me!
Cupshe first struck me as a company similar to Shein. The products appeared to be from any mid-priced retailer: the fit and quality were excellent, and everything appeared to be as expected.
The swimsuit color was spot on from what I expected. They were true to the website and just as vibrant.
The quality of the Cupshe bathing suits I have purchased in the past as well as my most recent purchases have been very good.
Durability
Durability. What impressed me the most has been the durability of the bathing suits. Between going to the beach on a regular basis as well as going into the pool quite frequently, the suits do take a slight beating.
I have been impressed by how well the colors and construction have held up. Despite the different environments and washing methods, there is nothing of note to say these suits are anything but quality.
The only suits I have moved on from are because I have purchased newer ones and needed space in my drawers.
Can I purchase different sizes for tops and bottoms?
Yes, you can view separates that you can mix and match here. Although they do also have plenty of cute swimsuits that are sold in sets, they're working on developing more mix and match silhouettes.
How to measure
BUST – Use a tape measure to measure around the fullest part of your bust. For a more accurate measurement, please wear an unlined / unpadded bra when measuring.
UNDER BUST – Measure directly under your bust and straight around your back.
WAIST – Your waist is the narrowest part of your torso. Wrap your tape measure around this area, which is usually on or close to your navel. Make sure the tape is snug but not digging into your skin.
HIP – Find the widest part of your hips. Generally, it's 8 inches below your waist.
TORSO – Measure from the highest point of the shoulder, beneath the crotch, and back up to the starting point.
Summary
It's safe to say Cupshe will be in my beach bag for quite some time. I love to wear a high-waisted bikini, and also low rise bikinis, and Cupshe has plenty. With few exceptions, I found the sizing, styles and yes, the affordable prices to be key selling points for this brand.
Is Cupshe a Chinese company?
It's safe to say that Cupshe is a China-based company that seems to have a US-based warehouse in New Jersey.
Cupshe customer service
Cupshe shipping policy
Expedited shipping (5-7 business days) is available. Shipping is free for orders over $49.
Express shipping (3-5 business days) is available. Shipping is free for orders over $120.
Cupshe tracking
Here is the link to see your Cupshe order status and to track your order
Where does Cupshe ship from?
So, where is Cupshe located? The majority of Cupshe orders are shipped from their manufacturing plant in China. However, they also have an office listed in New Jersey so shipping times may vary based on items ordered.
Cupshe return policy
"Except for any products designated on the Site as non-returnable, we will accept returns of unworn, unwashed items in new condition with the original tags and hygienic liners attached within 30 days of their delivery date." (see reference below)
They currently do not offer free return shipping.
In reviewing the BBB.org site, several customers that had ordered the wrong sizes were told to keep the original item(s), and Cupshe sent out a replacement for free. (see reference below)
Cupshe Bathing Suits Review
References
How Cupshe built a $150 million swimwear business by embracing both DTC and Amazon