How good is the best massage gun under 100? The results may surprise you! In this post, I will share the top massage guns and compare them to high-end massagers. You may be shocked by the results!
I may earn a commission when you purchase through a link on this page.
When looking for the top massage guns under $100 dollars, it can be tough to tell what kind of quality you're getting for your money.
A massage gun can be a useful tool for relieving minor aches and pains in the privacy of your own home, without the need to schedule a massage!
When looking for a muscle massage gun under $100, here are some important factors to consider:
Motor power: Look for a massage gun with a motor power of at least 15W to ensure it can provide sufficient pressure.
Speed settings: Massage guns come with different speed settings to customize your massage experience. There is no specific number of how many speeds is best, but there should be enough to fine-tune to your liking.
Battery life: You'll want to consider battery life, especially if you plan to use it frequently. Most massage guns have a battery life of at least 2-3 hours.
Attachments: Massage guns typically come with at least 3 different attachments that can be used for different muscle groups. Also, consider purchasing additional attachments for increased versatility.
Noise level: Some massage guns can be quite loud, which can be distracting or annoying. Look for a massage gun with a noise level of 60 dB or lower for a quieter experience.
Brand reputation: Consider purchasing a massage gun from a reputable brand that has positive reviews and a good track record of customer service.
To help you get the most out of your search, I've shared a list of top selections based on pricing, reviews, and features that set these devices apart from the competition.
As an Amazon Associate, I may receive a small commission (at no cost to you) on qualifying purchases which allow me to keep creating amazing free content for you. Support FitFab50 by using the links in my articles to shop. Thank you!
Best Massages Gun Under 100 – More Choices for Your Money in 2023!
---
★★★ Top Choice – TOLOCO Massage Gun★★★
$99.99 – Shop TOLOCO Massage Gun 
About this item
Allows for 20-speed levels, from low, medium to high, bringing different intensity massage experience
Cordless massage gun, 10 replaceable massage heads
Handheld percussion massage gun, ergonomic silicone handle design to prevent slipping
Deep tissue massage gun, with lightweight design with carrying case
| Pros | Cons |
| --- | --- |
| Comes with 15 massage heads, providing more options to choose from | Some reviewers would have preferred the massage gun to have stronger or more varied speed settings |
| Offers 20 steps of adjustable intensity and a maximum RPM of 3200, providing fine-grained control and deeper tissue massage | People with small hands or limited grip strength might find it difficult to administer the massage |
| Quiet operation, making it less distracting during use | A low-volume but high-frequency noise can be heard from the display when the device is on, but idle |
| Solidly built with a bright and clear back display | None of the cons were repeatedly mentioned by multiple reviewers |
Overall, the TOLOCO T11 Pro massage gun seems to be a good purchase, especially given its performance, build quality, accessories, and pricing when compared to other massage guns on the market. The only possible drawbacks are its speed settings, which some users would like to be stronger or more varied, and the fact that people with small hands or limited grip strength may need help using it.
---
DACORM Max Muscle Massager
About this item
The DACORM Max Muscle Massager is a handheld percussion massage gun equipped with a 3300mAh lithium battery that provides 8-15 hours of massage use on a single charge. It comes with a USB charging cable (changing plug not included) that is suitable for all charging ports.
The massage gun has 7-speed levels and 12 massage heads that are suitable for different body needs, effectively relieving muscle soreness in the back, neck, arms, legs, and other areas.
The device is designed with a non-slip handle that makes it easy to grasp. It also has an automatic shut-off function that stops the device after 10 minutes of continuous use, providing intimate protection for your health and effectively protecting battery life.
The DACORM Max Muscle Massager has received a lot of positive reviews.
However, some customers have reported issues with the battery life, which does not last as long as advertised. Additionally, some customers have noted that the instructions are not comprehensive and there have been issues with the auto-off timer.
| Pros | Cons |
| --- | --- |
| Well made | Battery life is not as long as advertised |
| Comes with many attachments for different muscle groups | Battery is defective and may drain suddenly |
| Easy to use | Instructions are not comprehensive |
| Comes with a carrying case for easy storage and transportation | Some issues with auto-off and timer |
---
Fusion Black Pro Muscle Massage Gun
About this item
Looking for a pain relief solution that's both effective and hassle-free? If you're an athlete or fitness enthusiast, or simply someone who wants to ease muscle soreness and stiffness without the inconvenience and expense of regular massage therapy sessions, you might want to check out the New Fusion Black massage gun.
This innovative product promises to provide therapy-level massage with an extra comfortable grip and a new whisper-quiet brushless motor, so you can enjoy pain relief and deeper relaxation anytime and anywhere.
With 20 intensity levels and six swappable heads, you can easily customize your massage experience to target specific muscle groups and soft tissues, from your neck and head to your back, legs, and arms.
But that's not all. The Fusion Pro Massage Gun is not only ergonomic and lightweight, but also long-lasting, thanks to its patented design and high-torque 3300mAh lithium battery.
Made by an all-American team of fitness enthusiasts who know what it takes to stay in shape and recover from intense workouts, this portable massager is the perfect companion for anyone who wants to take their muscle recovery to the next level.
So why not give it a try and see how it can transform your post-workout routine?
| Pros | Cons |
| --- | --- |
| 1. Effective in relieving neck and back pain | 1. Short lifespan, with several reports of the product breaking down after a few months of use |
| 2. Powerful and adjustable, with multiple tools for different massage techniques | 2. Reports of discoloration and quality issues with the gun case and electrical switch, indicating possible production issues |
| 3. Excellent customer service, with prompt responses and free replacements offered for faulty products | 3. Some customers have had difficulty reaching customer service, with messages going unanswered |
| 4. Comparable to professional-grade massagers used by chiropractors and physical therapists | 4. Short handle may make it difficult to reach certain spots on the back |
---
DDVWU Massage Gun
About this item
The DDVWU Massage Gun is an amazing device to add to your fitness gear arsenal. One of its best features is its 3300 mAh battery, which can last up to 8-15 hours of use, allowing you to use it multiple times without having to recharge.
To save even more battery, the device has a 10-minute automatic power-off setting. This is a nice feature to prevent battery drain when left on after use.
With its 12 massage heads and 7-speed levels, this massage gun provides deep tissue relaxation for different muscles in your body, including your back, neck, arms, and legs.
The DDVWU Massage Gun is straightforward to operate, with a noise level of less than 40 dB, making it perfect for both home and office use. You can even take it with you wherever you go, thanks to its carrying case.
All in all, the DDVWU Massage Gun is a durable, convenient, and affordable tool for improving your muscle health.
Pros
Cons
Quiet, feels nice (in hand), looks great, digital touchpad, lots of "Tips" and inexpensive
No deep tissue action (No pressure), Battery dies very fast
Very versatile massager
Some users complained about battery life not lasting as long as advertised
Long charge, great variety of sturdy attachments, a wide range of speeds, surprisingly quiet, affordable
Easy to use, releases tension from upper back and shoulders, helps relieve "runner's knees"
Helps ease chronic pain, allows for targeted massage of small muscle knots, feels good massaging muscles, excellent for physical therapy and healing routine
---
RENPHO Muscle Massage Gun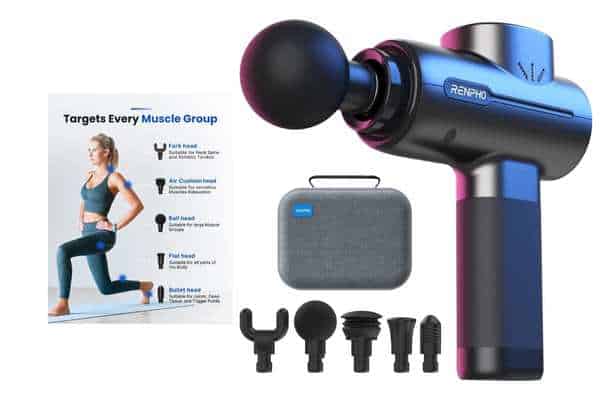 About this item
Looking for a powerful and effective way to relieve muscle soreness and tension? Look no further than the Renpho massage gun! This is one of the top-selling massage guns currently on the market!
This ultra-portable muscle massager is designed with a premium metal housing and a super powerful brushless motor, making it ideal for athletes and fitness enthusiasts alike.
One of the best features of the Renpho massage gun is its convenient USB-Type C charging capability. This means that you can take it with you wherever you go, without worrying about finding an outlet to plug it into. Simply charge it up with a USB-Type C cable and a 5v/2a adapter (not included), or even with a power bank.
The Renpho massage gun is not only portable but also incredibly quiet. With a super quiet brushless motor, it produces as low as 45db, making it perfect for use at home, in the office, or at the gym. And with its 10-minute auto-off feature, you can use it with peace of mind, knowing that it will turn off automatically to prevent overheating or damage.
Choose from 5 differently shaped massager heads and 5 speeds ranging from 1800 to 3200rpm to target different muscle groups and parts of the body. This massage gun is also equipped with a long-lasting, rechargeable 2500m-a-h battery that can power a week's worth of workouts after a full charge.
Overall, if you're looking for a powerful and reliable muscle massager, the Renpho massage gun is definitely worth considering!
| Pros | Cons |
| --- | --- |
| 1. Works great on tired muscles | 1. Stops charging after a few uses and the warranty is denied |
| 2. Easy to use and recharge | 2. The heating attachment may stop working after some uses |
| 3. Quieter than other massage guns | 3. May be too intense on certain areas of the body |
| 4. Helps alleviate aches and pains | 4. May stop working after a few months, even with rare use |
---
BOB AND BRAD Massage Gun
About this item
If you're in the market for a massage gun, let me tell you about the Bob and Brad Massage Gun. This product has over 6500 5-Star reviews on Amazon!
First off, the lightweight and portable design is a major plus. Weighing in at only 1.5 lbs, it's easy to take with you anywhere you go. Plus, it comes with its own case to make it even more portable. The ergonomic silicone handle design makes it easy to hold, so you can use it anytime you need to, whether you're at home, in the gym, or at the office.
Now, let's talk about the powerful performance of this massage gun. The brushless motor and dual shaft drive structure provide stable operation, while the max speed of 3200rpm offers a stronger percussion that's more suitable for professional athletes.
The 5 different massage heads and speeds allow for targeted therapy on different muscle groups, helping with muscle recovery, pain, fatigue, stiffness, and more. It even encourages blood flow, improves range of motion and flexibility, and reduces lactic acid build-up.
Not only is it powerful, but it's also convenient to charge thanks to the Type-C quick charge port. You can charge it with any regular phone adapter or power bank. Plus, the built-in intelligent chip ensures safety with a 10-minute timer auto-off protection to avoid harm from overuse to the human body.
One of the best things about this massage gun is how quiet it is. Even at the max speed of 3200rpm, the noise level is less than 60dB thanks to the latest noise reduction technology.
All in all, the Bob and Brad Massage Gun is an excellent choice for anyone who wants a powerful and portable massage gun with various massage heads and speeds, quick charging, and intelligent safety features.
| Pros | Cons |
| --- | --- |
| Easy to use with great accessories and a case | Battery may not hold a charge after a year |
| Powerful with 8mm amplitude and dampener head for deep tissue massage | Hand grip moves, making it hard to use |
| Lightweight and rechargeable with five speeds, perfect for targeted areas | May not be suitable for those who require a more powerful massage gun |
| Has an automatic turn-off feature and USB cable for easy charging | Warranty is only for 12 months |
---
Vybe V2 Muscle Massage Gun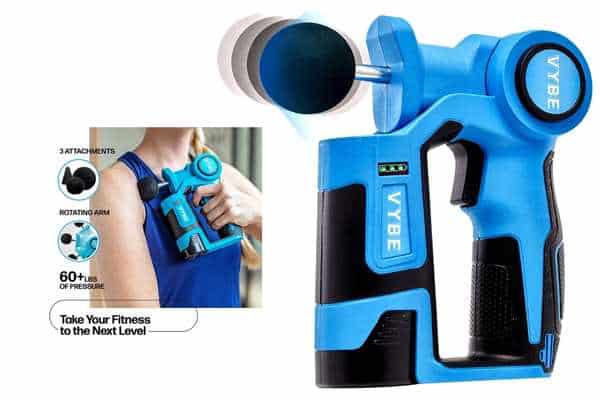 About this item
If you're in the market for a powerful and effective percussion massage gun, the VYBE Percussion Massage Gun is definitely worth considering. This muscle gun is equipped with 6 different speeds, ranging from 500 to 2400 strokes per minute, which allows you to customize the amount of pressure you need to help relieve pain and muscle tension.
Whether you're an athlete, a fitness enthusiast, or just someone who suffers from occasional muscle soreness, this massage gun has the power to help you recover quickly and effectively.
One of the things that set the VYBE percussion massage gun apart is its professional quality. Designed with athletes in mind, this deep tissue massager is perfect for loosening stiff muscles pre- and post-workout.
The comfortable ergonomic handle and power push button make it easy to use, even for extended periods of time. Plus, with three interchangeable massage tips that target different muscle groups, you can personalize your massage experience to suit your specific needs.
Overall, I highly recommend the VYBE Percussion Massage Gun to anyone looking for an affordable massage gun that delivers powerful and effective muscle relief. Whether you're recovering from an intense workout, dealing with chronic pain, or simply looking to relax after a long day, this massage gun has the power and versatility to help you feel your best. So if you're ready to take your sports recovery to the next level, be sure to give the VYBE percussion massage gun a try!
| Pros | Cons |
| --- | --- |
| Comes with 2 batteries | Loud and can be disturbing |
| Great customer support | Some customers report issues with batteries and charging |
| Tilt feature allows for self-use on neck and back | Only has 3 attachments |
| Provides quick muscle relief | Some customers report that it breaks down easily |
Note: Some customers reported positive experiences with the VYBE Percussion Massage Gun, but overall, the reviews were mixed, with a significant number of negative reviews focused on issues with battery life and the noise level of the device.
---
How to Decide on the Best Massage Gun Under 100 for You
$65.59 – Shop this look 
Stall force
Stall force is the amount of pressure needed for the massage gun to stop applying perpendicular force onto your body.
Since everyone's tolerance for pressure is different, stall force should be an important consideration before purchasing.
If you're looking to buy a massage gun, and you know what kind of massage you want, stall force is something you should think about when comparing choices. Devices with larger stall forces are often more expensive since they require more powerful motors, batteries, and other components.
➥Read also… Best massage gun under 150
Amplitude
What is amplitude? The amplitude of a massage gun affects how much punch it can deliver. The percussive massage will be better if the amplitude is higher.
In simpler terms, it's the length of extension of the massage gun arm. For example, the Theragun Pro has an amplitude of 16 millimeters with 60 pounds of stall force.
Battery life
The best massage guns should have a battery life of at least one hour, preferably two hours. Although you won't be applying vibration treatment on your body for an hour at a time, not having to charge the device every time will make life easier.
With more expensive models, massage gun battery lifecan be up to 8 hours. If you plan to use your massage gun for extended periods of time, look for a massage gun with swappable batteries so you can swap them out for continuous use.
Accessories
The most common accessories for massage guns are massive heads. As you might expect, the more expensive models tend to have more massage head attachments than cheaper massage guns.
Generally, 5 massage heads and attachments are all the average user will ever need. You will find that kits that offer more than 5 attachment heads, heads vary only slightly from the others. This gives the physical therapist or user the perfect head size for those special conditions.
Noise level
As you might expect, cheap massage guns tend to be noisier than more costly massage guns. However, there are a few standouts when it comes to affordable massage guns with quiet performance.
The DACORM Y8 Prom Max Massage Gun adopts noise reduction technology, and has a working noise level is less than 40 dB. This gun compares quite favorably to the significantly more expensive Theragun Elite with a noise level of 65-68 dB.
Why You Need a Massage Gun
Percussion massage benefits
It can relieve muscle tension and stiffness by relaxing tight muscles, breaking up scar tissue and adhesions, and reducing muscle soreness. Percussive therapy was found to be just as beneficial as massage in preventing DOMS in a short research article published in the Journal of Clinical and Diagnostic Research (delayed onset muscle soreness)
Aids in muscle recovery
A study of 16 males conducted in 2020 discovered that utilizing a massage gun enhanced the range of motion after exercise. Vibration treatment has previously been shown to minimize delayed onset muscle soreness (DOMS), which occurs 72 hours after an exercise and restore flexibility.
Improves mobility
Does a massage gun improve mobility? Massage guns target the muscles, connective tissues, tendons, ligaments, and joints, which all work together to improve mobility. The joints will be more flexible and less prone to strains and sprains if massage guns are used regularly.
Reduce nerve compression
A pinched nerve occurs when a nerve is damaged and is unable to provide regular signals to the brain, resulting in numbness and tingling.
A pinched nerve can be caused by a variety of factors. It could be caused by a herniated disc or bone spurs squeezing the nerve. Arthritis in the area could also be to blame.
Percussion therapy via the use of a massage gun can help you manage pain caused by a pinched or compressed nerve. Massage gun percussive functions promote soft tissue relaxation by boosting circulation to the massaged area, which lowers inflammation and pain.
Breaks up fat
Fat cells break and fat is released when a massage gun is applied. This fat can then be easily shed by exercising and eating a well-balanced diet.
Another advantage of using a massage gun is the ability to enhance circulation. This is because vibration stimulates the lymphatic system and helps to enhance blood flow. Improved circulation can result in a variety of other advantages, including increased energy and mental clarity.
➥Read also… Does a massage gun break up fat
Is a Massage Gun Under $100 Any Good?
Yes. Affordable massage guns offer the same basic health and well-being benefits that pricier guns do, at a much lower price point.
Design
From arm's length, you would be hard-pressed to tell the difference between the best massage gun under 100 versus the best massage gun under 300.
Today, most massage gun designs are extremely similar. Yes, components will vary as well the overall functionality, but the designs look much alike.
Feel
Even when you compare the best massage guns under $100 vs the best massage guns under $500, the differences are more subtle than pronounced.
Performance
This is where the top-rated massage guns really pull away from the crowd. Better components, functionality, and durability can be quite noticeable when comparing certain brands.
Stall force and amplitude are the two major differences you will notice with high-priced massage guns. However, affordable massage guns are not designed for professional or hard-core users. Cheap massage guns are the perfect option for the occasional user, who need infrequent use of a massage tool.
Conclusion
The market for quality massage guns has never been better. Massage guns continue to evolve with increased capabilities as prices hold steady and often drop. If you are not a professional athlete or physical therapist, the best massage guns under $100 are for you.
Yes, they may not have lifetime warranties or some of the top-end features of an EKRIN or Theragun, but massage guns under 100 will give you solid performance at a very attractive price!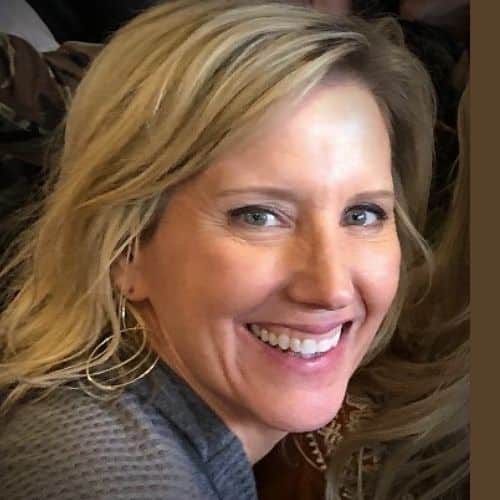 Claudia Faucher is a full-time fitness training expert and lifestyle blogger. She is also been a certified Les Mills BodyPump instructor for the past 5 years and a fitness instructor for over 20 years. Claudia is a personal trainer and creates fitness training programs for seniors and people of all ages. She likes to use her skills and experiences to help others on their fitness journeys.
Last update on 2023-08-31 / Affiliate links / Images from Amazon Product Advertising API