Discover "How Many Swimsuits Do I Need for Vacation?" and more.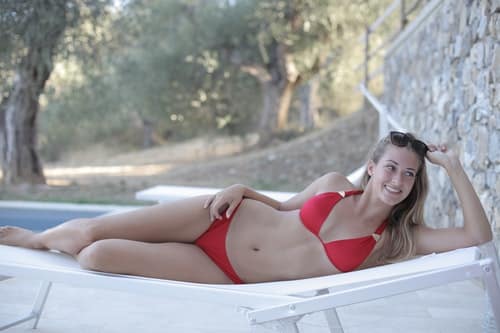 Not sure how many bathing suits to carry on vacation? For a seven-day vacation, I recommend taking 7 swimsuits or even 10. You can never have too many!
I may earn a commission when you purchase through a link on this page.
Be mindful to bring a variety of styles and colors. Since it takes up so little space in your travel luggage, don't limit your options as you try to decide on the best look for the day!
If you are going to pack light, it's still a good idea to carry at least one to two swimsuits per day or 7 – 10 per day. At the very minimum, 4 swimsuits to 5 swimsuits for your seven-day stay. Don't forget cover-ups, and flip-flops are absolutely necessary for the beach or pool.
How Many Swimsuits FAQ
Swimsuits are the main clothing choice for your vacation stay, so why only bring a few? Feel confident and secure wearing the bikini, tankini, one-shoulder, thong, or bandeau to look your stunning best.
Can you wear swimsuits more than once a week?
Frequent washing will cause vibrant bathing suit colors to fade and weaken the fibers of the suit itself. Many manufacturers recommend limiting swimsuit washing to once every 3 – 5 times of use.
Should you wash a bathing suit before wearing it?
Yes. Even though you just bought a new swimsuit, you need to wash it before wearing it for the first time. Although swimsuits could with a sanitary strip in the crouch, you don't know how they were handled prior to your purchase. Finally, most swimsuits contain chemicals to lock in vibrant colors to the fabric. Mild handwashing can reduce the risk of skin irritation.
How to wash a new bathing suit?
Put your swimsuit in a mesh laundry bag to prevent straps from getting caught or twisted. Use a mild, bleach-free detergent. Wash in cold water on a gentle or delicate cycle. Place a couple of white towels in the washer to prevent over-agitation. When the wash has been completed, hand wring water out and lay it flat to dry.
What swimsuit is best for small breasts?
The best bathing suit for women with small breasts should look for tops with extra detailing, such as ruffles, fringe, or a tie knot in front. V-neck and scoop neck swimsuits are also great options. They give the illusion of a larger bust.
What swimsuit color for pale skin looks best?
Finding the perfect swimsuit that compliments your skin tone can be difficult. You may feel that your options of limited if you have a pale or light complexion. Thankfully that's not the case.  Darker bikini colors compliment fair skin. Consider navy blue, black, olive green, or even purple colors for your next purchase. It's the contrast that makes it all work. Lighter colors will make fair skin tone appear washed out.
Will bikini bottoms stretch?
Yes. Swimsuits stretch over time, like other styles of clothing. The more you wear it the more it will change in shape. When you are trying on your swimsuit, go for the exact fit for the moment. Be sure to move around while trying on a swimsuit and that it stays in places it should. You don't want to find out it doesn't when you hit the beach.
Do swimsuits get bigger in the water?
Swim fabrics stretch when wet, so it's important to stay true to size, or even sizing down is best when you're in the water. If you stay on and never stray near the water, you may consider sizing up for a more comfortable feel.
Why do swimming suits lose elasticity?
Two factors that will reduce the lifespan of your favorite bathing suits are heat and chemicals. Never place your swimsuit in the dryer, as the high heat will quickly deteriorate the integrity of the poly fibers. Also, if you spend a lot of time in the pool, repeated exposure to chlorine is especially hard on swimsuits.
What is chlorine-resistant swimwear?
Chlorine-resistant swimwear is designed to last 20 times longer than conventional swimwear. Even when only used for ocean swimming and occasional use in chlorine pools, a chlorine-resistant swimsuit is preferable due to its longevity making it a cost-effective investment.
How many types of bikinis are there?
Tired of boring swimsuits? Say hello to our sexy bikini. This sun-loving garment is sure to turn heads wherever you go, in or out of the water.
The bikini is one of the most popular summertime pieces of clothing. It is a bottom-and-top combination that provides maximum coverage for the worst weather but doesn't leave much to the imagination on those sunny days.
Bandeaukini / Strapless bikini
A Bandeaukini is a swimsuit that features a bandeau top, high-cut leg bottoms, and a high-cut chest. This suit looks as though you are wearing a bra top instead of a bikini top.
A Bandeaukini is a swimsuit that uses elastic to hold up the breasts. It's typically one piece and sometimes with ruffles on the front or back of the hips. There are so many different styles in bandeaukinis!
Fringe Bikini
A fringe bikini with a classic, high-rise silhouette. Whether you're lounging poolside or heading to the beach, you can easily wear this two-piece suit both on and off the sandy shores.
This trendy bikini is a style-setter. With its woven top, halter neckline, and high-waisted bottoms, this fun suit is ideal for splashing around in the water or spending the day relaxing on the beach.
Flounce Bikini
Flounce Bikini is a body-hugging swimsuit for women, it has a built-in bra and crosses the back that is adjustable to ensure you look great in the water, Made from soft and comfortable polyester.
Flounce is a classic, retro-inspired one-piece with a modern twist. The gold embroidery and cross-back straps give this suit an elegant look, while the high legs offer a flattering fit. The halter top design creates a youthful silhouette, making it perfect for mix and match styling.
String Bikini
The best way of making this summer a summer to remember is through these cute and sexy bikini sets.
A stretchy one-piece swimsuit with a racerback and a front tie. The front wrap feature creates an optical illusion, slimming the figure and adding an air of innocence. It's a must-have for the beach, poolside, or even Coachella!
Microkini
The microkini is the most minimal swimwear piece you can find. It features a light-weight, breathable fabric with a built in bra, cheeky cut bottom, and an underwire for support.
A mini Brazilian-style bikini for your intimate areas. This nano-kini means fewer tan lines, less irritation, and an effortless fit.
Tankini
The tankini style is described as a part one-piece swimsuit and part strapless bikini. The two-piece construction and lack of straps make it easier to move in the water and provide coverage up top, while still flaunting your body with a flattering fit.
This two-piece swimsuit provides sun protection for your upper body and arms, allowing you to focus on having fun in the sun. Made from high-performance fabric that is soft and comfortable without being restrictive, this tankini is designed to fit like a second skin – never again will you need to worry about your swimsuit showing off more than you intended!
Trikini
The trikini is a new swimsuit designed to protect against the sun while allowing you to swim and enjoy the water. It is made of nylon and spandex so that it is comfortable, is quick-drying, and doesn't absorb water as other swimsuits may.
The trikini is a swimsuit consisting of a skirt and top or a brief. It is traditionally made of material that crosses over the breasts so that they cannot be visually seen when wearing the garment.
The purpose of the trikini is to cover the bikini bottom without covering up too much of your upper body, allowing you to enjoy all the benefits of a swimsuit without sacrificing comfort when it comes to tanning parts of your body which may get sunburned faster than others.
Sling Bikini
The Sling Bikini is a comfortable, well-made, and supportive swimwear that increases your bust size by 2 cup sizes. It comes with adjustable straps to ensure a perfect fit, and it can be worn under clothing without the bra strap showing.
This comfortable and stylish bikini is perfect for those looking for swimwear that isn't too revealing. It has full coverage, so you can lounge or swim in comfort without worrying about exposure.
Skirtini
Skirtini skorts are the perfect solution for when you want to look stylish but not over-dressed. Our half-length skirtini skort is made of a performance fabric that is lightweight, comfortable, and breathable. These skorts are available in three different styles: the classic matching reversible skirtini shorts, our stay-true shorts with a hidden compression short inserted inside, and our wrap skirtini short that allows you to change up your look every time.
High-Waisted Bikini
A high-waisted bikini is a must-have whenever you're at the beach or poolside. The high waist design will flatter your figure and help keep everything covered.
High-Waisted Bikini is made to be both functional and cute. The waistband provides additional coverage, while the pattern and fabric add a touch of style.
High neck bikini
Grab attention with this stylish high neck bikini top. The strapless design looks great when you're swimming and playing on the beach, while the adjustable straps can be adjusted to your preference for a perfect fit. With its padded cups, it also offers plenty of support.
A high-neck bikini is a type of swimwear with a higher neckline, usually covering the collarbone area. As it covers more skin, especially on women, it provides superior coverage and support and is often preferred by people who do not want to show off their cleavage or collarbones, but still want to cover their upper body in the pool.
Monokini
Designed by Rudi Gernreich in 1964, the monokini consisted of a brief, close-fitting bottom and two thin straps.
Are tankinis flattering? How to choose the right one for you
Sexy tankinis provide additional coverage, which increases your confidence a the pool or beach. Bikinis are becoming increasingly revealing, and many women are uncomfortable showing so much flesh. Tankinis help you look fantastic while also making you feel comfortable. Tankini tops provide a two-piece swimsuit with flattering coverage and incredible elegance, allowing you to have the best of both worlds.
What bikini color is most slimming?
Darker colors will have a more pronounced slimming effect. Just like your classic little black dress, dark colors give the illusion of the most slimming. Also consider navy blue, dark green, purple, and maroon.
What bikini tops make your breasts look bigger?
One of the most popular tops to enhance breast size is a pull-on triangle top. It is both minimalist and classic, an ideal combination for showcasing small breasts.
How long do swimsuits last?
A general rule, a swimsuit will last somewhere between six months to a year. This is based on optimum fit and retaining vibrant colors. However, this varies greatly depending on the amount of use, where you wear it, i.e., do you only sit at the beach or are you regularly in the water, and finally, how you care for your swimwear.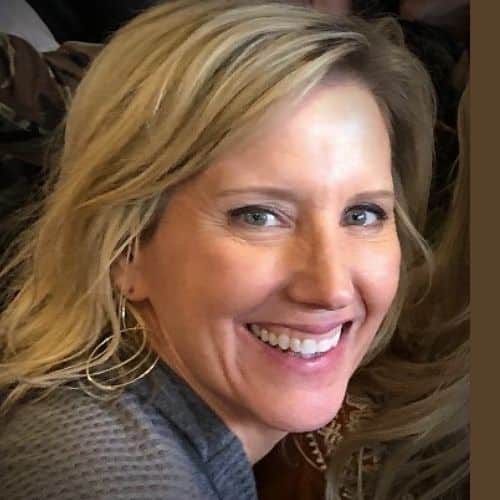 Claudia Faucher is a full-time fitness training expert and lifestyle blogger. She is also been a certified Les Mills BodyPump instructor for the past 5 years and a fitness instructor for over 20 years. Claudia is a personal trainer and creates fitness training programs for seniors and people of all ages. She likes to use her skills and experiences to help others on their fitness journeys.