Want to hide your belly and still look incredible? I've got you covered! Below you'll find lots of ideas and tips on how to hide lower belly fat in jeans and other styling options like choosing flattering tops to hide tummy and more.
I may earn a commission when you purchase through a link on this page.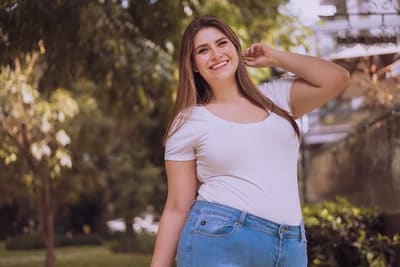 Find the perfect fit with Prime Try Before You Buy
What causes a lower belly pooch?
Poor diet, lack of exercise, and short or poor-quality sleep are all contributing factors.
People can shed extra belly fat and reduce the risk of diseases connected with it by following a nutritious diet and leading an active lifestyle.
What causes pot-bellied women?
There are a few things that can cause this. One is simply aging. As we age, our metabolism slows down and we start to lose muscle mass. This can cause a build-up of fat in the lower belly. Another cause can be hormones.
Hormonal imbalances can cause the body to store more fat in the lower belly. Finally, lifestyle choices can also lead to a build-up of fat in the lower belly.
Things like a sedentary lifestyle, eating processed foods, and not getting enough exercise can all contribute to the accumulation of fat in the lower belly.
Excess abdominal fat is what a pot belly is. A "pot belly" is defined as fat that is more than one inch thick around the stomach area.
A pot belly is frequently made more noticeable by weak stomach muscles paired with extra belly fat.
What is a fupa on a woman?
The slang term "FUPA" (fat upper pubic area) refers to excess fat in the area immediately between your hips and above your pubic bone.
Nebility Women Butt Lifter Shapewear Hi-Waist Double Tummy Control 
BUTT LIFTER SHAPEWEAR: full butt shape stitching panty help tighten your bottom and lift your buttock naturally, give you the curves you want, and makes your butts look bigger, sexier, and more beautiful.
DOUBLE CONTROL WAIST SLIMMER: this booty enhancer is a high waist designed to flatten your tummy with firm control, hold your stomach in, make your abdomen smooth and tight, and give you a sexy hourglass figure instantly.
Fat in this area can be caused by a variety of factors, including childbirth, age, fast weight loss, and heredity.
After an abdominal operation, such as cesarean birth, fat can build up here.
What does a fupa look like?
The fat in a FUPA lies just beneath the skin, it is subcutaneous fat rather than dangerous visceral fat.
Developing a bigger FUPA, on the other hand, may suggest an overall weight increase, which may include visceral fat.
Visceral fat can cause the lower abdominal region to expand, making a FUPA look larger.
How to get rid of fupa
It's impossible to reduce weight in just one part of your body. When a person loses weight, it is proportionally distributed throughout the body.
Certain activities and nutritional changes, on the other hand, can aid in the reduction of body fat.
Fupa exercises female
Are you looking for fupa exercises female-focused training with quick results? Be sure to check out the video below.
How to hide your belly
When it comes to hiding a large belly, or perhaps you just want to look slimmer, clothing can produce an immediate impact on appearing thinner, regardless of your size.
Tips for looking thinner
Wear shapewear or garments to help you. An apron belly can be concealed with the use of shapewear or garments designed to support the abdominal area.
It can also aid in the prevention of more skin sagging and the relief of back issues caused by excess weight in the front of the body.
How to hide lower belly fat in jeans
When we wear slim-fitting garments, our belly fat is more visible. This includes wearing a pair of jeans.
Tight-fitting jeans around the belly may show your spare tire, a bit more than you want.
Try any of these style hacks to avoid this from happening to you.
Shapewear for lower belly pooch
The ultimate must-have tummy control garment. They are worn beneath clothing and efficiently create a lean body appearance.
Spanx started this category back in 1998 and has been the dominant brand for shapewear for most of that time.
Today, many Spanx alternatives have entered the market, creating additional selections for women's shapewear shorts as well as more competitive pricing.
Tummy control jeans
The most flattering cut is mid-rise or high-waisted jeans. Jeans with a mid-rise or high-rise waistband help to support and hide your stomach.
If you're worried about your stomach, these jeans are the most flattering. Low-rise jeans should be avoided.
Best plus size jeans for big stomach
Do you feel self-conscious about your stomach? Regrettably, your body composition may have altered as you've grown older.
You may gain weight when your genetics and hormones deteriorate. It's not a cause to get you down.
Jumpstart your style and appeal by choosing the best plus-size denim for a large stomach.
Combine them with the best shoes how to make your legs look longer and slimmer and you'll look and feel fantastic!
Best jeans for belly pooch
The first thing you will want to do if you're looking to hide a muffin top—is get rid of your super low-waisted jeans.
The best jeans for belly pooch are a high-waisted or mid-rise pair.
I was really surprised at how much I enjoyed these high-waisted jeans from Gloria Vanderbilt. I think they look great.
Best jeans for tummy control
It's time to update your jeans if they're giving you a muffin top. Today, high-tech denim and new breakthroughs in stretch denim and shapewear can give you better tummy control.
If you buy the right pair, your jeans can provide body-slimming advantages as well as style.
Best jeans for skinny legs and big belly
If you carry your weight around the midsection and have skinny legs, an apple-shaped body best describes you.
Balance is key to putting a flattering outfit together. Some jeans place too much emphasis on your midsection and can make you look top-heavy.
High waisted jeans for tummy control jeans
Let's face it. Jeans can get very expensive. But they can be worth it if they give you the look you want.
Tummy-control jeans are seriously game-changing.
Tummy-control jeans are exactly as the name suggests. They're designed with built-in panels at the waistline to control all the problem areas you may have.
Continue reading as I cover the best tummy-control jeans on the market.
How to wear high-waisted jeans with a belly
If you want to hide or cover your tummy fat, solid-colored pants are the way to go. This is due to the fact that dark colors do not reflect a lot of light, making everything appear consistent.
Best clothes to hide belly fat
There might be a variety of reasons why you need clothes to cover your tummy at this time in your life, and it's important to remember that you're not alone! How can we dress in a way that hides our stomach?
Dresses that hide belly
To get started, understand that the lingerie and undergarments you choose to go under your dress will make a huge difference to the way it looks.
Dress for fat tummy
The right shapewear will make even the best dresses to hide your tummy look better.
Are you looking for flattering dresses for plus-size body types? Here are several dress styles to consider.
Midi
Elongates your body and makes you look taller
Wrap
Emphasizes the waist to flatter your figure
Sheath
Like the midi, this straight style lengthens your frame
Fit-and-flare
Tucks in at the waist to define your silhouette
Hide belly fat shirts
If you don't want to expose your stomach, a loose-fitting shirt is a fantastic option.
It's important not to go overboard and wear anything that's a couple of sizes too big. This is a common mistake that just makes the body appear larger.
Jumpsuits for big tummies
It is important to find a jumpsuit that separates at the empire line.
Tie belts will help to emphasize this area even more. Remember to attract attention away from your problem regions. Use unique necklines, gathers, ruffles, or colors to achieve this.
What is an empire line on a dress?
A dress with an empire waist is one with a fitted bodice that drapes out beneath the bustline rather than at the natural waistline.
Because empire waist dresses extend the wearer's figure, they're perfect for petite or plus-size ladies who wish to draw attention away from their waist or hips and instead focus on their bust.
Best leggings for curvy figure
There are lots of leggings out there that claim to flatter your form, from booty-boosting to slimming styles.
I've picked together 5 of the most popular and top-rated shaping alternatives to assist you to find the ones that genuinely check all the boxes.
Summer outfits to hide belly fat
Dressing for a curvaceous figure is challenging enough as it is, but summer adds to the mix.
The good news is that I've worked out how to prevent all of the major summer-dressing annoyances, and I've found the loveliest outfits to help you do it.
How to wear a crop top with belly fat
Every woman on the planet suffers from insecurity.
If you're overweight, the thought of displaying your stomach or thighs might be terrifying. This is due to toxic diet culture and social stereotypes that only skinny people are attractive.
Our fears should not prevent us from wearing anything we wish to express ourselves in.
Flattering tops to hide tummy
There are many different types of women's tops that can help to hide tummy fat. Some of the best options include:
A-line tops – These tops are fitted at the waist and then flare out, which can help to camouflage any excess tummy fat
Wrap tops – Wrap tops also tend to be fitted at the waist, but they have a wrap-around style that can help to slim the appearance of the stomach
Empire waist tops – These tops are fitted under the bust and then flow down, which can help to disguise a tummy that is larger than average.
Peplum tops – Peplum tops are another great option for hiding tummy fat. They have a ruffled or flared bottom that can help to camouflage any problem areas
Tee shirts that make you look slimmer
Women have always wished for a smaller figure, but don't we all like to live a little bit?
Because losing weight overnight isn't an option, why not try some of the other options?
You may have a slimmer appearance without losing weight through a variety of methods! The most recent trends have provided us with a wide range of options for achieving amazing outcomes. After reading these new fashion trends for 2022, you'll thank me.
V-Neck Tops
V-necked tops or T-shirts serve to produce an extended impression. The inverted triangle offers the appearance of a leaner figure. It's one of the season's hottest fashion trends. Make your daily outfits a bit more intriguing.
Crop Tops
There is a crop top for every body shape. You're fine to go if you find one that flatters your body form.
Wear bottoms that start precisely below your waist if you're worried about showing flesh. This style goes great when paired with ripped boyfriend jeans and block heels.
Ruffled Tops
Ruffles, when styled correctly, can give the appearance of a thinner frame. If you wear them above your waist, they will accentuate it while also giving you a slimmer appearance. 
Black Tops
The widely regarded slimming color is black. Dark colors provide a slimming impact and help disguise imperfections in the proper places. Wear black crop tops or sweaters to embrace current fashion trends.
Quick fashion tips to make you look slimmer this summer
Buy new underwear
If you haven't upgraded your lingerie in a few years (whoops!), not only is it obviously time to do so, but you will be amazed at all the amazing selections available.
Tummy control underwear now comes in a wide variety of brands, styles, and colors.
Use one color from head to heels
The less contrast, the more slender the body will appear.
See also...Best slimming tankinis
Bodysuits work magic
Look for a sleeveless slimming body shaper constructed of high-elastic fabric to suit your body tightly.
This black bodysuit for women is more attractive than others because of the sheer see-through lace mesh design, which shows off your thin curvy form for all-day use.
See also… Cupshe swimwear reviews
How to look taller and slimmer
Avoid wearing high-contrast clothing. Lower contrast clothing adds some visual height to your frame.
Where height boosting shoes. High heels are the most obvious technique to make your legs appear long and slim, but did you know that a sharp toe will also add a few inches to your leg length? Any pointed-toe shoe, whether with a high or low heel, elongates your legs beyond your toes.
Black pants make you look skinnier
Black always makes you appear sleek and attractive. Darker tones of blue, purple, and brown can also help to hide defects and provide the idea of slimming.
Lighter hues, such as white and khaki, on the other hand, might add pounds and provide the illusion of a bigger frame.
Looking great after 50
Looking great as we age is all about taking care of yourself and making sure you look your best.
There are a few key things you can do to make sure you look great after 50. First, make sure you are eating healthy and exercising regularly. This will help you maintain a healthy weight and keep your skin looking its best.
Second, make sure you are using a sunscreen every day to protect your skin from the sun's harmful rays.
Third, make sure you are using the best anti-aging products to help keep your skin looking young and fresh.
Fourth, make sure you are getting enough sleep every night. This will help you avoid under-eye bags and keep your skin looking rested and refreshed.
Finally, make sure you are staying hydrated by drinking plenty of water every day. This will help your skin look its best and help you avoid wrinkles. By following these simple tips, you can make sure you look great after 50.
Last update on 2023-08-31 / Affiliate links / Images from Amazon Product Advertising API