This Shein bathing suits review will help you shop all the best Shein bikinis and beachwear for 2022! They have super cute bikini top and bottom sets as well as a vast selection of swimsuits for your next playcation at very affordable prices!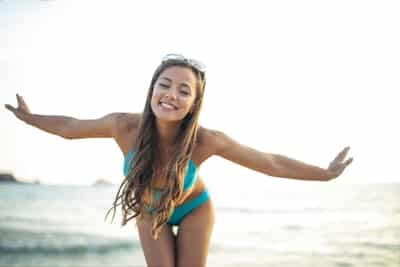 This post contains affiliate links. I may receive a commission for a qualifying purchase at no additional cost to you. See my affiliate disclosure for more info. Thank you for your support!
Shein bathing suits review
In doing this review, I was really impressed to see Shein offers swimsuits for all plus size as well as swimwear for women over 50.
Women's Criss Cross Tie Back Bikini High Waisted Swimsuit Bottom Bathing Suits
Quick dry material, soft and smooth fabric, good wearing comfort
The bikini top features with sleeveless, v neck, crisscross tie back, cut out at the both sides, give you perfect fit to your silhouette
The high rise bottoms provide good tummy control, stylish plant print design would make you stand out from the crowd of ladies at the beach
While I am now considered to be in the mature womens swimwear category, I am glad to see Shein offering beautiful bathing suits for women of all shapes and sizes.
Did I mention these fashions were also available at super affordable prices? Another big plus.
With most of the Shein beachwear line now available on Amazon, the process for buying and returning, if needed, is very convenient.
Shein swimsuits
SHEIN is a global fashion and lifestyle online retailer known for making the beauty of fashion accessible to everyone.
No products found.
Good quality swimsuits
By combining modern digital technology with fashion, Shein is able to produce quality swimsuits with amazing construction and consistency.
This technology forward approach to the world of swimwear design allows Shein to roll out the latest bathing suit styles quickly and at a fraction of the cost of more traditional fashion houses.
So, is Shein a good place to buy swimsuits?
Absolutely! Most of us are not used to finding fashion deals, let alone great swimwear bargains, without sacrificing quality.
One of the major advantages Shein has on its competitors is their age. Since they just opened shop in 2012, Shein uses the latest in digital technology to craft quality fashion at unbelievably low prices.
Can you return bathing suits on Shein?
All Shein swimwear listed here is from Amazon, which can be returned using the same return policy as other Amazon products.
I have used their main website for purchases, returning items was easier than expected. It's not like returning products to Amazon, but it wasn't bad.
Shein bikini styles and more
Beachwear is available in a variety of shapes and styles to meet your every fashion need.
Their product line includes, bikini top and bottom sold together or separately.
I particularly like the mom-friendly tankini swimwear with shorts, and full coverage two piece bathing suits.
They also have a nice selection of halter bikini set options. If you prefer string bikini styles, yes, they have plenty of textures, patterns, and styles to shop.
Shein.com reviews
Fast-fashion website Shein sells thousands of one-piece swimsuits and bikinis, plenty of tankinis (which I love!), women's swimsuits cover-ups, and two-piece sexy swimwear halter string triangle bikini sets, just to name a few.
While Shien on Amazon does not have the vast selection of their main site, you do get the Amazon customer service you expect, and that's nice.
Shein one piece
Modern one-pieces can experiment with styles, features, and accessories to beautifully emphasize the distinctive qualities of every woman's body.
A high leg cut or a deep V-neck shirt might draw attention to the area you want it to be drawn to. Plus, the extra fabric allows you to accentuate a sultry design while covering more flaws than a bikini could.
No products found.
For many women, this means they can wear a one-piece or a monokini with greater confidence than they would ever feel in a bikini, regardless of how gorgeous they are.
Shein bathing suits plus size
Every swimsuit maker has gotten in on the action, from the greatest worldwide businesses to the tiniest boutique designers. Women today have more options than ever before when it comes to one-piece fashions.
To complete your traditional appearance, add a wide hat, a transparent wrap, and some large sunglasses to your one-piece or monokini.
Shein plus size swimwear
Does Shein run small? Is Shein true to size
As with many online clothing stores, size can vary widely from brand to brand.
Always check their sizing chart and know what your measurements are! Know your measurements in order to get an accurate idea of what will fit.
sheinside size conversion
How to measure yourself for the best swimsuit?
Reference this guide from Shein for sizing recommendations.
Don't know your size? Our size guide can help you find the best fit!
1. Where is the size guide displayed? >2. Where can find sizing recommendations? >3. Where is the size of the model displayed? >
Colorful swimsuits Shein
Just have a slight tan? Make yourself seem even more tanned by wearing bikinis in bright colors such as scarlet, fuchsia pink, or coral green. Also, shop for warmer colors such as beige or dark brown.
Bikini Shein
Bikinis are alluring because they reveal more skin than is generally seen in public spaces. Bikinis are worn by women that enjoy the fit and freedom these swimsuits provide.
Bestseller No. 1
Bestseller No. 2
SheIn Women's 2 Piece Bikini Set High Cut Push Up Underwire Bra Bathing Suit Apricot Medium
Material: Polyester fabric has high stretch, comfortable to wear
Features: Ribbed knit 2 piece swimsuit with an underwire bikini top with and high cut panty set, perfectly shows off your charming curves
Style: Adjustable spaghetti straps offers perfect fit, hook and eye back closure to help easy wearing; supported padded underwire bra makes you more flattering and charming
Bestseller No. 3
SheIn Women's 3 Piece Bikini Set with Mesh Beach Skirt Underwire Triangle High Cut Swimsuit Black M
Fabric has some stretch, very comfortable to wear
Features with leopard print, spaghetti strap, underwire and high cut, bra and panty with beach skirts, nicely shows your figure and makes it look very beautiful
Suitable for beach, pool, swimming, surfing, summer vacation, hawaii, honeymoon and any other water activities
Bestseller No. 4
Sale
Bestseller No. 5
See also… Beachwear for women over 50
Floral cup swimsuit reviews
Any floral print that seems like it belongs in the 1960s, 1970s, or 1980s is considered retro floral. This swim fad seems new and distinct from your regular floral-printed suit because of the nostalgia these colorful designs evoke.
Shein beach cover up
Sun protection is provided by beach cover-ups. While many of us visit the beach in order to achieve that gorgeous sun-kissed glow, too much sun exposure is harmful.
A beach cover-up is a trendy method to shield you from the sun.
Plan on wearing a beach cover-up for at least part of the day if you're going to spend a whole day lounging at the beach—which is presumably why you flew to a beautiful paradise in the first place.
Beach cover-ups and sarongs
Bestseller No. 1
SheIn Women's Open Back Split Thigh Crochet Beach Swimsuit Cover Up Without Bikini Apricot Small
Soft lightweight fabric breathes well, stretchy, quick drying and stays cool on the skin
Features: Backless, side slit, deep v neck, sleeveless, the cute draped can better to hide your tummy and helps to protect you from sun exposure
The sheer dress can wear with anything, great to work with a tank, cami shirt, shorts or sandals. You can also wear it as a simple casual midi sun-dresses
Bestseller No. 2
SheIn Women's Open Front Kimono Cardigans Button Down Shirt Long Sleeve Bikini Cover Up White S
Fabric is soft and comfortable, but has no stretch
Split hemline, long sleeve with button cuffs, classic plain pattern, semi sheer, button through, collar neckline, lightweight material, quick drying and stays cool on the skin
You can use this button up shirt as open front cardigans matched with any tops and bottoms you prefer, or as a beach cover ups styled with bikini sets, easily showing your beautiful silhouette
Bestseller No. 3
Bestseller No. 4
Bestseller No. 5
If you enjoyed 23 Drop-Dead Gorgeous Swimsuits Now on Amazon | Shein Bathing Suits Review [2022], see more of our recent articles below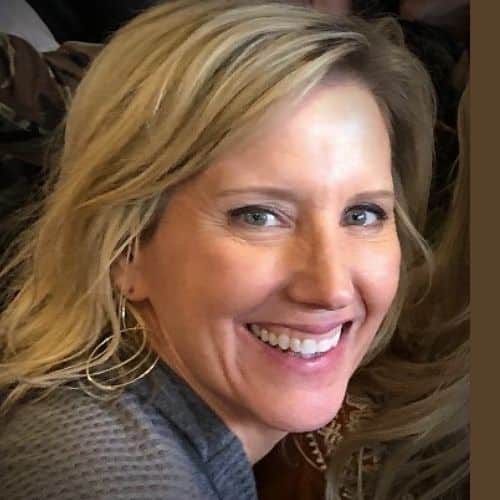 Claudia Faucher is a full-time fitness training expert and lifestyle blogger. She is also been a certified Les Mills BodyPump instructor for the past 5 years and a fitness instructor for over 20 years. Claudia is a personal trainer and creates fitness training programs for seniors and people of all ages. She likes to use her skills and experiences to help others on their fitness journeys.
Last update on 2022-08-30 / Affiliate links / Images from Amazon Product Advertising API