Summer is in full swing, and it's time to hit the beach or pool. But if you have larger breasts and a tummy, finding the perfect swimsuit can be a daunting task. The last thing you want is to feel self-conscious while trying to soak up some sun. Fortunately, there are plenty of stylish and comfortable swimsuit options available that will flatter your curves and make you feel confident. In "11 Best Swimsuits for Large Bust and Tummy", I'll share some tips on how to find the best swimsuits so that you can enjoy your summer without any worries!
I may earn a commission when you purchase through a link on this page.
Best Swimsuits for Large Bust and Tummy
Best Swimsuits for Big Busts and Tummy Control
When shopping for bathing suits for women with big busts and a belly, prioritize support and coverage. Look for swimsuits with built-in shelf bras, underwire, or molded cups to provide adequate support for your bust, and consider swimsuits with more coverage on the tummy area, such as a high-waisted bottom or a one-piece. These features help prevent sagging breasts and provide a more flattering silhouette. Here are some of my top choices:
Tempt Me One Piece High Neck Swimsuit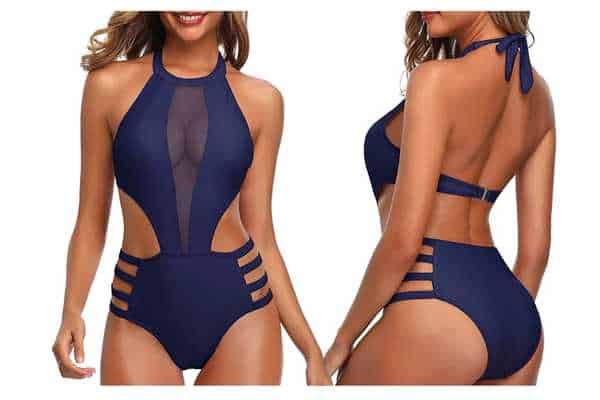 Shop Tempt Me: Tempt Me High Neck Swimsuit
I recently purchased the Tempt Me V Neck One Piece Swimsuit, and I have to say, I am beyond impressed! As a woman with a larger bust, I always struggle to find a swimsuit that offers both comfort and support.
The high neck style with halter straps that tie at the neck and hook closure at the center back provided the extra support I needed, while the removable cups and padded push-up bra gave me the shaping I desired.
The sexy plunge mesh patchwork bust area matching the cutout and strap at the waist design was both flattering and flirty. The blue-colored backless design was sultry and slimming, and I felt glamorous wearing it.
The high-quality smooth fabric material was more comfortable and elastic, which made it perfect for swimming, beach parties, and tropical vacations. With different US sizes to choose from, I found my perfect fit in no time. 💖💖💖
AMOURRI Vintage Polka High-Waist Swimsuit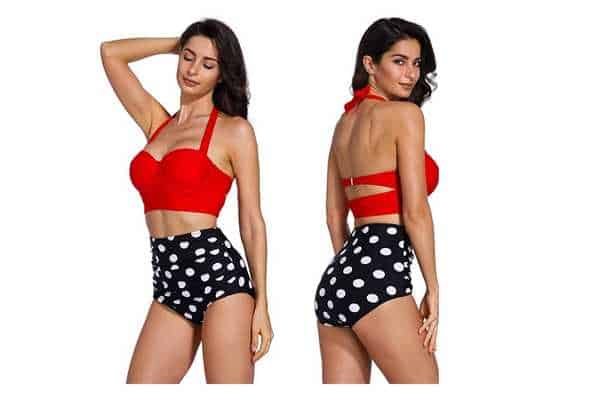 Shop Amourri: AMOURRI Vintage Polka High-Waist Swimsuit
The AMOURRI Vintage Polka High-Waist Swimsuit has become my go-to vintage style swimsuit!
It features a vintage polka dot design that adds an elegant touch to the overall look.
One of the features that I really appreciate about this swimsuit is the high-waisted bottom. It has a front lining, low-cut legs, and ruching on the front panel that is an extremely flattering way to camouflage any problem areas.
I really love this line of retro-style swimsuits and the full-size range that's available.
It's a fun look and perfect for any summer activity!
Lands' End V-Neck Wrap One-Piece Swimsuit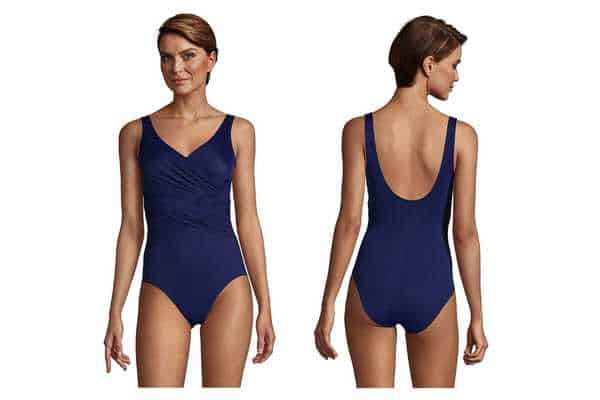 Shop Lands' End: Lands' End Tummy Control V-Neck Wrap One Piece Swimsuit
I purchased the Lands' End SlenderSuit Swimsuit last fall and really like the quality. Yes, it does cost a bit more than some of the other suits I've tried, but I can definitely see why.
The nylon-blend jersey material is chlorine-resistant, ensuring better durability, and the colors stay vibrant longer no matter where you wear it.
The Slendertex fabric smooths and sculpts my figure, while the chic crisscross shirring adds a dash of elegance to the deep v-neck design.
The soft cups provide gentle lift and support, and the superior stretch and recovery ensure that the suit holds its shape for longer. I love the way it fits and looks, providing tummy control.
This swimsuit is perfect for travel and for full coverage with plenty of butt coverage.
Freya Sundance Tankini Swimsuit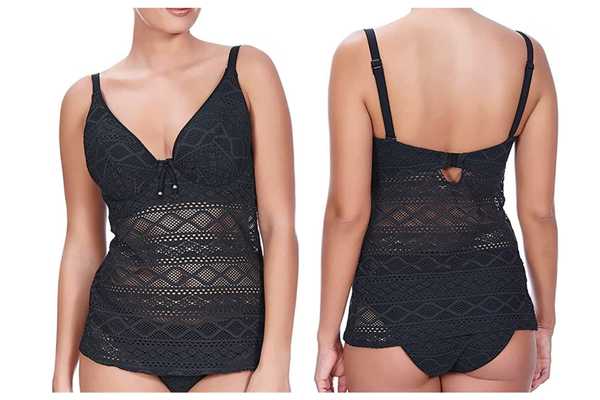 Shop Freya: Freya Sundance Underwire Tankini
If you struggle to find supportive swimwear with tops to fit you properly, the Freya Women's Standard Sundance Underwire Padded Tankini will be a game changer for your summer swimsuit collection.
The underwire cups with light foam lining gave me just the right amount of lift and support without feeling uncomfortable or restrictive.
I also love the stretch straps that partially convert to a criss-cross style, adding an extra level of support and customization to fit my body perfectly. And the simple snap-back closure with keyhole back detail was easy to use and added a stylish touch to the overall look of the tankini.
The crochet detailing on this swimsuit is absolutely gorgeous, and I received so many compliments while wearing it. The fact that it comes in sizes up to 38G is a huge plus, ensuring that everyone with big boobs can find the perfect fit for their body type.
Miraclesuit Oceanus Tummy Control One Piece Swimsuit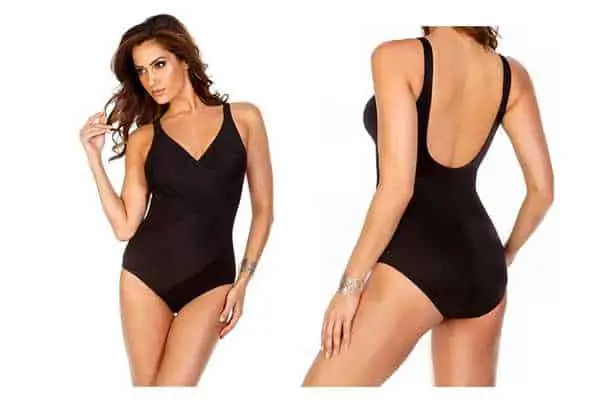 Shop Miraclesuit: Miraclesuit Oceanus One Piece Swimsuit
The Miraclesuit Oceanus Tummy Control One Piece Swimsuit is super comfortable and provides top-level support. This is one of the best slimming swimsuit brands I have tried and it truly does make me look 10 lbs. lighter in just 10 seconds!
The V-neckline with soft foam cups accentuates my bustline without revealing too much, and the fixed straps stay firmly in place without digging in or sliding down.
Sizing was also a breeze thanks to the helpful sizing chart included with the product. I ordered my usual size, and it fits perfectly.
Overall, I am absolutely thrilled with my purchase of the Miraclesuit Oceanus One Piece Swimsuit.
Tempt Me Two-Piece Tankini Bathing Suit
Shop Tempt Me: Tempt Me Two-Piece Tankini
The Tempt Me Two Piece Tankini Swimsuit is an excellent choice for women shopping for a fashionable swimsuit that provides full coverage and support for bigger busts.
The adjustable straps on the high-neck tankini top provide a customized fit, while the push-up padded cups offer the support you need to feel confident and comfortable. The ruched top is not only flattering, but it also provides excellent tummy control, to boost your confidence.
I also appreciate that the black high-cut tankini bottom complements the top nicely, elevating my curves in a tasteful and sexy way.
Overall, I am thrilled with my purchase of the Tempt Me Two Piece swimsuit and would highly recommend it to any woman shopping for big busts swimsuits that are stylish, comfortable, and come in dd cup sizes. The variety of sizes available means that there is a perfect fit for everyone. Don't hesitate to add this swimsuit to your collection for your next beach vacation or pool day!
Angerella Push-Up Bikini Two-Piece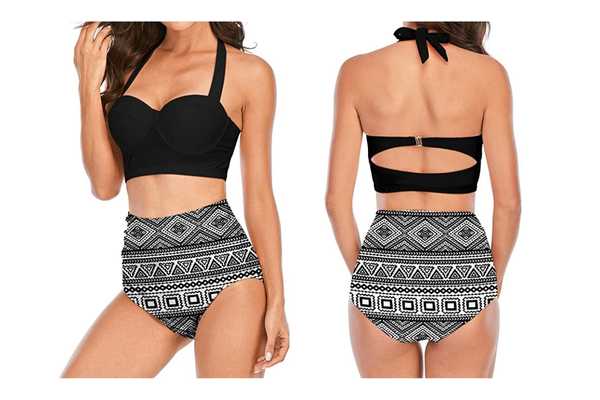 Shop Angeralla: Angeralla Push-up Bikini
If you have a large bust, this Angerella Two Piece Bikini is perfect for you! The halter top of the bathing suit comes in various styles and is made with thick, soft adjustable straps and supportive underwire cups for a sexy, fashionable, and cute look.
The high-waisted bikini is available in a wide range of sizes, including S (US 4-6), M (US 8-10), L (US 12-14), XL (US 16-18), and XXL (US 20-22).
The Retro Vintage High Waisted Collection was designed to exaggerate every girl's figure and waistline while still being comfortable enough to wear all day long!
CUPSHE Ruffled High-Waisted Bikini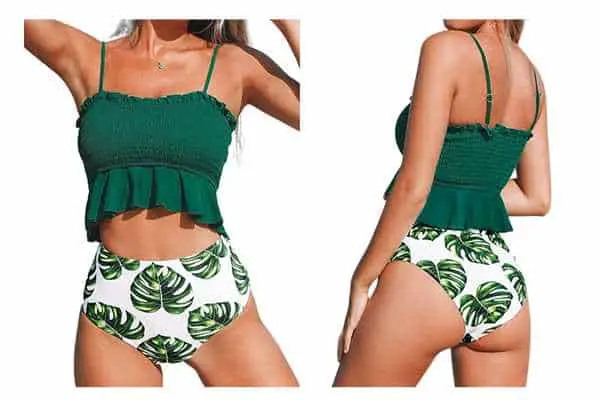 Shop Cupshe: Cupshe Ruffled Bikini with High Waist
You will love this High Waisted Ruffle Bikini Set from CUPSHE. The high-waisted bottoms are flattering to any body type and the ruffles on the front add a playful touch. The top comes with removable padding for extra support if needed, but also looks great without them. The straps are adjustable so you can customize your fit to your preference.
The colors of this bikini set are perfect for summer, but can also be worn year-round. This really is a great-looking bikini!
Panache Swim Anya Bandeau Strapless Swimsuit Bikini Top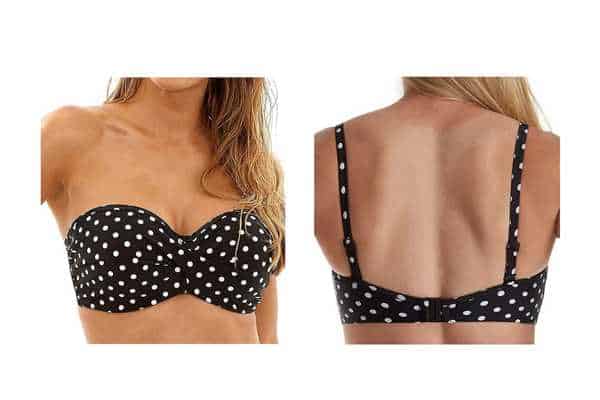 If you're like me, you probably like to mix and match your tops and bottoms. If so, I've found the perfect top with the Panache Women's Anya Spot Underwire Swimsuit Top!
The twisted, gathered outer and two-piece inner foam cup and cradle work together to give my bust a great shape and maximum support, even when wearing a strapless style.
Here is the matching bikini swimsuit bottom.
One of the things I really appreciate about this bikini swim top is the plastic boning in the side seams, which gives me extra support and stability.
Overall, for women with big busts, Panache Bandeau Bikini Top is a comfortable and supportive swimsuit option.
Luvamia Two-Piece Crochet Lace High Waist V Neck Bikini Set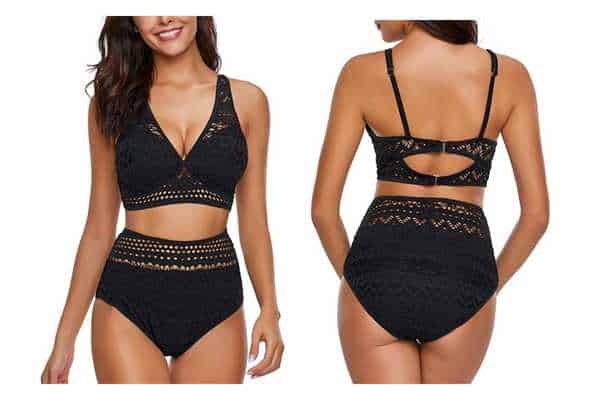 Shop Luvamia: Luvamia Two-Piece Crochet Bikini
The Luvamia Crochet Lace Bikini looks incredible and I couldn't be happier with the coverage!
The crochet lace design with a fun cutout is super stylish and trendy. The deep V-neck bikini top is flattering and the high waist swimsuit bottom provided the perfect amount of coverage without looking too conservative.
This suit comes in 8 colors, but the black version is one of my favorite swimsuits I own.
But what really impressed me was the support of the swimsuit. The adjustable straps and double S-hook closure allowed me to customize the fit to my liking, while the built-in bra, is padded to support without the discomfort of underwire. I felt confident and comfortable in the suit all day long!
One thing to note is that the sizing is true to standard US sizes. I ordered a size Large and it fits me perfectly (I'm typically a size 12/14). So make sure to check the sizing chart before ordering to ensure you get the right fit.
Overall, I highly recommend the Luvamia Crochet Lace Bikini to anyone looking for a stylish and supportive bra top bathing suit.
La Blanca Island Goddess Multi-Strap Cross-Back One-Piece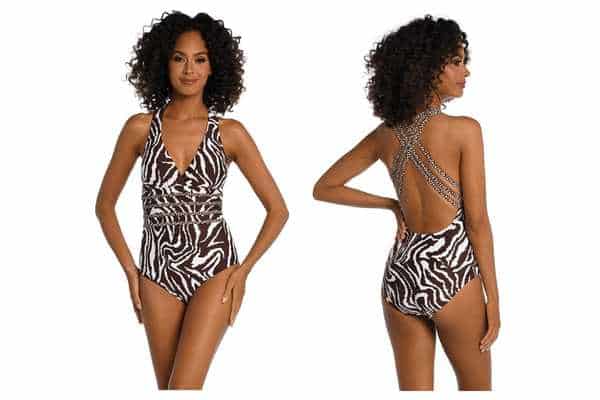 Shop La Blanca: La Blanca Island Goddess Multi-Strap One-Piece
The La Blanca Multi Strap One Piece Swimsuit is definitely the more gorgeous swimsuit I've ever owned. Not only does it look great, but it also fits like a glove and provides great support to boot.
The built-in belly control flatters my figure without being too constricting, and the multi-strap design adds a fun and trendy touch without sacrificing coverage. If you're looking for a flattering suit that's also easy to put on and take off, this is the way to go!
FAQs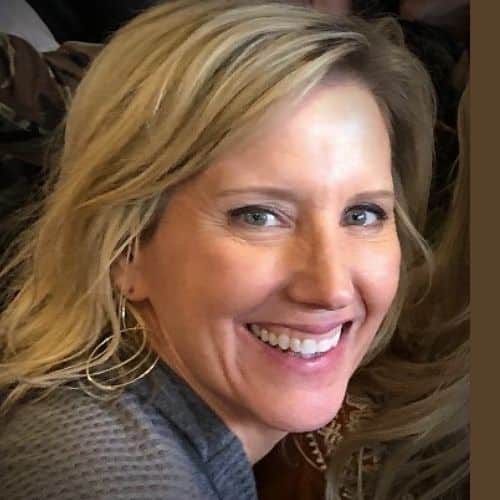 Claudia Faucher is a full-time fitness training expert and lifestyle blogger. She is also been a certified Les Mills BodyPump instructor for the past 5 years and a fitness instructor for over 20 years. Claudia is a personal trainer and creates fitness training programs for seniors and people of all ages. She likes to use her skills and experiences to help others on their fitness journeys.