Listen up, guys and girls! Matching couples' swimsuits are one of the hottest trends in beachwear this year. Score big points with your significant other by purchasing one of these great look selections for your next destination vacation!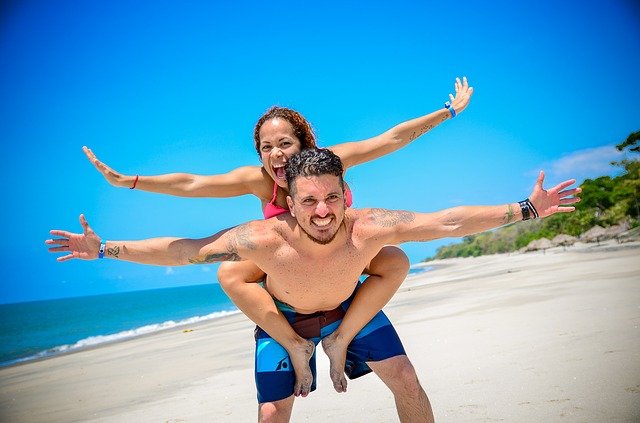 Good news. I've decided to help you out. Check out my hand-selected matching bathing suits that look amazing for couples or groups.
Whether you're headed to the best all-inclusive resorts in Punta Cana for couples, have your heart set on one of the many Chincoteague Island vacation rentals, or something in between, having the perfect bathing suits to match the occasion is key!
Matching swimsuits for couples is not only cute, but it's a lot of fun. Here are just a few reasons to shop for swimsuits for couples:
High-quality matching designer swimsuits for your honeymoon
Matching bikinis and sarongs with your girls
Family or couples matching vacation outfits
Friends matching swimsuits for a group vacation or family reunion
As an Amazon Associate, I may receive a small commission (at no cost to you) on qualifying purchases which allow me to keep creating amazing free content for you. Support FitFab50 by using the links in my articles to shop. Thank you!
Let's jump right into checking out the best swimsuits for the two of you! Not only are there great bathing suits for couples, but many offer matching swimwear for the entire family!
Shop These Matching Couples Swimsuits!
Matching swimsuits for couples
So you want to know why are matching swimsuits for couples so popular right now?
Yes, the lookalike bathing suits were all the rage in the '60s and '70s. But, a lot has changed since then.
Yet, couples, togetherness, and being connected will never go out of style!
The concept of coordinated fashion for couples is as old as the clothes themselves. Matching attire has a timeless quality that is chic and classy!
But, matching suits don't necessarily have to be purchased together. I have to agree that many searches point you in the direction of some pretty cheesy matching swimsuit sets.
However, there are plenty of great bathing suits for his and hers, that do look terrific.
Also, pairing cute tankinis and solid color bathing trunks for men that you buy separately works as well!
Here are some of my favorite looks for matching swimsuit sets for couples
---
Leopard Matching Swimsuits
---
Cheetah Print Matching Swimsuits
---
Palm Tree Matching Swimsuits
---
Solid Black Matching Swimsuits for Couples
---
FAQ about Swimsuits for Vacation Wear
What are the most popular swimsuit brands?
What are the top luxury swimsuit brands?
One of the top-selling luxury swimsuit brands is La Perla. La Perla was founded by Ada Masotti in Bologna, Italy in 1954. Today, La Perla is known for its high-quality lingerie, sleepwear, and swimwear, as well as its utilization of artisan craft skills. Created by women, inspired by women, and built for women, the brand combines Italian tradition with innovation.
How many swimsuits should I bring on a beach vacation?
Based on a seven-day vacation, I would recommend taking at least 7 swimsuits. My rule of thumb is one bathing suit for each day. Swimwear takes up very little space, so why cut your fashion options short. Also, vacation mirrors and home mirrors don't show the same "you", for better or worse. It's nice to have multiple choices when away from home.
Are you supposed to wash swimsuits?
Yes. Limit the number of times you wash your swimsuit to once every 3 -5 times. This will prolong the integrity of the fabrics and protect vibrant colors and prints from fading. For best results, hand-wash only and air dry.
If you enjoyed, "The 15 Best Matching Couples Swimsuits For Your Next Vacation Getaway", check out my related posts below!
Last update on 2022-08-30 / Affiliate links / Images from Amazon Product Advertising API