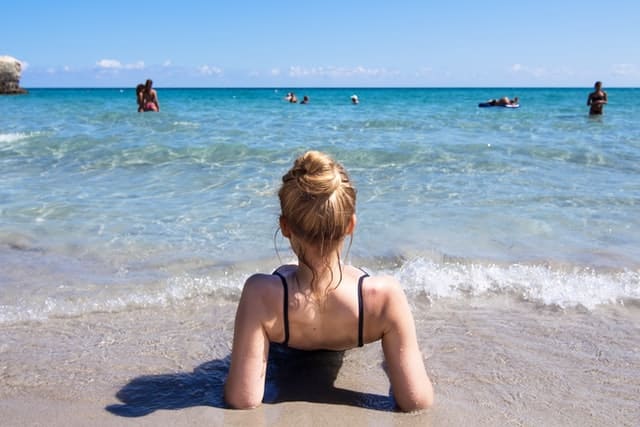 What are the best bathing suits to hide stomach fat? Wearing a bathing suit should be all about having fun. Whether you're on a mid-winter trip to warmer climates or enjoying the day at your local pool or beach, the last thing you need to worry about is how to hide a belly pooch.
I may earn a commission when you purchase through a link on this page.
Grace Bay Mesh One Piece Swimsuit – $24.99

Ultra sultry and sexy, this mesh one piece swimsuit is pure perfection. The front and back see-through mesh gives this sleek swimsuit a glam touch.
Slimming swimsuits with built-in shapewear to physically smooth a tummy bulge, or they use designs to appear appealing without feeling restricted. Ruching, diagonal lines, color-blocking with darker colors on the bottom, and strategic covering and cut-outs offer the most appealing appearances and are all wonderful slimming swimwear styles.
In this post, I share the best swimsuits to hide belly fat and discuss what style of bathing suit is the most slimming.
What is the best swimsuit color to make hips look smaller?
The most figure-flattering hues and best bathing suits that cover the stomach are those that are dark. A flattering silhouette, such as a black tankini, may be achieved by wearing a black or deep blue suit. Solid dark colors, and suits with darker panels or cut-outs, known as "color blocking," are incredibly flattering and can also help you look curvier or thinner.
What is the best bathing suit to make the butt look bigger?
This one pretty much speaks for itself. The more skin you expose, the larger your butt will appear. A cheeky or Brazilian cut bikini set creates the appearance of an apple bottom body type while also lifting the butt for an eye-catching beach body.
What is the best bathing suit to hide a tummy?
High-waisted suits are not some of the best bathing suits to hide a tummy, but they are also more secure. Ruching is one element to look for when attempting to disguise a tummy bulge. Ruching is attractive on all body shapes, but it's especially effective in hiding a stomach pooch. These tummy-control swimsuits help trim the waist, especially if the ruching is diagonal. It provides a flattering fit many women love.
What is the best swimsuit to hide tummy bulge?
Color-blocked swimsuits with a lighter top half and a darker bottom half give the perfect appearance of a smaller belly since most people's attention will be directed to the lighter top half of the swimsuit.
Colorblocked V-Neck One Piece Swimsuit – $79.95

Colorful and joyful, this Colorblocked V-Neck One Piece Swimsuit will definitly have you standing out from the beach crowd! Features V-neck design and criss-crossed back straps.
What is the best swimsuit to make your stomach flat?
One-piece bathing suits with tummy control are the perfect solution for those seeking to flatten the stomach area, while still looking chic and amazing. Consider a deep v-neck design, like the CUPSHE One Piece Swimsuit V Neck with Tummy Control, that also helps by drawing attention toward your upper half or chest area, instead of the area you may have concerns about.
What is the best swimsuit color to make you look tan?
The most common color used to highlight a tan is white. It's the most effective color for making your skin look darker than it is. Cool skin tones benefit from bright white. For naturally golden complexion tones, off-white is the ideal choice.
What is the best swimsuit for pear shape?
Narrow shoulders and a small-to-medium-sized chest characterize a pear-shaped body type, sometimes known as a triangle shape or an A shape. The hips, buttocks, and upper thighs, on the other hand, are broader than the shoulders and chest. The bottoms of a pear-shaped body shape are generally well-defined and curvy.
The key to finding the best bathing suit for a pear-shaped figure, such as the CUPSHE Women's V Neck One Piece Swimsuit Ruffled Lace Up Monokini, is to strike a balance between the entire top portion and bottom halves. Selecting a suit that narrows the waist and pulls the attention away from the hips may also result in a flattering look.
What is the best swimsuit for apple-shaped plus size?
Deflecting attention away from the tummy area is necessary for apple-shaped female bodies. One-piece swimsuits, like the Smismivo Tummy Control Swimwear Halter, bigger side bikini bottoms, and tankinis will all look fantastic on you! A high-waisted bikini bottom is great for hiding a little tummy bulge.
What is the best swimsuit for big belly?
Tummy control swimsuits. A deep-v-neck or plunge style swimsuit, such as this V Neck One Piece Swimsuits Tummy Control Ruched Swimsuit, is an excellent alternative for hiding the belly since it creates the illusion of a longer chest. Add some lattice or ruffles for tummy control swimwear, and you'll be able to hide any appearance of a belly pooch.
What are the best bathing suits for short women?
High-waisted bikini bottoms, like the Blooming Jelly Women's High-Waisted Bikini Set, are an excellent choice for this body type. They hug your waist while making your body look smaller and your legs appear longer than they are. This is a fantastic swimsuit for someone with a long torso and short legs!
What are the best swimsuits for sagging breasts?
Underwire bikini tops, such as this Women's Plus-Size Long Lined Underwire Bikini Top, and even bikinis with a touch of push-up provide the finest breast support. This is because underwire tops create a firm foundation beneath your breasts, preventing them from sagging anymore.
What are the best swimsuits for wide-set breasts?
The best bikini style for wide-set breasts is without a doubt a plunge neck bikini, such as Lilosy Sexy Self Tie Criss Cross Plunge Bikini. Check for side padding while shopping for the ideal push-up bra. Because it is responsible for pulling the breasts together, these adjustable straps allow side padding to be your greatest friend. And, contrary to popular belief, "pushing" does not have to be painful.
What are the best swimsuits for Petites over 50?
Petite women often find it difficult to find a suit that is flattering and appropriately fits their torso and overall body type. Older women may also face the trouble of finding swimwear that they feel is age-appropriate. Look for bathing suits cut slightly on the hip to elongate legs. There are plenty of swimsuit designs with a high hip style. The Meyeeka Women's Scoop Neck Cut is one of my favorites. It provides just the right amount of hip cutout style, while offering adequate coverage.
What are the best swimsuits for ladies with stretch marks?
The hips, chest, and midsection are usually exposed and skimpy in regular swimsuits. There are several suit styles, such as this Two Piece Bathing Suits Floral Print Tank Top with Boyshorts, on the other hand, are specifically intended to provide full coverage. They conceal your stretch marks and belly fat and allow you to relax and enjoy your day at the pool.
You may also be interested in my most recent articles on tankini swimsuits to hide belly and the best bathing suit to hide belly fat.
If you enjoyed, "Cute bathing suits to hide tummy", be sure to see other related posts below!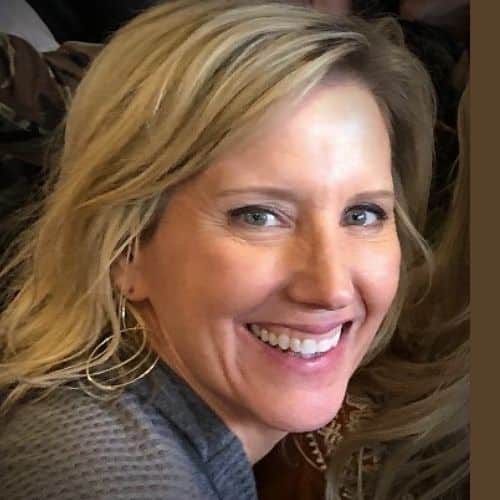 Claudia Faucher is a full-time fitness training expert and lifestyle blogger. She is also been a certified Les Mills BodyPump instructor for the past 5 years and a fitness instructor for over 20 years. Claudia is a personal trainer and creates fitness training programs for seniors and people of all ages. She likes to use her skills and experiences to help others on their fitness journeys.