Modest swimwear for moms is a tricky topic to tackle. How do you balance comfort with coverage and sexiness without veering into plain Jane territory?
I may earn a commission when you purchase through a link on this page.
Finding the right suit can be overwhelming. My tastes have changed since I've become a mom.
RELLECIGA Tummy Control Strapless Swimwear

This strapless one piece bathing suit is made of soft, flexible fabric that's chlorine resistant and quick drying so you can enjoy your pool time without the side effects of a rash.
I am going to help you find the best modest swimwear and swimwear brands for this season. I'm also lending a hand to help you find bathing suits, swimwear, and bikinis for moms that match your personality, are comfortable as well as good coverage.
Whether you're a mom in the early stages of motherhood or you're chasing your kids around the pool, we've got you covered.
Discover flattering swimsuits that are both stylish and functional. So, grab a suit and get ready to have some fun in the sun!
What to look for when researching modest swimsuit brands?
The best way to find the right suit is to contact your local swim shop online. If you want to have little to nothing skin, I can recommend some ways to filter the modest swimwear brands.
The best swimsuit options include the following: These are going to differ depending on the body type, but this option may provide maximum coverage.
I asked my mother friends who bought their pretty modest swimsuits. Some people suggested major retailers as well as online swimwear retailers.
I was also frugal when listing the costs of a swimsuit highlighting some low budget modest shirts when I found it.
Looking for the perfect swimsuit? Check out our roundup of the best suits for moms! These styles will make you look good and feel even better.
The best swimwear for moms to choose from
We all want to feel confident when we're wearing a bathing suit. We want one that hides our stretch marks, mommy pooch, and other parts that aren't as firm or toned as we'd like them to be.
Omichic Modest Floral Tankini with Boyshorts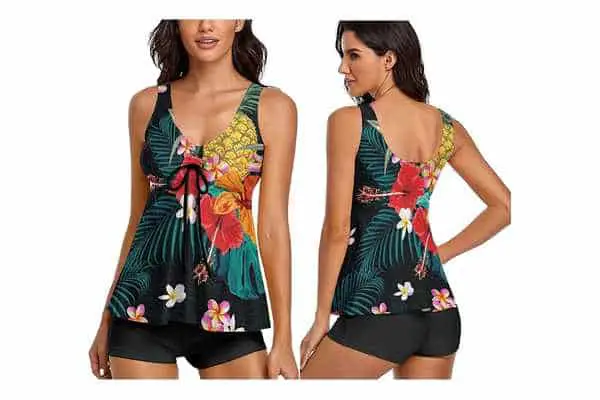 Shop Omichic: Omichic Modest Floral Tankini with Boyshorts
Looking for a modest tankini that you can wear to the beach or pool? You've come to the right place.
The Omichic Modest Floral Tankini with Boyshorts is made of 82% Nylon and 18% Spandex, so it's soft and comfortable while still providing plenty of support. The elastic closure makes it easy to get in and out of, while the two-piece bathing suit is flattering and elegant.
The long torso tank top with a removable padded bra can provide more support and enhance your shape, while the cute knot in the front and wide and elastic straps make you less pressure and more convenient to adjust the size.
The boyshorts bottom provides more than adequate coverage so you'll feel secure. The high elastic waistband will cover your tummy, making you look slimmer!
This vintage bathing suit is great for any occasion—beach party, pool party, hot spring bath, or any other water occasion! It shows off your slim body and charming personality!
Meyeeka Scoop Neck Lace Up Back Monokini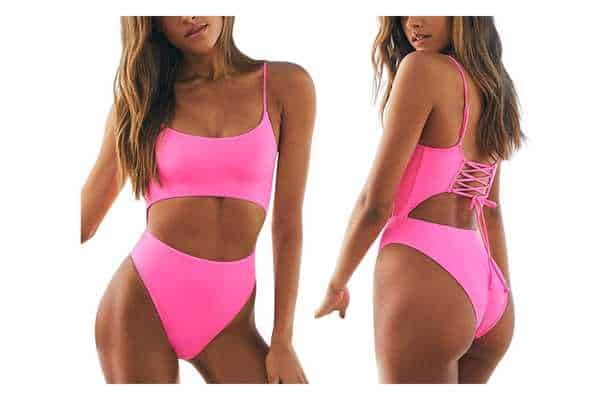 Shop Meyeeka: Meyeeka Scoop Neck Lace Up Back Monokini
Monokinis are a summer must-have! The Scoop Neck Lace Up Back Monokini by Meyeeka is super flattering, with its sexy high cut and double-layered details.
The soft material will hug your curves in all the right places. This solid bathing suit features removable padding and full coverage, so you can feel comfortable in any situation.
This cute swimsuit is great for hot days at the beach or pool party or even a night out on the town.
SouqFone Two Piece Ruffled Flounce Bikini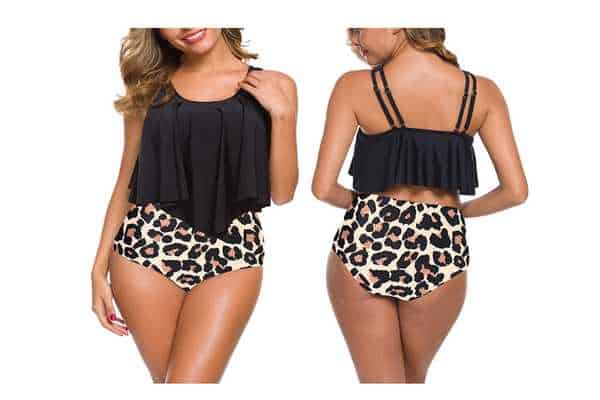 Shop SouqFone: SouqFone Two Piece Ruffled Flounce Bikini
The SouqFone Two Piece Bikini is made of Nylon and Spandex, with fashionable high-quality fabric, super soft and stretchy.
The tankini top features a flounce style with removable soft padding, a wide strap at the front, and two adjustable straps at back to secure the fit, while the high-waisted bottoms feature tummy control which will better hide your tummy.
The two pieces swimsuits are suitable for summer beachwear and swimwear as well as for beach parties, pool parties, spas, or vacations.
Cocoship Swimsuits
Cocoship Swimsuit is retro and cute. Besides being my favorite colors I enjoy navy and white, which are both nautical and classic.
Several have ruchings in their mid-section, and we know that they hide numerous sins. In addition, halters are especially handy when nursing because they hide things and allow for easy access.
ModCloth Swimsuits for Moms
ModCloth is focused on modest clothing and offers a variety of cute and modest swimsuits. I really like seeing all of their swimsuits in various shapes and sizes to make sure everyone is looking at them.
There is nothing bad about buying suits that look fantastic in their models and then coming back and finding your size isn't quite as it looks. It's my favorite umbrella sleeve.
The same swimsuits can be found in various styles such as classic black-and-white stripes. This tidal one-piece is super flattering and works for all body types.
Conservative swimsuits
Ready for your beach vacation? Whether you prefer swimming, surfing, or simply sunning yourself on the beach, the right swimsuit can help you enjoy these activities in comfort and style.
Should you wear a revealing bikini or a more modest suit?
American Trends One Piece Criss Cross Back Swimsuit

This swimsuit featuring a high quality 82% Polyester + 18% Spandex design that is durable, quick dry and stretchy to move nicely with the body. It has a unique one piece design that make you looks sexy and charming.
Conservative swimsuits cover more of you. If you prefer modesty, the garment will cover your chest, groin, stomach, and sometimes your legs.
beautyin One Piece Boyleg Sports Swimwear

Beautyin One Piece Boyleg Swimwear is ideal for those looking for a stylish swimsuit with the right amount of coverage. This swimwear is designed to be worn as a one piece, but with optional straps that can be attached at the shoulders.
There is a multitude of reasons for wearing a conservative swimsuit, which include religion, personal preference to be modest, extra protection from the sun, or just to hide certain marks or scars.
Swim dress Modest
If you're not a fan of the way a one-piece swimsuit looks on you, a swim dress will offer a more fashionable alternative.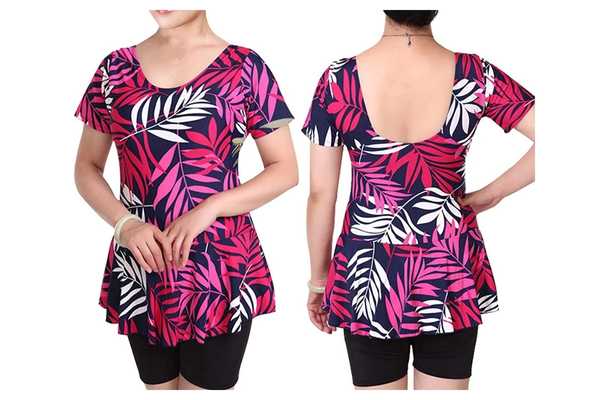 Shop Knaspor: Knaspor Swim Dress With Floral Leaf Print
A swim dress is a little like a modest one-piece bathing suit but has more coverage for your upper thighs. It also offers more sun protection, and the loose-fitting bottoms will keep you feeling comfortable and confident this summer.
There are so many swim dresses, slimming swim dresses, and tankinis to choose from today. The selections are really incredible.
What is the difference between swim dress and tankini?
A tankini is a women's two-piece swimsuit with a top half styled like a tank top and bikini bottoms for the bottom half.
The swim dresses are more modest bathing suits and an alternative to the one-piece bathing suit. The loose-fitting bottoms and the extra coverage of the upper part of your hips will make you feel more comfortable and confident this summer.
Swim dresses, like traditional apparel, come in many different styles and shapes.
You can choose between a range of options that are similar to those of a sundress. They provide the same built-in support and control, as well as hemlines, necklines, straps, prints, and colors.
Top Swim Dresses for Summer
---
SHEKINI V Neck One Piece Swim Skirt Ruched Swimdress
Shop SHEKINI: SHEKINI V Neck One Piece Swim Skirt Ruched Swimdress
Classic yet bold, this retro swimsuit brings new inspiration to an old classic style. The V neckline draws the eye upward, while the wide straps and padding bra provide plenty of support. The swimsuit features a ruched waist provides a better tummy control effect and adds more charm. Shorts under the skirt, moderate coverage, offer more safe and soft
---
GEMAN Swimdress With Tummy Control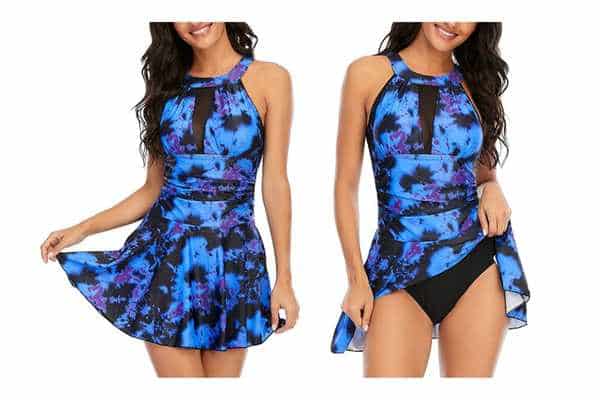 Shop GEMAN: GEMAN Swimdress With Tummy Control
Are you looking for a comfortable and sexy swim dress that helps hide your belly and hourglass shape? Then this high-quality tummy control one-piece swimsuit from GEMAN is perfect for you.
Made from stretchy, and silky fabric material, this swimsuit feels smooth to the touch, very comfortable to wear, and hides any imperfections.
---
---
MiYang Tankini Swimdress with Boyshorts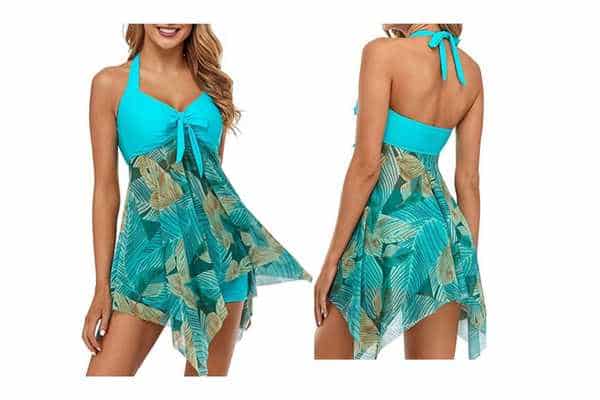 Shop MiYang: MiYang Tankini Swimdress with Boyshorts
MiYang Tankini Swimdress with Boyshorts combines high-quality fabric with a breathable mesh design for a lightweight, quick dry swimsuit. This tankini swim dress features an adjustable halter neck and straps for a personalized fit and feel.
MiYang's Tankini Swimdress incorporates form-fitting boyshorts to provide comfort and cute and modest coverage so you can enjoy fun in the sun with confidence. These swim dresses are the perfect modest swimsuits for moms for poolside activities and fun at the beach.
Modest swimwear
Modest swimsuits for women are a type of swimsuit that doesn't cover the arms and legs. There are two main types of modest swimwear: swimsuits with sleeves and swim dresses.
Some rash guards also have sleeves. Swimsuits with sleeves are typically paired with regular bottoms, board shorts, and swim skirts.
Cute tankinis for moms
Tankini swimsuits are finally catching up to their bikini counterparts. After dominating the beach for years, tankinis are finally starting to have some time in the sun.
ZAFUL High Waisted Tummy Control Tankini

ZAFUL High Waisted Tummy Control Tankini is designed with scalloped trim for a flattering look. This tankini features tummy control, moderate coverage and a lace-up back. Suit is made with super soft fabric that is very breathable and skin-friendly.
They are more modest than two-piece bathing suits, with a longer top that tapers off below the belly button. What's more, tankini swimsuits come in an array of colors, prints, and fits.
Super cute mom bathing suits and plenty of other options
The 20's, the '30s, and '40s are the decades when women are having babies, taking care of their families, and juggling careers. That is why finding the right swimsuit style is so important.
Our list includes bathing suits that cover your post-pregnancy body, suits you can wear without fear of flashing the kids or grandkids, and suits that will make you feel sexy during your vacation.
Let's get started swimsuit shopping with the list.
The high waist bottoms are my favorite because I am not comfortable showing my stomach like I was just a few years ago.
Choose the right swimsuit for your body type
Different body types look great in different swimsuits to include one piece or two piece. Here's a guide to what works best for each one.
Pear
When shopping for a swimsuit, it's important to know what works best for your body type.
For pear-shaped women, the widest part of the body is the hips.
A bikini or tankini is a great choice for modest bathing suits because it allows you to find the correct fit for your bottom and top. However, the illusion is also your friend here.
Hourglass
Curvy women have more feminine curves and should look for bathing suits that give them the support they need.
CUPSHE One Piece V Neck Scalloped Trim Swimsuit

Have all eyes on you with the CUPSHE One Piece V Neck Scalloped Trim Swimsuit.The adjustable shoulder straps and crisscross tie up back gives you the perfect fit. Features mesh inset at the waist to showcase your curves
A two-piece allows you to customize the support you need up top with the size you need on the bottom and offers a cute and modest look.
Athletic
Many women with athletic body types want to accentuate their curves. One way to do this is by choosing a bathing suit such as a one-piece with a criss-cross design or a two-piece with a supportive top.
SPORLIKE One Piece V-Neck Ruffle Monokini

Feel super cute and sexy in this SPORLIKE monokini. This swimsuit features ruffle at the front and back. Designed with removable pads,no underwire and front straps for superior support. This high-cut, moderate coverage swimsuit will make your legs appear longer.
This will create curves where there are usually none and make the body look more feminine.
Apple
Apple-shaped women are the widest around the chest. Belted or solid bathing suits create the illusion of a smaller waist.
Make sure you're wearing the right swimsuit
Swimsuits can be a little tricky to figure out. What size should you buy? What style is best for your body type?
Choose the right swimsuit for your body type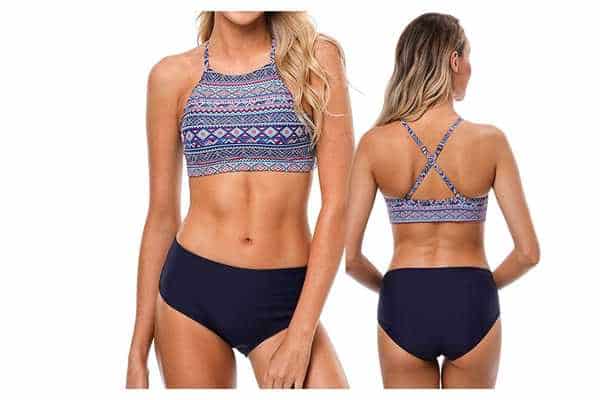 Shop CharmLeaks: CharmLeaks High Neck Sport Bathing Suit
How do you know if a swimsuit fits well? Well, it should be comfortable and not cause any digging underwire, slipping straps, squished bust, wedgies, or general discomfort. It should also fit your figure the way it was advertised.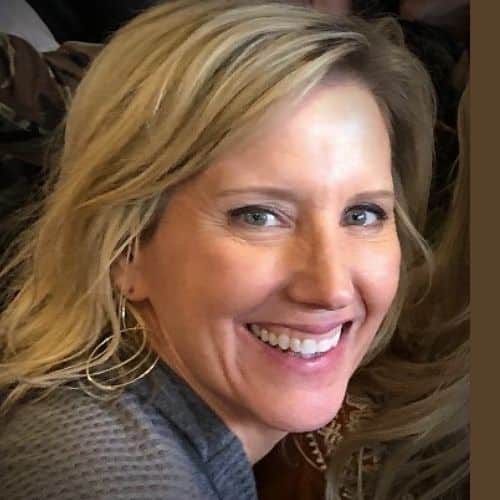 Claudia Faucher is a full-time fitness training expert and lifestyle blogger. She is also been a certified Les Mills BodyPump instructor for the past 5 years and a fitness instructor for over 20 years. Claudia is a personal trainer and creates fitness training programs for seniors and people of all ages. She likes to use her skills and experiences to help others on their fitness journeys.