When it comes to style and ease of wear, summer dresses for women over 50 feature a flattering fit and look that is great for any occasion, affordable, and the perfect choice to keep you cool
I may earn a commission when you purchase through a link on this page.
I have pulled together a collection that includes beautiful dresses to slip into and out of, floral prints, different colors, and styles for everyday wear.
Summer dresses are extremely versatile. Casual dresses for weddings look amazing with flats, but can also be worn shopping. Midi or maxi dresses, smock-like skirt dresses draped perfectly without rubbing or scratching — I found everything.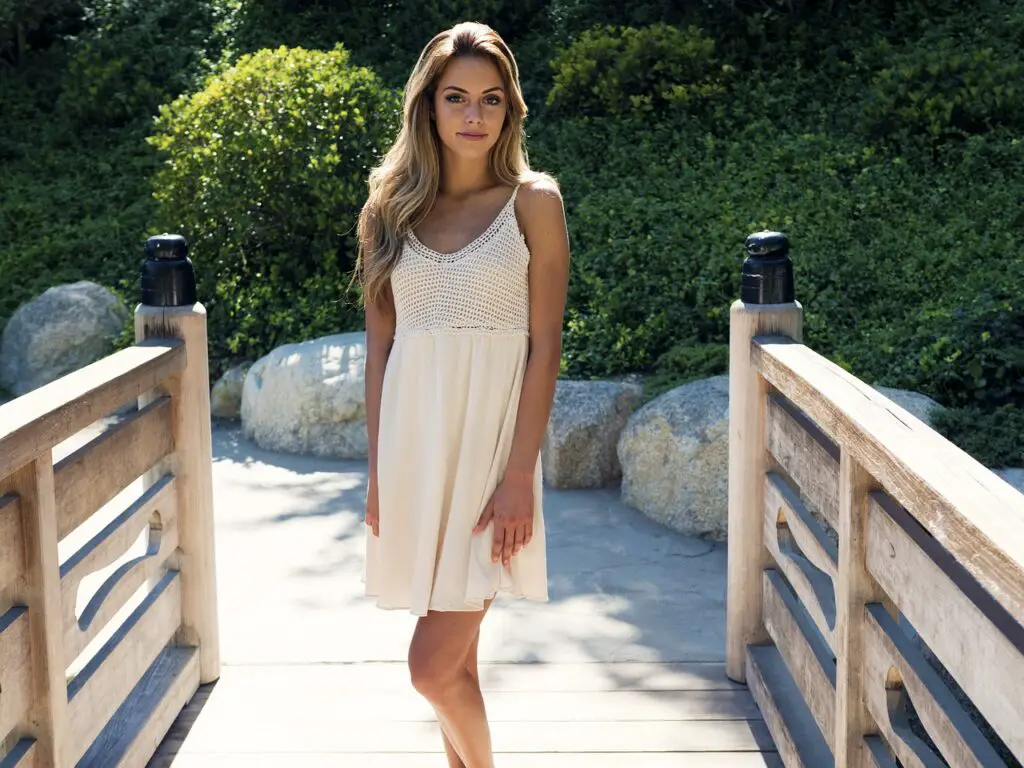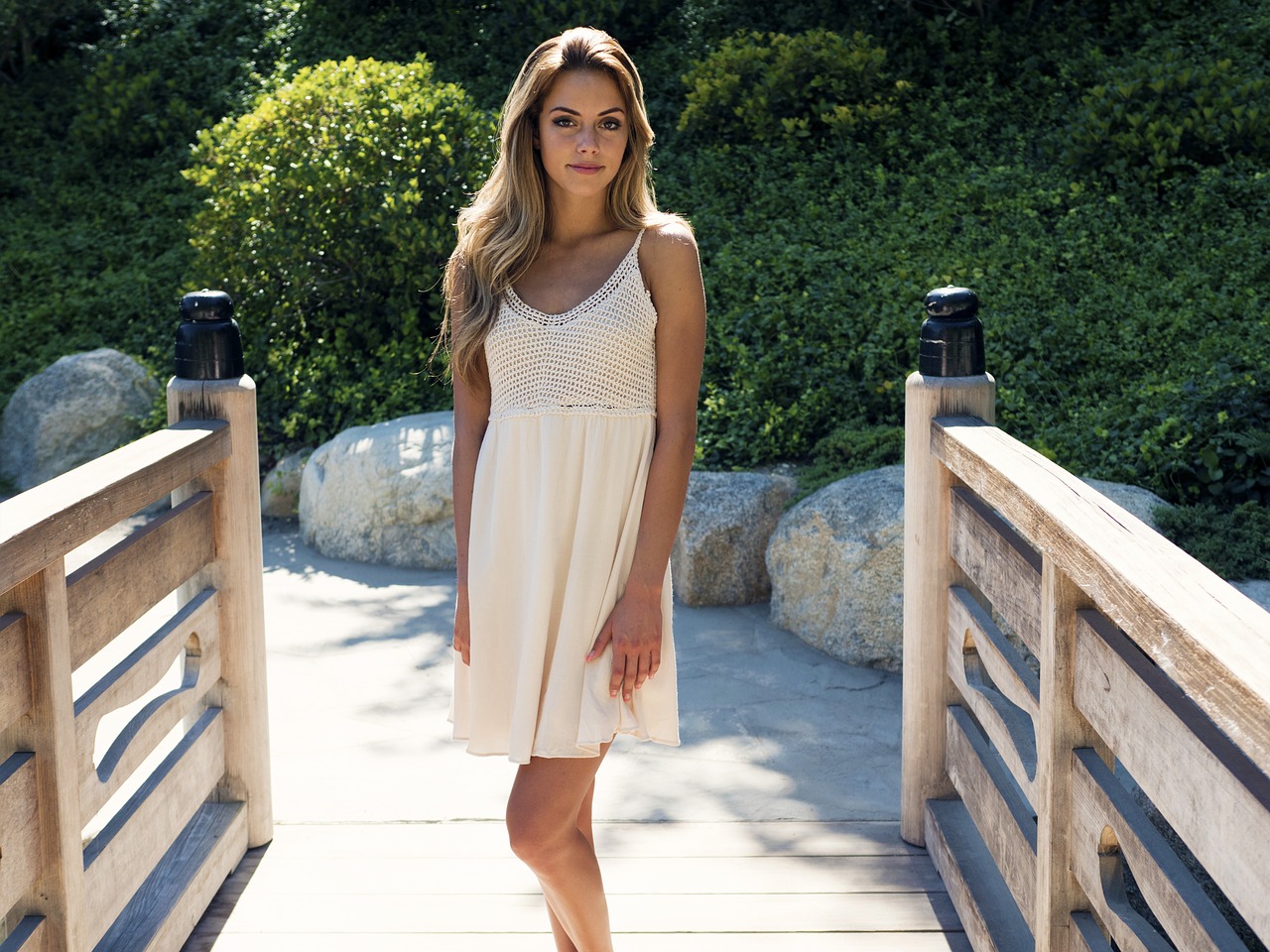 Today, 50 is the new "whatever you want it to be" age, so why not live your best life? Fashion styles and choices have never been greater. We have put together a wonderful collection of dresses we are sure you will enjoy.
What neckline do you like to wear?
Summertime is a great season to enjoy a deep V or plunging neckline. Choose your own adventure. Go glamorous, with nothing off-limits. Select designs with a flair for drama. Body-loving silhouettes don't just turn heads—they feel as amazing as they look. Whether you are dressing for chic, contemporary fashion, or everyday life fashion, summertime is a fun time with fashion and adventure.
As an Amazon affiliate, I may receive a commission for qualifying purchases.
Sexy V Neck Backless Floral Print Maxi Party Dress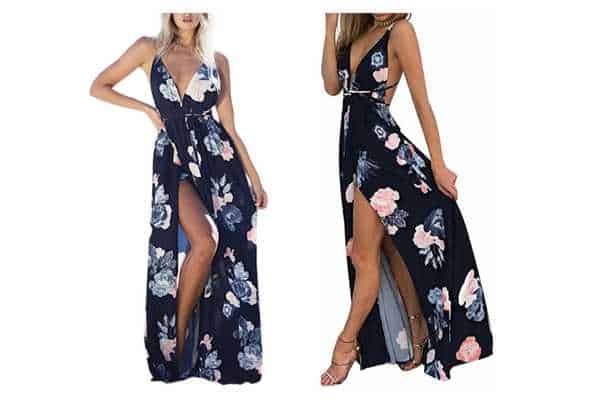 This V Neck Backless Floral Print Maxi Party Dress is made from chiffon material and is comfortable to wear. It has a tie-up neckline, spaghetti strap, back cross, and waist cross self-tie that can be tied multiple ways, and long straps that give the dress extra versatility.
The high waist and side split show skinny, long legs and feminine curves which are sexy and sophisticated. Everyone will love it!
---
Floral Print Spaghetti Strap Midi Dress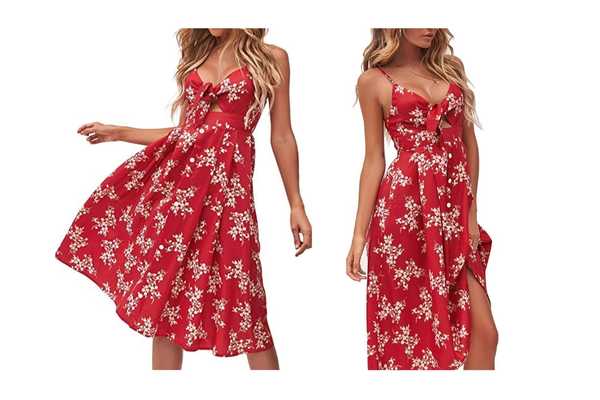 How cute is this floral print dress? The tie at the chest is not real, it includes a piece of fabric to tie around the center which can be tighter/looser to show more or less skin, meaning you can adjust how much/how little cleavage shows.
---
V Neck Sleeveless Casual Summer Sundresses Floral Maxi Dress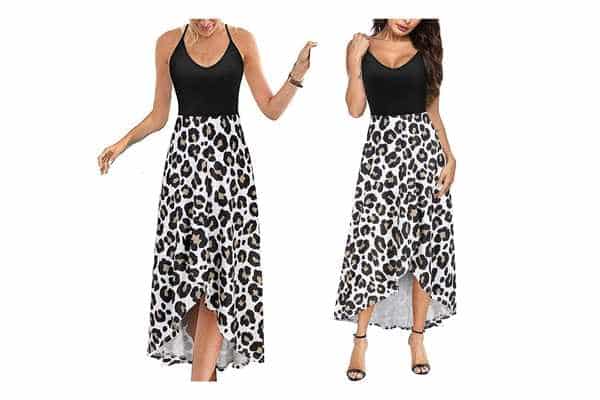 A bright and colorful floral printed design adds to the pretty appeal of this cotton patchwork maxi dress–An essential for every women lady's wardrobe. The 'White' is a little see-through, suggesting you wear a nude or lighter color bra or underwear.
The maxi dress is available in different colors and styles.
---
Sleeveless Low Cut Backless Boho Short Sundress
This short sundress with a Boho print is a cute and comfortable style to wear on summer days. The elastic waist and flowy design make it flattering and forgiving, creating a relaxed but pretty fit. You can wear it around the house or to a wedding party. It works great as a swimsuit cover-up at the beach and the pool, is wrinkle-free, and dries quickly!
---
Do you like bright colors or floral prints?
Warm weather seasons are the perfect time to show off your love for vibrant colors and bold patterns. Go all in! Mix and match colored clothes with bright accessories. Brighten up a white dress with a colorful handbag and don't forget about the jewelry.
Here are some colorful summer dresses that will surely turn heads! Have fun going bold!
Summer Spaghetti Strap V-Neck Floral Dress with Pockets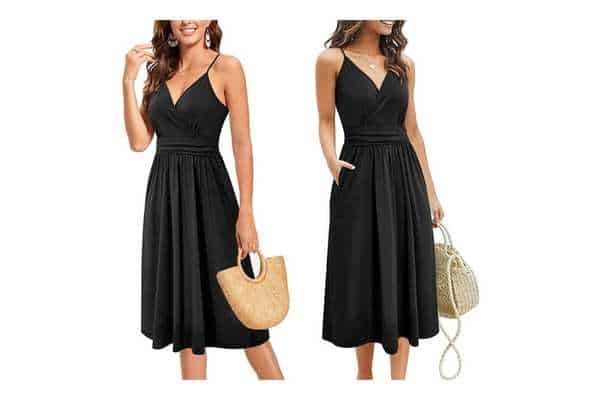 This v-neck pattern midi dress is a necessary dress for all women's wardrobes. This v-neck pattern dress is cut simply and knee length, with a simple wrap waist design, and is useful for nearly any occasion.
The vivid pattern of this v-neck pattern dress is minimal to call attention to the wearer without distracting. The v-neck pattern dress will great to worn with pumps for daytime business or with more ornate jewelry and accessories for a holiday party
---
Features:
95% Polyester, 5% Spandex
Pull-On closure
Material: 95% polyester, 5% spandex. Soft material, comfortable, Perfect for the upcoming summer days!
Design: Sexy V Neck, Floral Print, Spaghetti Straps, A-line Style, Mini Dress with a belt. Make you more beautiful, fashionable, sexy, and elegant.
Occasions: Beach, Outdoor, Party, Cocktail, Vacation, Wedding, Club, Dating, Evening, or daily wear.
---
Features:
Material: Quality spandex and polyester, Very Comfortable and Breathable
Imported
Pull-On closure
Features: Wrap front, V-neck, Slim elastic bandage waist, Short sleeve, Above-knee length, Clear stripe printed, Waist tie belt, A-Line swing, Ruffled hem, Sexy pleated mini dress
Swing flowy Summer beach dress, V neck cross wrap front, forms the attractive frame for neck and shoulder.
---
Features:
Pull-On closure
NOTE: Please order ONE SIZE SMALLER than your normal size!!!
Design: Adjustable Strap, Sleeveless, High Waist, A-Line, Print, Crew Neck
Unique style, create stunning curves, suit for casual wear or dress up.
A good amount of stretch, breathable, skin-touch, makes you feeling well.
The Hottest Best Dresses for Women Over 50 – Trends for 2023
Fashion history is always intriguing, and according to Vogue, the latest trends for 2023 will return to what was referred to as the foundation of fashion.
The trend might return to the 2000s with punky designs in addition to ultra low-body and super high necklines, but there are also details of the 1920s.
In addition, trends for the dress will shift to corset ballgowns & faux furs in 2017. It is likely flaming red or ultraviolet blue will enter the color spectrum.
What is a casual dress?
Generally, a casual dress can serve as the foundation for various occasions like your job or work, an event or even an important celebration. It's often comfortable and informal with no formality.
This is incredibly helpful on travels; train, road, or plane. Casual summer dresses for women are typically loose fitting, with a v neck or scoop neckline.
Some people think a casual dress would be more appropriate in the cold weather where sun dresses are in high demand and they often have bright colors.
Casual dresses are available in dozens of designs and you may find that you prefer the specific brands of Salty Crush or you might prefer a specific style. I own six dresses that change frequently.
Casual clothes in warm weather generally feature a short sleeve if not no sleeves.
Solid colors or prints?
Solid colors and color blocks are always good options for women under 50 because they show confidence and are easily dressed up. Y
ou can easily make an ordinary block-color dress look similar dress by using a variety of accessories.
Dresses of solid colors can be used with scarves with beautiful prints or with jackets and cardigans of patterns.
They can be easily dressed up and rearranged making it simple for different color cardigans, coats, scarves, and accessories to complete the look without being too extravagant for the style.
Prints however can tend to appear older than they actually look and can even make someone appear older.
How to dress for your body type?
I always stick to is to keep my dresses at knee length or longer. Obviously I can go a bit shorter with beach wear, but generally speaking, I find it's a good rule not to break.
Some women may feel great in shorter dresses, and that's totally fine too! Another important fashion tip is to keep your body type and comfort level in mind when choosing clothing.
There are specific cuts that flatter certain bodies and some that flatter almost everyone.
Fashion trends can be fun to follow, but keep in mind that there's nothing wrong with sticking to a classic style that you know looks good on your frame
How old do I look like?
Does this change over time?
Do you like apples, pear, clockwise, triangles and rectangles?
Please consult the Body Type Guide. Dress tight on top is not ideal for pears. Dresses with a sleeveless silhouette, slitted waistlines, elastic waistline and a flared skirt will fit this body type better.
Dress shirts have fitted bodice and full skirts, perfect for apple-shaped women. A large belly makes thighs look larger.
Consider your age and body shape
Our body changes with time. As our body types evolve, the curves can change or decrease in size. The skin is soft and toned.
We might notice a shift in the shoulders and waist. I think this change isn't unexpected, but the outfit can still get tricky.
We have to remind ourselves of this as well when purchasing dresses for summer.
Check the Fabric
The material that your clothes are in may not be as important. The right material will flatter, hide imperfections and keep your body warm.
Here are what fabrics should be considered for summer dresses: cotton is always a good choice for summer dresses. It is lightweight, and breathable.
Find cotton dresses that have some stretch that will fit the curves without being too tight.
Linen is another perfect summer outfit. It is lighter in the air, keeping you cool during the hot days.
Maxi Dresses
A maxi skirt makes a perfect summer dress because it is warm and relaxed and keeps you cooler during the summer.
The flowing shape of a maxi dress flatters women over 50, as well as anyone who wears it. This can assist you in hiding your self-consciousness like the chest and abdomen, while showing off your best features.
In addition, maxi dresses are simple to style. Whatever your outfit, a maxi dress will help keep your body chilly and stylish throughout summer.
Sundresses
Sundresses are great for women over 60 wanting to be stylish and confident.
These tips can help you narrow down your options to find the most comfortable sundress for you. A knee-length sundress can also highlight your curves and highlight the leg.
For more coverage choose your sundress with hat and caps sleeves. Don't fear trying patterns or printing – this will add some fun and unique flair to your look.
It's easy to keep your summer attire cool with this sundress.
Wrapping. Dressing
For casual clothing, wrap dresses have become a perfect choice. It is easy to wear and is dressier or down depending on the occasion. Plus it flatters everyone.
Typically there are dresses that have flap-seams, keeping your arms covered but ensuring coolness when you go outside for the day. The wrap dress should be fitted at the shoulders and flared down, with the skirt being comfortable for the waist.
Check lengths for the height below or above knees.
A-line
A straight dress will make your outfit comfortable and flattering in a more relaxed manner. This design flatters nearly all shapes and often uses lighter materials like cotton and linen making them ideal for warm days.
For the best fit, check the length of the dress to prevent it from fluttering around the hip. Check the length to determine the height.
Fit and Flare
Another excellent choice for casual dress is the fitted dress. The dress can be worn in any outfit or in any style depending upon your event.
Despite the slim silhouette and flare skirt this dress is flattering for every body types. Ensure this falls to a low level.
Different dresses for different occasions
There are not many styles that combine all the features that can be enjoyed casually or formally.
Instead choose different styles depending on the preferences of your person or events which may be scheduled throughout your year.
Choose flattering layered dresses for formal events and comfortable flowing dresses with skirts for daytime dresses.
Dress for a party. Over 50
For women over 50, finding the perfect party dress can be a little harder.
We all want to wear our best attire, without exposing ourselves or being too provocative. It is essential that you consider the shape that suits you most.
Older women can still get away with skimpy and bright dresses. Suitable party clothes should showcase your style sense, enhance your body proportion and overall look fabulous.
Sweater Dress
It is typically made up of knitwear and has varying shapes. It may look good with leggings or boots or with a sexier tight or shoe.
It is a great option for anyone wanting a warm, but not bulky outfit, it is typically fitted and flattering.
You don't just have to choose what fits you as there's a variety in different shapes. The various sweater dress styles are available in different shapes.
Best Wrap Dresses
Wrap-covered dresses offer versatility and many benefits, and this style can be worn on many occasions.
The best wrap dress will take your waist off, possibly come under your elbows, and cover your upper back. It's usually designed to enhance your best and hide the bits you'd like to hide more discreetly!
They are very flattering dress for women older than fifty. It's the ideal choice for women who are interested in clothing that can be worn over the arm or the waistline. It can be worn by wearing wedges and heels to lengthen a girl's legs.
A-Line Fit and Flare Dress
Many women over 50 find it difficult to get into the right outfit. We try to get a dress but feel too tense and uncomfortable, It's too soft and I feel like a whale! In contrast, a skirt that has asymmetrical hems are usually ideal to many women.
A-line dresses can also be called fitted dresses. It's fitted along the waistline and the skirt is flared down to the bottom. It's very attractive. It makes any girl appear slimmer.
Fit and flare dresses can suit many different body shapes because they hug your curves and don't feel restricted or uncomfortable.
The most flattering dresses for mature women
Sure many young girls are seen in beautiful dresses advertised as perfect for women under 50, although there are very few role models. We alter our body's shape with age, especially during menopause.
Avoid getting discouraged by the dress. Find the right dress for your body type and lifestyle and find a good fit for your body. Body shape changes with age.
However, do not be afraid of dressing like this.
Best Cocktail Dresses
Cocktail dresses for ladies over 50 are a perfect choice for flattering the shape and enhancing your beauty.
It's essential that we try as many different dresses and styles as possible.
As I said previously, no one is created equal; Your body deserves a cocktail dress that fits your body at the proper places. You can try on lots of dresses until you're happy with your decision. Ensure that patience is maintained with humor.
A cocktail dress is a semi-formal type of dress worn during a standup event usually in the form of a cocktail party.
Best Office Dresses
Dressed as suited to work in a workplace is a basic and conservative dress which is usually fitted with short skirts that go under the knee.
Of course, there are different dress codes for each type of workplace but a classy comfortable dress is always a good choice.
FAQS
What type of dresses should a 50-year-old woman wear?
Style smart. Maintain skirt and dress length above knees and slightly below them. A flowing gown should be worn mid to the waistline a few inches from the shoulder. Avoid cropped pants – it's been an unpopular trend for quite some time. Do not display too much skin, however, too long skirts or low skirts are not flattering to everyone.
Can women over 50 wear sundresses?
Absolutely. The best casual summer dresses for women over 50 come in a variety of styles. They may include a v neckline, pockets, cotton material, lovely and flowing design, floral print and super comfy.
Sundresses are generally light breezy and can easily be slid on and down.
How should I dress for 50 in the summer?
Women of all ages love wearing this summer dress. It's ultra-light, made from a cotton, rayon and spandex blend and provides a flowy or contoured, slimming fit at the waist.
You can easily accessorize with jewelry and heels or low-key with the addition of a jean jacket and sneakers.
Tell me what summer clothes are most important to women?
New t-shirts. Even good-looking t-shirts fade with time they are used. … Short Sleeves. Okay, shorts. … Capris. … Collage shirt. … Dress up for a wedding. … Swim clothes. … Sunhats. … Shoe.
Can mature women wear sundresses?
Sundresses for women over 50 and beyond have many different shapes and colors. Do I have any excuses for hiding in shapeless clothing because there are little extras at my hem? You are not alone. It is a common mistake older women make. The best sundresses should pair well with your shape and occasion. One of the biggest advantage you will find is the different colors and styles to choose from. There is literally something for everyone in this category.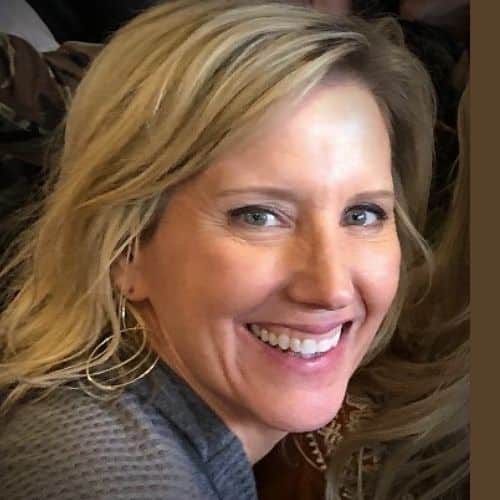 Claudia Faucher is a full-time fitness training expert and lifestyle blogger. She is also been a certified Les Mills BodyPump instructor for the past 5 years and a fitness instructor for over 20 years. Claudia is a personal trainer and creates fitness training programs for seniors and people of all ages. She likes to use her skills and experiences to help others on their fitness journeys.