If you have any experience running, you have seen many men wear running tights. While just a few years ago it may have been rare to see them, today men running in tights is quite common.
I may earn a commission when you purchase through a link on this page.
Why?
Like compression shorts, running tights fabric (polyester/spandex) helps to promote airflow so you can stay cool when your run heats up.
Having sweat-wicking technology can help keep you feeling light and ventilated by fighting moisture buildup. Wear running tights during colder weather to keep your muscles warm.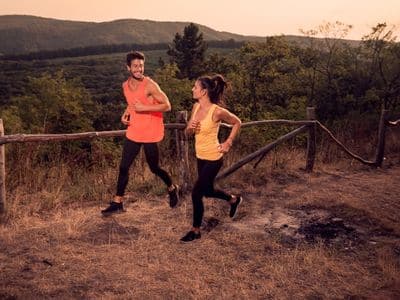 Why men wear tights when running
There are a few reasons why men might choose to wear tights when running. Similar to women's leggings, tights can provide support to the muscles and joints, which can be helpful if you are running long distances or are susceptible to injuries. Tights can also help to keep your muscles warm, which can prevent cramping or fatigue. Additionally, wear leggings to help to wick away sweat, which can keep you feeling more comfortable during your run.
Should men wear underwear?
Wearing underwear with running tights is generally a good idea, as it can help prevent skin discomfort. However, some people prefer to go without underwear for personal reasons. If you do choose to wear underwear with running tights, make sure it is a comfortable, breathable fabric that will not cause irritation.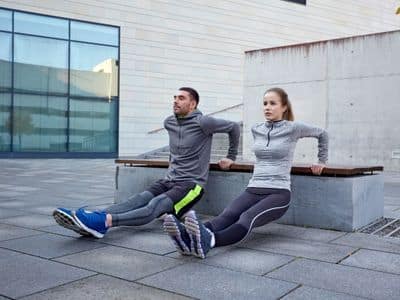 Commando vs Underwear
The question of which is better, going commando or wearing underwear while wearing tights, comes up quite often. Let's look at the pros and cons of each option.
Benefits of going commando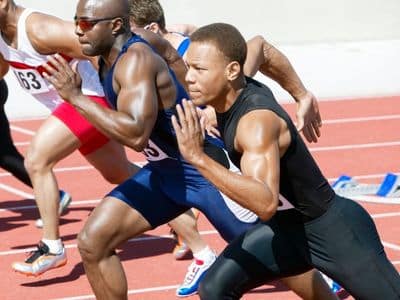 First, it can help to prevent skin discomfort in the groin area. Irritation can be caused if you normally wear regular underwear that has large seams and construction with cotton material. While cotton briefs are fine for everyday wear, they do a poor job with moisture-wicking.
Next, going commando keeps your groin area cooler and more comfortable in hot weather.
Finally, it can improve blood flow to the groin area, which can be beneficial for sexual health. Many men simply feel more comfortable and free when they are not wearing underwear.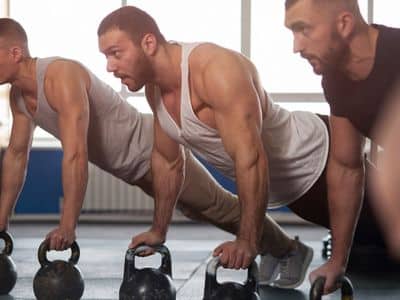 Disadvantages of going commando
Running without underwear can be quite uncomfortable and often painful for some men due to a lack of genital support.
Depending on the brand of running tights, there can be an increased risk of chafing. If you prefer going commando while wearing a pair of leggings, you may need to try a few brands or styles to find the one that you find comfortable wearing.
Feeling exposed. If you have not worn a pair of leggings without underwear, you may feel self conscious.
Advantages of wearing underwear
There are many benefits of wearing underwear while wearing tights for men, with support being the biggest one. Wear underwear to help keep the genitals supported and in place, which can help to prevent skin discomfort.
Additionally, a pair of running apparel underwear made of breathable material can wick moisture and keep the area dry, which can further prevent the risk of bacteria or infection.
Undies can also provide a layer of protection from the elements, such as cold weather or sun exposure.
Typically, most people wear athletic underwear. Although it is up to your personal preference. If you wear underwear, make sure you wear sweat-wicking briefs or boxer briefs. Like all running clothes, your underwear needs to wick moisture away, even in cold weather when you think you might not (but will!) sweat. Loose or baggy underwear just won't be comfortable underneath tights.
Disadvantages of wearing underwear
There are a few disadvantages of wearing underwear briefs with tights while running for men, with the most popular being an increased risk of chafing, based on the underwear you decide to wear. Cotton underwear can cause sweating and discomfort.
Tips for Men's tights for running
There are a few things to consider when purchasing the best leggings for running. You'll want to make sure the pair of leggings are made of a breathable fabric that will wick away moisture. Second, you'll want to find a pair that fits snugly but isn't too tight for your body shape. And finally, you'll want to make sure the leggings have a comfortable waistband that won't dig into your skin.
With all of that in mind, here is my brand guide for the best leggings for running:
Sale
The Under Armour Men's HeatGear Leggings are designed to keep you cool and comfortable during your workout. The running tights are made of a lightweight, stretchy fabric that wicks away sweat from your skin to keep you dry. These pair of leggings have a compression fit that helps to support your muscles and a wide waistband that stays in place. The tights also have a zippered pocket on the back for storing your essentials.
The Nike Pro Training Tights are designed to keep you cool and comfortable during your workout. The tights are made with a Dri-FIT fabric that wicks away perspiration from your skin to help keep you dry and comfortable. The men's leggings also feature a flat seam construction that helps reduce irritation. Combine with a long t shirt for a great post-workout look.
The PUMA Men's Liga Baselayer Long Tights are the perfect way to keep warm during those cold winter workouts. Made with PUMA's dryCELL technology, these running tights will help keep you dry and comfortable while you're working up a sweat. The flatlock seams are extremely comfortable, and the reflective details help keep you visible in low-light conditions.
The Adidas Men's Alphaskin Sport 3/4 Tights are a great choice for athletes who need a little extra layer of support to wear running or during a workout. These running tights are made with a comfortable, stretchy fabric that will move with you as you train. The 3/4 length provides an extra layer of coverage from the elements and helps to keep you warm, while the Alphaskin technology provides support and helps to reduce muscle fatigue.
Sale
ASICS Men's Essentials Tight Bottom
The Essentials™ Pant is lightweight, remarkably stretchy and features premium polyester engineered with moisture management properties to keep you dry and focused on even the longest runs. Two zippered hand pockets and at the lower leg give you added breathability so you can move without restriction day or night.
The ASICS Men's Essentials Tight Bottom is a versatile and comfortable piece of workout gear. Made with a soft and stretchy fabric, these pair of running tights move with you as you train. The waist band stays in place, and the flatlock seams prevent rubbing. A zippered pocket at the back is perfect for stashing your key or card. Whether you're hitting the gym or going for a run, the ASICS Men's Essentials Tight Bottom with loose shorts on top will keep you comfortable and stylish all workout long.
Underwear options for men's leggings
Jock straps
Consider wearing a jock strap underneath tights for additional support with thin tights or when wearing shorts. Although many people go tights-only, you can use a form-fitting jockstrap with running tights.
When you wear a jockstrap, make sure it fits you comfortably. Get one made from a quick-drying fabric like nylon or mesh. A jockstrap is worth considering if your tights are a little loose or if you prefer having something on underneath them.
A jockstrap is specifically designed to give your genitals extra support and security while wearing tights or running shorts. It can also help to prevent discomfort. Here are a few tips for wearing a jockstrap underneath tights:
1. An important factor is to choose the right size jockstrap. It should be snug but not too tight.
2. Put the jockstrap on before putting on your tights.
3. Adjust the jockstrap as needed throughout the day.
Thong underwear
Tips on wearing thongs for running:
1. Choose the right thong. There are many different types of thongs that guys wear on the market, so it is important to find one that is comfortable and will not ride up while wearing running tights. A good thong should also have a moisture-wicking fabric to help keep you cool and dry. Joe Boxer Cotton Thong is very affordable and available in multipacks.
2. Put on the thong properly. Unlike traditional underwear, thongs are designed to be worn with the pouch in the front and the straps in the back. This can take some getting used to, but it is important to make sure the thong is positioned correctly before heading out for a run.
3. Consider your chafing risk. Because a thong leaves little to the imagination, it is important to make sure you are not at risk for a friction rash in sensitive areas. If you are prone to this, you may want to wear compression shorts or running shorts over your thong to help reduce friction.
4. Be prepared for adjustments. Even the best-fitting thong can shift during a run, so it is important to be prepared to make adjustments as needed. If your thong starts to ride up, simply reach back and readjust it so that it is once again positioned correctly.
5. Wash your thong after each use. Because thongs are worn close to the body, it is important to wash them after each use to prevent bacteria build-up. Simply machine wash your thong in warm water with your other workout gear.
FAQs
How to prevent chafing in the groin area while wearing leggings?

First, make sure you are wearing the right size leggings. If they are too tight, they will rub and chafe more. Second, choose a pair of leggings made from a moisture-wicking material. This will help to keep you dry and comfortable. Third, apply a lubricant or anti-chafing cream to your skin before putting on your leggings. This will create a barrier between your skin and the fabric.
Is it OK for guys to wear running tights?

Yes. In recent years, tights have become more and more popular as workout attire for both men and women. While some may see tights as too feminine for men, they are actually quite functional and comfortable. They are great for keeping your muscles warm and supported, and can even help prevent chafing. So, if you are a guy who likes to run, don't be afraid to rock a pair of tights!
Do men wear thongs under running tights?

Yes. Some men do wear thongs under running tights for added support and comfort, while others find them unnecessary. Ultimately, it is up to the individual to decide what works best for them.
Why do guys wear shorts over running tights?

There are a few reasons why guys choose to wear shorts over running tights. First, shorts offer more breathability and ventilation than tights, which can help keep runners cool and comfortable during long runs or hot weather. Additionally, shorts provide more freedom of movement than tights and can be more comfortable for some runners. Finally, some runners simply prefer the look of shorts over tights!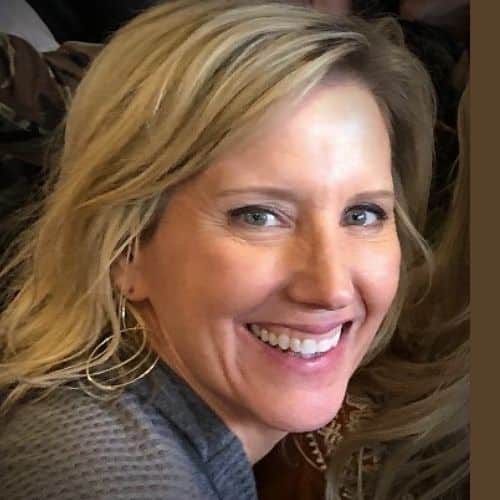 Claudia Faucher is a full-time fitness training expert and lifestyle blogger. She is also been a certified Les Mills BodyPump instructor for the past 5 years and a fitness instructor for over 20 years. Claudia is a personal trainer and creates fitness training programs for seniors and people of all ages. She likes to use her skills and experiences to help others on their fitness journeys.
Last update on 2023-11-28 / Affiliate links / Images from Amazon Product Advertising API