As a swimming enthusiast, I've always wondered if I can wear a sports bra for swimming. So, I decided to do some research and share my findings with you. Let's dive in and explore if we can actually wear a sports bra for swimming, the best types of straps, and more!
I may earn a commission when you purchase through a link on this page.
First things first, can you wear a sports bra for swimming?
The short answer is yes, you can! However, it's important to know what to look for when choosing a sports bra that's also suitable for swimming. Let's dive deeper into this topic to learn more.
Material Matters
When choosing a sports bra for swimming, you need to pay attention to the material. Look for moisture-wicking and quick-drying fabrics like nylon, polyester, and Lycra. These materials are ideal because they dry quickly, offer support, and stretch with your body as you swim. Cotton, on the other hand, is not a good choice. It absorbs water and can become heavy, which is not comfortable or practical when swimming.
Will Salt and Chlorine Damage Your Sports Bra?
One concern you might have is whether salt and chlorine will damage your sports bra. The truth is, saltwater and chlorine can damage any swimwear over time, but the impact on your sports bra can be minimized. To make your sports bra last longer, choose one made of chlorine-resistant material like polyester or Lycra. Additionally, always rinse your sports bra thoroughly in fresh water after swimming to remove salt and chemicals.
Will It Damage My Sports Bra?
Wearing your sports bra in the water won't necessarily damage it, but it may cause it to wear out more quickly than if you only wore it for land-based activities. This is because swimming exposes your sports bra to elements like water, chemicals, and sunlight, which can cause the fabric to break down over time.
To prolong the life of your sports bra, consider having a separate one just for swimming. This way, you can keep your favorite sports bra in great shape for gym sessions and use the other one for your water-based activities.
Best Types of Straps Work Best
When choosing a sports bra for swimming, consider the type of straps. Racerback and crisscross straps are the best options because they provide better support and stay in place while you swim. Traditional over-the-shoulder straps can work too, but they might not provide the same level of support and security.
How to Choose the Right Size
To make sure your bra provides the support you need while swimming, be sure to choose the right size. Measure your bust and underbust and use a size chart to find the perfect fit. A well-fitted sports bra should feel snug but not too tight, with no pinching or chafing. The band should be level around your body, and the straps should stay in place without digging into your shoulders.
Advantages of Wearing a Sports Bra for Swimming
There are several advantages to wearing a sports bra for swimming. Here are some reasons why you might want to consider it:
Support
Sports bras are designed to provide support during physical activities, which is why they are a great option for swimming. They keep your bust in place and reduce any bounce. This can be very uncomfortable and irritating when you swim.
Comfort
Sports bras are generally more comfortable than traditional swimwear, especially for those with larger busts. They offer more coverage and have wider straps, which distribute weight more evenly across your shoulders.
Versatility
Wearing a sports bra for swimming means you can easily transition from the pool to other activities, like a gym workout or a run, without needing to change your top. This can save you time and make it more convenient to fit in a swim session during your busy day.
Style
Sports bras come in a wide range of colors, patterns, and styles, giving you plenty of options to choose from. You can match your sports bra with your swim bottoms or mix and match them for a fun and unique look.
Tips for Wearing a Sports Bra for Swimming
Now that we've covered the basics, here are some tips to help you wear a sports bra for swimming successfully:
1. Choose a sports bra with a higher neckline for added coverage and support while swimming.
2. Opt for bras with adjustable straps, as they can be customized to your body for a better fit and support.
3. Make sure the sports bra you choose has a lining or cups for modesty and to prevent show-through when wet.
4. Pick a sports bra with a wider band for increased comfort and support around your ribcage.
5. Remember to rinse your sports bra thoroughly in fresh water after each swim to remove any salt or chlorine and let it air dry away from direct sunlight.
What are the best sports bras for swimming?
Choosing the best sports bra for swimming comes down to personal preference, comfort, and the specific features you need. Here's a list of some popular sports bras that are suitable for swimming:
Speedo, a well-known swimwear brand, offers sports bras designed for water activities. Their Hydro Bra is made with a blend of polyester and Lycra, providing durability, support, and chlorine resistance. This sports bra is an excellent option for those who swim frequently.
The TYR Women's Solid Lyn Racerback is designed for both swimming and other athletic activities. It's made of a polyester and spandex blend, making it quick-drying and chlorine-resistant. The racerback design ensures a secure fit and better support while swimming.
The Nike Hydrastrong Racerback is made from a blend of polyester and spandex, providing a comfortable and secure fit. This sports bra features Nike's Hydrastrong fabric, which is designed to resist chlorine and retain its shape over time.
The Glamorise Sports bra is made from recycled polyester, making it an eco-friendly option. This sports bra features a high neckline for added coverage, adjustable straps for a customized fit, and is designed to resist chlorine.
The Reebok High-Impact Sports Bra is designed for high-intensity activities, making it suitable for swimming. It features a moisture-wicking fabric that dries quickly, a supportive under band, and a racerback design for better support and freedom of movement.
The SYROKAN Racerback Sports Bra is a versatile option that can be used for swimming and other activities. It features a chlorine-resistant fabric, a high neckline for added coverage, and adjustable straps for a customized fit.
The Under Armour UA Crossback Mid sports bra is made of quick-drying and moisture-wicking fabric, which makes it suitable for swimming. The crossback straps provide support and ensure the bra stays in place while you swim.
Conclusion
Wearing a sports bra for swimming can be a comfortable and stylish option. Just make sure to choose one made of suitable materials, with the right straps and fit. With these tips in mind, you're ready to hit the water and enjoy your swim in your sports bra!
Remember, the key is to find a sports bra that works for your specific needs and preferences. Don't be afraid to try different styles and brands until you find the perfect one for you. Happy swimming, friends!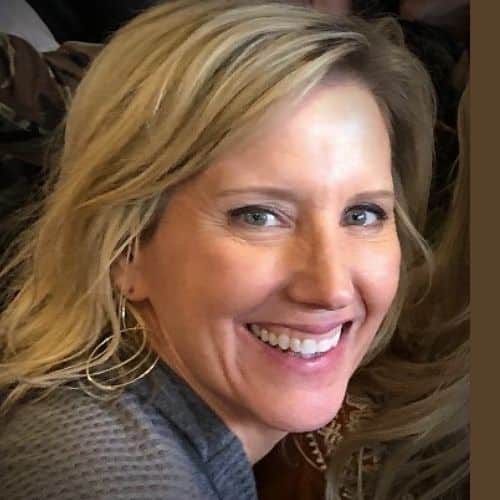 Claudia Faucher is a full-time fitness training expert and lifestyle blogger. She is also been a certified Les Mills BodyPump instructor for the past 5 years and a fitness instructor for over 20 years. Claudia is a personal trainer and creates fitness training programs for seniors and people of all ages. She likes to use her skills and experiences to help others on their fitness journeys.