In the world of modern fashion, compression shirts have become very popular. Many people wear them both for sports and everyday use. But did you know there are two main types? There are athletic compression shirts and regular compression shirts. While they might look the same, they have different purposes and features. Let's dive in and explore how these two types of shirts are different from each other!
I may earn a commission when you purchase through a link on this page.
Table of Contents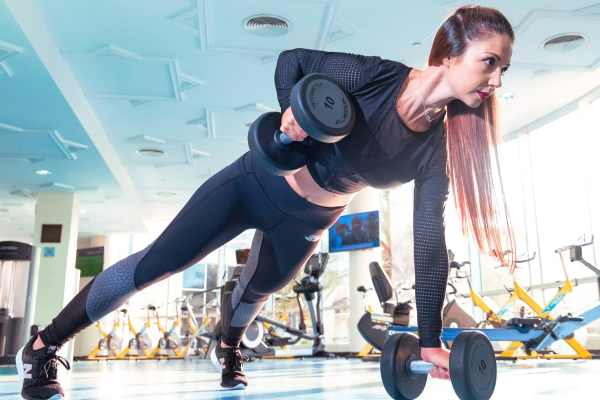 What Are Compression Shirts Used For?
A compression shirt is a tight-fitting shirt made of stretchy material. It's designed to hug the body closely and provide support. People wear them for sports, exercise, or even just for a snug feel.
These form-fitting shirts are a great alternative to looser-styled cotton undershirts. They are also often worn by many people as workout clothing.
What Are Athletic Compression Shirts?
As you might have guessed, athletic compression shirts are also tight-fitting shirts often worn by athletes.
Designed specifically for those engaged in physical activity, they improve athletic performance, wick away excess sweat, reduce muscle fatigue, and accelerate recovery.
Uses for Regular Compression Shirts
A regular compression shirt helps improve posture and gives a slimmer appearance. Some people use them for support after surgery or injury. They can also provide comfort by keeping everything in place during daily activities.
These shirts are available in a wide variety of compression levels to suit specific needs. The most popular use of these compression shirts is for slimming or to hide a belly, and to reduce man boobs, or moobs.
Uses for Athletic Compression Shirts
These performance shirts are often designed with specific sports or activities in mind that include ventilation zones, muscle-specific compression panels, or flat seams to reduce chafing.
They are constructed with breathability in mind, with the main goal of ensuring the wearer remains as cool and dry as possible during physical activity.
This design uses a durable material able to withstand repeated stretching, moisture, and rough conditions of physical sports or workouts.
Compression clothes are made from technical synthetic fabrics like spandex, polyester, and nylon. These lightweight, flexible fabrics are durable and can stretch 5 times their size and return to normal.
Fabrics Used for Athletic Compression Shirts
These specialty fabrics are engineered to optimize comfort, performance, and recovery in various conditions.
If you're considering buying a compression shirt or any athletic gear, it's a good idea to familiarize yourself with these fabric types to choose the best fit for your needs.
Dry-Fit
DryFit by Nike is focused on keeping you dry when you're active. So, if you're playing basketball, going for a run, or just working up a sweat, DryFit is there to pull that sweat away from your skin.
It helps the sweat evaporate fast, which means you don't feel wet and soggy. Instead, you feel comfy and dry, ready to keep going!
What makes DryFit so good?
Well, it's not just about dealing with sweat. While other materials can help you feel a bit drier, DryFit is designed to be super breathable, lightweight, and quick-drying.
Its unique design pushes the sweat to the surface where it can dry up super quickly. This makes DryFit stand out from many other materials and makes it a top pick for a lot of athletes.
HeatGear

HeatGear is a cool fabric made by the brand Under Armour. It's designed for days when it's really hot outside.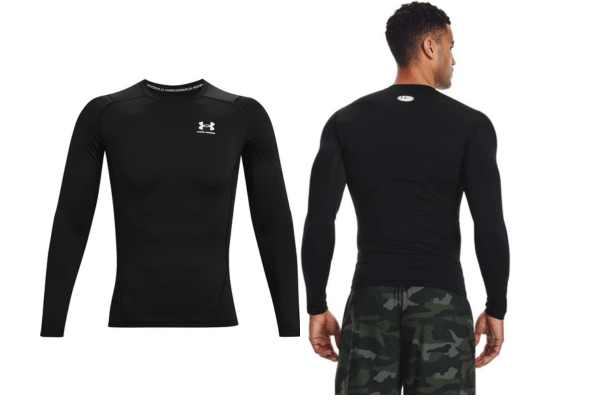 When you're playing sports, working out, or just being active under the sun, HeatGear helps keep you cool and comfortable.
It works by pulling sweat away from your skin and letting it dry up quickly, so you don't feel all sweaty and sticky.
A lot of sports clothing can help with sweat, but HeatGear does it differently. It's super light, so you don't feel weighed down, and keeps you really cool when the weather is super hot.
It's the perfect fabric for sports or any activity where excess sweat is an issue.
Working out in the cold and need extra warmth, without sacrificing performance? Try ColdGear products.
Coolmax
Coolmax is unique because it's specifically engineered for moisture-wicking. It draws moisture away from the skin through capillary action and increased evaporation over a larger surface area.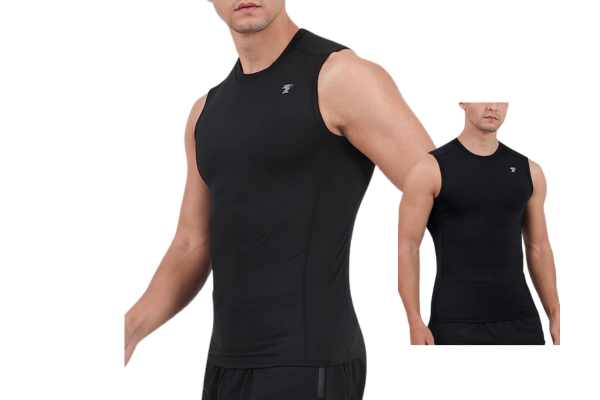 Coolmax is a type of fabric known for its moisture-wicking properties. It's really good at taking sweat away from your skin when you're active.
By pulling sweat to the outside of your clothes, it can evaporate quickly. This means you stay drier and cooler, even when you're working up a sweat.
You will often find the material used with workout clothes and socks.
Lycra (Spandex)
Lycra is a stretchy material that's found in a variety of clothing. You might have heard it called "spandex" too.
It's super elastic, which means it can stretch a lot without losing its shape. That's why it's used in many types of clothing like swimsuits, leggings, and sports gear.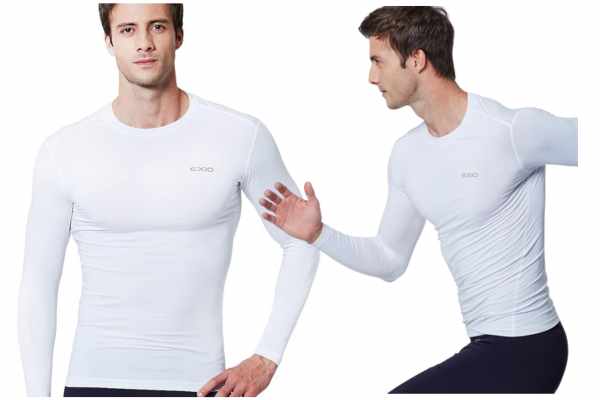 When you wear something made of Lycra, it fits snugly and moves easily with your body. It's perfect for activities where you need to move a lot.
While many fabrics like cotton or polyester have their own unique features, Lycra stands out because of its amazing stretchiness.
Lycra can stretch up to five times its normal size and still go back to its original shape. This makes it different from most other fabrics and super useful for clothes that need to fit tightly and flexibly around our bodies.
Climalite
Climalite is a lightweight, breathable fabric that is designed to wick sweat away from the skin to the outer surface of the fabric where it can evaporate.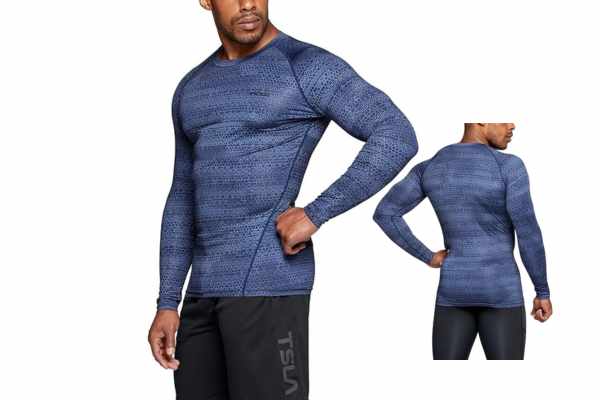 Climalite is a breathable fabric designed to wick sweat away from the skin to the outer surface of the fabric where it can evaporate. It is often used in shirts, shorts, and other apparel.
ClimaCool
ClimaCool is a performance material made by Adidas. ClimaCool is designed to let in the cool air and get rid of the warm, sweaty air.
You can find ClimaCool in many Adidas products. It's popular in shoes because it helps your feet breathe better. That means less sweaty feet after a game or a run!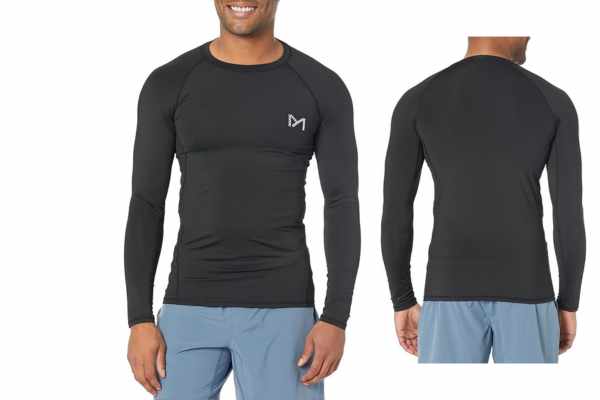 But it's not just for shoes. Adidas also uses ClimaCool in t-shirts, shorts, and even hats.
Climacool is a more advanced moisture-wicking technology. It uses strategically placed ventilation zones and 3D fabrics to provide maximum breathability and airflow. This allows for even greater moisture management and temperature control.
Climacool is often used in shoes and other high-performance athletic apparel.
Omni-Wick
Omni-Wick is a special kind of fabric created by the Columbia. It is designed to pull moisture, like sweat, away from your body.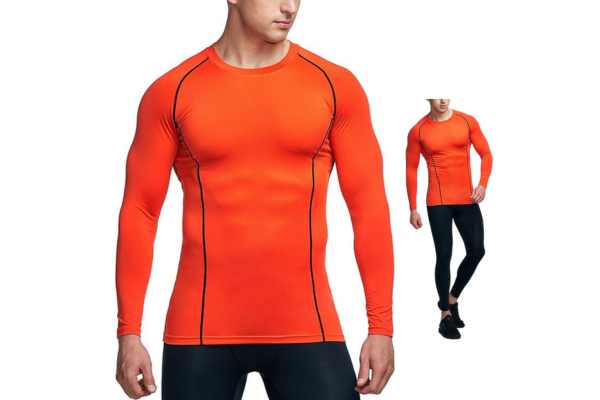 When you're active and start to sweat, Omni-Wick helps to spread out the moisture so it can evaporate faster. This keeps you drier and more comfortable when you're doing things outside or playing sports.
There are other fabrics that also try to keep you dry, but Omni-Wick has its own unique way of doing it. While many performance materials focus on just wicking away sweat,
Omni-Wick makes sure the moisture spreads out, which helps it dry quickly. This means you can stay cooler and more comfortable even when you're working hard and sweating a lot.
Dri-FIT Touch
Dri-FIT Touch is a high-tech fabric created by Nike. It's a variation of Dri-FIT, but lighter and even more breathable.
It's designed to move sweat away from your skin when you're active. The idea is that when you exercise or play sports, Dri-FIT Touch helps you feel drier and cooler by letting the sweat evaporate quickly.
This fabric is not only effective at keeping you dry, but it's also super lightweight and feels soft, making it comfortable to wear.
Dri-FIT Touch stands out because of its softness and how light it feels. While other materials might wick away sweat, Dri-FIT Touch does it while making sure you're comfortable and not weighed down by a heavy shirt.
Techfit
Techfit is an Adidas-created material that focuses on muscle support and enhancing performance by offering a snug fit.
When you wear a Techfit shirt or shorts, it feels like a tight hug on your body. This tightness is good because it can help reduce muscle vibration and might even boost your performance.
While there are many clothes out there for sports and exercise, Techfit is unique because of how it supports your muscles. Instead of just being about style or even just comfort, Techfit focuses on making your muscles feel secure and ready for action.
Power Cool
Power Cool is a special technology used by Puma in their sportswear. It uses moisture management and an adaptive cooling print on the inside that works with your sweat to cool you down. [show example]
What's unique about this technology is that it manages your body's temperature by reacting with your sweat.
When you're running, playing, or just working out, and you start to sweat, Power Cool kicks in. It uses the moisture from your sweat to help you feel cooler, so even if you're working hard, you don't feel too hot.
Power Cool uses your own sweat to cool you down. It's like having a mini air-conditioner in your clothes that turns on when you start to sweat!
Why Athletic Compression Shirts Are Superior for Sports Activities
Using athletic compression shirts for sports instead of regular compression shirts is a smart choice, and here's why:
Designed for Performance
Athletic compression shirts are specifically crafted to meet the demands of sports. They're meant to move with you, support muscle groups, and enhance your performance.
Moisture Management
While both types of shirts might offer some level of moisture-wicking, athletic compression shirts are generally superior in wicking away sweat. This helps keep you dry, reduces the risk of chafing, and helps regulate body temperature.
Muscle Support
The tight fit provides support to the muscles, potentially reducing muscle fatigue and vibration. This leads to better endurance and even faster recovery after your activity.
Enhanced Circulation
They promote better blood flow which is beneficial during high-intensity activities where muscles need a consistent supply of oxygen.
Temperature Regulation
Many of these performance shirts come with materials and technologies that regulate body temperature, keeping athletes cool in hot conditions and warm in cold conditions.
Durability
They are built to withstand the rigorous conditions of sports. They're also more durable and resilient to frequent washing, stretching, and sweat compared to regular compression shirts.
Less Restriction
Even though they're tight, athletic compression shirts are designed to offer less restriction than regular compression shirts. They allow a full range of motion, which is essential during sports.
Safety and Protection
Some shirts come with added features like UV protection to shield your skin from harmful sun rays during outdoor sports.
Summary
In conclusion, if you're getting active and playing sports, athletic compression shirts are the way to go. They're specially made to help you perform your best, keep you dry, and support your muscles.
While regular compression shirts are good for everyday wear or slimming, they don't have the specific features you find in athletic performance gear. So, for anyone looking to get the most out of their activities, choosing athletic compression shirts over regular ones is a smart move!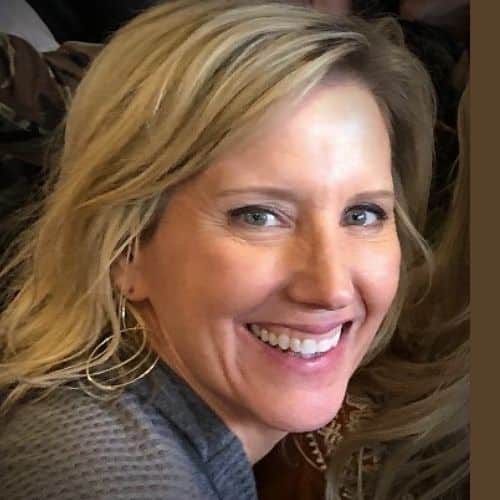 Claudia Faucher is a full-time fitness training expert and lifestyle blogger. She is also been a certified Les Mills BodyPump instructor for the past 5 years and a fitness instructor for over 20 years. Claudia is a personal trainer and creates fitness training programs for seniors and people of all ages. She likes to use her skills and experiences to help others on their fitness journeys.