Leggings have quickly become a wardrobe staple for many women, and it's easy to see why. They're comfortable, and versatile, and can be dressed up or down depending on the occasion. It's important to make age-appropriate and flattering outfit choices, which is why I'm excited to share some tips on pairing leggings with stylish tops. In "this article"Tops to Wear With Leggings Over 50", we'll explore tops that pair beautifully with leggings, allowing you to embrace this fashionable trend while maintaining a fabulous and suitable look.
I may earn a commission when you purchase through a link on this page.
Factors to consider when choosing tops for leggings
When choosing the perfect top to wear with leggings, there are a few essential factors to consider.
First, consider the length and coverage of the top. Ideally, it should be long enough to cover your hips and rear, providing a comfortable and flattering look.
Next, think about the material and comfort of the top. Opt for soft, high-quality fabrics that drape well and complement the form-fitting nature of leggings.
Colors and patterns also play a role in creating a well-coordinated outfit, so choose hues and prints that work well with your leggings and personal style.
And you'll want to consider your body shape and choose tops that highlight your best features while offering a balanced and harmonious silhouette.
Fit
The importance of fit cannot be overstated. A well-fitting top not only enhances your appearance but also boosts your confidence.
When selecting a top to pair with leggings, be mindful of how it complements your unique body shape and best features.
A proper fit ensures your top isn't too tight or too loose, but rather drapes comfortably over your body without constricting movement.
Keep in mind that a well-fitting top should provide ample coverage for your hips and rear, allowing you to feel secure and confident while wearing leggings.
Material
The material of a top plays a crucial role in determining the overall look and feel of your outfit when paired with leggings.
Choosing the right fabric can not only enhance your appearance but also ensure your comfort throughout the day. High-quality materials drape well on the body, complementing the form-fitting nature of leggings and creating a harmonious silhouette.
Additionally, the right material can help regulate temperature, wick away moisture, and provide breathability, making it ideal for various weather conditions and activities.
When selecting a top, consider opting for natural fabrics like cotton, linen, or silk, or high-quality synthetic blends that are soft to the touch and maintain their shape over time.
Tops for leggings over 50
There are several top styles that pair exceptionally well with leggings, especially for women over 50.
Long tunics are a classic choice, as they offer ample coverage while maintaining a stylish and sophisticated appearance.
Oversized sweaters and cardigans can create a cozy and chic ensemble, perfect for colder months or casual outings.
Flowy blouses bring a touch of elegance to your outfit and work well for dressier occasions or professional settings.
Asymmetrical tops add a unique flair, drawing attention to the neckline and creating visual interest.
Long button-up shirts offer a versatile option that can be dressed up or down, depending on your accessories and choice of footwear.
Kimonos and dusters provide an extra layer of style and coverage, elevating your look with their distinctive patterns and textures.
Tips for styling leggings with tops for a polished look
When styling leggings with tops, it's important to create a polished and well-balanced look. One key aspect to consider is balancing proportions.
Since leggings are body-hugging, pairing them with looser, flowing tops can create a harmonious silhouette.
Don't forget the power of accessories to enhance your outfit – scarves, statement jewelry, and belts can add personality and make your ensemble more visually appealing.
Choosing appropriate footwear is also crucial, as it can impact the overall vibe of your outfit.
Flats, ankle boots, and sandals work well for casual settings, while heels or wedges can elevate your look for dressier occasions.
Additionally, be sure to select leggings with the right thickness and opacity to avoid any see-through mishaps.
Tops to Wear With Leggings Over 50
Inspirational outfit ideas for various occasions
To give you some inspiration, let's explore outfit ideas for various occasions. For casual daytime outings, try pairing leggings with an oversized sweater or a long tunic and sneakers or flats for a comfortable yet stylish look.
When dressing up for an evening event, opt for a flowy blouse or an asymmetrical top with heels or wedges to create an elegant and sophisticated ensemble.
In professional settings, consider wearing leggings with a long button-up shirt or a tailored tunic and a blazer, and finish off the look with ankle boots or pumps.
For travel and leisure wear, combine leggings with a cozy cardigan or a duster for added comfort and style.
Don't forget to adapt your outfits to different seasons – pair leggings with lighter tops and sandals in warmer months, and layer with sweaters, cardigans, and boots during colder weather.
Tops to Wear With Leggings Over 50
Shoes to wear with leggings over 50
Completing your leggings outfit with the right shoes is essential for creating a cohesive and stylish ensemble. The type of footwear you choose can significantly impact the overall vibe of your outfit and help you achieve the desired look for different occasions.
For casual outings, opt for laid-back and comfortable options like sneakers, flats, or sandals. These choices are not only fashionable but also provide all-day comfort for running errands or meeting up with friends.
To elevate your leggings outfit for dressier occasions, consider pairing them with heels, wedges, or dressy ankle boots. These options add height and sophistication to your ensemble, making it suitable for parties, dinners, or other special events.
If you're wearing leggings to work, complete your look with classic pumps, loafers, or heeled ankle boots for a professional and polished appearance.
By selecting the appropriate footwear for each occasion, you can effortlessly enhance your leggings outfit and ensure you look put-together and stylish.
Tops to Wear With Leggings Over 50
Conclusion
In conclusion, we've explored various tops that pair wonderfully with leggings, allowing women over 50 to confidently embrace this fashionable trend while maintaining a fabulous and suitable look.
By considering factors such as length, coverage, material, and personal style, you can find the perfect top to complement your leggings.
Experiment with different styles like tunics, oversized sweaters, flowy blouses, and asymmetrical tops to create an array of stylish outfits for any occasion.
Remember to balance proportions, accessorize, and choose the right footwear to complete your look.
Ultimately, it's all about feeling confident and comfortable in your outfit, so embrace your personal style and let it shine through as you create chic and age-appropriate ensembles with leggings.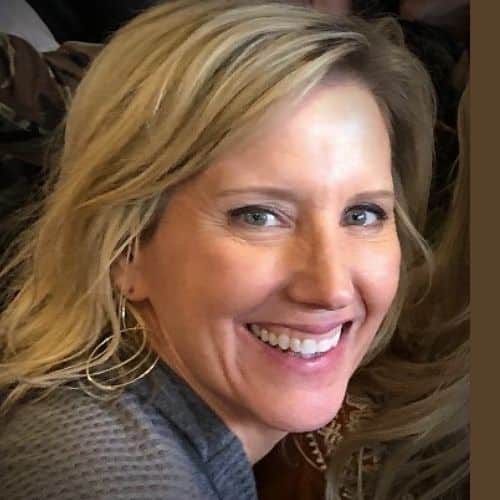 Claudia Faucher is a full-time fitness training expert and lifestyle blogger. She is also been a certified Les Mills BodyPump instructor for the past 5 years and a fitness instructor for over 20 years. Claudia is a personal trainer and creates fitness training programs for seniors and people of all ages. She likes to use her skills and experiences to help others on their fitness journeys.