If you want to run in cold, wet weather conditions during the fall and winter, discover the best waterproof running jackets for the road, trail, and ultras.
I may earn a commission when you purchase through a link on this page.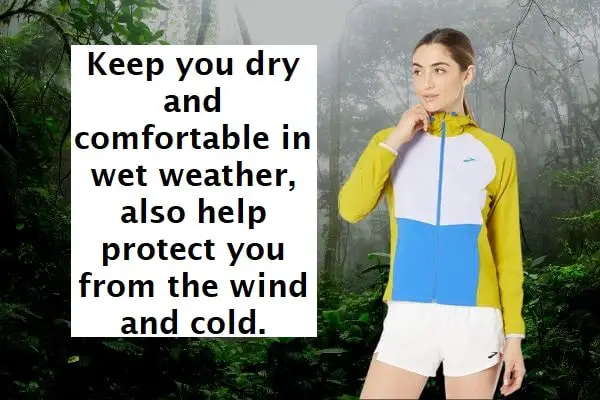 This guide is for those looking to buy the best waterproof jacket for runners of all types. All-weather runners demand only the top performance gear that is able to handle the toughest weather conditions. 
>>Also see… Compression socks for runners
Whether you're an extreme runner, such as fastpackers, ultrarunners, and hikers, or the everyday runner looking to run a couple of miles during your mid-day break, this review is for you.
Shop top-rated lightweight jackets from leading brands. See all the colors and styles you can buy today.
Our top 9 results feature the best jackets…
Discover top jackets available from leading brands of sports clothing makers. I have chosen 9 brands of running jackets for men and women reviewed below.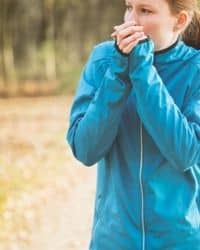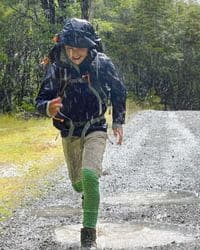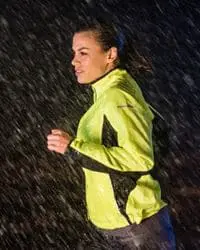 How to Choose the Best Waterproof Running Jacket for You

When choosing a waterproof jacket, it is important to consider the type of weather you will be running in.
If you live in an area with mild weather, you may not need a heavy-duty jacket. However, if you live in an area with severe weather, you will need a jacket that is both waterproof and windproof.
There are many different types of waterproof running jackets on the market, so it is important to do your research to find the one that best suits your needs.
The 9 Best Waterproof Running Jackets on the Market
Arc'teryx Waterproof Running Jacket: Arc'teryx Norvan SL Hoody
A super lightweight GORE-TEX running jacket, the Arc'teryx Norvan SL Hoody is the perfect companion for high-intensity trail runs and hiking adventures.
If running takes you outside through all the seasons of the year, a weatherproof jacket is a must. The Norvan LT hoody provides top-level protection from wind, rain, and snow – with rugged, lightweight performance.
All-weather gear can be bulky and heavy, but Arc'teryx reduces them both with this Gore-tex jacket. Learn more about this product if you're looking for a high-tech solution for running in harsh conditions.
A budget-conscious choice: Marmot Precip Eco Jacket
When the weather takes a turn for the worse, a waterproof jacket is a must-have for any runner. Not only will it keep you dry, but a top-quality jacket will also be lightweight and breathable, so you won't overheat.
There are lots of different waterproof running jackets on the market, so it's important to choose one that fits well and is comfortable to run in. The Marmot Men's PreCip Jacket is a great option for any runner, thanks to its lightweight design and great fit.
Sale
MARMOT Men's PreCip Eco Jacket | Breathable, Recycled, Waterproof, Black, X-Large
Modern Classic – Celebrating the 20th anniversary of the best-selling Precip Rain Jacket, the newest version unites performance with sturdier design and updated fit.
Tech Meets Design – Durable, waterproof, and breathable: Marmot NanoPro lamination unites tech with the outdoors for the best in performance.
Eco-Friendly – This jacket is 100% seam-taped for complete leak proof protection, and it's finished with environmentally conscious PFC-Free DWR for premium protection against water.
If you're looking for a waterproof jacket to keep you dry and comfortable in wet weather, the Marmot Men's PreCip Jacket is a great choice.
Columbia EvaPOURation Jacket – Trail Running Jacket
In terms of lightweight, decent breathability, and good weather protection, the Columbia EvaPOURation Jacket is a comfortable jacket with a lower sticker price than higher-end models.
Sale
Columbia Men's EvaPOURation Jacket
OMNI-TECH: Our Omni-Tech technology features air-permeable protection that's waterproof and breathable. It provides excellent waterproof protection, keeping mother nature's elements out, at the same time allowing the inside to breathe
OMNI-WICK – EVAP: The ultimate moisture management technology for the outdoors. Omni-Wick quickly moves moisture from the skin into the fabric where it spreads across the surface to quickly evaporate—keeping you cool and your clothing dry
WET WEATHER SHELTER: The Columbia Men's Evapouration Jacket is one of our most popular and proven go-to foul weather jackets. Its functional design is a welcome bit of packable insurance when heading into an unpredictable weekend
With a lightly relaxed fit, I found the jacket comfortable to wear. You can carry it conveniently in your hand pocket due to its highly compressible design, which is nice for those occasions when you're not sure of the weather.
But, regardless of weather conditions, you will stay dry with the Omni-TechTM 2.5L shell.
It has underarm pit zips that dump excess heat, as well as mesh pockets with zip hand pockets to store your stuff.
With its elastic panels at the wrists, hook-and-loop tabs at the cuffs, and drop-tail hem with drawcord, this jacket offers a custom fit that keeps it in place and allows for easy adjustments.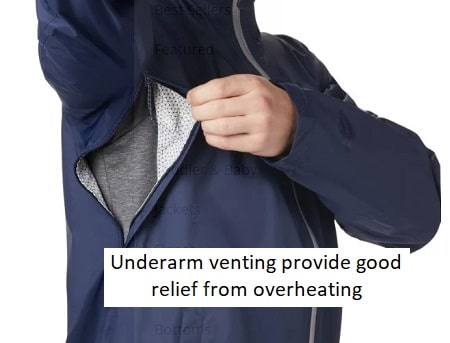 The jacket is made of 100% nylon and is machine washable and tumble dry.
Purchasing this jacket was part of my preparations for a half marathon. I figured it would be a good opportunity to try out some new gear with the extended forecast not looking great.
As it turned out, I did actually need to use it!
And, the jacket itself is quite good. It was 100% waterproof and very light. Just as I had hoped.
Although it doesn't seem to be as breathable as I had anticipated, I wore this on run for most of the way.
Despite heavy rain, the jacket kept me dry throughout.
My body was quite sweaty after running, but the vents under the armpits helped.
The moment I stopped running after the race, I felt extremely cold. So don't count on this jacket to keep you warm.
A waterproof jacket without a hood: Showers Pass Jacket Cloudburst
While not quite as wet as the Pacific Northwest, the Mid-Atlantic region often experiences rainy conditions from late fall through the end of spring.
Showers Pass Men's Waterproof Breathable Elite 2.1 Cycling Jacket (Goldenrod – Large)
WATERPROOF: 3-layers of waterproof/breathable Elite high-performance fabric and Rip-Stop Nylon | Durable Water Repellent (DWR) finish for lasting performance | Taped seems for complete waterproof protection | Zippers feature YKK AquaGuard Vislon zippers
BREATHABLE: A breathable membrane allows heat to ventilate on long bicycle commutes | Long core vents along the side of the garment, and a large back vent increase airflow for temperature regulation | Windproof face fabric keeps cold air and rain out
ADJUSTABLE: For a personalized fit, the Elite 2.1 features a cinch chord at the collar and double toggle cinch chord at the hem | Large, airflow regulating cuffs provide increased ventilation and adjustability | Hood compatible (hood sold separately)
In fact, it's the best place to test a lightweight waterproof jacket like Showers Pass' Cloudburst Jacket.
I tested this jacket on the East Coast, where it rains much less frequently. During the summer months, there will be short and sharp thundershowers without notice. 
Over large bodies of water such as the Chesapeake Bay and the Atlantic Ocean, storm clouds can camp and then appear suddenly.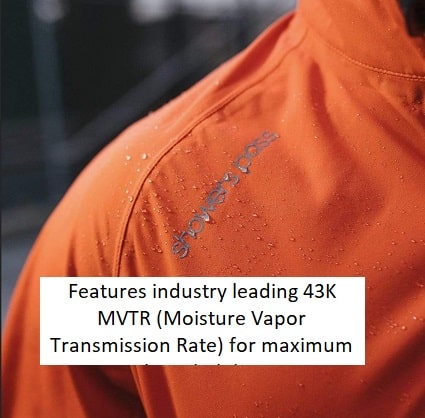 During my pre-run activities, the Cloudburst can get quite warm. As soon as you get moving, the material breathes better than almost any rain layer I've worn.
Initially, I thought that the waterproof test would be difficult for it because of its breathability.
Running during some consistent fall storms, with temperatures between 40° and 50° F, the Cloudburst made sloppy conditions more tolerable. 
If you layer it a bit, it will definitely do the same on colder runs. But for rainy days above 50°F, I don't bother wearing one.
This jacket has a clean design that is suitable for off-trail running as well as everyday apparel.  
I love the orange color for my jacket. It does come in black, but I prefer the brighter color.
Generally speaking, this rain jacket is very breathable and is perfect for people who spend a lot of time outside in a variety of elements. If you're looking for a high-performance, all-weather running jacket, you'll want to learn more about the Showers Pass.
Columbia Switchback Iii Jacket
If you're looking for a versatile, waterproof running jacket to take on any adventure, the Switchback III Jacket is a great option. The fabric is waterproof and breathable, and the attached, adjustable hood can be stowed away when you don't need it.
Sale
Columbia Women's Switchback III Jacket, Black, Medium
COMFORTABLE RAIN JACKET: The Columbia Women's Switchback III Waterproof Rain Jacket is a lightweight waterproof rain coat designed to keep you perfectly dry.
ADVANCED TECHNOLOGY: This light rain jacket features our waterproof Hyrdroplus 100% nylon shell designed to keep you dry and protected in even the hardest of downpours.
MODERN CLASSIC CUT: When the weather is on the edge, this is a universal rain jacket great for everyday use, with a clean feminine cut and comfortable range of motion.
The zippered hand pockets are great for storing your essentials, and the adjustable cuffs and drawcord at the hem help you get a custom fit. Plus, the jacket packs into its own hand pocket for easy storage.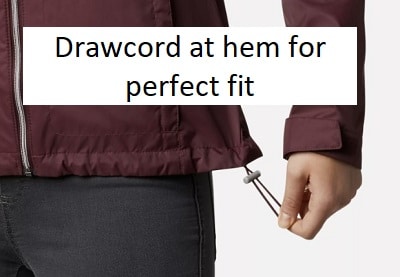 Featuring a wide range of solid colors, this lightweight running rain jacket is a great item to keep on hand for those unpredictable weather events.
You'll stay warm and comfortable on colder rainy days with this 100% polyester lining. The cut is also very flexible, so you can move easily and freely.
Additionally, the jacket can be machine washed between uses for easy maintenance. The thin construction makes it easy to carry with you.
Columbia Glennaker Lake Running Rain Jacket
The Columbia Glennaker Lake Running Rain Jacket is a great product for those who are looking for a waterproof and windproof jacket.
The added features like zippered pockets, a stowaway hood, and adjustable cuffs and hem will make you ready for whatever comes your way. The fabric is also breathable, so you won't have to worry about feeling too hot while wearing it.
Sale
Columbia Men's Glennaker Lake Rain Jacket, Black/Grill, Medium
WATERPROOF TECHNOLOGY: You'll love our Columbia Men's Glennaker Lake Rain Jacket, it features our Hydroplus waterproof nylon fabric for the ultimate in lightweight, wet weather, protection and comfort.
COMPACT AND PACKABLE: A versatile waterproof jacket with an attached hood to ensure complete rain coverage, while its packable design lets you stow it away into its own chest pocket. Perfect for when the last drizzle subsides.
HANDY FEATURES: Featuring a convenient stow-away hood, zippered hand pockets, adjustable sleeve cuffs, and a drawcord adjustable hem locks in the dry and keeps out the wet.
Spending a lot of time outdoors teaches you some lessons pretty quickly. After the initial time being caught in super wet weather, it will probably never happen to you again.
Your normal running jacket will work for most short runs in light rain conditions. But, it takes next-level performance material for extended runs in torrential conditions.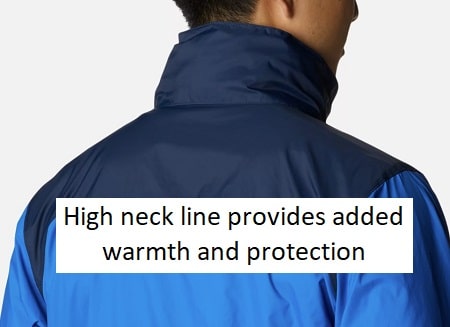 Another thing to consider is the outside temperature.
Lightweight, waterproof shells are great for staying dry. Yet, not so much for keeping you warm.
This is important to keep in mind.
The Columbia Glennaker is a very nice waterproof shell that does a great job for what it is designed to do… keep you dry.
However, since I tend to warm this model during my fall running season, I personally like to combine it with a quality compression shirt for outdoor sports.
The compression shirt keeps my muscles warm, while this running shell allows just enough heat to escape to prevent me from overheating.
Overall, this is jacket is a solid performer and can be purchased at a very affordable price.
Nike Gore-Tex Infinium Trail Running Jacket
After the years, Nike has carved out quite a niche in the trail running and outdoor gear market. As a result, their Gore-Tex products are among the most sought after.
When you're on the backroads or in the mountains, unexpected weather can interrupt your journey.
The Nike GORE-TEX INFINIUM Running Rain Jacket is a great choice for runners who need a little extra protection from the elements.
The woven fabric with GORE-TEX INFINIUM is wind and water-resistant, and the touch of stretch helps you move freely through your stride. The full-length zipper goes from hem to hood with an internal storm guard to help keep water out.
If you are looking for a waterproof running jacket that will keep you dry AND warm, the INFINIUM jacket is a perfect choice.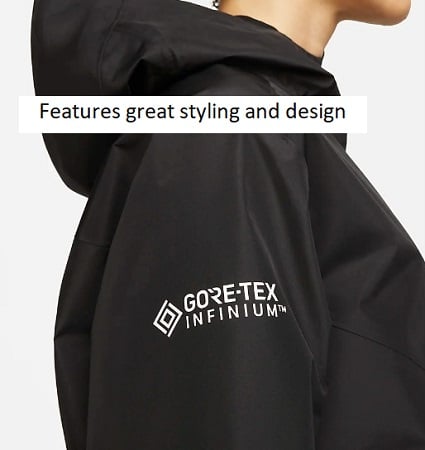 So, what you can expect with the INFINIUM Running Rain Jacket?
First, you can expect to pay more than you would for a waterproof running shell. This is top-quality outwear that comes with all the features you would want:
True to size fit
Great styling
Taped seams
Very durable construction
Water resistant
Extremely comfortable
We can all agree, that most super thin running jackets are made with average quality and are pretty interchangeable from brand to brand.
Not so with the Nike GORE-TEX INFINIUM.
If you tend to read plenty of reviews before buying products, especially a top-of-the-market jacket like this one, you will see that everyone agrees that the material is phenomenal!
The Gore-Tex material repels water like a duck and keeps even the harshest of wind from penetrating.
The only issue you may possibly experience with this jacket is availability since it is often sold out.
Overall, this jacket is amazing. If it is in your price range, this is a must-have for anyone that enjoys outdoor activities!
Marmot Minimalist GoreTex Waterproof Rain Jacket
If you're looking for a GoreTex waterproof rain jacket that won't break the bank, the Marmot Minimalist is a great option. It's lightweight and packable, yet still provides excellent protection from the elements.
The hood is adjustable and the zippers are water-resistant, making this jacket a great choice for hikes, camping, climbing, and other outdoor activities.
As someone who has used the Minimalist jacket on many occasions, I was delighted to have the opportunity to take it on a backpacking trip along the Appalachian Trail during the early spring. 
Throughout the week, we had rain every day, including some days of light misting as well as some days of heavy downpours.
I used the Minimalist jacket throughout the entire journey and it remained dry all the way.
Whenever I travel, I take this jacket with me. It folds down pretty small, and it still looks brand new after all the places it's been. 
For those occasions where the weather is slightly warm, I chose from my other waterproof shells. This jacket is great for all weather conditions, but I tend to favor it during the late fall through early spring.
As for features, the adjustable hood has enough room for a comfortable fit even when I choose to wear a hat as well.  It has a snug fit, but the bill of the cap keeps the rain off my face. 
The Minimalist is not a new entry into the waterproof jacket market. Rather, a long-time favorite of runners and hikers alike.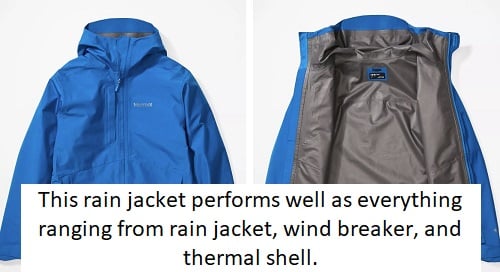 As with all Gore-Tex products, you can expect to pay more for this technology versus waterproof shells.
As far as weather protection goes, Marmot did a great job.
MARMOT Men's Minimalist Jacket | Lightweight, Waterproof, Windproof, Black, Small -Top
Your Go-To Layer In Changing Conditions – No matter the forecast, stay dry with this lightweight and packable jacket, which can be worn as an everyday rain jacket or as a sports layer for extra warmth.
Keep The Warmth In And The Weather Out – Outerwear in our Minimalist collection is constructed with GORE-TEX Paclite fabric, which blocks wind with a hydrophobic membrane and minimizes weight. The fabric is treated with a DWR (Durable Water-Repellent) finish and 100% seam-taped, which repels moisture from the surface to keep you warm and dry.
Adjustable Features For Varying Environments – For a customized fit and increased protection in inclement weather, the Minimalist Jacket features adjustable VELCRO cuffs, an adjustable drawcord hem, and an attached hood with a peripheral cord adjustment. When there's less rain and more shine, PitZips improve airflow and release excess heat to keep you comfortable as the temperatures rise.
In addition to being easy to tighten, the hood includes a substantial bill as well. In high winds, the tall collar offers excellent protection from driving rain.
The hand pockets are protected by Velcro-secured storm flaps, and the cuffs are also designed with high-quality hook-and-loop closures.
One zipper is exposed on the exterior chest pocket, which is water-resistant and has a small fabric flap at the top to prevent leaks.
Overall, the Marlot Minimalist is an excellent choice for foul weather activities during the cooler times of the year.
Helly-Hansen Loke Waterproof Windproof Breathable Rain Jacket
The Helly-Hansen Loke Waterproof Windproof Breathable Rain Jacket is a great choice for those who need a reliable and durable rain jacket. With great looks and styling, this is one running jacket I was very interested in learning more about.
Sale
Let me start by saying, I really like the looks of this product. From the color selection to the styling of the logo!
I own a Long Belfast Winter Jacket, which I absolutely love. No, it's not for use as running outerwear, but just a great-looking jacket that covers the bum during those cold winter days outside. Full disclosure – This is probably my favorite jacket ever!
Back to the Helly-Hansen Loke review…
This waterproof, windproof, and breathable jacket with taped seams that will keep you dry and comfortable no matter the weather.
Stylish and functional, this water resistant jacket has a hood that can be adjusted to fit, and a front zip closure for easy on and off.
If you like a selection of different colors to choose from, then you are in for a treat with the Loke. It comes in 13 colors from vibrant to more base colors. All are attractive and look great with the logo.
For the construction, the Loke is made using thier own proprietary material, Helly Tech®, a technical, highly waterproof fabric. This is a middle-grade product they use for gear that requires more protection than your basic shell but not to the extreme of sub-zero conditions.
The fit and finish of this jacket are well done, with sturdy snaps and zippers in the right amounts, where you need them.
Unlike many waterproof running jackets I have reviewed, I found this jacket to be highly breathable. Regardless of the temperature outside, after you start to exert yourself, you can quickly overheat without proper ventilation.
Overall, I really enjoyed road-testing the Helly Hansen Loke Jacket. Yes, there are a few things that are different from other top-rated brands, such as Nike and Marmot, such as velcro flaps sizing and fastener placement. However, these differences were not noted as being negative. Just different.
I really like this company and the Loke running jacket is just an excellent product from a great outdoor gear company.
Other Great Running Jackets to Discover
I didn't have room to include every rain running jacket, but these selections are also worthy of review
Brooks Canopy Jacket
The Brooks Canopy Jacket is a lightweight, water-resistant jacket that's perfect for running, cycling, or any other outdoor activity. It has a comfortable fit, reflective details for safety, and a zippered pocket for storing your essentials. This is a good running jacket to buy for mild conditions.
BALEAF Lightweight Running Jacket

The BALEAF waterproof running jacket is made of 100% polyester with a TPU membrane lining. It is packable into its own back pocket for easy storage and is lightweight and waterproof. The jacket has a ventilation system in the back to keep you cool and dry, and the hem is anti-skid to prevent the jacket from riding up. The jacket has reflective stripes and a reflective logo design to keep you safe in low-light conditions, and six pockets to securely store your belongings.
What to look for in a waterproof running jacket
A running jacket is a great option for a lightweight, breathable layer to keep them dry and comfortable during wet weather.
When searching for the best lightweight running jacket, it is important to consider the fit. A jacket that is too loose can cause chafing and discomfort.
Yet, a jacket that is too tight can restrict movement. The best fit for a running jacket is one that is snug but not constricting and allows a full range of motion.
When looking for a waterproof running jacket, it is important to consider a few key factors.
First, the jacket should be made of fully waterproof and breathable fabric, such as Gore-Tex or eVent. This will ensure that you stay dry and comfortable while running.
Second, the jacket should fit you well to allow for a full range of motion.
Third, the jacket should have reflective details to help you stay visible in low-light conditions. Safety is often overlooked with choosing running gear.
Finally, the jacket should be lightweight and packable, so that you can easily take it with you on your run or remove it if the conditions change.
What is a Running Waterproof Jacket?
A waterproof running jacket is important for anyone looking to stay dry and comfortable during a wet training run. There are a few things to look for when choosing a waterproof running jacket; breathability, weight, and fit.
The best waterproof jackets are made from Gore-Tex or other similar hi-tech materials. These breathable running jackets are lightweight and will keep you dry without making you feel too hot.
When choosing a waterproof running jacket, make sure to pick one that fits well and is comfortable to wear.
The benefits of wearing a waterproof running jacket include staying dry and comfortable while running, and being able to run in all weather conditions.
Breathability is an important factor to consider when purchasing a running jacket. A jacket that is not breathable can cause you to overheat and become uncomfortable while running. A breathable running jacket will allow you to stay cool and comfortable while running.
Also, discover how often should you wash a running jacket.
Features
A waterproof running jacket is a great way to stay dry and comfortable while you are out running in the rain. This type of lightweight jacket is usually made from a lightweight material that is breathable and will not make you feel too hot while you are running.
They also have a hood that can help to keep the rain out of your face. Some running jackets also have reflective strips or bright colors that can help you to be seen by other runners or drivers when it is raining.
Weight
If you are a runner, then you know how important it is to have a lightweight jacket that won't weigh you down.
A heavy running jacket can make it difficult to run, and it can also be uncomfortable to wear. That's why it's important to choose a jacket made from lightweight materials that have a slim fit.
This will ensure that you are able to run without any issues and that you will be comfortable while doing so.
Do I need a waterproof jacket for running?
Assuming you would like tips on how to choose a waterproof jacket for running:
Consider the climate you live in and the weather conditions you typically encounter when running. If you live in an area with a lot of rainfall or you run often in wet conditions, a waterproof jacket is a good choice.
Analyze the type of running you do. If you are a trail runner who spends a lot of time running in the woods, a waterproof jacket is a good choice.
Think about the features you want in a jacket. Waterproof jackets come in a variety of styles and with a variety of features. Some jackets are designed for cold weather running, while others are designed for warm-weather running in light rain. Some jackets have hoods, while others do not.
Understand your budget. A quality waterproof running jacket can range in price from $100 to $500. Choose the jacket that fits your needs and your budget.
Best Features of Top Waterproof Jackets
Waterproof jackets are an essential piece of gear for any outdoor enthusiast. They provide protection from the elements, whether you're hiking in the rain or snowshoeing in the backcountry.
There are many different types of running jackets on the market, so it's important to choose one that best suits your needs. Some of the most important features to look for in a waterproof jacket include a waterproof and breathable fabric, a durable water-repellent (DWR) finish, taped seams, and a hood.
The best waterproof jackets will keep you dry and comfortable in all kinds of weather. They're also lightweight and packable with reflective details, so you can take them with you on any adventure.
When choosing a fully waterproof jacket, it's important to consider your needs and the type of activities you'll be using it for. With so many great options on the market, you're sure to find the perfect waterproof jacket for your next adventure.
What should I look for in a running jacket?
Look for a waterproof running jacket that is made from a breathable fabric. This will help to keep you comfortable and dry while you are running.
Make sure running jackets have a hood that will protect your head from the elements.
Choose a jacket that has reflective strips or detailing. This will help to keep you visible to other runners and motorists.
Consider running jackets with a zippered pocket and front. This will help to keep the elements out while you are running.
Make sure running jackets are comfortable to wear. You should be able to move freely while you are wearing it.
Choose running jackets that are the right size for you. It should not be too tight or too loose.
Conclusion
Wearing a waterproof running jacket has many benefits. It can help keep you dry and comfortable in wet weather, and can also help protect you from the wind and cold. In addition, a waterproof jacket can help reflect light and heat, making it easier to see and stay warm in low-light conditions.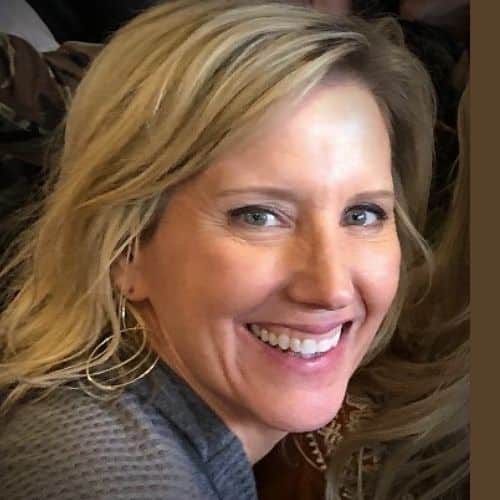 Claudia Faucher is a full-time fitness training expert and lifestyle blogger. She is also been a certified Les Mills BodyPump instructor for the past 5 years and a fitness instructor for over 20 years. Claudia is a personal trainer and creates fitness training programs for seniors and people of all ages. She likes to use her skills and experiences to help others on their fitness journeys.
Last update on 2023-08-31 / Affiliate links / Images from Amazon Product Advertising API