Last Updated: June 09, 2022
Look and feel confident all day long! Whether you're in the gym, or on a night out with that special someone, we've put together a list of the best men's compression shirts for slimming that will have you looking amazing!
Are you looking for the best compression shirts for gynecomastia? Read on.
$18.99 – Shop this look
Why do men wear compression shirts?
Are you a man who is interested in men's shapewear or body shapers to improve the look of their waist or chest? A compression shirt or tank is a fast and easy way to get a slimmer, more smooth look. Also, the best men's slimming shirt for slimming has the added benefit of holding your core in place when you are working out or on a night out on the town. They are also effective when you want to improve your posture.
What is the best men's slimming shirt and how do I use it?
Compression wear is a class of performance garments made of materials designed to stretch for fit but provide pressure against your body to shape and contour. Athletes commonly wear compression shirts for the additional support it gives their muscles and to improve recovery time after strenuous exercise.
Are compression shirts tight?
When shopping for compression shirts, there are a few things to keep in mind: Yes, a men's compression shirt for love handles is tight and constricting. To hold your core in place, the best men's slimming shirt is going to be skin-tight. Wearing a skin-tight shirt is different than a loose cotton tee, so you want to be able to handle the feel of it being very tight.
Do slimming shirts really work?
Yes, slimming undershirts or compression shirts offer smoothing & shaping. The amount of compression can vary quite a bit based on the brand and style of compression shirt you purchase, so be sure you do research before buying one.
Best Men's Compression Shirts for Slimming
This article contains affiliate links. I may receive a commission for a qualifying purchase.
Featured high-quality compression tops are made especially for men. Designed shirt slimming body and mold the male physique with incredible results!
Here are our top products picks featuring the best compression shirt to hide fat:
$22.99 – Shop this look
The Viconor Men's Compression Shirt for slimming is ergonomic and tight back designed to shape your body.
This compression tank top has the ability and function to shape the body.
If you are shopping for the best compression shirt to hide fat, Viconor is an excellent choice!
Reduces your belly size efficiently, enhances pressure on your belly, supports the tired back, and helps improve your posture.
Viconor compression shapewear flattens your abdomen.
The slim and shaper vest is the perfect choice for any man who wants to look at his very best shape every day.
It is for men shaping your chest, waist, and stomach, and is specifically designed to reduce the appearance of "man boobs".
If you're looking for the best compression shirt for fat guys, shirts such as the Viconor, place pressure on the belly and reduce your belly size, which makes you look thinner and slimmer than before.
Viconor compression shapewear – Details
Vest Compression – Shirt Gym Workout – Tank Top Sleeveless Abdomen – Shapewear
Viconor compression shapewear is perfectly fitted, soft to the skin, mens slimming compression undershirt that stretches and recoils as your body moves.
Ergonomic slimming and tight X-Shape back designed to shape the body.
On the inside are powerful layers of Nylon & Spandex tightly knitted together flattening your chest and stomach.
Pros
Comes in black and white
Secure fit
Tight fit gives the maximum slimming appearance
Cons
Can be too tight for some users
What people are saying!
"This is comfortable and fits well."
"It does a decent job of holding it all in. Just keep in mind that you may want to order a size up. It is a little tough trying to pull it down, but you get used to it after the first couple of times."
"Very good product. It doesn't roll up due to tightness and it's comfortable says, my guy!"
"The fit is just a tiny bit longer than I expected however it is overall pretty comfortable. I wear it underneath a uniform that tends to cling to my body revealing every curve. This undershirt does a good job keeping the uniform fitting professionally."
---
Men's body shaping shapewear, by NonEcho, provides strong compression for the chest, waist, and back.
$23.89 – Shop this look
A compression undershirt works with the recovery after gyno surgery as well.
In addition, the NonEcho men's compression shirt for slimming wraps your body tightens abdomen fat, and provides back support and posture correction.
If you are shopping for the best compression shirt for back pain, NonEcho provides unprecedented support and comfort.
Boost confidence and get your self-esteem back!
Details
High-quality zipper closure
Superb tummy Control and hide gynecomastia moobs chest.
Ergonomic Men body shaper vest adopts unique 3D thread weave technology
Flattens the breast and tummy, hide "man boobs", deals with "beer belly", covers "Gynecomastia chest", and makes you look thinner and slimmer
Powerful compression and body Support: Men's body shaping shapewear provides strong compression for the chest, waist, and back, comprehensive wrap your body, tighten abdomen fat and helps with back support and posture correction, such as a confidence booster to get your self-esteem back. A compression undershirt works with the recovery after gyno surgery as well
Made of 90% nylon and 10% Spandex, with special knitted, tell into your favorite workout shirts, sweaters, or business suits
Seamless design, smooth invisible compression vest, achieving body slimming appearance immediately
Pros
Great back and lumbar support
Perfect for slimming and smoothing trouble areas
Tight but comfortable
Cons
Snug fit may be uncomfortable for some users
Difficult to put on for large shoulders
What people are saying!
"The body shaper works as advertised. I use it underneath shirts that no longer fit me the way they used to. In my opinion, it is the best men's compression shirt for slimming. You can use it directly underneath short sleeve shirts or t-shirts without any issue! "
"I mean the shirt does what it says it's supposed to do, it compresses the loose fat and helps hide a lot of it making me look much nicer in my work uniform. "
"This fits pretty true to size and it does a great job slimming down those trouble areas. Holds the dad gut in and smooths the love handles."
---
ATHLIO Men's Cool Dry Short Sleeve Compression Shirts
ATHLIO men's compression shirt for slimming undershirt tank tops can trim and tighten the bulging stomach, and flatten the abdomen, without causing any discomfort. easily create an overall smooth contour.
$14.98 – Shop this look
You can wear this men's waist shaper whenever you want without people noticing you are wearing it.
Details
Nylon & Spandex
Sports Tops Baselayer
Slimming Body Shaper for Athletic Workout T-Shirts
Pull-On closure
Hand Wash Only
A tank top shirt is perfect as an all-day lounge shirt as well as a great undershirt to wear for the gym, sports, running, and fitness.
The X-Shape design of the men's waist trainer vest effectively removes the appearance of back fat, improves back posture by stretching the back, and gives you a more confident look.
Pros
Superior fit for wearing under uniforms or shirts
Lightweight
Great quality
Cons
Runs small. Buy a size up
What people are saying
"This compression shirt provides excellent support to the upper body, especially the chest and shoulder area. If your upper body is your problem area this shirt will be helpful to you."
"I bought this for my husband and I'm glad that I did. We have bought many compression T-shirts but this one exceeds all expectations."
"I started wearing sauna/ compression gear to add power to workouts. I have several pieces, but this workout shirt may have moved to the top of the stack because of its fit, thickness, and styling. "
---
Tight undershirt for men to reshape the body in better condition, this includes help tighten loose skin after you lose weight and squeeze man moobs in to hide gynecomastia, slimming shapewear make you lose inches by reducing unwanted love handle.
$24.99 – Shop this look
Tank top body shaper with 3 hooks allows you to control the compression you need on your abs, guarantee light support to relieve pain on the lower back, and wide straps will take the pressure off of your shoulders and instantly correct your posture.
If you're shopping for the best men's compression shirts for slimming, the TAILONG shirt is a great choice.
Details
Double layered design for tummy control, helps flatten the stomach and shrink the waistline.
3 adjustable hooks for you to control the compression, and keep your abdomen tight.
By adding compression on the chest to hide moobs and reduce the appearance of gynecomastia. The elasticity provides your full control of the upper body, which makes you look better.
Make of Polyester and Nylon.
Provide comfy texture and maximize your comfort, breathable and stretchy fabric is suitable to wear under clothes all day.
Pros
Great secure fit
Good for back support
Works well for posture
Cons
Super snug sit. Would suggest buying a size up
What people are saying!
"I have purchased a few body shapers in the past and found many are uncomfortable and just plain poor quality. Not this one! I am very pleased with the feel, I can wear it all day and no one can even tell."
"The TAILONG Men Compression Shirt really helps with my back pain and my posture. The material is very good quality and the size chart is pretty adequate."
"I like how this product has 3 different runs for you to change the compression. It is the only product I've used that actually shaves inches off."
---
The Miss Moly men's compression shirt for slimming shaper vest provides an immediate chest and stomach slimming appearance, firming panels to help trim and tighten your back and stomach
$28.99 – Shop this look
Details
Shaper Compression for correct posture- X-Shape design pull and raise your back so that to correct posture
Round neck & Tanktop vest
Fabric :Nylon 80% & Spandex 20%
Belly slimming
Hand wash with cold water
Physique-improving, seamless undershirt with cooling features and compression zones that transform the torso and chest
Pros
Very comfortable
Good for back and hip support
Firm support
Cons
Some users have stated the bottom of shirt is too short
What people are saying
"He wasn't too sure about this undershirt tank top at first but after the first day he loved it, his size is (XL) so I got him an (L) fits great! Will get him more!"
"Works great. People think I lost weight."
"Good undershirt for workouts. Fit as expected."
---
This ideal body slimming vest, from Molutan, is constructed from premium lightweight nylon and spandex materials. If you are shopping for the best men's compression shirts for slimming, the Molutan's unique 360° seamless knitting technique greatly enhances overall functional compression.
$24.99 – Shop this look
Details
60% nylon, 40% Spandex
High-quality zipper closure
Machine washable
Double elastic band and steel bone design on the back to help improve posture and relieve back pain
Great for gym, fitness, running, cycling & sports
Can be used as a gynecomastia surgery compression body shaper
Pros
Great fit
True to size
Comfortable compression tank top
Easy to use front zipper
Cons
Can be snug for larger customers
What people are saying
"The compression shirt provides a great deal of comfort during physical activity and even during workouts. I have tried other body shaper tank tops but neither one comes close to MOLUTAN Men's Compression Shirt in terms of quality and pricing."
"…the best men's body slimming shirt"
"I initially wore this compression shirt for workouts and liked the fit and how provided comfortable compression support and now am additionally wear under casual wear."
"I purchased the men slimming undershirt for the look and comfort. The material is soft and fits firmly with my body. It comes true to size. It is easy to come on and the zipper helps to get out the shirt easier."
---
Reasons for men wearing a compression shirt
Provides help with back pain
$14.99 – Shop this look
Compression garments are constructed from materials that stretch but resist losing their shape.
Consistent compression of your muscles provides additional joint support for proper alignment and assists your muscles to contract better and more efficiently.
In addition, compression shirts subtly shape your body, flattening curves from soft tissue, such as belly fat and love handles.
Goodbye gynecomastia or man boobs!
$18.99 – Shop this look
Gynecomastia can be caused by an imbalance between the sex hormones testosterone and estrogen. Estrogen causes breast tissue to grow. While all men produce some estrogen, they usually have much higher levels of testosterone, which stops the estrogen from causing breast tissue to grow.
If you are shopping for the best men's compression shirts for slimming and reducing man boobs, structural design is important.
If the balance of hormones in the body changes, this can cause a man's breasts to grow. Sometimes, the cause of this imbalance is unknown.
Gynecomastia is more common in older men, as they produce less testosterone. Older men also tend to have more body fat, and this can cause more estrogen to be produced. These changes in hormone levels can lead to excess breast tissue growth.
The best compression shirts will help with gynecomastia, or man boobs (moobs). While compression shirts are not meant to be worn all the time, finding the right shirt can provide a tremendous boost to your confidence.
Enhances recovery after exercising
$23.99 – Shop this look
Wearing compression clothes after exercising helps speed up the process of rebuilding the muscles.
In addition, compression garments help reduce muscle fatigue and increase blood pressure. This is true for compression socks and shirts as well.
How do they work?
By applying subtle pressure to the area where is the garment is worn, compression shirts help by promoting blood flow as they work to pump blood to and from areas of pressure.
Can make you look slimmer
$24.99 – Shop this look
Unlike you're favorite college t-shirt, compression shirts work to flatten bulges and curves, providing visual lines that look fit and toned.
This compression creates a slim-looking tummy and reduces any love handles you may have while decreasing anything extra you don't want to show.
Thank you for reviewing our selection of the best men's compression shirts for slimming.
Do compression shirts help hide fat?
$24.99 – Shop this look
Compression shirts won't make you slimmer but they can provide a way to accent your muscle definition and body shape. Compression shirts are more appealing attractive than looser t-shirts.
Can you wear compression shirts all day?
$23.99 – Shop this look
Compression clothing can cause problems if worn for too long. However, doctors warn, that there are real health risks to wearing extra-tight clothing for prolonged periods.
Instead of stuffing your body into super tight clothes, it is better to stick with more proven forms of body-shaping behavior.
So, if you are looking to reduce back pain, hide belly fat, or hide "man moobs", choose appropriate compression shirts.
Shop for compression shirts specifically designed to hide man "moobs" reduce the appearance of chest fat, and reveal a slimming toned look and feel.
What to look for in a fat guy compression shirt
$29.99 – Shop this look
Your compression shirt should be snug but not constricting. There should be enough compression to perform its intended purpose, but not so much that it becomes restricting.
Make sure it supports your level of activity, and wear it on a daily basis so it becomes a part of your routine.
When shopping for a fat guy compression shirt, be mindful of the color of the shirt you purchase. If your slimming undershirt body is exposed while you are wearing it, your color choice can make or break your look!
What color shirt is most slimming?
$34.95 – Shop this look
A black undershirt body shaper always makes you seem svelte and attractive. Darker tones of blue, purple, and brown can also assist to conceal faults and provide the appearance of slimming. Lighter hues, such as white and khaki, on the other hand, might add pounds and provide the illusion of a bigger frame.
Best Compression Shirt to Hide Fat
One of the best ways of hiding your belly fat is through the use of men's slimming body shirt. Getting rid of excess fat is a good thing.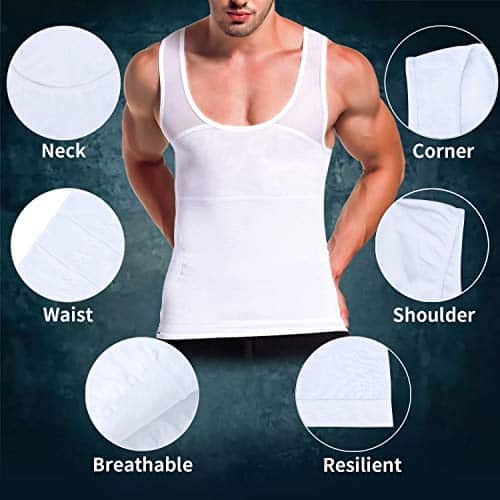 Click here to learn more about this item!
After all, it's a great lifestyle choice that improves your health and boosts your self-esteem and self-confidence. But let's be honest, losing fat quickly isn't always easy. 
$21.89 – Shop this look
You want to look good when going to the gym and working out, as well as take your everyday look to the next level.
Good news!
By shopping for the right option of a compression shirt, you can easily conceal that unwanted fat that is hard to achieve by diet alone.
To that point, I have created this review to help you choose the best compression shirt to hide fat and feel amazing!
Shop Here For Best Selling Hide Belly Fat Shirts
To present you with the best compression shirt selections for your fashion needs, I have shared my detailed research to make buying compression shirts easier for you.
Note – Once you have made your decision on the best compression shirt to hide fat, to suit your personal needs, I suggest buying at least 2 shirts so you will always have one available to wear. Trust me, after you see the results you will not want to get dressed without one!
Esteem Apparel Original Men's Compression Shirt – Body Shaper Tank
$29.99 – Shop this look
90% Nylon, 10% Spandex
GYNECOMASTIA CHEST COMPRESSION: Provides an immediate chest slimming appearance. Doesn't lose its compression binding.
EXTRA TIGHT: Seamlessly fit into your favorite t-shirts, sweaters, and business suits comfortably. These chest binder undershirts will provide an increased body tone and reduce the appearance of pronounced chest fat
SLIMMING UNDERSHIRT: Shoulder mesh material allows for easy take on and takes off. These shapewear binding vests for men will instantly provide the appearance of fitness and fat loss
CHEST BINDING VEST: Breathable and soft to the skin material hides Gynecomastia under any kind of clothing. Perfect for athletic activity, as it allows the skin to breathe, yet keeps tight and in place.
Pros
Instantly boosts self-esteem
Secure and lightweight
True to size
Cons
Extreme belly compression
TAILONG Compression Shirts for Shapewear Slimming Men Body Shaper Vest
$21.99 – Shop this look
COMPRESSION SHIRT TO HIDE BELLY FAT. A tight men's shirt is a perfectly snug fit while maintaining breathability, its fabric wick moisture away to keep cool, ensuring that men's suit shirt won't hurt your skin partially during a workout, and offers excellent comfort and a full range of movement.
SUITABLE for ALL OCCASIONS. This men's sports jacket is best for Zumba, yoga, gym, fitness, running, cycling and other sports, fat burning, and weight loss, to help you get rid of unwanted fat rolls, definitely recommended for men who are interested in getting a slimmer and firmer figure. Combining exercise with a good diet will help you get better results.
TAILONG MEN SHAPEWEAR SIZING TIPS. Please measure the waistline and read the left size picture before purchasing these slimming tank tops.
Pros
Great price
Excellent for workout
Comfortable fit
Cons
Material is thinner than other shirts
If you enjoyed this article, you may also be interested in these selections: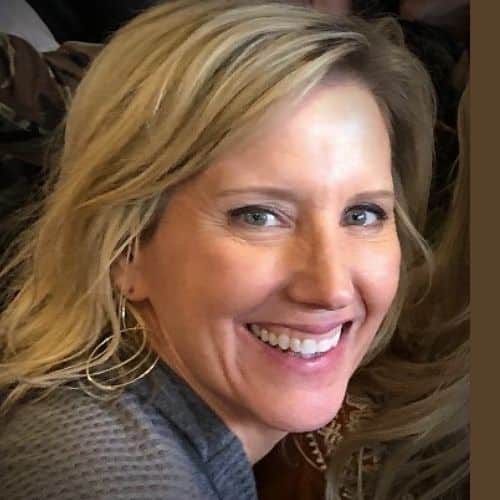 Claudia Faucher is a full-time fitness and lifestyle blogger. She is also been a certified Les Mills BodyPump instructor for the past 5 years and a fitness instructor for over 20 years. She likes to use her skills and experiences to help others on their fitness journeys.
Last update on 2022-06-22 / Affiliate links / Images from Amazon Product Advertising API