Are you looking for the best compression shirts for hot weather? When the weather is hot, the last thing you want to wear is a heavy, constricting cotton shirt. But finding a shirt that looks good and keeps you cool can be a challenge.
I may earn a commission when you purchase through a link on this page.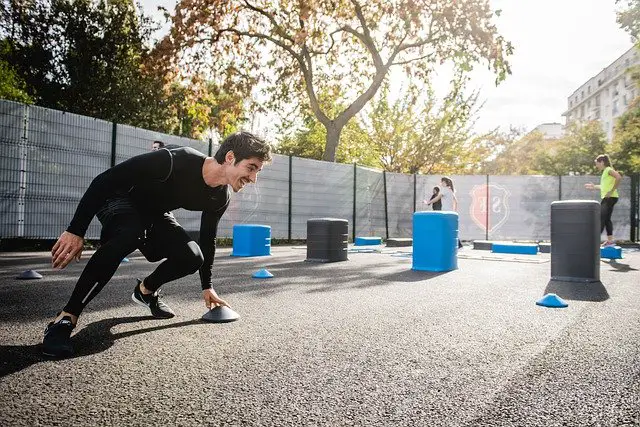 Compression shirts for hot weather
Compression
Compression shirts are a great option for hot weather. They are lightweight and breathable while still providing support. But with so many options on the market, how do you choose the right one?
✔ Note – If you just want to see my top picks, here you go.
In this article, I review the best compression shirts for hot weather. I look at important factors like material, fit, and price.
Also, I'll provide a buyer's guide to help you make an informed decision.
If you're looking for a compression shirt to wear during your next workout or to keep cool on a hot day, continue reading for the best choices currently available.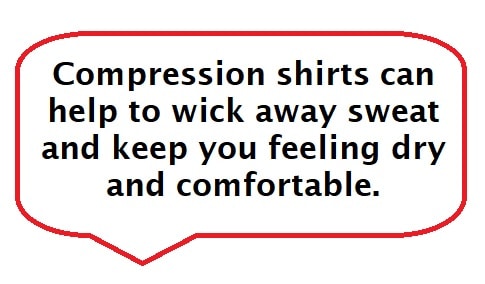 Whether you enjoy a daily 5 miler or just love being outdoors, you understand that preparing for extreme weather conditions is vitally important to consider as warmer weather approaches.
Choosing the proper clothing can make or break your outdoor adventure, especially when it comes to shirt selection. High temperatures and humidity levels mean excessive sweating.
In this post, I share my 11 best compression shirts that will keep you cool and dry even in the most trying conditions. Let's get started!
Why compression shirts are great for hot weather
Material
When the sun's rays are beating down and temperatures soar, it is important that your shirt is able to keep you cool and dry.
The best material for workout clothing for hot weather must have the ability to pull moisture away from your skin or have moisture-wicking properties.
➥Read also… Is compression clothing helpful for anxiety?
Moisture-wicking material works by pulling sweat away from the skin, to the exterior of the garment for faster evaporation.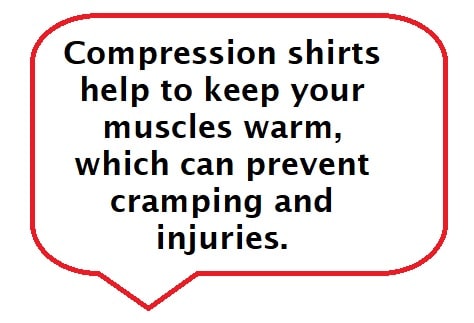 The best moisture-wicking fabric to look for in your compression shirt is:
Polyester
Rayon
Cotton/ Lycra blend
Nylon
UV Protection
Ever wonder why people wear long-sleeve shirts in hot weather?
Doctors have long suggested wearing UV sun-protective clothes to avoid sun damage and skin cancer; however, new research shows that blocking UVA/UVB rays in combination with long sleeves keeps us cooler as well. [1]What clothing is best for sun protection? Published 2020 April 07. The article was retrieved on 2022 May 01 from … Continue reading
➥Read also… Slimming undershirt trends
Best Compression Shirts for Hot Weather
Do moisture-wicking shirts keep you cool?
Yes. The biggest benefit of moisture-wicking material is it helps keep you dry when you sweat. It can also help you stay cool during the hot and humid summer months.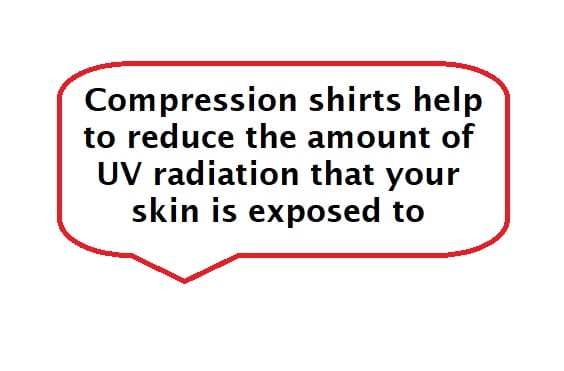 Wicking fabrics pull the moisture into the top layer of the shirt so moisture doesn't sit directly on your body.
Not only do moisture-wicking materials keep you cool and dry, but they also help prevent bacteria buildup that can contribute to body odor.
Style
Compression clothing is ideal for those who wish to flaunt their figure while working out while looking confident. Compression clothing can aid in the definition of muscles that have been successfully developed.
➥Read also… Best compression sleeves for shoulder pain
Best Compression Shirts for Hot Weather
Can runners use compression shirts in the heat?
Yes. Not only do compression shirts protect you from harmful UV rays, but they also keep you cooler and drier than traditional cotton t-shirts.
➥Read also… Best compression shirt to hide fat
Do compression shirts help with sweat?
Yes. Compression wear has been specially designed from moisture-wicking materials to pull the sweat from your body while you exercise.
The sweat is drawn out off your skin through the compression wear and quickly evaporates rather than turning it into a soaked sponge. This is why compression shirts are used by professional athletes.
➥Read also… How do compression shirts work
What is the purpose of compression shirts?
Not only do compression shirts help regulate your body temperature and keep you dry, but they are also designed to increase the amount of oxygen that they receive, promote blood flow, and improve the oxygenation of muscle tissue, which can enhance athletic performance during exercise.
➥Read also… Best compression shirts for loose skin
Rash Guard and Compression Shirts – Double Protection for Hot Weather
When it comes to hot weather training, compression shirts with built-in rash guard features provide dual benefits, ensuring you stay comfortable and protected during your outdoor activities.
These hybrid garments combine the moisture-wicking and cooling properties of compression shirts with the added advantage of a rash guard, which shields your skin from potential irritation caused by friction or rough surfaces.
The result is a versatile and functional piece of athletic wear that helps you maintain peak performance levels, regardless of the heat.
What are the benefits of compression clothes for athletes?
Research has shown that compression clothing can help your blood flow and muscles while working out or exercising.
They offer additional support for your muscles, which helps you to reduce muscle fatigue and reduce your chance of injury.
They can also improve athletes during post-recovery by delivering oxygen to their muscles more efficiently.
"Compression garments provide athletes with various health and performance benefits. By applying a balanced surface pressure to specific body parts, compression garments trigger the acceleration of blood flow and increase oxygen delivery to specific muscle groups. This allows athletes to work at a higher rate for a longer period of time, and circulation improvements help the body to recover faster by reducing the build-up of lactic acid." [2]Benefits of Compression Gear. 2016 January 07. This article was retrieved on 2022 May 01 from https://share.upmc.com/2016/01/benefits-of-compression-gear/
Are compression shirts good for sports?
A 2016 scientific review of studies published in Sports Medicine found that when runners wore compression clothing endurance performance metrics improved "due to improvements in running economy, bio-mechanical variables, perception, and muscle temperature."
➥Read also… Men's compression undershirts
A Cool Solution for All-Weather Sports Training
As the mercury rises and summer heat takes over, weight training enthusiasts can find the perfect workout companion in a cooling compression shirt.
These men's compression shirts are designed with advanced fabric technology that wicks away moisture, keeping you cool and dry during even the most intense weightlifting sessions.
With a cooling compression shirt in your arsenal, you can now turn the tables on scorching temperatures and focus on your gains, without letting the weather dictate your sports performance.
Tips for working out in the heat
Drink plenty of water, and don't wait until you are thirsty to drink
Take frequent breaks
Avoid dehydrating liquids. Alcohol, coffee, tea, and caffeinated soft drinks
Prevent heat illness with acclimatization
Avoid getting sunburn
Pace yourself
Select clothing with fabrics that are lightweight and moisture-wicking
Symptoms of heat exhaustion
Headache
Nausea
Dizziness
Weakness
Irritability
Thirst
Heavy sweating
Elevated body temperature
Decreased urine output [3]Heat Stress – Heat-Related Illness. The National Institute for Occupational Safety and Health (NIOSH). The article was retrieved on 2022 April 28 from …

Continue reading
If you enjoyed, "11 Best Compression Shirts for Hot Weather", be sure to check out my related posts below.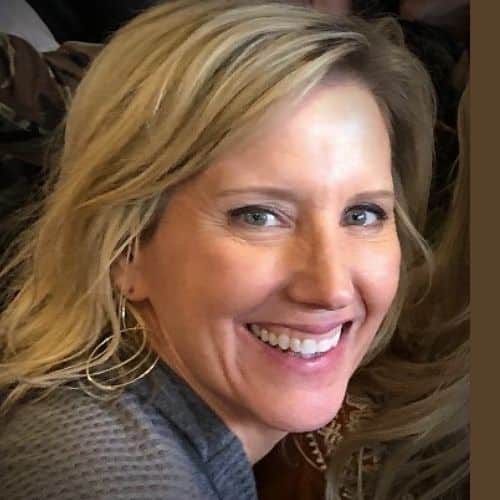 Claudia Faucher is a full-time fitness training expert and lifestyle blogger. She is also been a certified Les Mills BodyPump instructor for the past 5 years and a fitness instructor for over 20 years. Claudia is a personal trainer and creates fitness training programs for seniors and people of all ages. She likes to use her skills and experiences to help others on their fitness journeys.
Last update on 2023-11-28 / Affiliate links / Images from Amazon Product Advertising API