Is compression clothing helpful for anxiety? When it comes to using calming compression clothing for adults and children, there are many benefits to consider. Many people don't realize that by introducing some specially manufactured and snug-fitting clothing to someone's life, you can actually be helping them in various ways.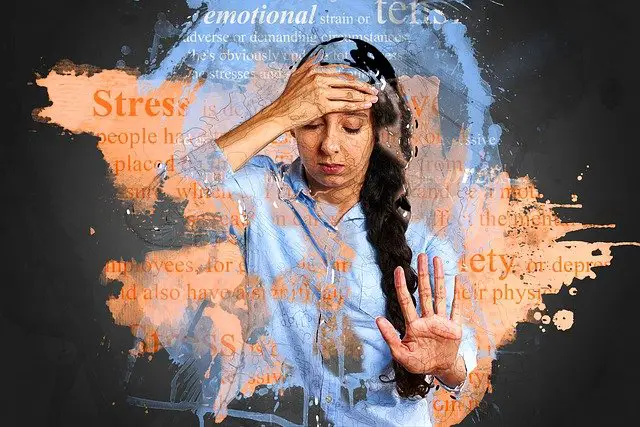 Let's get started by looking at some of the best compression clothing for anxiety.
INFORMATIONAL PURPOSES ONLY: The materials and information on this website have been prepared or assembled by FitFab50 and are intended for informational purposes only.
This clothing offers relief for those that struggle with seams and clothing, need help regulating their emotions, and live with Autism Spectrum Disorders, ADHD, Dyspraxia, and more.
✔ Best Compression Shirt for Anxiety and Stress – Short Sleeve
Under Armour Men's HeatGear Tactical Compression Short Sleeve T-Shirt
$23.73 – Shop this look
Soothing and calming compression clothing is made from a specialized high-quality, breathable, moisture-wicking sensory fabric. Features external stitching to provide a seamless feel. The material is designed to keep you cool, dry, and most importantly, comfortable throughout the entire year. Perfect for hot and cold temperatures!
84% Polyester, 16% Elastane
Ultra-soft fabric for the best in next-to-skin comfort with this compression shirt
4-way stretch construction moves better in every direction
Material wicks sweat & dries really fast
---
✔ Best Compression Shirt for Anxiety and Stress – Long Sleeve
DEVOPS 3 Pack Men's Athletic Long Sleeve Compression Shirts
$29.97 – Shop this look
When a person is anxious or feeling the onset of an anxiety attack, a simple hug can often help them get through it. When someone is not available to give a hug, it can be really tough for the individual.
Long sleeve compression shirts can be used to help delay and sometimes even prevent the development of an anxiety attack. It's comfortable enough to wear throughout the day as well as at night, whether it's an undergarment or outwear.
Great Performance in warm or cool weather. Sweat and moisture are pulled away from the skin very quickly to prevent clothes from sticking to the body.
4-Way Stretch / Moisture Wicking / Two-Way Air Circulation / Quick-Dry
Non-abrasion spandex fabric with excellent elasticity and durability for maximum mobility.
---
✔ Best Compression Shirt for Anxiety and Stress – V-neck
T Thompson Tee Sweatproof Undershirt for Men with Underarm Sweat Pads
$38.99 – Shop this look
Sensory clothing adults apparel is comprised of a particular material that is soft, breathable, and moisture-wicking. The external stitching of this v-neck tee has been carefully designed to offer a seamless feel, and the sensory fabric has been selected to keep you cool, dry, and comfortable throughout the year.
95% Rayon, 5% Spandex
Fully integrated underarm sweat pads
Thompson Tees are completely manufactured in America. These white shirts have a tagless, lay-flat collar for a seamless fit. The added length of the shirt helps it to stay tucked in.
AS SEEN ON – 'Shark Tank' 'The Today Show' 'The Doctor's' 'ABC News' 'Huffington Post' 'SHAPE Magazine' and 'CNBC'!
The Thompson Tee combines the best features of an undershirt with our proprietary underarm sweat-proof technology to provide guaranteed sweat protection!
---
✔ Best Compression Vest for Anxiety and Stress
Neleus Men's 3 Pack Athletic Compression Under Base Tank Top
$22.69 – Shop this look
Compression vests are one of the top-selling sensory tops because of the comfort and versatility to be worn all day. The extra length provides positive sensory input to the entire midsection, allowing them to focus, and stay calm. Sensory compression vests can be worn as clothing or underwear under work clothes, or at night. These compression shirts feature a tagless design, produced with special exterior stitching for a seamless feel.
4-way stretch construction moves better in every direction, is tight-fitting, and feels like a second skin
Moisture-wicking sensory fabric sweeps away sweat and dries quickly. Flatlock seams to prevent chafing
Soft, breathable material is extremely comfortable!
---
Anxiety definition
Anxiety is a feeling of fear, dread, and uneasiness. It might cause you to sweat, feel restless and tense, and have a rapid heartbeat. It can be a normal reaction to stress. For example, you might feel anxious when faced with a difficult problem at work, before taking a test, or before making an important decision. It can help you to cope. The anxiety may give you a boost of energy or help you focus. But for people with anxiety disorders, the fear is not temporary and can be overwhelming. [1]Anxiety definition. Medline Plus. Article retrieved on 2022 April 28 from https://medlineplus.gov/anxiety.html
Types
Causes
Fear
Worry
Stress
Tension
Shame
Angst [3]6 Common Causes of Anxiety and Ways to Cope With Them. Updated on June 10, 2020 by Inspire Malibu. Article retrieved on 2022 April 28 from …

Continue reading
➥Read also…Best compression shirts for hot weather
Compression clothing for medical use
What is compression clothing?
Compression clothing is designed to increase blood flow and oxygenation in muscle tissue, which can help athletes perform better during short bursts of activity. Compression clothing has been shown to be useful in reducing muscle soreness and tiredness in studies. This effect occurs not just when you wear them during activity, but it also lasts afterward.
The right fabric can be very soothing
Calming compression clothing provides a constant soft 'hug' for the body, which can delay and sometimes avoid the onset of an anxiety attack.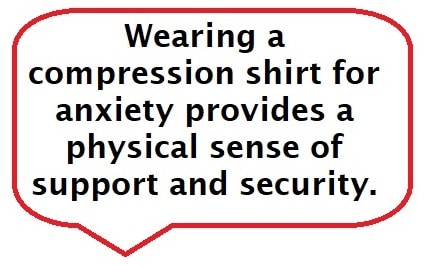 A high waist makes me feel safe and secure
Clothing has a direct impact on our mood, attitude, and self-confidence. It has the ability to improve our psychological condition as well as our job performance. When we feel like we're dressed for the occasion, we can accomplish more. Our clothes selections can reflect a variety of emotions depending on the style, material, color, and shape we choose.
➥Read also… Clothing for anxiety
Autism and deep pressure stimulation
Deep pressure is widely used by occupational therapists for people with autism spectrum disorders.
Deep pressure has been defined as the "sensation produced when an individual is hugged, squeezed, stroked, or held. [4]Krauss K. E. The effects of deep pressure touch on anxiety. The American Journal of Occupational Therapy. 1987;41(6):366–373. doi: 10.5014/ajot.41.6.366. [PubMed] … Continue reading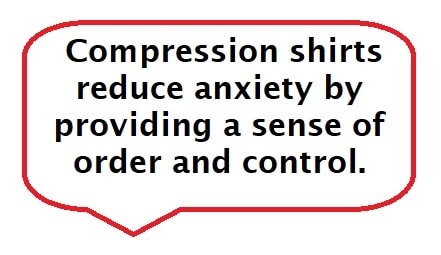 Compression clothing gently and evenly squeezes the body without pinching or binding.
Adults often find significant sensory relief with the clothing, and even children who resist other clothing often crave compression outfits. [5]5 Best Off the Shelf Deep Touch Stimulation Products. AppliedBehaviorAnalysis. Article retrieved on 2022 April 28 from … Continue reading
➥Read also… What are compression shorts for
Is compression clothing helpful for anxiety?
Is compression clothing good for anxiety? Compression clothing helps your body recover and rest by improving blood circulation. These items apply pressure, which many people who suffer from anxiety find soothing.
Shirts, shorts, socks, leggings, armbands, footwear, and a variety of other items are available now. The hard, squeezing sensation they produce is a sensory trigger for many people, making them feel at ease. They can be worn before, during, or after physical activity, or whenever you feel your stress and anxiety levels are rising.
➥Read also… Compression garments for stomach
How does compression clothing affect the body?
Compression clothing helps to speed up the process of muscle recovery after exercise. These garments aid in the mending of injured muscle tissue and the rebuilding of muscles by reducing muscular fatigue and increasing blood pressure. Aside from that, the tightness of compression shirts can help to reduce swelling.
If you enjoyed, "Is compression clothing helpful for anxiety?", be sure to check out related posts below!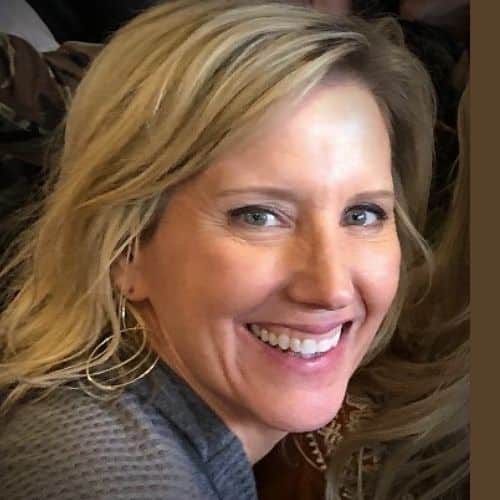 Claudia Faucher is a full-time fitness training expert and lifestyle blogger. She is also been a certified Les Mills BodyPump instructor for the past 5 years and a fitness instructor for over 20 years. Claudia is a personal trainer and creates fitness training programs for seniors and people of all ages. She likes to use her skills and experiences to help others on their fitness journeys.
Last update on 2022-08-30 / Affiliate links / Images from Amazon Product Advertising API