See my top-rated best shapewear for tummy and back fat control. Shapewear is an undergarment designed to create a smooth silhouette of your body. It is a full-body shaper and sculpts your figure to highlight your natural curves. Works great with wearing tight-fitting clothing.
I may earn a commission when you purchase through a link on this page.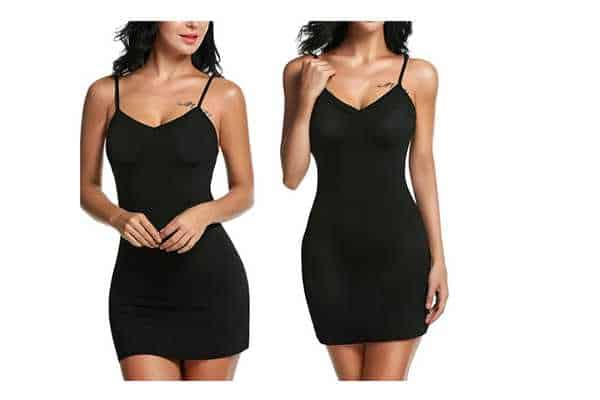 Shop Avidlove: Avidlove Full Slip Spaghetti Strap Camisole Nightgown
Even an overweight person can now look sexy and highlight their curves and angles long hidden behind those many bases of fat with a plus size waist trainer for lower belly and tummy pooch.
Shapewear offers all women that hourglass figure they desire and have always wanted without much work.
Best Shapewear for Lower Belly Pooch
Forget about trying to hide your lower belly! Achieve the perfect silhouette form with the best shapewear for lower belly pooch.
Get an hourglass form by slimming down your figure in the right spots, such as your FUPA, thighs, waist, and other areas. The super thin edge looks almost invisible under clothing.
Bestselling Shapewear for Flat Tummy
Learn how to get a flat tummy fast naturally and can quickly flatten unwanted curves and enhance your best features, making you look beautiful in dresses or casual attire.
Shapermint High Waisted Body Shaper Shorts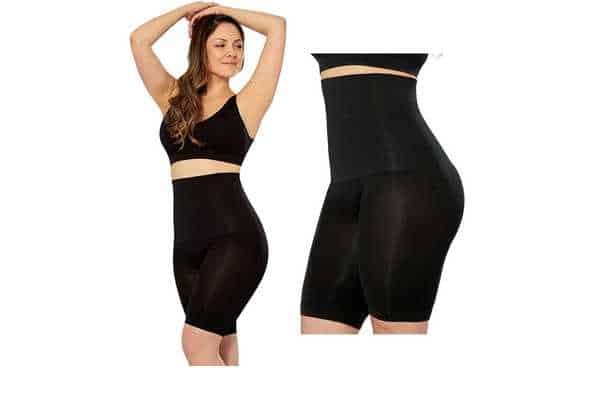 Shop Shapermint: Shapermint High Waisted Body Shaper Shorts
Shapermint High Waisted Body Shaper Shorts are designed to address tummy and back fat and to give you a sculpted look by smoothing and contouring your body to perfection. These body shaper shorts with tummy control are great with all clothing choices and comfortable for all-day wear.
Shapermint's High Waisted Body Shaper Shorts feature a high-waist shaper that moves with all activities and stays in place for a secure fit. These shaper shorts instantly have a slimming effect on your thighs, tuck your tummy, and smooths your back.
Spanx Undie-tectableThong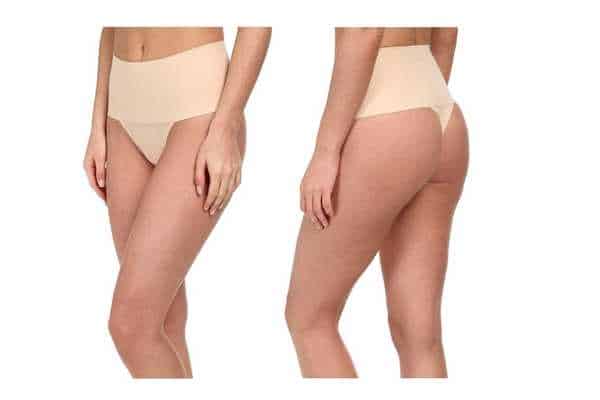 Shop Spanx: Spanx Undie-tectable Thong
Spanx Undie-tectable Thongs are designed to solve all your visible panty line problems while providing superior tummy control with a high waist design. This thong features elastic-free edges and a bonded waistband for a truly invisible look.
Spanx's Undie-tectable Thong is constructed using a nylon and spandex blend that lays flat to your skin, with a cotton gusset for smooth comfort. This mid-rise thong also provides full-back coverage in a hipster style you are sure to love.
YERKOAD Tummy Control Panties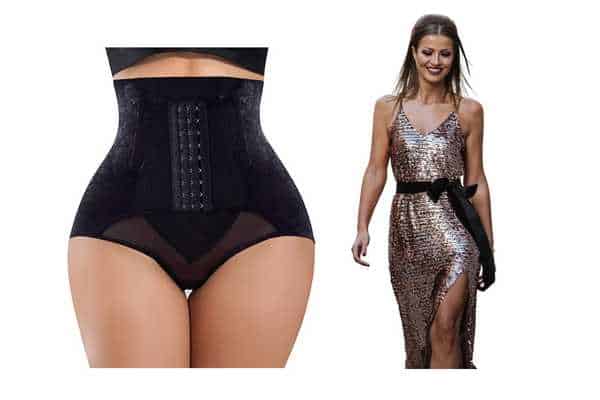 Shop YERKOAD: YERKOAD Tummy Control Panties 
YERKOAD Tummy Control Panties are designed using top-grade polyester and spandex blend fabric. These control panties are very smooth and comfortable, suitable for everyday use.
YERKOAD's Tummy Control Panties are seamless underwear providing superior and firm control. These booty lift panties give you a natural and flattering look you will enjoy.
Shapermint High Waisted Body Shaper Boyshorts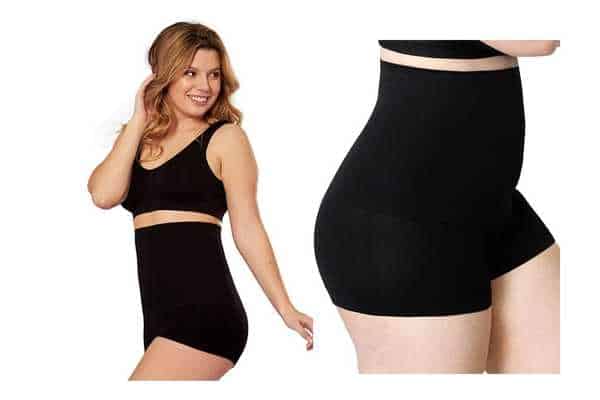 Shop Shapermint: Shapermint High Waisted Body Shaper Boyshorts
Shapermint High Waisted Body Shaper Boyshorts are designed to provide instant support and slimming. These shaper boyshorts are made using a nylon and spandex blend producing great fit and feel.
Shapermint's High Waisted Body Shaper Boyshorts utilize silicone strips to prevent slippage or movement and keep shorts from riding up. These shaper boyshorts are an excellent butt lifter and for tummy control.
How to Use Shapewear to Flatten Stomach
Shapewear for women tummy control compresses excess fat around the waist and presses the entire abdomen.
They are specifically designed with female fat distribution patterns in mind for superior fit.
When it comes to how to change fat distribution, especially, if you're looking for a way to compress fat around the waist.
These compression undergarments for women come in a variety of styles such as maternity shapewear, shapewear for saree, shapewear shorts, and shapewear thongs. They slim the waistline for a sexier, shapelier look. You can gain more self-confidence and improve your self-esteem by wearing shapewear.
The design of shapewear for back fat garments has strategically-placed seams and intricate panels that offer more noticeable lifting and shaping. When you need to look slimmer in a hurry, the best body shaper can be a fast solution.
Best shapewear for love handles
Say goodbye to love handles, muffin tops, or an excess fat accumulation around the hips and abdominal area which is common for women to have.
Regardless of your size… even if you're petite or plus size, love handles are quite common.
Compression underwear can help all body types. They are the best body shaper for large stomach and back areas with amazing style.
Listed below I have reviewed the 5 top Spanx bodysuit thong options suited for a variety of different body shapes and sizes!
SPANX Suit Your Fancy Low Back Bodysuit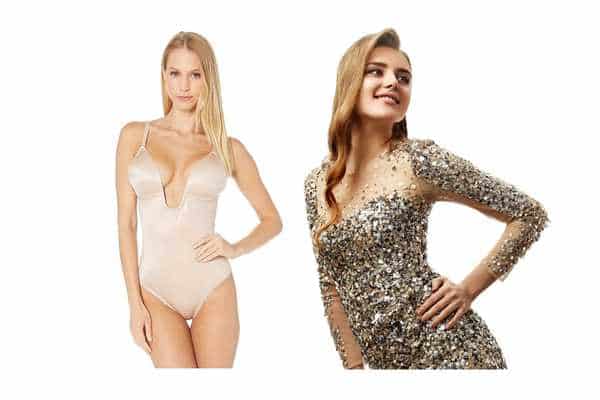 Shop SPANX: SPANX Suit Your Fancy Low Back Bodysuit
SPANX Suit Your Fancy Low Back Bodysuit is made with a silky, slinky, and lightweight fabric that is super smooth and cool. This slimming bodysuit features a non-slip rubber binding at the cuffs for superior fit and motion control.
SPANX's Women's Suit Your Fancy Low Back Bodysuit with an open bust comes with removable pads for a personalized fit. This thong panty has a lined gusset and is styled with a low back profile.
SPANX Trust Your Thinstincts – Thong Bodysuit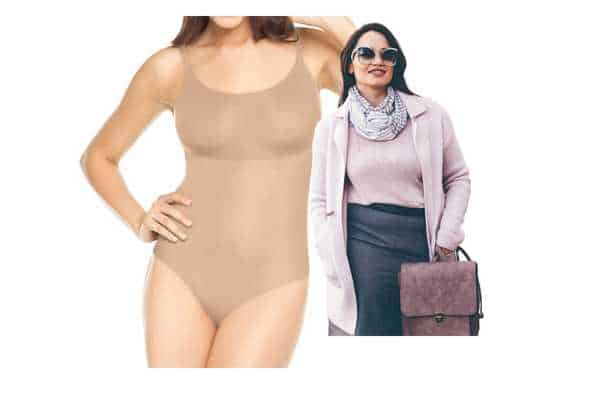 Shop SPANX: SPANX Trust Your Thinstincts – Thong Bodysuit
SPANX Trust Your Thinstincts – Thong Bodysuit is an ultra-thin thong bodysuit designed to slim without excessive compression for a super comfortable fit. This bodysuit thong fits every chest size, with a cute scoop neck style for a flattering open bust design.
SPANX's Trust Your Thinstincts – Thong Bodysuit smoothes your loves handles and provides incredible tummy control. This bodysuit thong features adjustable for a perfect fit each time.
How do I pick which shapewear works best for my needs?
The key to deciding which shapewear works best, you should determine what dress you will be wearing the piece with it.
Will it be a jumpsuit, pants, or a dress? Are you going with sleeves, straps, or strapless?
If you're planning to wear the shaping underwear primarily with your party dress, the Body Party Shapewear Dress, is a good option, especially if you're planning to be active and dancing. "The fit is a really tight fit for this "shapewear" dress and provides a very smooth look." This is a slip dress, with straps and bra cups.
Another popular shapewear option is the high-waisted control short. It gives you the flexibility to wear this support undergarment with a wide variety of clothing, such as pants, bodysuits, and skirts.
This high-waisted tummy control shapewear style features shaping zones that target the stomach and is designed with comfy fabric that provides all-over support.
The stay-put waistband features a no-slip strip that keeps your shapewear in place all day long.
Does shapewear permanently slim?
The simple answer is no. The best stomach-flattening shapewear is intended for quick, instant slimming and control underneath your clothing.
Yes, the best shapewear for muffin tops and back fat can flatter your body and make you look amazing, but it does not permanently reshape your body.
Your natural silhouette is unchanged after the shapewear is removed. Shapewear only makes your stomach look smaller while wearing them.
Do waist trainers work?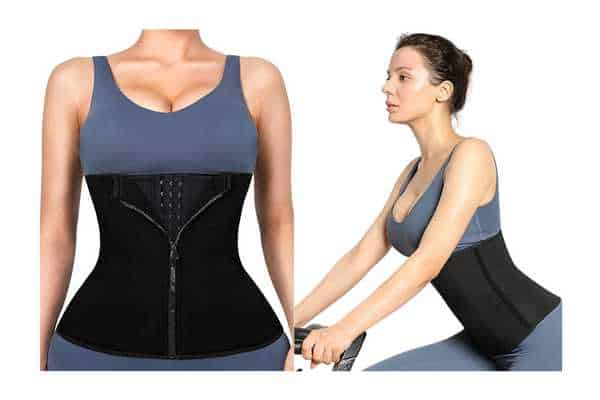 Shop Reamphy: Reamphy Waist Trainer Corset Women Workout Trimmer
Often waist trainers claim to help you achieve weight loss and an hourglass figure, but they don't work. While it's true, waist trainers may help you lose weight.
This is just the temporary loss of water weight. In fact, waist trainers can harm your health by constricting your breath, causing pain, and weakening your abs.
How long to wear a waist trainer to see results
If you love the look and want the temporary effects of shapewear to be longer-lasting, you may want to consider a waist trainer. But you might ask how long to wear one to see results.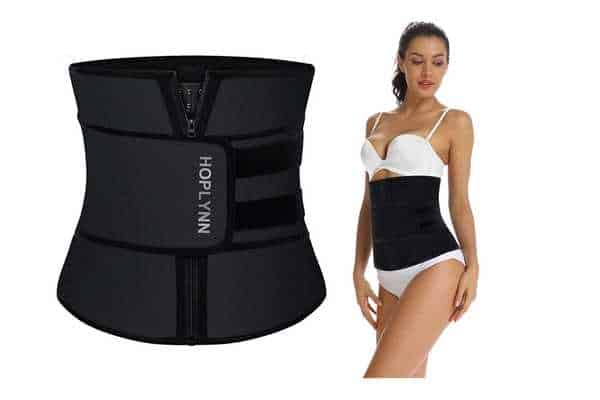 Shop HOPLYNN: HOPLYNN Neoprene Sweat Waist Trainer Corset Trimmer
Waist training for 8 hours a day will allow your body to improve to the next trainer size in approximately 2-8 weeks.
According to the American Board of Cosmetic Surgery (ABCS) blog, "while wearing a shaping garment every now and then probably won't do any harm, long-term waist training is simply an ineffective way to slim down. It will do nothing to change your body proportions, and it can lead to many health problems."
Can you wear it all day?
You will hear many advocates recommend wearing a trainer for 8 or more hours each day. It's best not to wear one on a long-term basis, and you should definitely avoid sleeping in one.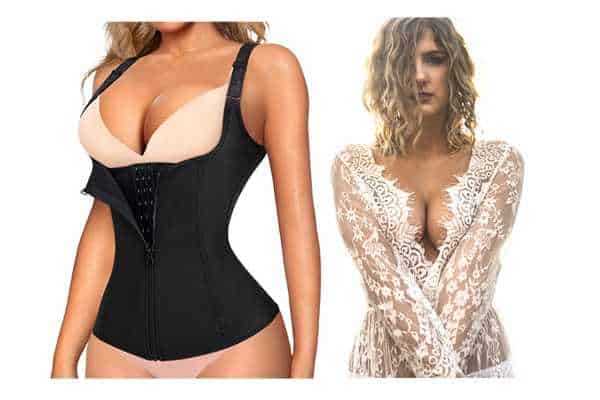 Shop LODAY: Loday Waist Trainer Corset for Weight Loss
Most people that purchase a waist trainer are looking for quick, instant results.
Do you already know? Or do you just intend to keep wearing your shapewear until you get the results you have been hoping for? Hold on first and read this.
Damage to vital organs
Remember that your torso is more than a column of fat and muscle—it's home to your lungs, stomach, liver, kidneys, and other essential organs.
When you squeeze into a corset, these organs have to adapt, and they end up being pushed into unnatural positions where they are too crowded to function well.
In the short-term, this likely just feels very uncomfortable, but long-term waist training can permanently harm organs, disfigure your body, or even fracture your ribs.
You cannot drastically change your body shape with a piece of fabric
Besides promising weight loss, waist training is supposed to give you a perfect hourglass figure.
Truth – If hourglass curves are not your natural body shape, you simply are not going to have an hourglass shape once the corset comes off.
Everyone has a different body type and weight is distributed differently. If you are already at a healthy weight, you cannot drastically change the shape of your body without the use of surgery.
For these reasons, I suggest sticking with a shapewear option.
Benefits of shapewear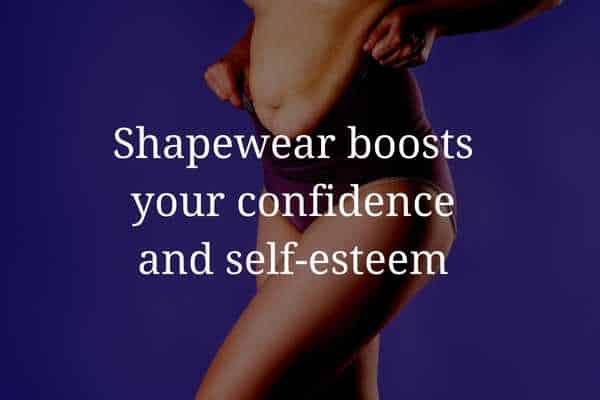 What are the reasons to buy shapewear? Most women would want to look slimmer, or perhaps enhance their shapely curves. The best tummy flattening shapewear will help you to achieve a slimmer, more toned appearance.
Did you know there are other reasons why shapewear can be a part of your journey to happiness? Here are some benefits of shapewear that may surprise you.
Posture support
Better workouts, burn more calories
Keeps you motivated during your weight loss journey
Boosts your confidence and self-esteem
Make sure to also check this post on 13 Perfect Black Cocktail Dresses for a Wedding
Related Articles:
How to buy shapewear for plus size?
In lingerie stores, it is quite common for ladies to ask how to buy shapewear for plus-size women. This is one of the most important questions to ask.
Getting the right size undergarment is worthless if it does not fit properly.
Here's an important point. If you're buying a specific dress or outfit, definitely bring it with you.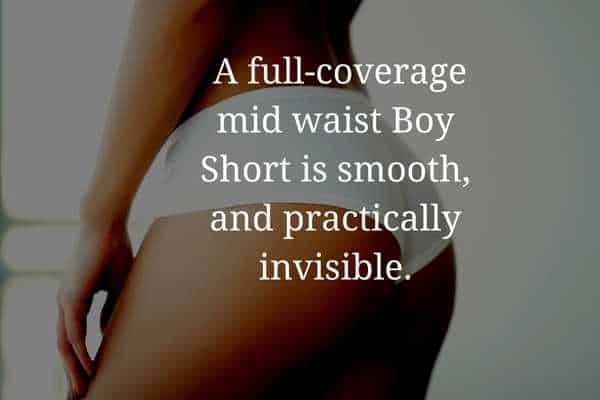 You should know that going down a size is not always the answer and it won't help you zip yourself into a smaller dress.
Women often try to size down to add extra firmness, but this can be a mistake. It will make you look bigger because it can cause bulges, not to mention, extremely uncomfortable.
Buy the right size. The slimming material in shapewear is designed to hug your body in all of the right places. There's no need to go down a size.
The body shapers are designed to enhance your silhouette based on your true size.
Best Shapewear For Tummy And Back Fat
I have compiled a list of the top Best Shapewear For Tummy And Back On Amazon to help you purchase the best shapewear for your needs.
Top-rated selections from Amazon
If you are searching for the best shapewear for tummy and back fat, Amazon literally has thousands of designs, brands, and styles to choose from.
With so many choices to choose from, it is often difficult to know where to start or what to look for.
It will come as no surprise that SPANX is still the number one brand in the compression wear body shaper category. They practically invented the model day body shaping industry with super supportive, lightweight products with great performance and styling.
While SPANX has been able to maintain a sizeable market share since launching in 2000, competitors have been working hard to cut into their dominance.
The SPANX Higher Power Shorts is SPANX's best-selling product on Amazon
Maidenform has been manufacturing and selling women's underwear since 1922. In terms of shapewear, Maidenform was a pioneer in changing bras to support the breast by lifting, shaping, and accentuating. This was quite revolutionary back in the day. Today, there are considered to be a major brand in this category as well.
The Maidenform Comfort Devotion Shapewear Cami FL2018 is currently their best-selling shapewear garment on Amazon.
The final group of shapewear companies is relatively new (within the last 10 years), and the list grows by the day. The popularity of this group is highly influenced by social media and celebrity endorsements.
SKIMS is an American shapewear brand co-founded in 2019 by TV celebrity Kim Kardashian. In just 3 years, this company has grown to be worth over 3 billion dollars (US)!
Shapermint is another American shapewear brand that was launched in 2018 by a college student and currently boasts over 6 million active customers. That translates to over $250 million in sales annually!
The Shapermint High Waisted Body Shaper Shorts with Tummy Control Technology is one of Shapermint's top-selling products on Amazon.
This post contains affiliate links. I may receive a commission for a qualifying purchase.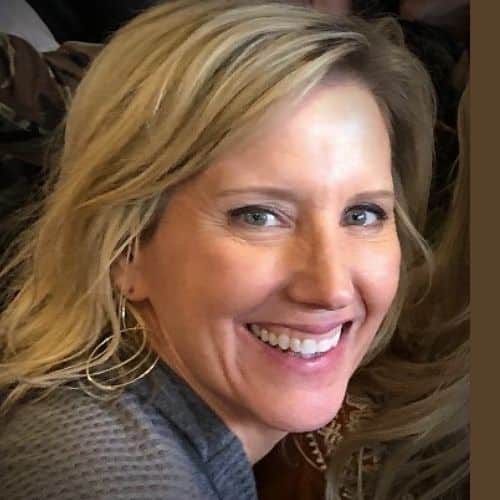 Claudia Faucher is a full-time fitness training expert and lifestyle blogger. She is also been a certified Les Mills BodyPump instructor for the past 5 years and a fitness instructor for over 20 years. Claudia is a personal trainer and creates fitness training programs for seniors and people of all ages. She likes to use her skills and experiences to help others on their fitness journeys.