As someone over 50, it's easy to see that your body doesn't look quite like it did 30 years. That sharp muscle definition of yesteryear has slowly been replaced with smoother edges. Don't worry, it happens to the best of us. If you want to minimize ‌belly or bulges in the least amount of time, you should consider a compression shirt.
I may earn a commission when you purchase through a link on this page.
Compression shirts increase blood flow to your muscles during a workout, improve recovery time, and enhance your overall performance. But you don't have to be into fitness to enjoy these benefits. They boost self-esteem in a big way!
In this article, I will share my 9 best big and tall compression shirts to make you look great and feel amazing.
9 Best Big and Tall Compression Shirts
9 Best Big and Tall Compression Shirts
Best Big And Tall Compression Shirts for Men
I'm sure I am not alone when saying that I hate a sagging tummy or man boobs. Really, where did they come from? AND, how can I hide moobs?  
If you just can't find the time or motivation to go to the gym, compression shirts for fat guys are the perfect solution.  Not to call anyone fat, but there are times when your fitness levels are… well, not where they could be.
Compression clothing does not work miracles, but it's pretty close!
Big and tall shirt sizes range from a 5XL to a 6XL compression shirt. This may vary based on the brand you choose
As a big guy, I have always had struggles finding clothes that fit properly. My wardrobe is filled with a variety of sizes to accommodate the fluctuations in my weight.
If you have multiple sizes of the same style of shirt, you know what I mean.
Until you find the time to work off those love handles, rest assured, there is a solution!
Listed below, I will give you a quick rundown of the 9 best big and tall compression shirts I feel most men can use in their daily life. The main factors for this review include quality, fit, durability, and value. Let's get started. 
9 Best Big and Tall Compression Shirts
DRSKIN Compression Shirt Long Sleeve
The first choice for big guys I recommend is from DRSKIN. The initial thing that will catch your eye is the colors and styles. I am a fan of camouflage designs. DRSKIN is highly rated by users, and I totally agree.
This shirt is made using 92% polyester and 8% Spandex which provides a glove-like fit. This is the perfect material to taper those love handles and hide fat rolls. The material is also great for those that like to work out as it has moisture-wicking qualities and two-way air control. This keeps your muscles warm when they need it, and allows excess heat to pass through.
I'm a little disappointed this particular style is only available up to 3XL. This is a great-looking shirt and it would be nice to accommodate bigger guys.
My recommendation for sizing is to go with the size you would normally wear. Some people make the mistake of sizing down when buying. They want to hide fat and bulges, so they feel they need a tighter fit.
Tip – All compression gear will fit tighter than you expect. They are designed to be form-fitting, so go with the brand recommendations.
Overall, these shirts are ideal for fat men. They work well under your clothes and are stylish enough to wear by themselves. I found the fit to be long enough to stay tucked in while exercising or wearing under your work clothes, especially if you are taller. I really loved the color and style options, but hope they offer larger sizes in the future.
| Pros | Cons |
| --- | --- |
| Provides warmth and is suitable for cooler weather | The fit may be too tight for some users |
| Affordable price | Some users may find the shirt to be short in length, making it difficult to tuck in |
| Made with durable and high-quality materials | May need to order a size up for a comfortable fit |
| Breathable and comfortable for everyday wear, working out, and sleeping | May find the shirt to be less warm than expected |
9 Best Big and Tall Compression Shirts
Under Armour HeatGear Compression Long-Sleeve
No list of the best compression shirts for slimming is complete without Under Armour. They introduced fitted shirts for athletes to the masses just a few years back. When did Under Armour start? 1996, actually. The rest, as they say, is history. Today, the baselayer compression market is over $500 million (US) and growing.
Under Armour is one of the largest athletic wear companies in the world. Their products feature the latest in performance wear technology, and yes, their shirts are quite good.
Compression shirts for big guys need a construction that is both breathable and moisture-wicking to handle perspiration and odor control. That's exactly what UA has done with their HeatGear line. Each shirt is made using 84% Polyester, and 16% Elastane to ensure a great fit across the upper body and waistline.
One of the best features of this garment, besides the great looks, is the sizing options available to you. In addition to regular sizes, the UA HeatGear compression shirt comes in XLT sizing, XLT, XXLT, 3XLT, and 4XLT. This offers taller customers with larger arm lengths and increased torso lengths.
While UA gear comes at a higher cost, you have to factor in the superior quality and durability that comes with each purchase. Under Armour clothing features excellent color fastness, which means the garment maintains its vibrant colors and resists fading. It also prevents fabric pilling. These are the small balls that appear on the material surface after multiple uses.
When it comes to ordering UA compression garments, review the sizing chart and go with the recommendations. I have found the fit of these to be spot-on.
| Pros | Cons |
| --- | --- |
| 1. Compression fit helps improve circulation. | 1. Inconsistent sizing and tightness. |
| 2. HeatGear technology keeps you cool and dry. | 2. Some customers received used or dirty products. |
| 3. Soft and lightweight fabric for all-day wear. | 3. Unpopular new cut and label feature. |
| 4. Accurate sizing chart for easy ordering. | 4. Some customers prefer the previous design. |
9 Best Big and Tall Compression Shirts
TSLA Long Sleeve Compression Shirt
The TSLA compression shirt is another very popular option for men and women. A couple of reasons for this are value and styling. It wasn't too long ago that these shirts came in 2 colors, black and white. TSLA offers single and multi-pack purchasing options to fit your needs. The multi-packs also feature an assortment of designs to choose from which I love.
TSLA uses an 87% Polyester, 13% Elastane fabric blend for superior fit and performance. When it comes to construction, performance comes first with excellent fit and sweat-wicking properties.
If you are the type of person that likes to work out outdoors, this shirt provides UPF 50+, which blocks 98% of UV radiation.
As mentioned, I found the fit to be good for me based on the chart recommendations. It was comfortable to wear and I liked the tagless design.
This TSLA compression shirt is available in sizes ranging from X-Small to 3XL.
For users looking for heavy compression for tummy fat and body shaping, this shirt may not be what you're looking for. While the TSLA compression garment does provide some chest flattening and tummy control, I consider it more of a performance shirt with minimum compression.
If you are looking for superior compression, I would recommend the TAILONG or Wonderience, which I'll cover in a few moments.
Overall, the TSLA compression shirt excels in the performance categories, for its fast-drying properties, lightweight, durability, and variety of styles to choose from. Where it falls short, is for those looking for a shirt that is a body shaper first and foremost.
| Pros | Cons |
| --- | --- |
| 1. Durable fabric that maintains its shape after regular use. | 1. Inconsistent sizing, some customers reported the shirt was too small. |
| 2. Breathable material allows for cool air to pass through, making it comfortable to wear for long periods. | 2. Not thick enough to provide the necessary protection for certain activities, such as Jiu-Jitsu. |
| 3. Doesn't retain body odor like other compression shirts. | 3. Some customers were disappointed with the level of compression and tightness, expecting a tighter fit. |
| 4. Available in various colors and patterns that are visually appealing. | 4. The fabric may be too sheer for some customers, and the compression in the core section could be improved. |
9 Best Big and Tall Compression Shirts
QORE LOGIQ Gynecomastia Compression Shirt
While you may not be familiar with this brand, the QORE LOGIQ Gynecomastia Compression Shirt offers quality construction and superior compression for those looking to hide fat without shapewear.
What is Gynecomastia for males? It's a condition that causes the male breast tissue to swell. It is quite common with men as they age and is linked to a reduction in male hormones (testosterone) or increased female hormones (estrogen).
The QORE LOGIQ gynecomastia shirt is specifically designed to hide man boobs. This condition can be quite embarrassing for males. Gynecomastia shirts offer instant results, not only for reducing the male breasts but slimming your side and tummy as well.
This garment is constructed using a 93% nylon, and a 7% Elastane blend for excellent support and compression.
I did find the material to be breathable, which is important with this type of compression to reduce the chance of odor.
This gyno shirt is available in sizes ranging from Medium Tall – 4X-Large Tall.
This tank top undershirt only comes in white and black, but it is designed to be worn as an undergarment, so that makes sense.
While wearing this tank top, the compression is quite noticeable. Simply pull it down over your head. No zippers are used.
You can count on it being somewhat difficult to put it on. This is true for all pull-down styles. It is also recommended that you wash it after each use to keep the tightness.
If you're a fat guy looking to hide fat things, this is a great shirt to start with. It provides you will the amount of compression and binding to make an instant difference in your appearance.
With this type of gyno shirt, don't expect it to fit like the Under Armour shirts. This shirt is for serious body shaping.
Again, I suggest sticking with the sizing chart provided. I can assure you this will be snug, but the results are quite impressive.
| Pros | Cons |
| --- | --- |
| Provides good support without excessive compression | Difficult to put on and take off |
| Fabric is breathable and doesn't overheat | May not fit larger sizes properly |
| Holds up well after washing | May not offer enough compression for some users |
| Comes with a warranty card and is in a nice box | No discount offered for multi-packs |
9 Best Big and Tall Compression Shirts
Insta Slim Compression Sleeveless V-Neck Shirt
Are you looking for instant results? The Insta Slim Compression V-Neck is one of the best brands for chest binding and gynecomastia currently available. Choose from 5 colors and sizes ranging from Medium to 6XL.
The next selection combines several qualities into one for a great all-around compression shirt. Not only is this a great-looking garment, but it also comes in a large range of sizes for more to enjoy.
This shirt features a 72% nylon, and 28% spandex blend construction, which provides you with an incredible fit and feel. For the amount of compression this shirt offers, you will be surprised by how lightweight it really is.
As you put it on, you will notice how incredibly thin the fabric feels. There is no bulky look and it's invisible under your clothes. No one will notice you are even wearing it.
If you suffer from a flabby upper body, you will love how easy it is to hide belly fat or love handles.
Not only does this shirt provide discreet coverage, but it also provides ab and back support. If you have a tendency to carry extra weight, you understand how this can be very helpful.
Overall, I really like the design of this shirt. Since I am more inclined to wear these under a collared shirt, this v-neck style works great for me.
| Pros | Cons |
| --- | --- |
| Provides excellent support and compression | Difficult to put on the first few times, especially for those not used to snug clothing |
| Helps with posture and circulation | The price may be a bit high for some buyers |
| Long-lasting and durable | Elasticity may wear out after a few months of use |
| Great for concealing muffin tops and creating a trimmer look | May retain heat and become uncomfortable if worn for extended periods of time |
9 Best Big and Tall Compression Shirts
GSKS Compression Shirts
The GSKS compression shirts also do a really good job of hiding man boobs, keeping your belly roll fat supported, and creating a slimming effect on the love handles.
This is the first zipper front compression shirt I have discussed. If you struggle with the pull-over-the-head compression shirt, you will love this design.
First, let's talk a bit about the construction of this shirt. You do have to watch what you are wearing this compression vest under, as it will be visible. Not that it's a deal breaker, but I tend to use this chest compression shirt in the winter when I have more clothes on.
As far as performance, this shirt checks all the boxes. It is very comfortable and uses an X-Design for superior support for the back and chest. There is more to this design, so I would say it was lightweight.
Again, the zipper front is really nice if you have difficulty pulling them over your head.
This is available in 5 colors, but I like the white shirt the best.
For all sizes, this model tops out at 2XL. Hopefully, in the future, they will increase the top sizes. Let's face it, the market for people searching for these products include a lot beyond the 2XL size range.
The fit and feel of the material are thicker than the average compression shirt. But this has a lot to do with the amount of compression it provides.
I personally don't like to work out in thick compression shirts. They constrain my range of motion more than I like. For gym wear, the DrSkin is the highest level of compression I like in a workout shirt.
Overall, this shirt is a great option for body shaping, hiding belly fat, or that beer belly, just all-around contouring. The results this shirt delivers are amazing. Be sure to purchase the right shirt for the job.
| Pros | Cons |
| --- | --- |
| 1. Helps with posture | 1. Synthetic material bleeds like natural cotton, ruining other clothes |
| 2. Provides body shaping | 2. Clips can be uncomfortable and bite into the skin |
| 3. Easy to put on with zipper and snaps | 3. Size runs small, may need to order up a size |
| 4. Sturdy tailoring and good quality | 4. Can be itchy and uncomfortable to wear for long periods, and may require layering to wear |
9 Best Big and Tall Compression Shirts
TAILONG Compression Slimming Tank Top
If you are looking for the best shirt for compression and performance, you will really enjoy this compression sleeveless tank top from TAILONG.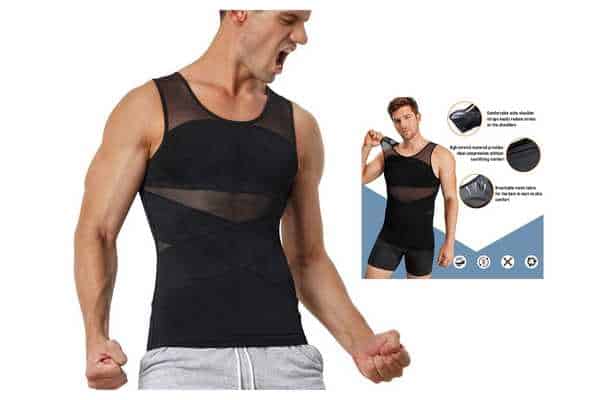 The first thing you will notice about this compression tank top is the mesh fabric. The construction is mainly nylon and Spandex which is perfect for sweat-wicking and comfort.
The breathable construction of this top is great for athletes looking for additional support in the upper body and tummy area.
The styling and overall fashion of this top make it possible to wear it in the gym all by itself. For my large friends with tummy fat or excess chest fat, this shirt allows you to look good and still get your workout in without turning heads.
The TAILONG is one of the most popular compression shirts for its functionality and great looks.
The compression level is not excessive, but still gives you the support you need, where you need it. This shirt is more geared for exercise or gym goers, looking for a little help with the bulges and belly fat.
Will it totally hide your moobs? No. If that is your goal, you are best off purchasing the GSKS compression shirt.
| Pros | Cons |
| --- | --- |
| 1. Provides a snug and tight fit that compresses problem areas, making the wearer appear smaller and more toned. | 1. Some customers found it hard to breathe or uncomfortable to wear for extended periods. |
| 2. Stays in place and does not roll up, even when worn under clothing. | 2. Getting the right size can be tricky, as the manufacturer's size chart is not always accurate. |
| 3. Helps to boost confidence and makes the wearer feel more comfortable in their clothes. | 3. It can be difficult to put on and take off, especially without a front zipper or hook. |
| 4. Can work well for a variety of body types, including those with larger stomachs or man boobs. | 4. Some customers found that it did not compress as much as they had hoped, or that it did not work as well as other compression products they had tried. |
9 Best Big and Tall Compression Shirts
ELEADY Slimming Body Shaper Tank Top
The Eleady body shaper tank top is one of the top-selling compression garments today. It features a solid blend of styling and functionality, at a price point that represents a really good value.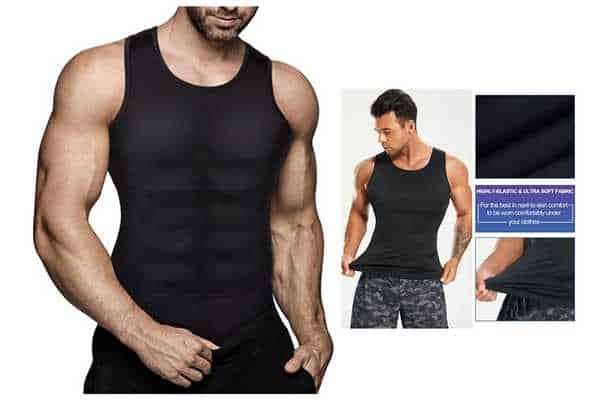 The simplicity of this design makes this shirt so versatile. It's a basic tank top, that comes in 2 colors (Black and Beige), which provides surprisingly good support and performance.
This tank top is a great-looking top that you wouldn't that twice about wearing to the gym. It's also stylish enough to wear outside on a warm summer day.
The construction features an 80% Rayon and 20% Spandex blend for excellent form-fitting support. The lightweight design and soft fabric make this something you actually want to wear.
Ok, but perform with man boobs, beer bellies, and love handles?
Very well. It's all about understanding how you will use a particular compression garment. The chest area provided above-average compression, but the waist area support was average.
Who should buy this compression tank top?
This shirt is not designed specifically as a chest binder or body shaper. If you have some areas of serious concern, you might need to step up in class for a heavy-duty compression shirt like Wonderience.
I really like this shirt and I've gotten a lot of use out of it. Super comfortable to wear during a training session. If you are looking for a good workout shirt to support your muscles, but not be overly constricting, this may be the one for you.
| Pros | Cons |
| --- | --- |
| Provides great compression and makes the wearer look slimmer | Sizing can be tricky and may require ordering up 1-2 sizes |
| The material is comfortable and of good quality | Not very breathable |
| Offers good support for those with back issues | May not fit snugly around the waist area |
| Can improve posture and make the stomach area look flatter | Some customers have experienced issues with delivery and sizing |
9 Best Big and Tall Compression Shirts
Wonderience Compression Shirt for Slimming
The Wonderience compression shirts are very similar in design to the Eleady listed above. It is a compression tank top designed to provide total upper-body support, but there are some differences to make this one really stand out.
The first feature that separates this compression tank from others in this category is the zipper closure design. Compression garments can be difficult to pull on or take off. This is especially true for larger guys or those with sore shoulders. So a big plus here.
For sizing and style, this model is available in 2 colors (blue and beige), and sizing ranges from Medium to 4XL.
Another area where this shirt excels is the overall construction and support throughout the entire upper body region.
It is engineered using a double-layer fabric to flatten and smooth areas that big and large guys have problems with, that is tummy control and chest fat.
The material is a 60% nylon and 40% Spandex blend which provides superior support and a comfortable fit. It also permits a good range of motion while wearing it.
For the abdomen area, the tummy control is quite noticeable for front and side belly fat or love handles. The support creates a nice contour that is easily visible.
If chest fat is a concern, the firm banding provides superior chest flattening and does a good job of hiding a flabby upper body.
I was pleasantly surprised at the amount of back support this shirt offered. If you have problems with your posture and have a tendency to slouch, the support here is excellent. I actually felt taller wearing it.
If you wear a compression shirt for working out, I found the material used was not as breathable as I wanted. I actually preferred the TAILONG.
Overall, this shirt ranks above average for hiding man boobs and belly fat. I really like the zipper closure in the front, so big points there for accessibility. Finally, the support was better than expected.
| Pros | Cons |
| --- | --- |
| 1. Provides good compression and helps to flatten the chest and stomach. | 1. Fabric is too elastic, reducing the effectiveness of the compression. |
| 2. Offers support for better posture and reduces stress on the back. | 2. The fabric can lead to sweating and discomfort, particularly during more strenuous activities |
| 3. Made of durable and breathable material, which is comfortable to wear for extended periods. | 3. The zipper can be noticeable and may not function correctly over time. |
| 4. Can be used to hide unwanted physical features such as man boobs or saggy skin. | 4. May not be breathable enough for strenuous activities or hot weather. |
9 Best Big and Tall Compression Shirts
Conclusion
For everyday use, I recommend the Insta Slim v-neck shirt. It comes in sizes up to 6XL, plus it's a good all-around performer. It provides superior support and looks good when worn under your normal clothing. For the best compression shirt to hide fat and give the appearance of weight loss, this is my top choice.
If you're looking for the best compression shirt for the gym, you can never go wrong with Under Armour. They produce some of the best-looking shirts on the market and for sweat-wicking, they're the best.
Finally, if you are looking to hide belly fat, you can't go wrong with any of the shirts covered. You may find you need not one, but two different types of compression shirts. One for work, and another for exercising or going to the gym.
The best thing about these garments is that they are not very expensive, which allows you to experiment until you find the one that is perfect for your needs. So give one a try. You will be amazed at the "instant weight loss" appearance you can achieve.
9 Best Big and Tall Compression Shirts
FAQs – Big and Tall Compression Shirts for Men
Do compression shirts make you look slimmer?

Compression shirts are great for anyone who wants to look slimmer. They help you feel more comfortable and instantly make your clothes fit better. They can also help improve circulation.

If you're undecided whether compression shirts make you look slimmer, the answer is yes! You can try them out for yourself and see for yourself just how much better your body feels when wearing them.
How tight should a compression top be?

It's a good idea to make sure that your compression shirt fits snugly, but not so tight that you can't breathe comfortably. You should be able to wiggle your fingers between the fabric and your skin. If it's too loose, there's a chance it will bunch up and create irritation around your chest and shoulders, which could cut off blood flow or cause chafing.
Chest fat vs Gynaecomastia

Chest fat is normally soft when you touch it, while gynecomastia is much firmer. Some males describe gynecomastia as feeling firm. Chest fat deposits appear to look like breasts, but are soft and saggy. Gynecomastia also referred to as gyno, resembles women's breasts and is firm.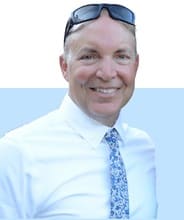 Rick Huey is a fitness writer who has dedicated his life to living an active lifestyle. With more than 30 years of experience in the fitness industry, Rick is a respected contributor for FitFab50.com, where he shares his wealth of knowledge with a wide audience. His dedication to promoting the benefits of living an active lifestyle has inspired many people to pursue their own fitness journeys with enthusiasm and dedication.