Climates are not often considered first when buying hot tubs. However, buying a low-quality hot tub that isn't designed and built for extreme conditions can cause severe damage to your dream tub. It's important that they have certain characteristics to make them suitable for cold weather such as energy efficiency, adjustable vents, proper insulation, and a cover.
I may earn a commission when you purchase through a link on this page.
Good news!
I have done all the research for you to help you decide. Now you can start planning your guest list for when your hot water temperature paradise arrives.
Hot Tub Buying Tips
PVC material for durability
Power saving timer will save you $$
Tubs are normally smaller than they appear in photos
Advanced tubs will use a water filtration pump for inflation set-up
Water heaters will take several hours to reach the top temperature
Follow the owner's manual maintenance tips to extend the lifespan of your hot tub
Order additional water filters at the time of tub purchase
Best Inflatable Hot Tubs for Winter
Here are some of the best hot tubs for cold climates for this season:
1. Coleman SaluSpa Inflatable Hot Tub
Here's my top choice overall best inflatable hot tub for your money
Besides providing a warm, cozy, relaxing bath that is ideal for cold climates, this product comes with its unique AirJet system which features 140 jets that release bubbles from the bottom of the spa to create a warm, bubbling hot tub environment you are sure to love. When compared to other hot tubs, this feature makes it stand out. Besides its spaciousness, it can also accommodate up to 4 people, which makes it perfect for a shared luxury relaxation experience. To set up, simply attach the pump and watch as it inflates.
One of the main features that I really like is their state-of-the-art digital panel. It allows you to control the temperature up to 104 degrees as well as the bubbles from the jet system. Another handy feature that comes with every spa is a power saver time. This allows you to control and preset the temperature of your spa up to 3 days in advance.
Finally, this spa hot tub requires no tools for easy setup. The total weight of the Coleman SaluSpa is around 88 pounds, holds around 250 gallons of water, and features sturdy beam construction for durability.
Overall, the inflatable spa package includes everything you will need (pump, spa, filters, and spa cover). It is a great choice if want to experience the comfort of a hot tub spa, with minimal set-up time and great overall quality
Dimensions: 77″ x 28″
Weight: 73 pounds
Capacity: 242 gallons [1]https://www.coleman.com/licensed-products.html
Pros
Affordable
Great value for the price
Ease of set up
Best-seller
Cushioned floor
Cons
Replacement parts can be expensive
Not quite as roomy as it appears
2. Intex 28431E PureSpa Plus 
One of the best inflatable hot tubs for powerful jets and extra room
For a few dollars more than the Coleman Saluspa, this Intex might be the best inflatable hot tub might be the one for you. The Intex Intex 28431E PureSpa Plus boasts a capacity of up to six people, is capable of producing a top temperature of 104 degrees, and features 170 high-powered bubble jets for soothing comfort. 
When it comes to overall construction, this spa features a triple wall design to better withstand punctures. By using their patented Fiber-Tech material, this hot tub features improved stability to reduce any unnecessary flex often found in other inflatable spas of lesser quality.
If the set-up is a concern, this hot tub is super easy to unpack and get running. This tub has a larger water capacity due to its increased size. This hot tub spa package includes everything you will need and includes a three-ply construction hot tub, an insulated cover to prevent unnecessary heat loss, two headsets, a filtration and water treatment system, a storage bag, a built-in inflation system, easy to use control panel and LED lights for special effects. 
Dimensions: 85″ x 28″
Weight:110 pounds
Capacity: 290 gallons [2]https://www.intex.com/main/contact.php
Pros
Larger capacity for the price
A higher number of jets
More room
Features hard water treatment to prevent calcium build-up
Insulated cover to prevent heat loss
Comes with 2 headrests
Includes LED lights
Cons
Some users have reported it can take a while to reach the top temperature
Need to read instructions carefully to use the water treatment system
3. Bestway SaluSpa Helsinki
This hot tub holds up to seven people and features wood grain exterior
Enjoy your own Scandinavian vacation from the comforts of your own backyard, with the Bestway Helsinki inflatable hot tub. The beautifully designed spa features a realistic-looking barrel plank exterior to help complete your Nordic getaway fantasy. This product looks great on your deck or in your yard.
Share the comforts of this amazing hot tub with up to seven people. They will love the powerful jet action, the spacious setting, and the 104-degree Fahrenheit spa temperature. Want more? This product also features a built-in water-softening system that reduces the effects of hard water, which can cause spa staining or skin irritation.
You will love the easy-access digital control panel that allows to you change the water temperature and adjust the spa jets without the need to exit the tub. The puncture-resistant tri-tech material and I-beam wall construction mean you won't have to worry about accidental punctures. This product always retains its shape season after season.
This hot tub package comes complete with an inflatable spa, a built-in inflation device, power-saving time, a ChemConnect chlorine dispense to keep your water safe from harmful bacteria, and state of the art digital controller. No tools are required.
Dimensions: 71″ x 26″
Weight: 70 pounds
Capacity: 297 gallons [3]https://service.bestwaycorp.us/support/
Pros
Stylish design
Built-in inflation device
Sturdy construction
Large water capacity
Affordable spa solution
Cons
Some complaints about the time for water to reach top temp
Auto cut-off after 3 days if you don't touch the control
4. Coleman 90476E-BW Napa Saluspa 
Features 180 powerful jets, plus anti-freeze technology for year-round use
The Napa Saluspa is a top-of-the-line Coleman inflatable spa that brings resort-quality luxury to your backyard. It features a 180 bubble jet system and Freeze Shield technology, an automatic heating function that prevents inner components from freezing during colder temperature
The Napa Saluspa is rated for a capacity of 2-7 people. It is designed to provide the ultimate comfort and relaxation experience, as the bubble jet massage system features 2 intensity levels, so you can customize the spa experience to your liking.
The inflatable walls on this spa are made of durable DuraPlus material, which prevents damage. Due to this type of internal construction, the spa retains its shape no matter how many times it is inflated and deflated.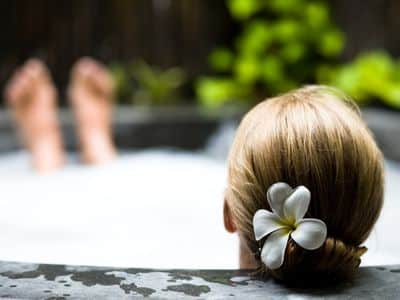 It uses innovative winterizing technology that keeps the interior temperature between 42 and 50 degrees Fahrenheit to prevent damage.
This spa is easy and convenient to use, equipped with a pump that quickly inflates, heats, filters, and controls the massage system. This Coleman Napa Saluspa Airjet Hot Tub will transform your backyard into a relaxing oasis.
Dimensions: 71″ x 26″
Weight: 85 pounds
Capacity: 240 gallons
Pros
180-bubble jet system
Freeze Shield technology to prevent ice damage
Great value
Sturdy construction
Good water temperature management
Easy to set up
Cons
Although rated for up to 7 people, expect 3-4 for the best experience
Slow to heat up water
5. Edostory 2-3 Person Inflatable Hot Tub Spa
Smaller hot tub with all the features of the larger spas. Extremely portable.
Edostory inflatable hot tubs are a great way to create a relaxing place for you and your family to enjoy after a long day. Not only are these inflatable hot tubs convenient, but they can also be used indoors and outdoors, making them an excellent investment. Additionally, they are so convenient that you can take them on vacation!
Even in cold weather, the 2 -3 person hot tub is an ideal place to relax and enjoy the warm and relaxing bubble massage. This hot tub makes the perfect companion for your next ski trip or camping adventure.
Not only is the hot tub extremely portable, but it also comes loaded with features you would expect from larger and higher-priced spas.
The Edostory inflatable spa package includes everything you need to jump-start your hot water spa journey. You will enjoy this 90-bubble jet hot tub made with durable PVC materials and secure I-beam construction to ensure your long-term use.
Also features a built-in air pump for quick inflation, a 360° bubble massage system to saturate the tub with tons of bubbles, a rapid water heating system, and a powerful water filtration system.
Dimensions: 75″ x 47″ x 25″
Weight: 57 pounds
Capacity: 140 gallons
Pros
Constructed with laminated PVC material for superior durability
Digital water heating controller
Extremely portable
Water filtration system with filters
Built-in inflation system
Perfect for 1-2 people
Cons
No bubble jet controller. Either on or off
Can be slow to heat water to top temperature of 104° depending on ambient conditions.
---
How to buy the best inflatable hot tub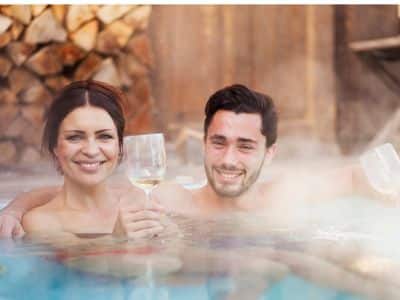 When you are ready to buy an inflatable hot tub, there are a few things that you will want to keep in mind in order to get the best possible product. Here are a few tips on how to buy the best inflatable hot tub:
Do your research
Before you even start looking at hot tubs, it is important to do your research and know what you are looking for. This way, you can narrow down your options and find the perfect hot tub for your needs.
Consider your budget
Inflatable hot tubs can range in price from a few hundred dollars to a few thousand dollars. It is important to consider your budget when you are shopping for a hot tub so that you do not overspend.
Read reviews
When you are looking at hot tubs, be sure to read reviews in order to get an idea of what others think of the product. This can help you narrow down your choices and find the perfect hot tub.
Ask for recommendations
If you know someone who has an inflatable hot tub, ask for their recommendation. They may be able to tell you what they like and do not like about their hot tub, which can help you make a decision.
Compare prices
Once you have narrowed down your choices, it is time to start comparing prices. Be sure to compare the features of each hot tub in order to get the best deal.
Choose the right size
When you are ready to purchase an inflatable hot tub, be sure to choose the right size for your needs. If you have a large family, you will need a larger hot tub. If you are planning on using it for two people, a smaller hot tub will suffice.
Consider the warranty
When you are purchasing an inflatable hot tub, be sure to consider the warranty. Some hot tubs come with a longer warranty than others. This is something that you will want to take into consideration when making your final decision.
Purchase from a reputable company
When you are ready to purchase an inflatable hot tub, be sure to purchase from a reputable company. There are many companies that sell hot tubs, but not all of them are created equal. Be sure to do your research and find a company that you can trust.
Installation
When you purchase an inflatable hot tub, be sure to factor in the cost of installation. Some companies will include installation in the price of the hot tub, while others will charge extra for it.
Enjoy your new hot tub!
Once you have followed all of these tips, you are ready to enjoy your new hot tub. Be sure to take care of it and you will be able to enjoy it for many years to come.
How much does it cost to run an inflatable hot tub?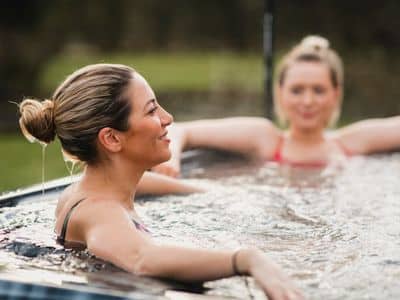 The cost to run your inflatable hot tub can vary greatly depending on where you live, the time of year you operate it, as well as how much you use it. But I will give you some general estimates from my own usage, so we can ballpark your expected costs.
The cost estimates will assume you will use your hot tub a lot more in the summer, than in the winter. I will also expect you will not leave your water heater on all day, every day throughout the year. Here's an awesome write-up on the cost of power consumption for hot tubs.
During the warmer months, I run my hot tub every weekend, but not during the week. In the colder months, I average 1-2 weekends of usage per month.
Electricity cost – $65 per month, averaged over 12 months. Summer months are lower, colder months can be higher. Again, the amount of usage and time of year greatly impact these figures. These are my costs, and yours will probably be higher or lower.
Chemicals, filters, cleaners – Expect to spend about $30 per month on supplies, during the months you use the spa. The important part about the maintenance is to follow the owner's manual recommendations, and always have a stock of filters and supplies on hand.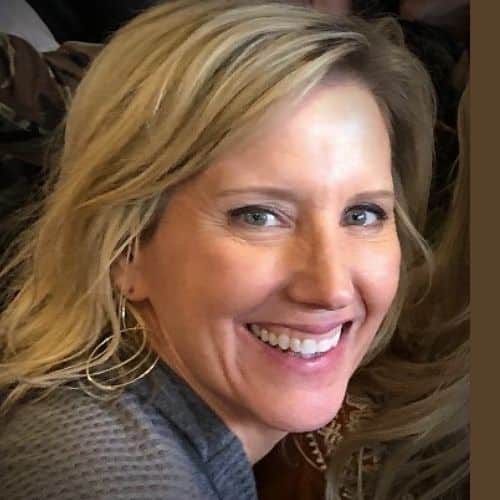 Claudia Faucher is a full-time fitness training expert and lifestyle blogger. She is also been a certified Les Mills BodyPump instructor for the past 5 years and a fitness instructor for over 20 years. Claudia is a personal trainer and creates fitness training programs for seniors and people of all ages. She likes to use her skills and experiences to help others on their fitness journeys.