Are you confused about how to measure inseam on shorts? Most people don't know how to measure shorts, especially when it comes to determining the inseam length. In this article, I'm going to show you exactly how to measure your running shorts so they fit just like you expect them to.
I may earn a commission when you purchase through a link on this page.
There are so many types of running shorts to choose from, but the most important thing to remember is that you should be comfortable!
And that starts with determining the right fit for you.
If you're new to running, check out our blog post "How to choose the best running shorts" for some great advice before you head out on your next run!
Let's get started!
What is the inseam on shorts?
The inseam of your running shorts is the length from the bottom of the crotch to the bottom of the leg. The shortest length for men's shorts is about 3 inches, but modern options are shorter. Shorts for women usually have an 8-10 inch inseam length, but running shorts are normally much shorter.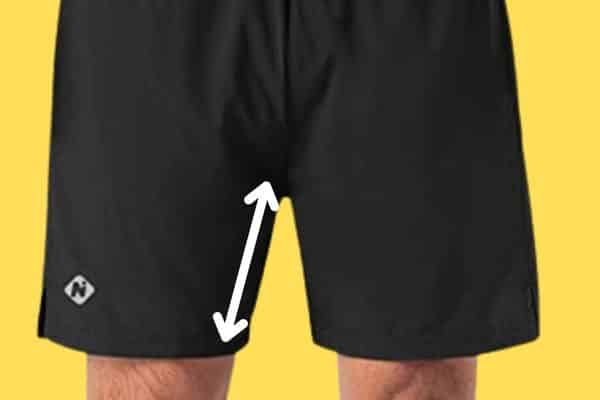 What is the most popular inseam length for running shorts?
The most popular inseam length for running shorts is 5″.
In a study of the most popular inseam lengths for running shorts, I found that 5″ was the most common. The second most common inseam length was 7″, and the third most common inseam length was 4″.
The easiest way how to measure inseam on shorts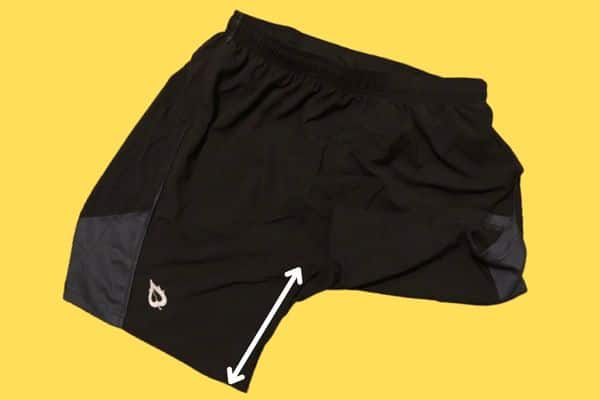 The easiest way to measure the inseam on running shorts is to lay them flat on a table or floor, flip one side over, and simply measure the distance from the top of the crotch area to the bottom of the shorts leg.
2 inch running shorts – Too short?
Yes. 2 inch running shorts are too short.
It's true, they do make 2-inch running shorts! But they're not very fashionable and it's always best to err on the side of caution when it comes to the length of your workout gear.
The reason is that most people don't want to wear anything that's too short when doing their workouts.
Why?
You want to be comfortable and feel good about yourself while you're working out. And if you don't feel good about yourself, then it's harder for you to maintain a positive mindset during your workout—which can ultimately lead to poor performance and injury.
For men, 3 inch running shorts are quite common among serious runners. They provide excellent moisture-wicking functionality, side split, and inside seams loose design.
So what should you do if you want to look stylish while working out?
It's simple. Go with longer shorts! One is my favorite running shorts are the Under Armour Women's Fly By 2.0. They feature a 3.5″ inseam, are super lightweight, and well, look and feel amazing!
There are plenty of options available online or at your local sporting goods store that will let you look stylish while still being able to move freely during your workout session – no matter how long or short they may be!
7 inch inseam shorts – Too long?
Yes, IF… you're a serious runner. Most serious runners prefer 5 inch running shorts or shorter, because they are fast drying, super lightweight, and won't get in the way for optimum performance.
But if you're running for fun and at a leisurely pace, then 7 inches is perfectly fine. I think they're just the right length to not be too short, but also not so long that they get in the way of your run.
Summary
I hope you found this article – How to measure inseam on shorts? – helpful and interesting. To learn more on this topic see related posts below.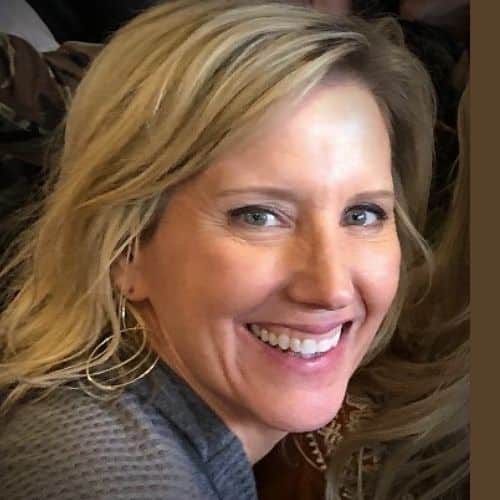 Claudia Faucher is a full-time fitness training expert and lifestyle blogger. She is also been a certified Les Mills BodyPump instructor for the past 5 years and a fitness instructor for over 20 years. Claudia is a personal trainer and creates fitness training programs for seniors and people of all ages. She likes to use her skills and experiences to help others on their fitness journeys.
Last update on 2023-11-28 / Affiliate links / Images from Amazon Product Advertising API