Pouch support underwear for men is the ideal solution if you are currently experiencing discomfort due to your undergarments failing to provide sufficient support and breathability. These top brands of pouch underwear guarantee optimum safety, security, dryness, and elevation for men's comfort.
I may earn a commission when you purchase through a link on this page.
With so many support underwear options to choose from, it can be confusing to know where to start and what to look for. Here are the best underwear brands to keep you dry and comfortable.
Top Pick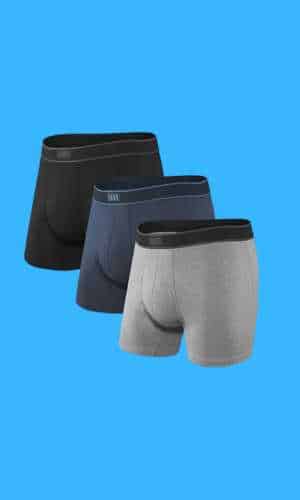 SAXX Daytripper Pouch Underwear
SAXX Daytripper Boxer Briefs are perfect for active guys who need comfort. These underwear have a special pouch to reduce friction and provide support. They're super soft, easy to wash, and made to keep you comfy and dry all day.
Buy Now
SAXX boxer briefs are designed with a contoured pouch that provides support without being too tight and features mesh panels and flat seams to prevent friction and ensure chafe-free support. They're made from a sweat-wicking fabric that will keep you cool and dry for everyday use. SAXX boxer briefs provide an exceptional blend of comfort, quality, and style at an affordable price.
Budget Pick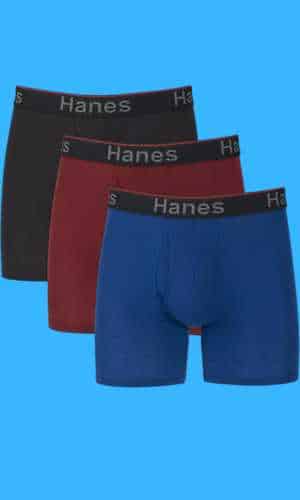 Hanes Total Support Pouch
They provide superior comfort with their soft fabric blend and design that moves with you, preventing discomfort and chafing. The moisture-wicking design and advanced odor protection, ensures you feel cool, dry, and fresh throughout the day. They're incredibly easy to care for with machine wash capability, saving you time and effort. These boxer briefs deliver comfort, practicality, and value all in one package.
Buy Now
Enjoy the comfort and freedom of the Hanes Total Support Pouch, designed with a soft fabric blend that's not only ultra-soft but also moves with you, reducing the risk of chafing. These boxer briefs are designed to keep you cool and fresh all day, with a moisture-wicking feature that provides advanced odor protection.
Best Athletic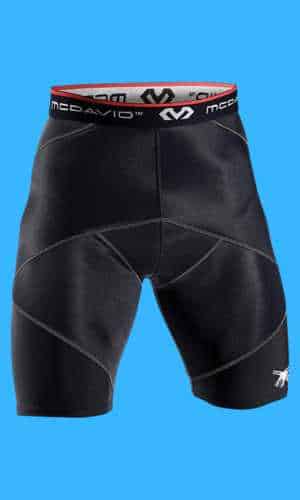 McDavid Cross Compression Shorts
McDavid Cross Compression Underwear is a game changer for athletes. Its special technology warms and supports muscles like a professional trainer's tape, specifically focusing on the hamstrings, hips, and thighs. Plus, it's designed with a unique moisture management feature and robust seams to keep you dry, comfortable, and strong during your toughest activities.
Buy Now
The McDavid Compression Underwear is an excellent choice for athletic individuals, providing robust compression support in the upper legs and hips. Despite needing some adjustments for those with larger glutes, the product delivers a comfortable fit and is durable enough for rigorous training and washes.
Best Dual Pouch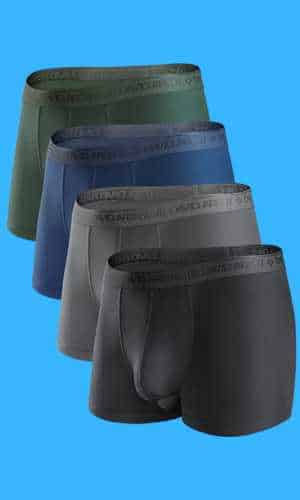 DAVID ARCHY Dual Pouch Underwear
The patented two-pouch design provides unparalleled support and breathability, reducing skin irritation and ensuring you stay fresh and dry throughout the day. David Archy uses fabric, a blend of Modal and Spandex, that is twice as soft as cotton, wicking away moisture for superior comfort. It features a functional fly and non-binding elastic waistband providing a comfortable fit, making this underwear ideal for any activity or climate.
Buy Now
This DAVID ARCHY Dual Pouch Underwear is thoughtfully designed with a focus on superior comfort and convenience. The patented separate pouch not only provides enhanced support but also prevents skin irritation and sticking issues. This unique design promotes breathability and keeps you fresh and dry all day, which is especially beneficial during workouts, long workdays, or hot weather.
Best Ball Hammock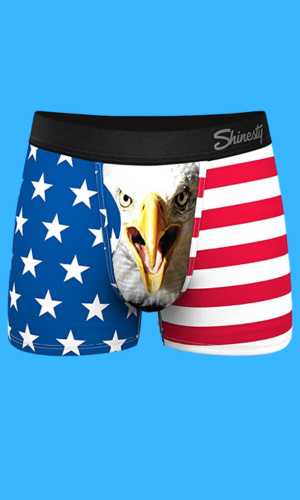 Shinesty Ball Hammock Pouch Underwear
This ball support underwear provides unparalleled comfort, made from a blend of modal and spandex. It features a unique pouch design for all-day support, breathability, and moisture-wicking abilities for ultimate freshness. The special Ball Hammock construction boosts confidence, while the 3″ inseam and quick-access fly add practical functionality.
Buy Now
Revel in the comfort of the Shinestry soft and stretchy underwear that cups your crown jewels like royalty, no adjustments required. Wave goodbye to swampy discomfort thanks to moisture-wicking material that keeps your assets cool, dry, and naturally fresh all day. The ball hammock feature enhances your silhouette and feels like you're wearing nothing at all.
Best Horizontal Fly Boxer Briefs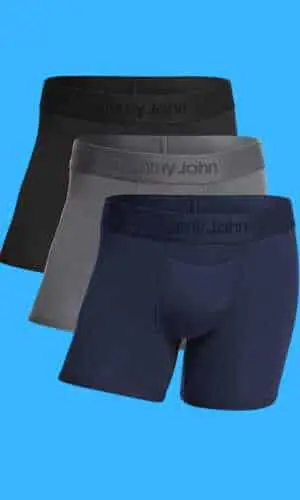 Tommy John Second Skin 4-Inch Boxer Briefs
Slip into comfort that feels like a second skin with these super-soft, ultra-luxurious underwear. Nestle your boys snugly, no more chafing or jiggling, and enjoy the freedom of movement without any pesky waistband adjustments or ride-ups.
Buy Now
Experience unparalleled comfort with these Tommy John Second Skin trunks, designed to provide soft, smooth, and luxe comfort all day. Their unique design supports 'the boys' perfectly, preventing any discomfort or chafing, while the non-pilling, breathable Modal and Spandex fabric feels luxuriously soft and cool. These trunks stay firmly in place without pinching or bunching up, and feature a Quick Draw Fly for quick access, making them a perfect choice for those who value both comfort and convenience.
Best Ultrathin Boxer Briefs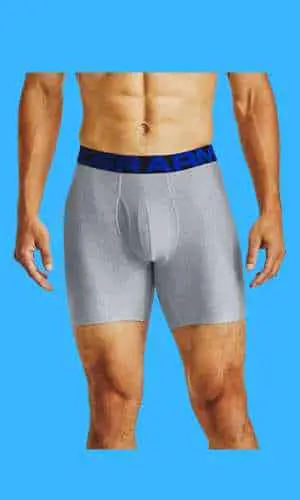 Under Armour 6-inch Boxerjock
The Under Armour 6-inch Boxerjock underwear provides remarkable comfort with its ultra-soft, breathable fabric and seamless design, feeling like a second skin. The material offers impressive four-way stretch for unrestricted movement while actively wicking away sweat and drying rapidly, keeping you cool and dry all day. Its sleek, streamlined fit ensures you'll look as good as you feel.
Buy Now
Boxerjock by Under Armour provides is tailored with a unique no-seam design on the sides or back, ensuring a barely-there sensation, like a second skin. Enjoy the ultimate in comfort and functionality, wrapped up in this standout underwear.

Whether you have recently experienced injury or trauma to the groin area, or suffer from an enlarged scrotum or the "all-to-common" senior sag, read below to find the right extra support pouch that is best for you!
INFORMATIONAL PURPOSES ONLY: The materials and information on this website have been prepared or assembled by FitFab50 and are intended for informational purposes only.
What is men's support underwear used for?
Supportive underwear feature performance for critical functions. It must support and contour highly sensitive body parts. If it briefs do not fit properly, you will have chafing, pains, and overall discomfort. It is important to search for the best underwear for testicular support to minimize these painful conditions.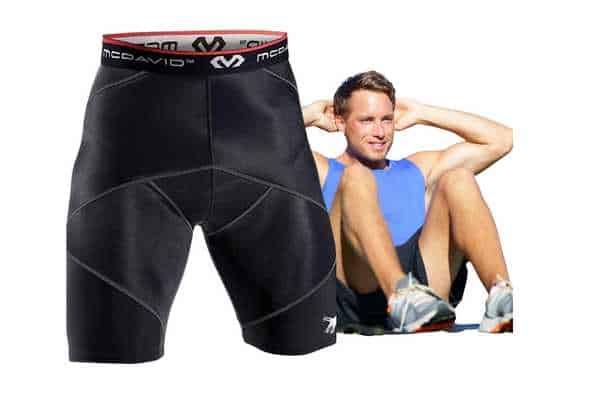 Shop McDavid: McDavid Cross Compression Men's Performance Boxer Brief
This is not to be confused with the male package enhancer that has become popular. Support underwear is used to treat scrotum pain and swelling, as well as promote men's health. Ball holder underwear keeps you secure and safe from excessive movement and potential damage.
Why do men need support?
Squishing and bouncing of the privates are unpleasant and can lead to medical problems. As men age, their "boys" have a tendency to droop, making appropriate support even more crucial. Ball pouch underwear reduces the risk of harm and potential long-term injury to your privates.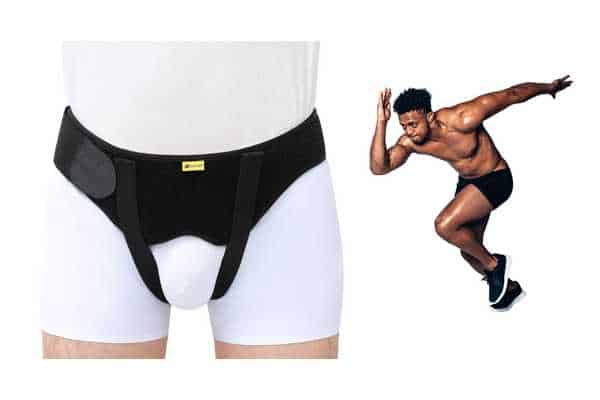 Shop TENBON: Tenbon Hernia Belt Truss for Single/Double Inguinal or Sports Hernia
"Senior Sag" can progress to the point where a man's scrotum touches the water in the toilet bowl.
As men age, it becomes increasingly important to wear men's support underwear. This is because the scrotum begins to sag with age and can no longer support as well as it once did.
This can lead to a number of problems, including testicular pain, hernias, and even infertility.
Men's pouch underwear is comfortable to wear and reduces the risk of injury from excessive motion and prevents trauma.
Wearing scrotum support underwear can help to prevent these problems by supporting the scrotum and keeping everything in its proper place.
When you are younger, it is key to wear the best men's underwear for ball support to help you prevent problems later in life.
How to stop your balls from chafing. Pick up your pouch underwear game. Chafing is caused by the scrotum rubbing against the inner thigh. It can be quite irritating and painful. Sweat and body proportions can also aggravate the situation.
You may also be interested in learning more about compression shirts.
Different types of testis support
When it comes to shopping for the best testicular support, there are numerous brands and styles to choose from.  While supportive undergarments may not be the best way to treat an inguinal hernia without surgery in all cases, they do offer pain relief in most.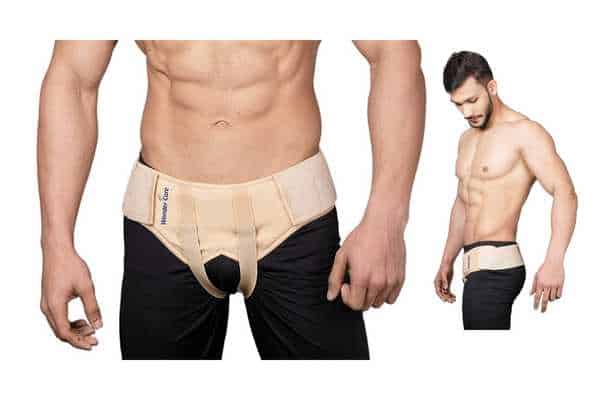 Shop Wonder Care: Wonder Care Hernia Belt for Men
Some of the best male support underwear for pain include support boxers, support boxer briefs, ball hammock pouch underwear boxers, and Tommy John ball hammock pouch underwear briefs.
Boxer briefs with ball pouch feature a unique design to produce the best pouch underwear providing all-day comfort, eliminating the need for adjustments, and keeping you supported in just the right way. Think of the comfort of breathable boxer briefs with amazing support.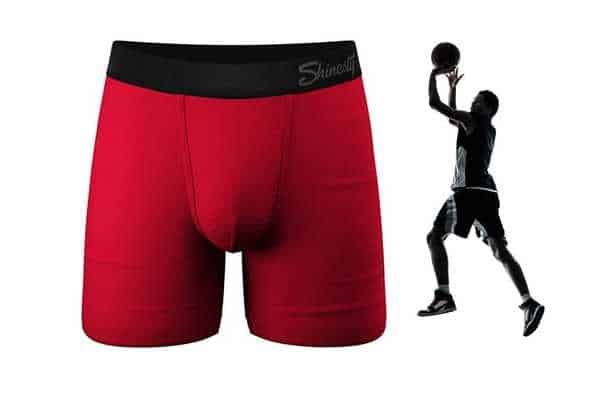 Shop Shinesty: Shinesty Pouch Hammock Boxer Briefs
If you're shopping for support for hernias, a truss is most effective. Supportive treatment for inguinal hernias helps keep protruding tissue in place and relieves discomfort, especially with strenuous movements such as bending over, coughing or lifting objects.
Inguinal hernia symptoms are most often seen as tissue protruding due to weakness in the abdominal muscles. Support can also be helpful when searching for how to get rid of a sagging lower belly.
Type of Scrotum Health and Testicular Conditions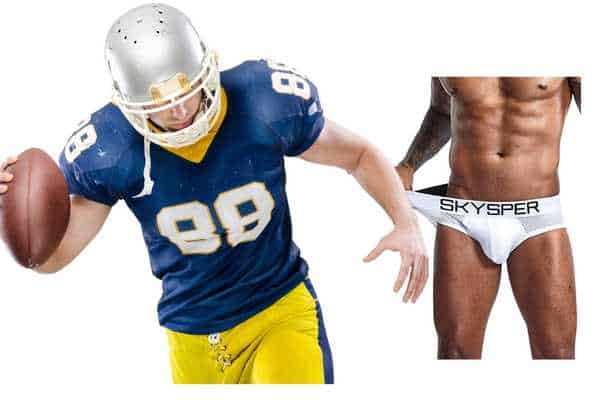 Shop SKYSPER: SKYSPER Jock strap Athletic Supporter
There are several testicular and scrotal problems. The most well-known ailment is probably testicular cancer, although there are numerous other benign disorders of the testes and scrotum that vary from mild to life-threatening.
Epididymitis

What is epididymitis? It is an inflammation or infection of the epididymis, a long tube that runs along the groin area. It can be caused by sexually transmitted infections, injuries, vasectomy side effects, or other issues. You should consider the best men's underwear for ball support.
Epididymitis symptoms can include discomfort (ranging from moderate to severe), swelling of the scrotum, nausea and vomiting, and fever.
Testis support provides vital structural support to provide your scrotum from experiencing additional trauma.
Hydrocele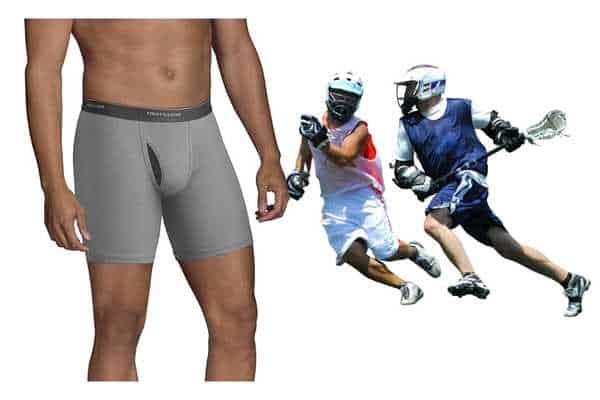 Shop Fruit of the Loom: Fruit of the Loom Coolzone Boxer Briefs
 What is hydrocele? Hydrocele is a fluid accumulation around the scrotum. It can affect one or both, and it can cause scrotum and groin edema. Hydrocele is typically not unpleasant or dangerous, and it may not require treatment.
What is the best underwear for hydrocele? Any swelling in the scrotum, on the other hand, should be checked by a doctor. Hydrocele can occasionally induce symptoms other than swelling, such as slight discomfort, soreness, or redness of the scrotum.
Support underwear features a great first step if seeking to consider how to reduce hydrocele naturally. Whether you need a little extra room or are tired of your manhood sticking to your thigh, these pairs have tweaks and perfections that make them worthy of a purchase.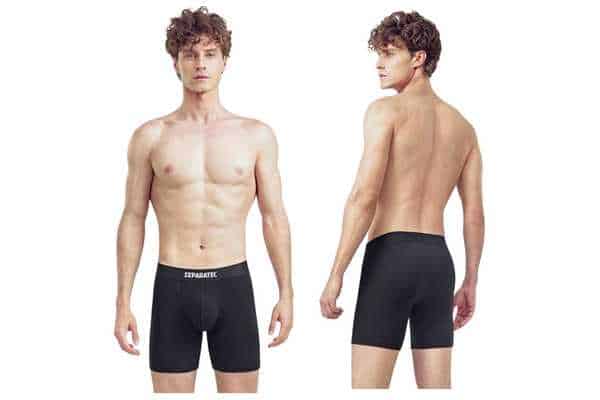 Shop Separatec: Separatec Classic Fit Separated Pouch Boxer
Hydrocele is most commonly seen in neonates, although it can also occur later in life. It is normally caused by an injury, inflammation, infection of the scrotum, or epididymitis. Wearing hydrocele underwear, specifically designed to support and protect, will prevent the onset of injury at a later date.
Testicular torsion
What is testicular torsion? Testicular torsion is when the spermatic cord becomes twisted and cuts off proper blood flow to the testis. This medical emergency requires immediate medical attention.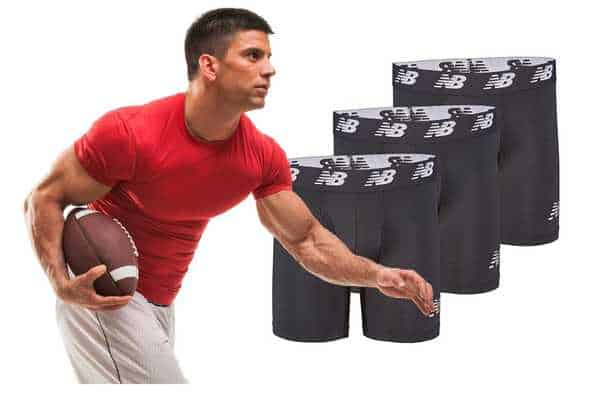 Shop New Balance: New Balance 6″ Boxer Briefs Fly Front with Pouch
Although surgery can not ensure the damaged parts will be saved, failure to seek treatment within six hours typically ends in irreversible damage requiring testicular removal.
Symptoms of testicular torsion include the rapid development of intense pain in the scrotum area, swelling, and tenderness, fever, nausea, and vomiting.
Varicocele
What is varicocele? Varicocele is the enlarged or dilated veins in the scrotum. It is normally a painless and harmless condition; however, it can cause low sperm production and reduced sperm quality which can lead to male infertility.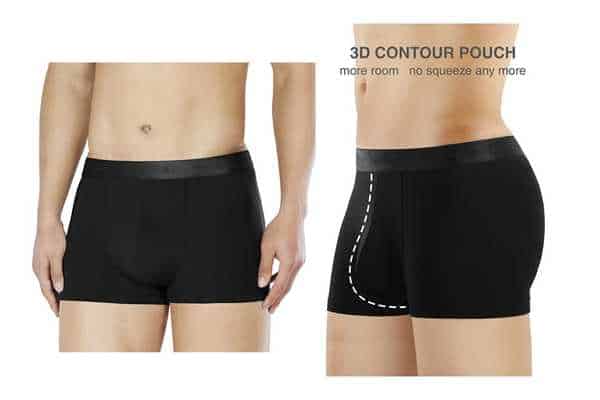 Shop DAVID ARCHY: David Archy Soft Micro Modal Boxer Briefs
Often, varicocele can produce symptoms, such as pain and swelling. Although most varicoceles don't need to be treated, some will need to be corrected with surgery.
Hypogonadism
What is hypogonadism? Hypogonadism is a condition that results when your body doesn't produce enough of the hormone testosterone. A lack of testosterone can cause problems like erectile dysfunction, reduced sex drive, infertility, osteoporosis, increased breast tissue, decreased body and beard hair, depression, fatigue, and hot flashes.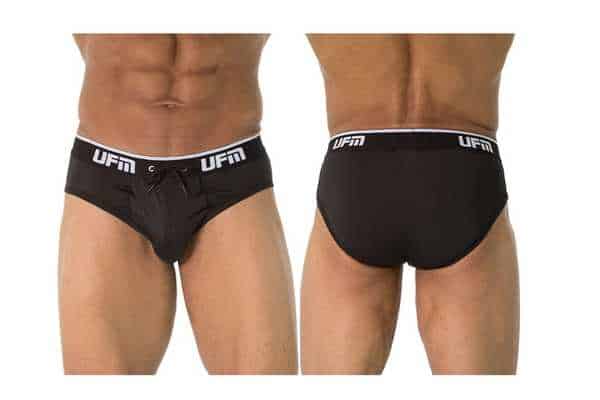 Shop UFM: UFM Polyester Brief With Adjustable Support Pouch
It can often be treated with testosterone replacement therapy. If there is an underlying cause of hypogonadism, such as a pituitary condition, treating that problem may resolve the symptoms of hypogonadism.
Orchitis
What is orchitis? Orchitis is a condition in which the scrotum area becomes inflamed. It is usually caused by a bacterial or viral infection. Orchitis is frequently caused by mumps.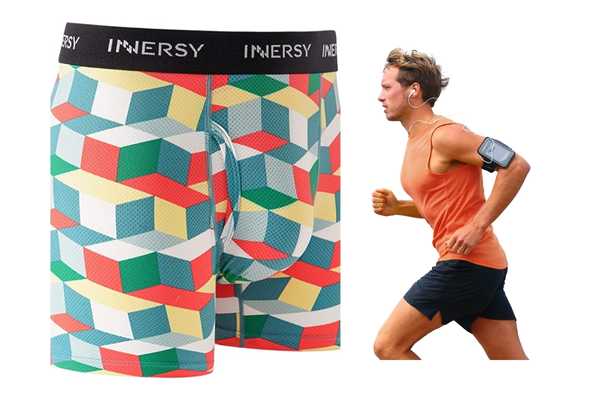 Shop INNERSY: INNERSY Mesh Boxer Briefs
Sexually transmitted diseases, such as gonorrhea and chlamydia, may both cause epididymitis (an infection of the epididymis), which can then develop into orchitis.
Epididymo-orchitis is the medical term for this form of orchitis. Orchitis symptoms include testicular and scrotal pain, tenderness, and infertility. The majority of the time, it is treatable with medicine and home cures.
Testicular pain
Testicular discomfort can be caused by a variety of testicular and scrotal disorders. Other disorders that can cause pain in or around the area include kidney and ureteral stones, infections, and inguinal hernias.
If you are experiencing testicular pain, you should see your doctor straight away. In addition, if you have a quick onset of testicular pain, you should seek immediate medical attention to rule out dangerous illnesses such as testicular torsion.
Swelling of the testes 
There are many causes of testicular swelling. Swelling can be caused by a variety of scrotal and testicular disorders, including varicocele, testicular torsion, orchitis, epididymitis, and hydrocele, to mention a few.
If you suffer from testis problems, it is vital to purchase the best underwear for testicular support you can afford. If you observe any swelling in your scrotum, arrange an appointment with your doctor.
Men's health benefits of scrotal support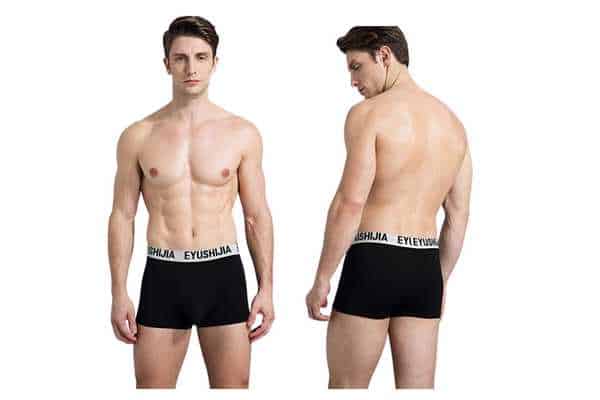 Shop EYUSHIJIA: EYUSHIJIA Bamboo Fiber Modal Boxer Briefs
Whether you are looking for post-surgery support underwear men's style or just searching for something to prevent testis problems, the medical experts are clear. Purchasing briefs to minimize movment during strenuous activities is key.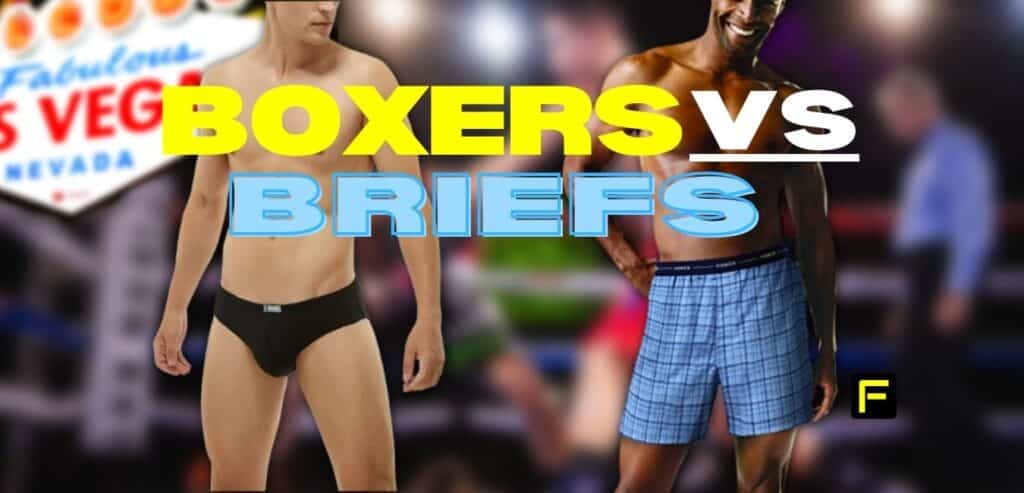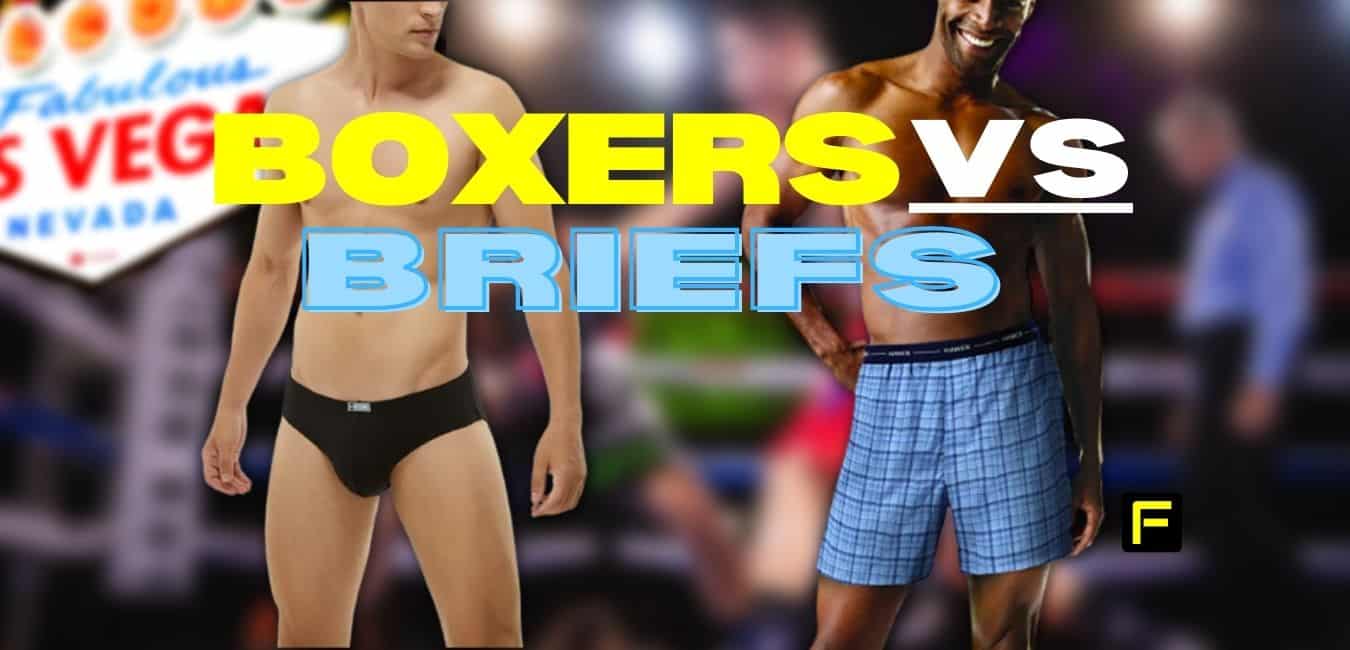 Boxers vs briefs
Is it better for males to wear boxers or briefs? It's an issue of comfort for some. Others are concerned about fashion. But which is genuinely better for you?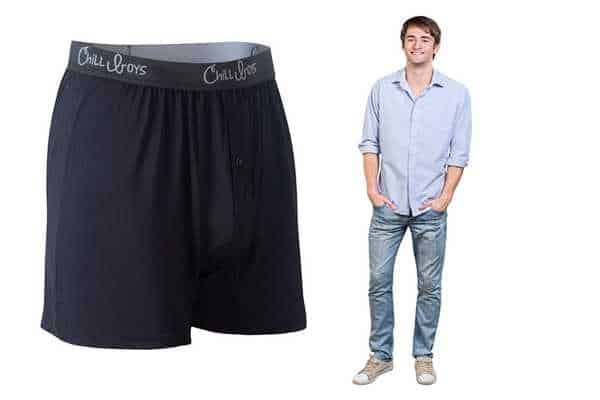 Shop Chill Boys: Chill Boys Bamboo Boxers
Boxers are better…oh, but wait
Boxers are fantastic comfortable men's underwear when you're trying to conceive and to let your scrotum do what it's intended to do, which is draw tight but then let them descend so they're at the correct temperature.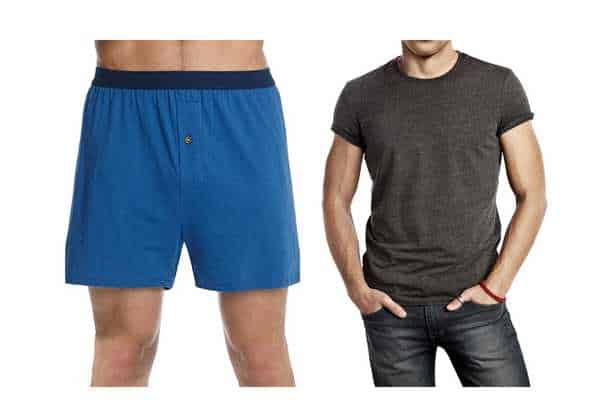 Shop Hanes: Hanes Boxer with Comfort Flex Waistband
When your scrotum area is 2 to 4 degrees below body temperature, about 96 degrees, sperm production is at its peak.
Your privates will be up against your skin if you're wearing tight underwear. And your temperature will be approximately 98.6 degrees, which is the body temperature. As a result, they don't create as much sperm.
However, many people wonder if it's bad to wear boxers all the time.
Tighty Whites are better… or are they?
The benefits of briefs are that your manhood will not be swinging in the breeze. Testicular support underwear is important so you don't tear the cremaster muscle. Proper cremaster muscle function controls the temperature of the scrotum area by lowering and raising it.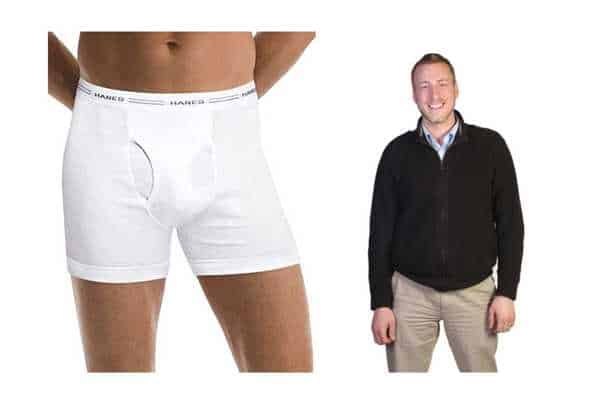 Shop Hanes: Hanes Men 5-Pack Value Boxer Briefs
Scrotal support underwear is very important for males as they exercise.
Popular Supportive Underwear Styles
 Boxers cut from Supima® cotton feature superior durability and softness. Different than the dual pouch that keeps your sack secure, the kangaroo pouch is actually a horizontal fly.
Men's supportive underwear, such as Jockmail pouch is made of a cotton blend. This soft design features good air permeability and instant water-absorbing. The best pouch underwear design adds more style than the traditional undergarments while providing more space for men's private parts without squeezing or constraining.
Cotton is often blended with spandex or other synthetic fibers to add stretch, and performance underwear that's designed to be worn for sports or during workouts is sometimes made with a mixture of nylon or spandex, which help it keep its shape, regulate body temperature, and dry quickly after exercise.
Separatec underwear boxer briefs are made of stretchy and fast-dry sports performance fabric, keeping you perfectly dry and improving your workout. This fabric is comfortable and flexible, more breathable than cotton.
Featuring premium cotton yarn with a hint of Spandex fibers, Calvin Klein's signature wicks sweat away moisture to keep you cool and dry.
Features a functional fly and the best pouch underwear for a supportive fit. Designed with a full rise, a waist that sits the above hip, and a longer leg line that sits low on the thigh. Produces a great fit so you don't have to constantly adjust.
Dual Pouch Underwear
There are many men's underwear pouch brands to choose from. This unique dual pouch keeps intimate areas comfortable, and separated and gives the support you need. No constraint, no embarrassing adjustment. The support pouch construction can reduce skin-on-skin heat build-up and sustain a dry fresh environment throughout the day.
Most guys will do just fine keeping everything together in one pouch, but the best dual-pouch underwear can work in your favor if you struggle with a lot of downstairs sweat. 
Nut Hugger Underwear: Embracing the Snug Fit
Nut hugger underwear, also known as PSD underwear for men, is a style of underwear that is designed to fit snugly around the male anatomy.
This type of underwear is known for its ability to provide excellent support while also enhancing blood circulation to the groin area.
Many men have found nut-hugger underwear to be the comfiest men's underwear option, as it eliminates the need for constant readjustment and prevents chafing. In fact, some product star ratings have shown that nut-hugger underwear is preferred by men over other styles of underwear due to its superior fit and comfort.
---
If you're looking for the best men's underwear for support, wearing boxers will allow more movement. And if they swing, they'll hit the side of your leg, which might result in pain and injury.
Because the nature of underwear makes it difficult to return if you don't like how it fits, thinking about which length, style, and level of support you need is key to avoiding wedgies and the urge to constantly adjust your underwear.
and the winner is…
If you have testicular discomfort wear the best supportive single pair of undergarments to keep everything from moving around too much. However, if you are experiencing reproductive issues it is preferable to wear loose undergarments, such as boxers.
"I like boxer briefs," says Dr. Jadick, D.O., "In general, it gives you a little more support than anything else."
Best Support Underwear You'll Love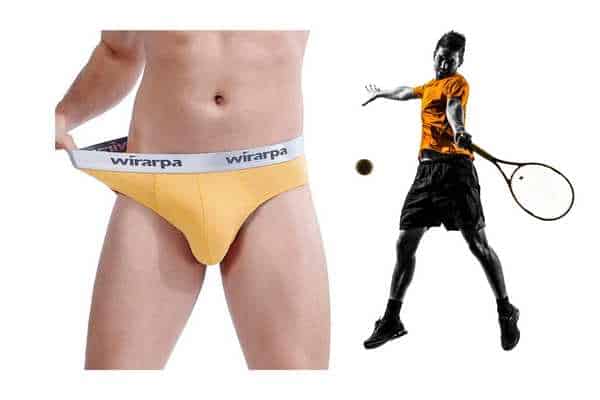 Shop Wirarpa: Wirarpa Cotton Stretch Support Briefs
For most guys, fashion may be a bit revealing, form is just as essential as function. If you intend on going to the club on weekends, you'll need a pair of ball-support underwear that won't make you seem silly if your pants slide down a little bit. They are also the best bulge enhancing underwear
When it comes to fashion, you're frequently forced to choose between ultra-skinny denim and something roomy enough to show off a little booty. Great options include the best ball hammock underwear, such as ball hammock boxers.
Be sure to see our best mens hammock underwear below!
You'll feel more secure and fare better if you're not wearing some traditional droopy old tighty whities that have turned white. Put on the best underwear for testicular support before your underwear fails you.
Best Boxers with Ball Pouch
When it comes to the best pouch underwear brands, boxer briefs with ball pouches provide all-day comfort and eliminate the need for constant adjustments. These scrotal supports are not just highly functional, but look great, too! Specially designed fabric to wick sweat and provide breathability.
Best Support for Hernia
Support for the treatment of inguinal hernia. Hernia support for left, right, and double hernias. Inguinal belt truss fits hip circumferences of all sizes. Perfect options for me searching for what to wear after inguinal hernia surgery!
Aids with inguinal hernia surgery recovery time. Specifically crafted to provide rupture relief and athletic support. Spandex support gives a snug fit.
Magnetic Underwear: A Soothing Secret for Men
This innovative type of magnetic underwear utilizes magnetic therapy to potentially improve your overall well-being.
The strategically placed magnets are designed to promote blood circulation in targeted areas, providing relief from everyday aches and pains.
With the growing popularity of magnetic therapy, more and more men are discovering the hidden benefits of wearing magnetic underwear.
Not only do they offer a snug fit, but they also bring that extra touch of wellness to your daily routine.
Best Support Boxer Briefs
Support boxer briefs adapt to your body and give a strong foundation for your private parts, unlike boxers, which are loose-fitting and provide limited support. Comfortable boxer briefs support differ significantly from boxers in several respects. Let's look at some of the benefits of wearing the best boxer briefs.
They're easily some of the most comfortable boxer briefs we've tested, and they're great for daily wear, even if your longest journey is from home to work. 
Best Support Underwear Plus Size – for Fat Guys
The best underwear for men is if you wear big and tall, you know how difficult it is to find high-quality, fashionable underwear that fits and supports your masculinity. Underwear that is too tight bunches, chafes and rides up. Compression shorts are trendy and go with everything.
Having a large belly and excess fat can cause a lot of issues when it comes to purchasing the correct undergarments, which is why you should purchase the finest underwear for fat guys.
If you've arrived here, you've most likely purchased men's underwear ball support that was too tight, not flexible, or supportive. It can happen if you pick the incorrect type of underwear, the wrong fabric, or a pair that lacks the necessary design to support your excess weight.
Men's Support Briefs Athletic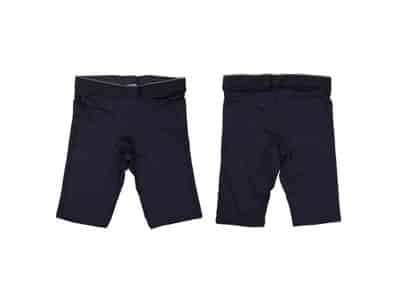 Athletic men's support briefs are designed to provide extra support during physical activity. These comfortable boxer briefs typically have a higher waistband and a more snug fit than other types of underwear.
Supportive underwear for men can help reduce chafing and prevent skin irritation. They may also help to minimize the appearance of sweat and moisture on the skin.
Athletic briefs are one of the most popular types of underwear for most men. They are designed to provide support and comfort while being active, and many brands offer a variety of styles and colors to choose from.
Some of the most popular brands of athletic mens supportive underwear include Under Armour, Nike, Adidas, and Puma. Each brand offers a unique take on the classic athletic brief, so it's easy to find a pair that fits your personal style and needs.
Recap
Men's support briefs athletic are designed to provide support and comfort during physical activity.
They are made from breathable materials that wick away sweat and help keep the body cool.
The supportive design helps reduce muscle fatigue and prevent chafing.
Support briefs athletic are an essential piece of gear for any man who enjoys being active.
Best Moisture Wicking Boxer Briefs
Shop Best ball support underwear
Enjoy dry, odor-free, and comfortable throughout the day. Modal boxer briefs, as well as bamboo boxer briefs, provide odorless and breathable, so active people or those with sensitive skin may wear them without worrying about overheating! Arguably the most comfortable and best boxer briefs!
Men that have purchased these sweat-wicking and best boxer briefs say, they are cool, super comfortable, anatomically designed fit with no gimmicks, reasonably priced for good quality, sustainable fabric, and a great wash, and wear. 
Best Underwear for Older Men
When it comes to the best underwear for older men, comfort, support, and durability are of utmost importance. As we age, it's crucial to choose the right kind of men's underwear for everyday wear that can keep up with our changing needs.
Merino wool is a popular choice for older gentlemen, offering not only warmth and softness but also excellent moisture-wicking properties. This natural fabric can help regulate body temperature and prevent chafing, making it perfect for those with sensitive skin. Merino wool underwear is a must-have addition to any underwear drawer for older men.
Another great option for older men is a high-quality cotton blend fabric. This fabric is breathable, soft, and easy to maintain, ensuring all-day comfort. Underwear made from a cotton blend will provide excellent support while reducing the likelihood of irritation.
A common concern for many older men is that their underwear rides up or becomes uncomfortable throughout the day. To avoid this, look for underwear with a well-fitted waistband and leg openings that won't constrict or bunch up. Additionally, consider styles like boxer briefs that offer more coverage and support.
---
I hope you found Best Support Underwear for Men helpful! Be sure to check out my other recent articles!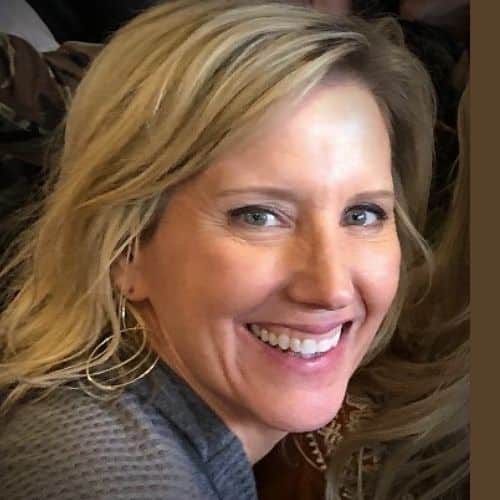 Claudia Faucher is a full-time fitness training expert and lifestyle blogger. She is also been a certified Les Mills BodyPump instructor for the past 5 years and a fitness instructor for over 20 years. Claudia is a personal trainer and creates fitness training programs for seniors and people of all ages. She likes to use her skills and experiences to help others on their fitness journeys.