How can I get rid of stretch marks on the buttocks! There can appear on any part of your body, but are most common on the neck, arms, backs, and yes, the butt. This article will discuss the causes of stretch marks and how to get rid of them once and for all.
So exactly what are stretch marks?
Stretch marks are the term used for a cosmetic or skin problem, where lines or streaks are present on the body on areas like the belly, thighs, buttocks, and upper arms.
Stretch marks are a form of scarring on the skin with a whitish hue that appears when your skin stretches or shrinks quickly.
➥Read also… Best Swimsuits for Cellulite Thighs
Our bodies contain collagen, which is a protein underneath your skin that makes the skin more elastic.
The skin tries to heal any sudden change in the skin collagen, and as a result, stretch marks may appear on your skin.
Are stretch marks dangerous? Stretch marks appear as lines but are not painful or dangerous. Many people do not like the appearance, but they become less noticeable over time.
➥Read also… Best Cellulite Treatments
When stretch marks first appear, they tend to be pinkish in color, but later fade to off-white or grey color.
Who is at risk for stretch marks? Normally women are at a higher risk of getting stretch marks than men, but men too do get stretch marks. Teenagers get stretch marks as well when they enter puberty.
Body-builders are also at risk of having stretch marks, especially steroid users, since their bodies grow at a faster rate, thus stretching the skin.
➥Read also… Best Leggings To Hide Cellulite
Why do they appear?
While anyone can develop stretch marks, stretch marks appear primarily due to the following reasons:
Being female
Pregnancy (especially later in the pregnancy)
Rapid excessive weight gain
Rapid loss of weight
Puberty (boys and girls)
After breast enhancement surgery
Bodybuilding
Genetics 
Certain diseases or conditions which impact your skins elasticity
➥Read also… Best white jeans for cellulite
Prevention
What can I do to keep from getting stretch marks?
While you may try to prevent stretch marks, but there is no guarantee.
The best way to prevent stretch marks is to maintain a healthy weight, even during pregnancy.
Developing a moderate exercise regime and a healthy diet plan is the best way to reduce your chances of getting stretch marks.
Researchers say many remedies such as almond oil, cocoa butter, olive oil, and vitamin E do not help to prevent stretch marks but can improve the condition.
Using products containing the Centella Asiatica herb and hyaluronic acid may help you prevent stretch marks, but not completely.
Treatment
Do stretch marks go away if you lose weight?
While stretch marks are not harmful, they can make some people feel anxious about the way they make their skin appear, affecting the day-to-day living.
In some cases, stretch marks may disappear on their own after weight loss.
But if your stretch marks do not fade in time, there isn't really anything you can do on your own to completely remove them.
Good news! Some treatments can help minimize the appearance of stretch marks.
How can I permanently get rid of stretch marks on the buttocks naturally?
Here are some popular home remedies for stretch marks to try:
Argan oil

Vitamin E enriched Argan oil increases the elasticity of your skin. Simply rubbing it on the stretch marks might heal the broken tissues allowing marks to gradually fade.
Lemon juice

Lemon juice is known for its natural bleaching properties, however also it helps reduce the visibility effectively. Use fresh lemon juice daily or just apply a sliced lemon wedge on your marks to see results.
Olive oil

Packed with rich moisturising properties, olive oil is full of antioxidants and other nutrients known to be exceptionally good for repairing skin damage. Simply rub cold-pressed olive oil on stretch marks to help them fade over time.
Castor oil

Massage castor oil directly on the stretch marks for 15-20 minutes. After massaging, cover with cloth and apply heat. For best results, do this as often as you can for a month.
Which cream is the best to remove stretch marks on buttocks?
Regardless of when or how you got stretch marks, just know they are 100 percent totally and completely normal. Beautiful skin comes in all varieties.
But whether you choose to get rid of your stretch marks or just ignore them is totally up to you.
However…
If you decide that your stretch marks have to go, just understand that you can't erase them.
A stretch mark is the result of the collagen and elastin under the skin cell layer, tearing under your skin. As a result, stretch marks are the scar left from the damage.
While there is no one way to permanently and completely get rid of stretch marks on the buttocks, but we have a variety of different treatments that may make them look better.
One of the cheapest possible remedies?
Creams.
When it comes to fading existing ones, look for one of the three ingredients that have the most data on improving or reducing the appearance of stretch marks, such as retinol (which resurfaces and strengthens skin), silicone (great for smoothing stretch marks), and finally, hyaluronic acid (to plump stretch mark lines).
Here are some of the best selling creams for stretch marks:
Bestseller No. 1
Scar Remover Cream, Premium Edition Scar Removal Cream for Scars from C-Section, Stretch Marks, Acne, Surgery, Injury, Burns, Effective for both Old and New Scars, Made in Canada
This product combines Elastonyl, Collaxyl with naturally-derived ingredients shea butter, rosehip seed oil, and coco butter to give truly outstanding results.
A second key ingredient in The Premium Edition Stretch Mark & Scar Cream is the peptide Collaxyl 's (hexapeptide-9) which has been experimentally shown to benefit skin repair.
Stretch marks are caused by the breakdown of the underlying collagen network caused by stretching of the skin. One of Elastonyl's * primary actions is to repair stretch marks by stimulating collagen production.
Sale
Bestseller No. 2
M3 Naturals Anti Cellulite Massage Oil Infused with Collagen and Stem Cell Help Tighten Tone Stretch Marks | Skin Firming Cellulite Remover Treatment | 8 Fl Oz
M3 Naturals Anti-Cellulite Massage Oil will help moisturize, tighten, tone and remove cellulite from your hips, abdomen, thighs, and buttocks. Super absorption and natural active ingredients mean that you can toss those chemical creams that absorb slowly and leave a residue. It's finally time for something thin, lightweight, yet supremely effective!*
Infused with Collagen and Stem Cell our cellulite cream will restore your beautiful skin by providing a boost in natural collagen production and increasing skin cell longevity. A truly powerful combination delivering unmatched anti-aging skin care results.*
Firm, Tighten and Tone your skin with rich antioxidants, fatty acids and anti-inflammatory ingredients, the natural essential oils included in this blend are sure to be quickly absorbed by your skin and give you strong tightening, moisturizing and regenerating benefits.*
Sale
Bestseller No. 3
Bestseller No. 4
Stretch Mark Cream for Pregnancy with Shea Butter - Maternity Belly Butter and Moisturizer - Skin Tightening Cream and Stretch Mark Remover with Cocoa Butter - Pregnancy Must Haves - Lavender (4oz)
Don't let unsightly scars stay with you for life after pregnancy! Our new Mommy Belly Butter Cream is specifically formulated to soothe stretch marks and reduce the appearance of scarring during and after pregnancy. Our stretch mark cream penetrates deeply, adding moisture and elasticity back to your skin. Perfect pregnancy gifts for first time moms!
This is definitely a pregnancy must-have! Our shea moisture cream is made with organic shea butter, which contains both moisturizing and antioxidant properties to even out the tone of your skin—helping it fight stretch marks and scars. It's also infused with rosehip and sweet almond oil that help increase collagen production and promote healthy cell regeneration, and coconut oil, which is rich in fatty acids, keeping your skin feeling hydrated and nourished!
Get ready for tighter, smoother, healthier-looking skin with our Mommy Belly Butter Scar Cream. The all-natural formula melts into the skin, providing intense hydration and protection against any irritants while allowing your skin to breathe. With cocoa butter, which creates a protective layer of fatty acids, this stretch mark remover holds in moisture and prevents the skin from becoming dry.
Bestseller No. 5
Sale
Bestseller No. 6
Palmer's Cocoa Butter Formula Massage Cream for Stretch Marks and Pregnancy Skin Care, 4.4 Ounces (Pack of 2)
Massage Cream For Stretch Marks: This cocoa butter stretch mark cream helps visibly improve your skin elasticity and reduce the appearance of stretch marks due to pregnancy or other fluctuations in weight
Special Formula: Made with Cocoa and Shea Butters to soften, smooth and plump skin, plus a blend of ingredients to improve hydration and support stretching skin in the tummy, hips, thighs, bust and more
Finest Ingedients: We strive to use only the finest natural, raw ingredients to bring you soft, hydrated and beautiful hair and skin. We support sustainable production of Shea and Cocoa Butter and Coconut Oil worldwide
Sale
Bestseller No. 7
Stretch Marks & Scars Defense Cream Daily Moisturizer w Organic Cocoa Butter + Shea + Plant Oils + Vitamins to Prevent, Reduce and Fade Away Old or New Scars Best for Pregnancy, Men/Bodybuilders (4oz)
REDUCTION AND PREVENTION: Our body butter helps to reduce and prevent the appearance of scars / stretch marks by firming and moisturizing your skin with a customized blend of high quality and natural ingredients. This lotion was formulated to deliver intense hydration and provide protection to help smooth rough skin / marks, and provide your skin with relief. This is a gentle and powerful remedy for the prevention of keloids, dark marks, surgery scars or stretch marks.
PACKED IN AN AMPLE 4 oz JAR: Just a little bit goes a long way with this unscented butter - don't let the rich texture fool you, this cream spreads quickly and easily on the body, absorbing in seconds! Massage this onto potentially problem areas like your stomach or thighs (preferably twice a day: Morning & Night). Whether you're looking for prenatal / maternity care, working out at the gym, or just living your life, you can combat against rough skin, marks, and blemishes in a couple of minutes.
TEEMING WITH VITAMINS AND ANTIOXIDANTS: this body butter is crammed with prime ingredients like Vitamins E, C, B3 + B5, not to mention plant stem cells, seaweed, & rich oils. All of them working towards the same goal: Tightening and lightening the appearance of any dark mark or stretch marks and delivering maximum care and nutrients. With no added fragrances, you can smell the rich cocoa and shea butter, giving yourself the luxury treatment while getting your confidence back to live your life.
Fighting stretch marks with lasers
With laser stretch mark removal, concentrated rays of light are directed at the stretch marks, stimulating new growth and smoothing the scars.
Laser treatments (also called skin resurfacing treatments), help your skin to heal and create a smoother texture. Laser treatments are slightly more successful on newer stretch marks.
There are currently two types of laser treatments: ablative and non-ablative.
CO2 and Erbium YAG are types of ablative lasers used for stretch marks treatment.
These lasers remove the outer layer of skin, leaving newer, smoother skin.
Laser treatments also trigger the production of collagen in your skin, which helps smooth out the raised scars of stretch marks.
CO2 is used for deeper scars while Erbium is for more surface stretch marks. 
➥Read also… Best products to remove stretch marks
Fraxel laser is a non-ablative laser. It is a gentler laser that doesn't remove the top layer of skin. Instead, it stimulates collagen and elastin production, promoting scars to heal and fade.
The Fraxel laser is an FDA-approved laser therapy designed for scars, acne marks, sun spots, leg veins, and stretch marks.
Fraxel laser is an FDA laser treatment that is a fractional laser, treating only a fraction of the skin at a time.
It works by making microscopic cuts in the skin, leaving the surrounding tissue intact, and stimulating new collagen production.
Fractional Co2 laser works best in treating the older white stretch mark scars.
This remarkable resurfacing laser works by heating the skin and smoothing out the skin and leaving behind new, fresh, skin cells.
Unfortunately, if you have darker skin, laser treatments are not recommended for the removal of stretch marks. Frequently, laser treatments on darker skin tones result in hyperpigmentation or dark spots on the skin.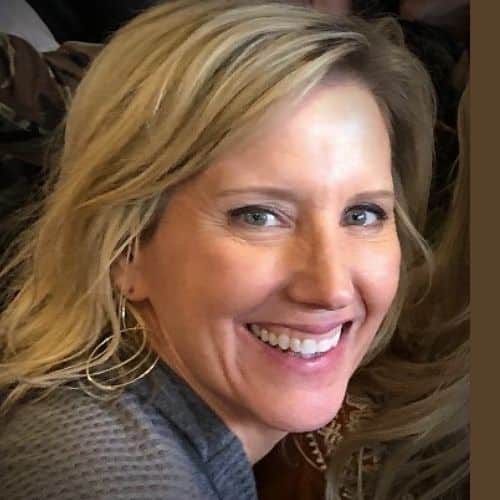 Claudia Faucher is a full-time fitness and lifestyle blogger. She is also been a certified Les Mills BodyPump instructor for the past 5 years and a fitness instructor for over 20 years. She likes to use her skills and experiences to help others on their fitness journeys.
Last update on 2022-06-22 / Affiliate links / Images from Amazon Product Advertising API