Do you suffer from dry, itchy eyes and the dreaded red eyes? You're not alone! It is estimated that over 40 million Americans suffer from the same condition. In this article, I share my findings on the best eye drops for whiter eyes and ways to greatly reduce eye irritation.
I may earn a commission when you purchase through a link on this page.
LUMIFY is the #1 Rated Best Eye Drops for Whiter Eyes on the market today.
Originally FDA-approved as a drug to treat glaucoma, brimonidine ophthalmic (LUMIFY) also helps reduce swelling of blood vessels in the eyes. It's in a class of drugs called alpha-adrenergic agonists, and it works by reducing fluid levels in the eye.
LUMIFY Redness Reliever Eye Drops 0.25 Ounce (7.5mL)
Eye Drops for Red Eyes: LUMIFY significantly reduces redness to help reveal your eyes' natural radiance. From the eye care experts at Bausch and Lomb, LUMIFY works in 1 minute and lasts up to 8 hours
LUMIFY is different: The only OTC drop to contain brimonidine. It selectively targets redness, alleviating some potential side effects associated with other redness relief drops, when used as directed
LUMIFY contains no bleach or dyes. It's the Number 1 Eye Doctor recommended redness reliever (data on file)
Simply put, eye irritants prevent you from having the brightest eyes you can!
After all, who doesn't love bright, white eyes, right?
So, let's get started by looking at some of the causes of eye redness or watery eyes.
There are a number of causes for eye redness and irritation, but let's look at some of the more common symptoms you're likely to experience:
Dry eyes
Gritty/sandy eyes
Red eyes
Watery eyes
Scratch or burning sensation in your eyes
Sensitivity to light
Tired eyes
Unable to contact lenses
Filmy or blurred vision
Increased digital screen exposure time and reduced caffeine consumption were modifiable lifestyle factors associated with higher odds of dry eye disease.[source – National Library of Medicine]
There are a number of modifiable risk factors are behaviors and exposures that can raise or lower a person's risk for dry eyes. They include:
Low androgen levels or androgen deficiency
Extended computer use
Use of contact lenses
Under going hormone replacement therapy for homone imbalance
Environment: pollution, low humidity, sick building syndrome
Medications: antihistamines, antidepressants
How whitening eye drops work
Whitening eye drops typically work in one of these two ways to make your eyes whiter:
Narrowing blood vessels. Some eye drops for red eyes and pain include medications that may constrict blood vessels in the eyes. This makes the make blood vessels less noticeable.
Moisture eyes added. Some eye drops contain moisturizers to prevent dryness. They also moisturize the whites of your eyes to make them feel better, and make eyes appear brighter.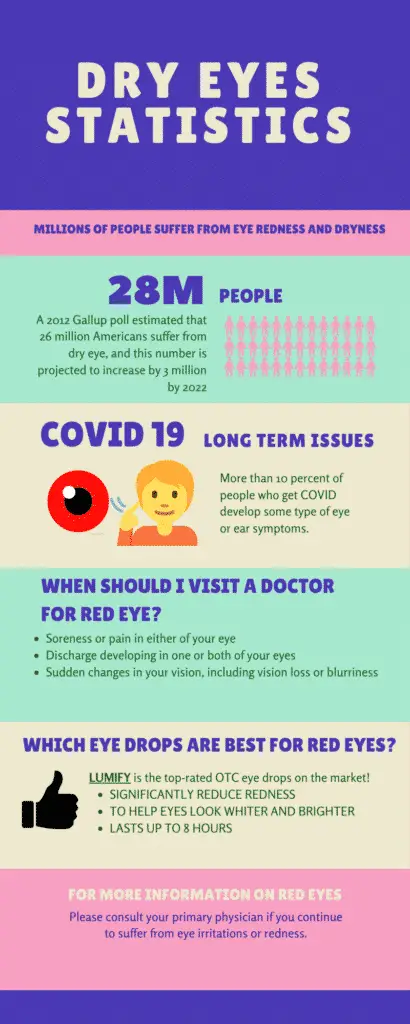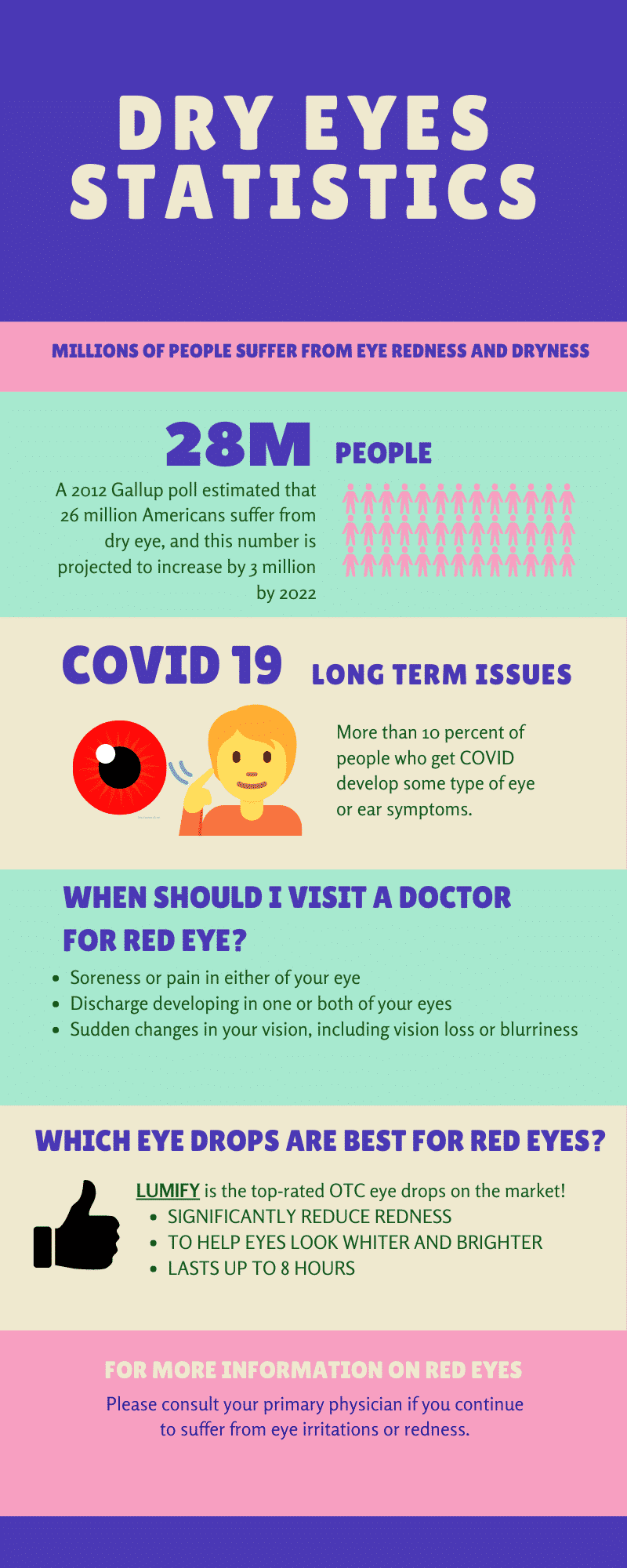 Remember that certain causes of red eyes might require more than brightening eye drops to clear things up. A bacterial contamination, for instance, may require anti-infection eye drops recommended by a specialist.
Rated #1 Best Eye Drops for Whiter Eyes!
TOP CHOICE: LUMIFY Redness Reliever Eye Drops
WHY IT'S THE BEST: Have you ever wanted to try a product because the results looked unbelievable? Not to mention you wanted to experience the change in seconds?
LUMIFY eye drops are just like that!
Yes, the results are almost instant, and the pronounced differences here were "eye-opening", (I couldn't resist) to say the least.
When it comes to OTC health and beauty products, I tend to stay with what I know.
However, that is not to say I am unwilling to change or try something new.
Like many of you, I work long hours staring at a screen, often at all times of the day and night. This causes me to have eye redness and dryness more than I would like to admit.
At a recent family gathering, I was talking to a cousin of mine when he mentioned he noticed I was using Visine a few minutes earlier. He's a pilot and red eyes are nothing new to him.
He asked if I had heard of LUMIFY, and that he'd started using them on a recommendation of his pilot friends.
He swore it was a game-changer, so I was sold. There's nothing like a solid endorsement from a trusted source.
One of my issues with Visine is it seems like once you start using it you have to keep using it or your eyes feel worse than they did originally. Sort of like the nasal-spray effect, but for eyes.
I don't like to become dependent on a product, so I was willing to give LUMIFY a shot.
First, they've got an ingredient no other over-the-counter eye drop has: low-dose brimonidine. As stated by LUMIFY, "It selectively targets redness in your eyes, which leads to a lower risk of the side effects associated with other redness relievers when used as directed." and also, can significantly reduce redness to help eyes look whiter, brighter, and amazing for up to 8 hours."
So, what is low-dose brimonidine, and is it safe?
There's been a significant amount of research conducted on using brimonidine for the redness of the eyes.
I love a trusted source, so when I saw this data from the National Library of Medicine, it appeared my cousin was right.
My experience: LUMIFY is as good as advertised! They are the best eye drops for white eyes, are the most soothing, instantly whitening eye drops like no product I have ever used.
But don't just take my word for it. Check out these reviews from thousands of satisfied users!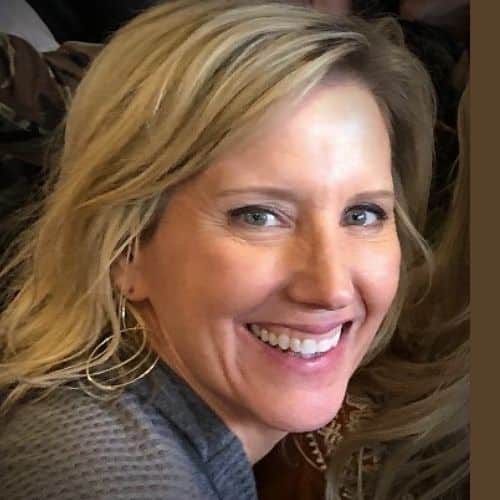 Claudia Faucher is a full-time fitness training expert and lifestyle blogger. She is also been a certified Les Mills BodyPump instructor for the past 5 years and a fitness instructor for over 20 years. Claudia is a personal trainer and creates fitness training programs for seniors and people of all ages. She likes to use her skills and experiences to help others on their fitness journeys.
Last update on 2023-08-31 / Affiliate links / Images from Amazon Product Advertising API