Relieve your tired eyes with these soft, comfortable, and simple-to-use masks.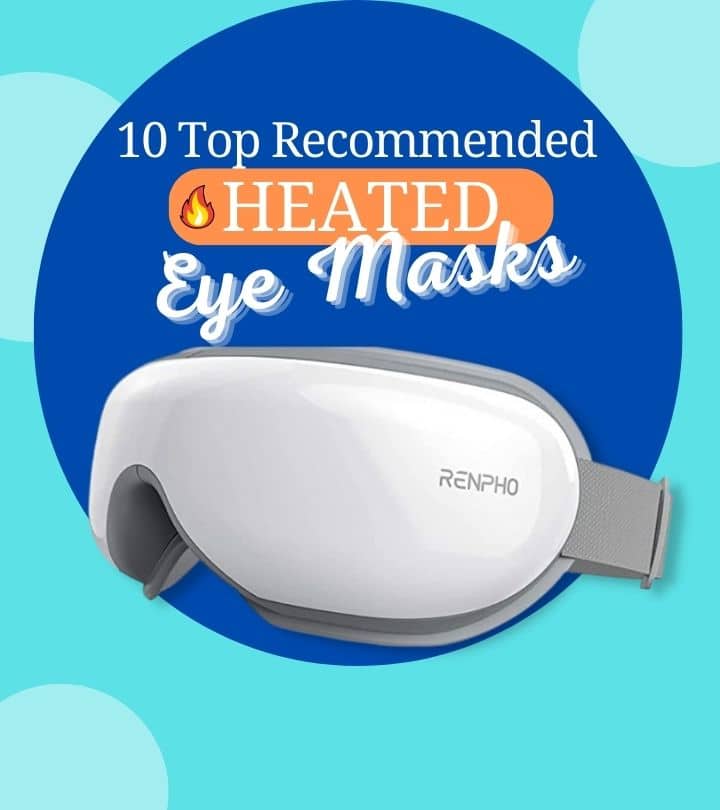 Our eyes experience high levels of stress every day, which can lead to fatigue, irritation, and dryness. Although eye drops can soothe and lessen these symptoms, using the best-heated eye masks makes them an effective solution to provide instant and long-lasting relief. The best part about heated eye masks is that they have soothing and therapeutic effects that restore natural moisture content and relieve your eyes. Moreover, they provide a comfortable feeling to your eyes like a warm cloth.

---
Listed below I have compiled a list of the 10 best-heated eye masks. So, keep reading to discover the best choice for you!
#
Preview
Product
Price
1
Heated Eye Mask, Wireless Electric Eye Mask Heated…

$39.99

2
Heated Eye Mask for Dry Eyes, Cordless Warm Eyes…

$25.99

3
Heated Eye Mask, Warm Eye Compress Mask for Dry…

$35.99

4
Heated Eye Mask, USB Steam Warm Compress for Puffy…

$35.99

$19.99

5
Aroma Season Heated Eye Mask, For Stye Blepharitis…

$28.99

6
Heated Eye Mask, USB Heated Eye Mask with…

$15.99

7
Ingeware Heated Eye Mask for Dry Eyes, USB…

$28.99

$21.98

8
DR.PREPARE Heated Eye Mask, USB Eye Mask for Dry…

$35.99

$27.99

9
Heated Eye Mask, USB Powered Eye Mask for Dry Eyes…

$26.99

10
Heated Eye Mask, Weighted Eye Compress with…

$21.95
Helpful Tips for Using Heated Eye Masks:
Use lower temperatures until you get used to your mask
They are available in wired or cordless models
Most have a 60-minute automatic cut-off
Effectively block light for increased sleep
Are Heated Eye Masks Safe?
People should follow instructions carefully when using eye masks, especially heated masks. They should be careful not to overheat a mask, as this could damage the eye area. A person may want to speak with their eye doctor before using an eye mask to treat dry eyes.
Why Use Heated Eye Masks
I really love heated eye masks and have been a fan for years.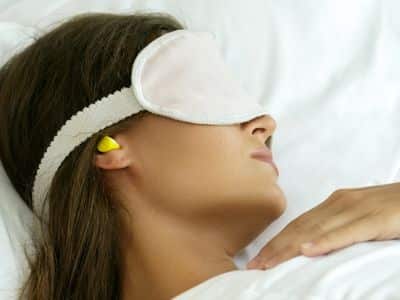 It's one of the best beauty products no one talks about… until today!
I'm always shocked when I mention them to people and they have no idea such a thing even existed.
Heated eye masks are excellent for treating dry eyes, fatigue, stye, blepharitis, chalazion, and MGD, but most people use them for a great night's sleep.
After years of working a night tour, I understand firsthand the difficulties of sleeping when you want or need to.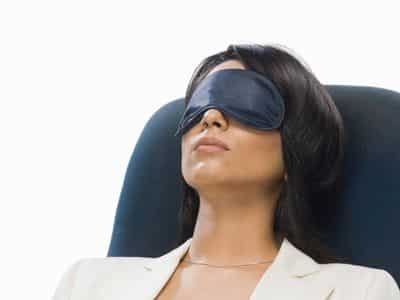 The soothing warmth of a heated mask is the best solution I have found for improving my sleep patterns … and the most cost-effective.
I recommend this product to anyone that will listen.
To all my doctor and nursing friends… you need this.
Law enforcement or IT peeps… your eyes will never feel better!
…and for everyone that could use some spa-like pampering in their life, you've got to give this a try.
Testing Time! How I did it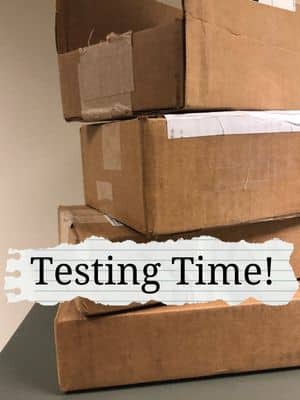 All the eye masks finally arrived. Let the testing begin!
Heated eye masks can be broken down into 3 categories:
Cordless
USB or wired
Microwave eye masks (not tested)
In a perfect world, cordless eye masks would be the way to go. No cords!
However, finding consistent quality and design can be tricky.
There is also the issue of recharging. There is nothing worse than getting ready for bed and realizing you forgot to recharge your mask. &#%[email protected]?!
During my testing, I used each product as recommended by the manufacturer.
In general, each brand was very similar to the other, but it was the subtle differences that impacted the ratings.
I performed the testing over a period of a couple of weeks. And to be totally honest, I really liked each of the products I tried.
However, when it came to comparing one brand to another, that is where I could separate really good, from average.
How To Choose The Best Heated Eye Mask
Type
There are two common types of heated eye masks – self-heating and manual heating.
Self-heating eye masks are portable and I really prefer them when traveling, while manual heating masks must be microwaved or plugged in.
Unlike manual heating masks, most self-heating masks are disposable, which can get expensive over time if you use them frequently.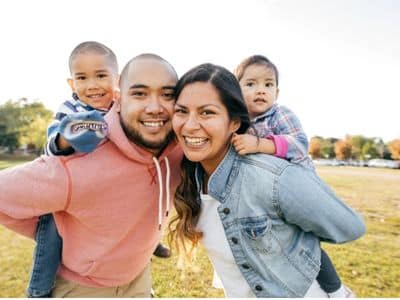 The best way to recover from dry eyes is with a heated eye mask. We put a lot of stress on our eyes every day, such as irritation, fatigue, and dryness, and that is why we need the best-heated eye masks.
These symptoms are easily controlled with eye masks, which provide instant relief for your eyes. 
Furthermore, they have soothing and therapeutic effects that assist with restoring moisture. 
Doctors have also recommended some of these masks because they are made of soft fabric, are comfortable to wear, and have adjustable straps. 
When choosing the best-heated eye mask, take into account the fit, fabric, adjustable temperature settings, timer settings, and type.
Fit
When choosing a heated eye mask, it is important that you find one that fits the upper part of your face correctly. This will ensure comfortable and effective heating.
Everyone's facial features are different, so not all reviews will match your personal experiences. It is best to go for one with an elastic or Velcro strap.
Adjustable Temperature Settings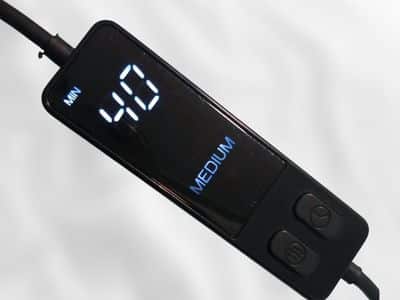 Most heated masks have adjustable temperature control features. This allows you to choose the ideal temperature according to your convenience and comfort. They normally range from 2 – 5 temperature settings.
Timer Settings
Heated eye masks can be comforting and cozy, and we may forget to remove them at the proper time.
All the masks listed above have built-in cut-off features at 60 minutes. This is especially important if you enjoy using the higher settings. That is why it is best to choose a heating mask that has timer settings. 
Don't forget to check cord length
One quick way to fall out of love with your new heated eye mask is to deal with a short cord in the middle of the night. Too many eye masks brand offer sub-5 ft length power cables.
While this may be fine if you have an outlet directly behind your bed, it doesn't play well with sleepers who may move about the bed during their sleep time.
I would be willing to guess that most of us do.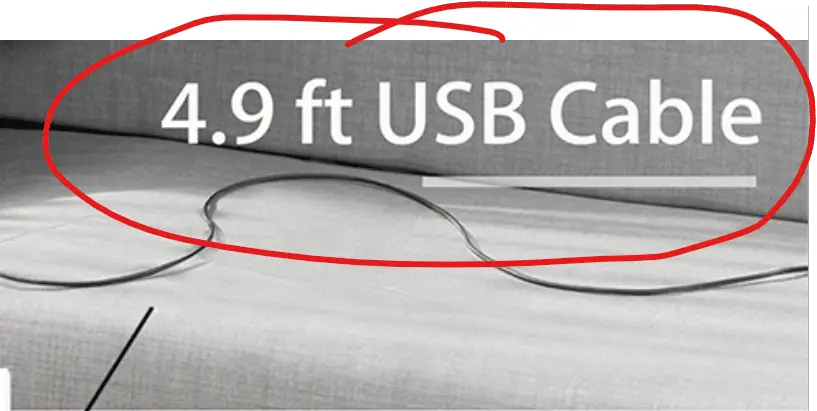 If cord length is an issue for you, take your time to look through the specs for 6 ft or more.
I'll be honest, there are not many that offer this longer length, like the one below.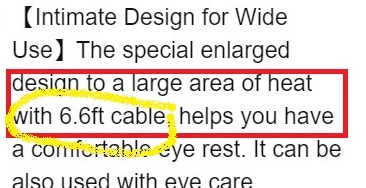 While I didn't have the opportunity to review this specific model, here's the link if you want to check it out.
Wall Adapter for USB Port
One of the only issues I have with most brands selling heated eye masks don't include a wall adapter for a USB port. While I understand the mask can be used while plugged into your laptop, ….really?
So, whichever eye mask you purchase, but sure to see if this adapter is included. It will cost you less than $10. While you probably have several laying around your house or apartment, it's good to pick one up so you have one dedicated to your mask.
FAQs – Heated Eye Masks
Summary
The best-heated eye masks implement technology to providing extra soothing warmth, as each of our top picks brings something unique to the table. And the great news is that these masks can make a difference in any season. If you're looking for ways to save money over the long haul, a heated eye mask is indispensable for taking care of your eyes.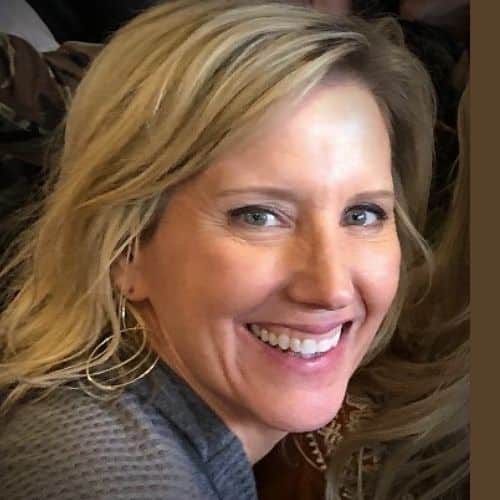 Claudia Faucher is a full-time fitness training expert and lifestyle blogger. She is also been a certified Les Mills BodyPump instructor for the past 5 years and a fitness instructor for over 20 years. Claudia is a personal trainer and creates fitness training programs for seniors and people of all ages. She likes to use her skills and experiences to help others on their fitness journeys.
Last update on 2022-08-30 / Affiliate links / Images from Amazon Product Advertising API