With swimsuit season in full swing, you may be thinking about updating your swimwear and buying a new pair of swim trunks. While there's nothing inherently wrong with standard-length trunks, you may want to consider a longer length for more coverage or to avoid having your suit creep up when you go for a dip. If that sounds like you, check out this article for helpful tips on the best swim trunk lengths for men.
I may earn a commission when you purchase through a link on this page.
Outerknown Apex 2.0 by Kelly Slater Board Short - Men's Pitch Black Surfature, 30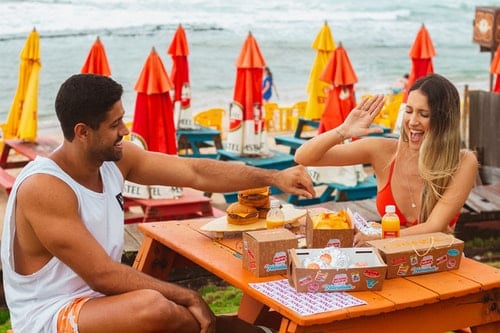 Since you're reading this, chances are that you don't know what length of swim trunks will look best on you. You might think that longer trunks won't work with your body type or give off the vibe that you'd prefer.
However, we can assure you that it doesn't matter what age or size you are – there's no one way to wear swim shorts! Here are some pointers on how to pick the right length for your body type and personal style:
Which Length Is Best for Your Body Type?
Kanu Surf Men's Swim Trunks (Regular & Extended Sizes), Mileage Navy/Orange, Large 
As we mentioned, there is no one-size-fits-all approach to picking the best swim trunks length. What we can do is give you guidelines for different body types and what length might look best.
Shorter men – 4″ – 5" Inseam
Shorter men should choose shorter inseam trunks ranging from 4″ to 5″. This will enhance the appearance of longer legs, which will harmonize with your proportions when you are wearing swimwear. Men with athletic figures may also wear shorter inseam trunks in order to increase their visibility.
Taller men – 8″ – 9" Inseam
A tall man should select trunks with inseams of 8 inches or more to accommodate his longer legs. However, do not select an inseam that extends beyond your knee as it may also affect your proportions.
Taller men should go for the longer-length swim trunks, as these will help break up their bodies and avoid a "vertical" look. It will also create the illusion of longer legs, which most taller men might appreciate.
Average men –  6″ – 7" Inseam
If you're an average height man, you're likely to prefer a pair of medium-length trunks. They're typically between 5.5″ and 6.5″ in length and sit at around the mid-thigh. These trunks can be used for a variety of purposes and can match a wide range of body types and appearances. They're also casual enough to wear in all sorts of settings.
Skinny men – 6″ Inseam
If you are on the skinnier side, look for trunks with an inseam of about 6 inches. Also consider bold and creative patterns to make you appear slightly heavier.
Bigger men – 7″ – 9″ Inseam
For the larger or slightly overweight male, try to stay away from the normal swim trunks. A 7- or 9-inch inseam board shorts is your best choice if you want to look stylish while standing near the surf. Make sure that your boardshorts still rise just above the knee so you don't appear to be recycling your high school fashions.
Finding the Right Fit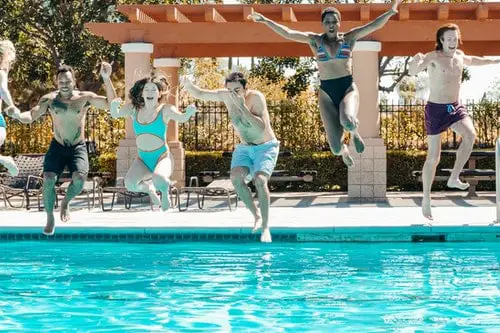 When it comes to choosing the right swimsuit, there are a variety of factors to consider. You may need to think about where you're going, what you'll be doing while you're there, and how tall you are, in addition to the pattern of the suit you choose.
The most important thing when it comes to swim trunks is finding the right fit. If your swim trunks don't fit properly, they will look bad no matter what style you choose.
While this advice applies to practically any type of clothing, it's especially important when it comes to swimming trunks.
The fit of swim trunks is determined by three different dimensions:
Inseam – This is the measurement between the two side seams on the inside of the swimsuit, from the crotch to the waist.
Thigh – Measure around the widest part of the upper leg, below the knee.
Rise – This is the measurement from the crotch to the top of the swimsuit.
The Importance of Waistband and Drawstring
A swimsuit will look its best when it is snug against the body, but not too tight. For this reason, you should avoid swimming trunks with a drawstring, as this will likely cause the suit to become too tight around your waist and accentuate any muffin tops or love handles.
Instead, you should look for swim trunks with a wider waistband. This will allow you to adjust the suit to your desired snugness while also hiding any flaws. The wider waistband is also a good idea because this is where a lot of weight is concentrated when you're in the water.
The drawstring, on the other hand, is usually too thin to withstand this pressure and will rip easily, causing the swimsuit to come undone. This can be extremely embarrassing in public.
How Long Should Swim Trunks Be?
As we mentioned, the best swim trunk length depends on your body type, but there are also a few other factors to keep in mind.
It should be possible to squeeze between half an inch and an inch in either direction down your leg. You may have to go up a bit if you need to, but any more and you'll appear sloppy and baggy. The waist should fit perfectly without too much sagging or tightening.
For guys to appear proportionately correct and visually appealing, and regardless how tall you are, your trunks should always be at least three inches above your knee.
Which Length is Best for You?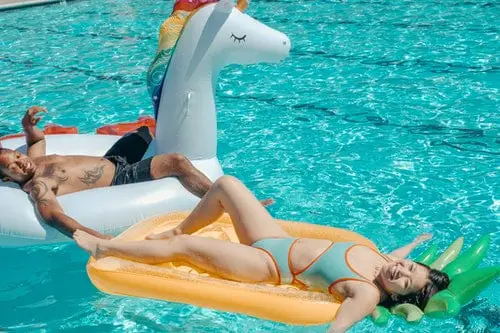 You might be wondering, "What length is best for me?" The truth is that there is no such thing as the "best" length.
There are many factors to consider when picking a swimsuit length, including your body type and personal style. If you're looking for something more practical, a shorter pair of swim trunks, like board shorts, might be a good option.
If you're looking for something a bit more stylish, a longer pair of swim trunks, like cargo shorts, maybe what you're after.
The good news is that there are a variety of swim trunks lengths, so you can pick whichever one best suits your needs and personal preferences.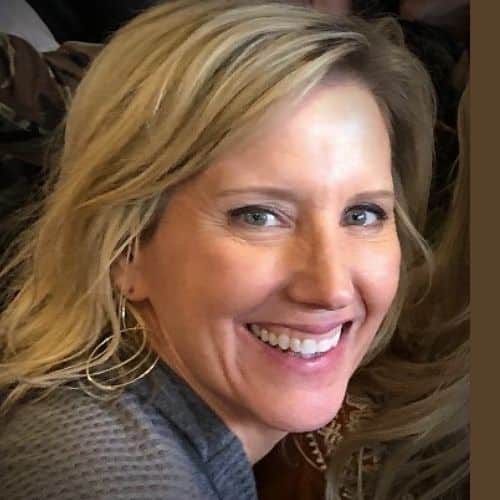 Claudia Faucher is a full-time fitness training expert and lifestyle blogger. She is also been a certified Les Mills BodyPump instructor for the past 5 years and a fitness instructor for over 20 years. Claudia is a personal trainer and creates fitness training programs for seniors and people of all ages. She likes to use her skills and experiences to help others on their fitness journeys.
Last update on 2023-08-31 / Affiliate links / Images from Amazon Product Advertising API