Best bathrobes in the world!
We can all agree that one of the best parts about staying at a fancy hotel is wearing that super soft, luxurious bathrobes! The material is so thick and soft. It's like walking around with your favorite blanket from your childhood. What if I told you those same bathrobes are now available for your to purchase for your own home? It's true! In this post, I share the 21 luxury hotel quality bathrobes you can now buy online!
The bathrobe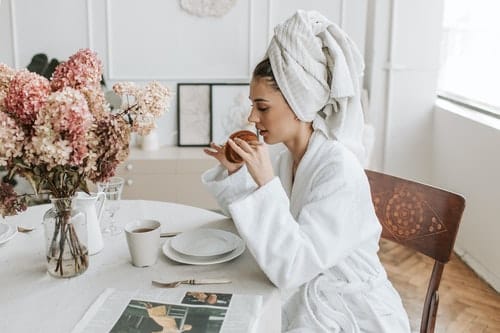 When I recall my favorite memories of staying at a fancy hotel and trust me, it hasn't been that often at all, there's one thing clearly comes to mind.
No, it's not the welcome drinks.
The turndown? Nope.
It's not the bellman hoisting my beat-up Costco luggage to the room.
It's not even the booze or chocolates once inside.
The slippers are a nice touch, as are the complimentary soaps and oils.
But, the thing I love the most about fancy hotels…
Yes, it's that BATHROBE!
About those comfy robes
So, what is it about those bathrobes that makes them so special?
Let's get started!
Material
For a robe to be hotel luxury quality, it has to be super soft, warm, and plush…Yes, definitely plush.
… like Turkish Terry cloth, Flannel fleece, combed cotton or a microfiber chamois material
2 large front pockets
Every great bathrobe needs to feature 2 large front pockets. Not sure why, or what I would ever put in them, but they have to be there.
Secure closure
Finally, for a robe to be truly comfortable, it has to work with your lifestyle and allow you to move around freely and confidently.
$29.99 – In stock
The rope should stay tied as tight as you need it to be, for an added sense of security.
Hood (optional)
Since my pinky is already up if you can throw in a hood (lined, preferably), that would be awesome. Again, not a deal-breaker if I can't get it, but if possible, Magnifica!
Best women's robes
Feel like you're staying at a 5-star hotel (without having to tip everybody you see!), from the comfort of your own home with these hand-selected super plush women's robes.
Best robes for women
After a long day of travel, nothing beats snuggling into a warm and comfy bathrobe in your hotel room. That's one of the many advantages of staying at a five-star hotel: you get to dress up. We're talking about silky, velvety made from the softest material that feels like bliss against your skin.
Fortunately, there is a method to reintroduce that sense of luxury into your house. Many top hotels and resorts now offer online storefronts where you can buy the same things, like plush spa robes. Now you continue to enjoy the taste of luxury from the comfort of your home!.
Ritz Carlton Robe
RITZ-CARLTON HOTELS EXCLUSIVE – Wrap yourself in the comfort of the guest-favorite Microfiber Robe.
SOFT AND COMFY – Crafted of extra-soft microfiber and lined with terry provides a super-soft and cozy addition to your bath routine.
CLASSIC DESIGN – A classic shawl collar, dual pockets, and self-tie belt make our hotel robe perfect for drying off post-shower or lounging in comfort.
"'I've looked for this robe for like 5 years! Beautiful and very soft. Makes you feel pretty in it as the belt is built into the back and wraps nice around your body."
This lightweight cotton robe is composed of waffle weave cotton and is lined with soft terry velour, making it ideal for any season. The relaxed fit has full-length sleeves and a shawl collar for additional warmth, as well as two patch pockets and an adjustable belt. Add this to your everyday routine, from morning coffee to nighttime leisure.
To purchase: $135.00 – Shop this look
See also…best self tanners for face and body
Richie House Plush Bathrobe Robe
Richie House's warm and cuddly fleece robe has received positive feedback from over 13,400 Amazon customers.
"I bought this robe for my wife because she is always cold in the mornings and night and she absolutely loves it!" Another pleased customer writes, "The softness on this robe has exceeded my expectations.. it feels so luxurious! The build quality is A class."
The belted bathrobe has two large front pockets as well as fuzzy details on the cuffs and collar. The polyester material of the full-length robe is very soft on their skin and warm enough to cuddle in on chilly nights at home.
To purchase: $39.99 – Shop this look
Terry Lined – Unisex Luxury Spa Bathrobe by Monarch/Cypress
The external twill microfiber shell material of the Monarch/Cypress Unisex Microfiber Robe Lined in Terry resists ripping, pilling, and staining. This external shell is coated with an extremely absorbent french terry consisting of 80% cotton and 20% polyester that feels silky against your skin.
"The outside fabric is extremely smooth and soft to the touch. The interior is perfect. It seriously is worth every penny. We will definitely be buying more for the kids and to pamper visiting guests."
This is really two robes in one! Experience the Monarch/Cypress difference: the same five-star luxury found at the world's greatest resorts, spas, and cruise lines is now available to the general public through Amazon and Monarch/Cypress.
To purchase: Price not available – Shop this look
See also…no show bras for dresses
NY Threads Womens Fleece Bathrobe – Spa Robe
NY Threads bathrobes are made of high-quality flannel fleece for maximum comfort. Over 27,000 happy customers wrote in to leave feedback for this great robe! The bathrobe's soft and fluffy texture significantly improves the user experience, allowing you to use it for an extended amount of time.
"Extremely cozy robe, very warm. Perfect for cuddling up with a book and a cat on a cold winters night. I find the sleeves long enough, yet easy to cuff and stays put…it was a great price and the robe is very soft and comfortable!"
With this full-length robe on, you may start and end your day in comfort, no matter what your day has in store. Wear it after a shower, before going to bed, and so on to feel at peace.
To purchase: $21.99 – Shop this look
Square Waffle Spa Kimono Robe – Soft Light Hotel Bathrobe
This square waffle bathrobe for ladies or men is made of the highest grade loop cotton available, making it the most durable waffle robe on the market today. Monarch Cypress Robes are used at the top hotels because of our attention to the smallest details. Because of its high quality and comfort, our Waffle Robe is utilized by spas and hotels all over the world.
"We bought these for our rental home and guest reviews have been good! They are lightweight – easy to wash/fast to dry (but haven't had to tackle a stain yet). Good for post-shower or a coverup out to the spa. It also has a great look with the weave it has and the pattern…modern."
Unmistakably generous fit! Bathrobes are built to withstand daily usage in premier hotels and resorts. These robes are made of the most beautiful and comfortable fabric available in the industry. Monarch Cypress has been the resort / spa robe of choice for more than three decades, according to any five-star hotel (Omni, Four Seasons, Westin).
To purchase: $41.95 – Shop this look
Acanva Women's Spa Kimono Bathrobe
This comfy spa robe from Acanva features a hotel spa kimono shawl collar style, drawstring closure, 2 large front pockets, and is constructed of soft Terry material.
"This robe is fantastic! I was specifically looking for a lightweight and absorbant robe that I could throw on immediately after showering. This robe is super absorbent and moisture wicking. It's light, and absorbs moisture very fast!"
The shawl collar style is not only soft and comfortable but also can keep your body warm after taking a bath. Each robe comes with an adjustable belt that can be removed and is easy to put on and take off.
To purchase: $29.81 – Shop this look
Alpine Swiss Blair Womens Spa Robe
The thick, high-quality 100% cotton velour exterior is incredibly velvety, while the 100% cotton terry inner is absorbent and quick drying. The Blair cotton robe is machine washable and simple to maintain.
"This robe is such good quality — the cotton velveteen on the outside is plush and the cotton Terry cloth on the inside is absorbent and comfy. It has the look an feel of an expensive robe but is affordable. It's water-absorbent, like a terrycloth robe but is of better quality."
A shawl collar keeps your neck warm, broad sleeves allow you to move freely, and an adjustable/removable waist belt keeps your robe firmly closed. This is an excellent present for anyone, including yourself!
To purchase: $49.99 – Shop this look
Seven Apparel Hotel Spa Collection
This comfy robe is made from ultra-fine brushed microfiber yarns with a unique herringbone rippled texture to create a stylish and comfy look and feel.
"Very lightweight and warm! Pleasantly surprised with this product. Very soft and luxurious. Recommend 100%!! Worth the money and as nice as expensive robes."
Knee-length robe in herringbone texture featuring a large front pocket and self-belt.
To purchase: Price not available – Shop this look
Monogrammed robes
In case you haven't been watching the latest fashion trends, bathrobes are no longer just for lazing about the house. Recent fashion styles have elevated it to the status of a fashion statement that individuals wear on a variety of events!
Luxury bathrobes monogrammed
In fact, you may wear it as an alternative to a coat or jacket for semi-formal occasions. Of course, you may wear it to overnight pajama parties as well.
Nowadays, there are lots of ways to style and use bathrobes, so don't limit yourself. The perfect gift for close friends and family, as well as treating yourself!
Tri Color Robes Women's Robe Customize Monogram Personalized
This Luxury Microfleece Plush Robe is warm, comfortable, and soft. Finest quality long length hotel and spa style wears well indoors for the spa, hotel, home, and salon. Plush robe features plush shine microfiber finish, shawl collar, two pockets, and a belt. This luxury soft plush robe is comfortable easy-wear excellent for cool spring days, fall, and winter. Wrap around and tie with a belt for a comfortable snug fit.
"This robe is very soft and great quality. The monogrammed initials were a very classy touch. The actual product matches what you see in the pictures."
Customized with your choice of a monogram or full embroider can be initials, name, or company name. Retail businesses logos or image embroidery additional.
To purchase: $49.99 – Shop this look
Personalized Plush Microfleece Robe with Embroidered Name
With its warm tone cream hue and soft-to-the-touch feel, this luxurious robe is guaranteed to satisfy! Pamper yourself at the spa, resort, or at home in this silky shawl collar robe that will keep you warm and comfortable.
"I bought this as a gift to my sister, who is a traveling nurse. She absolutely loved it. Super soft, perfect fit. The monogramming was the icing on the cake!"
Embroidered with your custom information in their Oklahoma shop.
To purchase: $59.99 – Shop this look
Luxury Mens Robe
Nothing beats sliding into a comfy robe at the end of a long day of work, a hot shower, or even a quick dip in the pool. And, while a lot's been written about a variety of comfortable robes and loungewear, and the best bathrobes for ladies — I've compiled a list of the best bathrobes for guys, too, as recommended by the most enthusiastic reviewers.
DAVID ARCHY Men's Soft Fleece Plush Robe Full Length Long Bathrobe
The DAVID ARCHY Men's Soft Fleece Plush Robe is the highest-rated luxury robe we researched for men or women. The customers that bought this premium bathrobe can't say enough great things about it.
This plush soft lounge robe features excellent resistance to the cold air to keep you warm and comfy, plush fleece fabric is smooth soft against skin offering you an enjoyable daily routine.
"The robe fits like a dream and man is it soft and warm. The robe is about 6" from touching the ground when I wear it. Just for informational purposes this robe is more comfortable than my 120 dollar Pottery Barn robe.

I must say that I couldn't be more happier when wearing this robe, especially after a long day. You definitely won't regret buying it."
Robes keep your neck and ears warm in the cold winter with a vintage style and unique large hood!
To purchase: $59.99 – Shop this look
NY Threads Luxurious Mens Shawl Collar Fleece Bathrobe Spa Robe
SHAWL COLLAR FLEECE BATHROBE – Super soft, velvety, shawl collar fleece bathrobe made with coral fleece that gives exceptional comfort while in usage; ideal for relaxing, relaxation, and a terrific option to wear after a long day at work.
"This thing is sooooooo soft. It is fluffy.. but does not shed. That's a huge plus. Its a prefect length and even covers my entire body, no awkward flashing your neighbors while getting the paper in this thing, it stays put and you are covered. "
This bathrobe is the ideal present for your spouse, father, kid, or friend because no one realizes they need a bathrobe until they get one. This is why it is an excellent present idea. It is both lightweight and warm, which makes it an excellent gift.
To purchase: $21.99 – Shop this look
TowelSelections Men's Robe, Kimono Spa Waffle Robe
Kimono Waffle Robe – Men's lightweight waffle robe. Kimono style spa bathrobe is perfect year-round, in any climate. This robe is lightweight, soft, and comfortable. The comfortable kimono collar and arm hems are double stitched to improve strength, and two front pockets add to its stylish appeal.
"Good length, absorbent enough for the spa or drying off after a shower, does not cling, and has a pleasant weight. It's small enough to take with you on a trip. I wish the belt was a little lower, but I assume that's simply how robes fit; I'd want it to be where my belt generally rests in trousers. Overall, it's exactly what I expected, and I'm pleased."
Great for Bath and Spa – The waffle pattern style makes the men's waffle robe the perfect travel partner, or an ideal gym locker accompaniment. This bathrobe is amazingly comfortable, so it elegantly keeps the wearer feeling fresh.
To purchase: $31.95 – Shop this look
Hotels with robes
The bathrobe is one of my favorite parts of staying in a 5 star luxury hotel! There's something comforting about sliding into a comfortable robe and resting in your hotel room with a cup of tea or wine and a nice book.
See also…best swimsuits for women over 50
In researching for this article, I reviewed numerous travel sites to find the best hotels with robes. Here is a list of the top 5 hotels mentioned:
Robes and slippers set
Organic Terry Cotton slippers are ideal for use in the bath. After a long day, the highly breathable Terry Cotton structure will rest your feet. The high-quality organic terry cotton surface slippers with a rubber sole complement your bathrobes well.
Here are some of the best selling robes and slippers set combos:
Support FitFab50 by using the links in my articles to shop. As an Amazon associate and many other brands, I receive a small commission (at no cost to you) on qualifying purchases which enable me to keep creating amazing free content for you. Thanks!
If you enjoyed, Luxury Hotel Quality Bathrobes You Can Buy, be sure to check out my recent articles below!
Last update on 2022-08-30 / Affiliate links / Images from Amazon Product Advertising API