We can all agree that wearing falsies all the time, just to give the appearance of amazingly thick, full-bodied eyelashes is a major pain.
I may earn a commission when you purchase through a link on this page.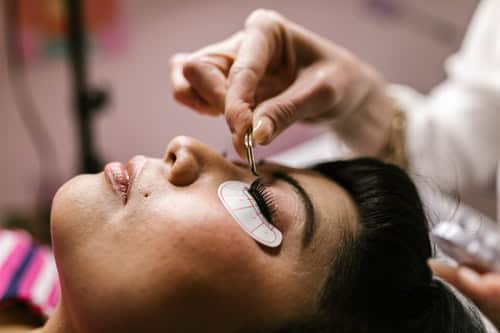 I've put together the best eyelash extensions brand reviews to help you enjoy gorgeous, natural-looking eyelashes!
Some of the best professional eyelash extension kit products don't stay on very long and that can be so frustrating.
And if you suffer from small lashes, using mascara to hide short eyelashes simply won't give you the look most women desire.
Professional eyelash extension supplies give you a more permanent solution and are the best false eyelashes to solve the problem.
The cost of the best eyelash enhancers is very affordable, so why not choose the top brands?
What are eyelash extensions?
Eyelash extensions are short-term strands that are applied to your natural eyelashes using the best professional eyelash extension tweezers to make them appear longer, thicker, and darker.
Individual lash extensions are put to each of your individual natural eyelashes using a semi-permanent adhesive (one extension per natural eyelash).
Depending on the beauty studio, lash extensions can be composed of synthetic, mink, fake or real mink lashes individual, or silk fibers.
Most salons provide a choice of extension lengths, curl patterns, and tints to allow clients to personalize their style.
c curl vs d curl
C curl is the most popular curl and produces lashes that seem like they were curled using an eyelash curler.
D curl is for those looking to create the most dramatic effect. It creates doll-like lashes. D curls can provide lift in areas that require it.
CC curl is the perfect in-between curl, and creates the ideal curl between C and D curls.
See also… Best eyelash curler for straight lashes
Different type of eyelash extensions
Eyelash artists work with three types of eyelash extensions materials: mink, silk, and synthetic.
These silk, mink, or lightweight synthetic lashes are then placed directly onto natural lashes as eyelash extensions. A trained beautician will apply eyelash extensions with semi-permanent glue.
Furthermore, the extensions are generally put to the top lash line, either in "clusters" or "fans" or separately.
Natural-looking eyelashes extensions
Eylure Naturals are the ideal choice for natural, delicate, and stunning lashes, whether you're a first-time false lash user or a seasoned pro.
Eylure Naturals False Lashes, Style No. 003, Reusable, Adhesive Included, 1 Pair
First Time Users - Great for anyone who is not experienced with false lashes, natural fullness and length Eylure lashes are super easy to apply and wear all day!
Lightweight and Natural - Add subtle fullness and extra length to your lashes and achieve a natural, beautiful lash line with our wonderfully lightweight fake lashes
No Irritation - Included lash glue is non-irritating and won't cause itching or puffiness, allowing you to easily wear your lashes all day
Enjoy a naturally full lash line with just the right amount of length with this easy-to-apply and lightweight mascara.
The simple lash adhesive will not bother your eyes or create puffiness, and the natural fake lashes are as light as a feather, allowing you to wear them all day. Reuse your lashes to get the most out of your false lashes.
When you need more fullness and length but prefer a more natural look, Eylure Naturals lashes are the way to go.
Most eyelash studios have a preference for the sort of lash extension they use and will not always ask you whether you have one.
So, if you're vegan or allergic to cats, make it clear that you don't want mink lash extensions.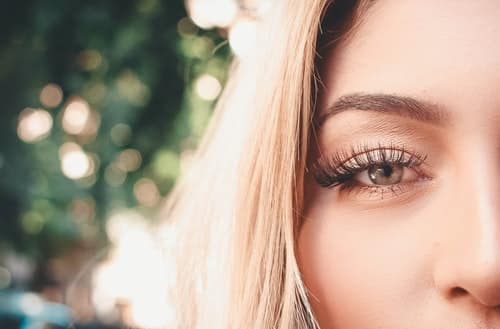 No lash extension type lasts longer than another. Mink and silk lashes offer a more natural appearance, while synthetic lashes can be thicker and darker. This makes them more suited for people who prefer a stronger look.
When wearing eyelash extensions for the first time, you may be concerned about artificial effects or allergic responses.
This is why, in order to get the desired look, you must evaluate all of the criteria before deciding on the best professional eyelash extension kit for you.
What is a volume tweezer?
A volume tweezer is a type of tweezer that is specifically designed for use with eyelash extensions. A volume tweezer has a thin, pointed tip that allows them to easily grab and hold small lash extensions.
The benefits of using a volume tweezer include that they are precise and easy to use, and they help to ensure lash extensions are applied evenly and securely.
What are classic lashes?
There are many different types of classic lashes, but they all have one thing in common: they are all beautiful! Classic lashes are the perfect way to add a touch of glamour to your look, and they are also very versatile. You can wear them with a casual outfit or a more formal one, and they will always look great.
If you are looking for a more natural look, then classic lashes are the way to go. They will add length and volume to your lashes without looking too fake.
If you want to add a bit of drama to your look, then you can opt for a thicker and longer classic lash. This will give you a more glamorous look that is perfect for a night out.
Classic lashes are a great way to enhance your natural beauty, and they are also very easy to apply. You can find them in many different colors, so you can find the perfect shade to match your skin tone and hair color.
Classic lashes are a great way to add a touch of glamour to your look, and they are also very versatile. You can wear them with a casual outfit or a more formal one, and they will always look great.
Also, see… Are eyelash extensions bad?
What are isolation lash tweezers and how do you use them?
An isolation tweezer is a type of tweezer used to isolate a small area of skin. They are usually made of stainless steel or plastic and have a small, sharp tip.
To use isolation tweezers, you will need to first disinfect the area you will be working on. Next, you will need to gently insert the tips of the tweezers into the skin.
Once the tips are in the skin, you will need to carefully pull the tweezers apart. This will help to isolate the area of skin you are working on.
Finally, you will need to use a sharp object to carefully remove the isolated area of the skin.
What are Cat Eye Eyelash Extensions?
Cat eye eyelash extensions are a popular beauty trend that enhances the natural shape of your eyes, giving them a sultry and captivating look.
This specific technique involves applying cat eyelash extensions to the outer corners of the eyes, creating an elongated and lifted appearance that resembles the alluring cat eye style.
The cat eye style is achieved by applying longer extensions to the outer edges of the eyes, while gradually shortening the length as you move inwards. This creates a beautiful, upward-sweeping effect that accentuates your eye shape and adds a touch of glamour to your overall look.
Cat eye eyelash extensions are suitable for various eye shapes and can be customized according to your personal preference.
Whether you want a subtle enhancement or a dramatic transformation, cat eye style eyelash extensions can help you achieve your desired look.
Don't hesitate to consult a professional lash technician to discuss the best options for your unique features and desired outcomes.
What are volume fans?
If you're looking for a way to add volume to your eyelashes, you may want to consider using a fan. There are a variety of different fans on the market, and each one has its own set of benefits.
One type of fan is the electric fan. This type of fan is easy to use and can be found at most beauty supply stores. Electric fans work by using a small brush to apply pressure to the lashes and then release the pressure to create a volumizing effect.
Another type of fan is the manual fan. Manual fans require a little more effort to use, but they can be just as effective as electric fans. To use a manual fan, you'll need to hold the fan close to your lashes and then use a back-and-forth motion to create volume.
Whichever type of fan you choose, be sure to follow the directions carefully to avoid damaging your lashes.
Lash Extension Kits
We're all pretty familiar with fake lashes, but many of us have previously avoided using these lash enhancers for one key reason: they're a hassle to apply. They used to be, at any rate.
Thankfully, we've progressed well past the days of sewing them onto our lids, and we now have more alternatives than ever to get a fuller look with our lashes.
VAVALASH Ellipse Eyelash Extensions
LANKIZ Eyelash Extensions
LASHVIEW Ellipse Eyelash Extensions
Eyelash extension length guide
This eyelash extension length guide video will help you see the different types of lash extensions, curls, and lengths that are available.
Learn how different types of lash extensions work, how to apply individual lashes professionally, and allow yourself endless lash creativity.
How to apply individual lashes professionally
Eyelash extensions are put one at a time with care, using a specially designed semi-permanent adhesive that will neither irritate nor harm the native lash. 
"Between 90 -150 lashes are applied to each eye during the eyelash extension process."
The eyelash is only applied to an existing lash using the best professional eyelash extension tweezers. Here's what you should expect:
Consultation
Prior to application, the clinician will discuss all of the potential side effects and advantages of getting eyelash extensions.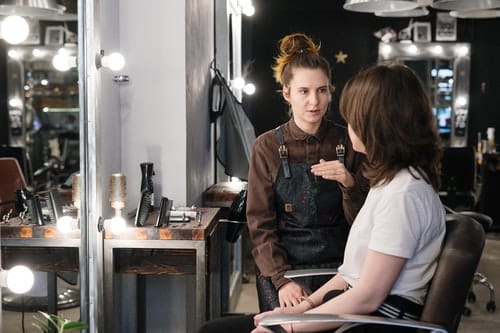 If you are sensitive to certain types of chemicals or adhesives, your beauty expert will on the best eyelash extension glue for allergies, to suit your needs.
Decide on the length of the extension and the strength of the curl
Your lash professional will begin by asking you what type of appearance you want, whether it's more glamorous or more natural.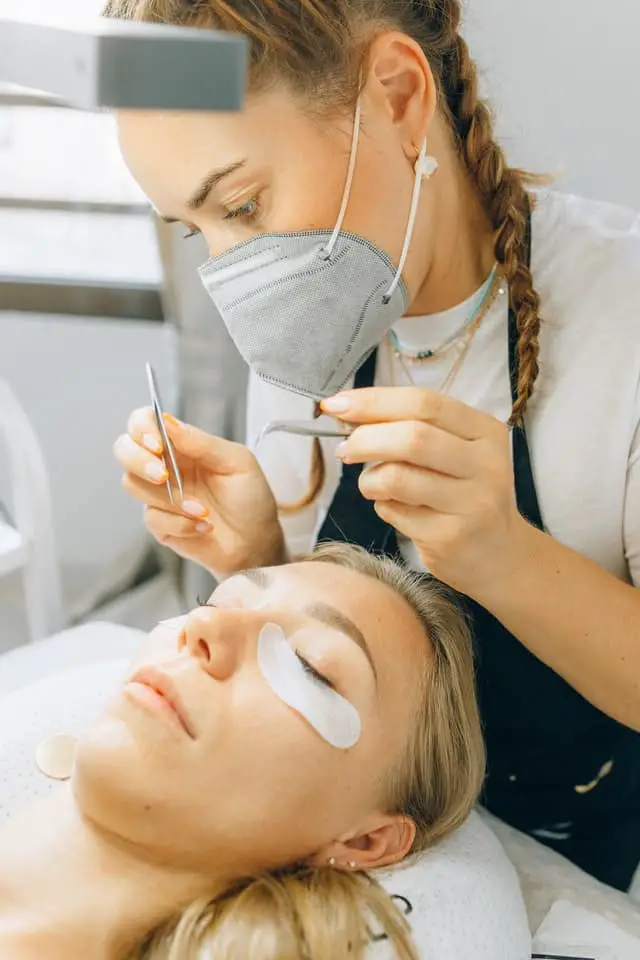 You'll select an optimum length and curl strength for the extensions according to your desired look.
Understand that your artist may choose to utilize up to four distinct extension lengths, with larger extensions concentrated on the outside corners and lesser extensions concentrated on the inner eyes.
Applying Tape and Eye Gels
You will be required to keep your eyes closed for the length of the procedure, which usually takes 1-2 hours depending on the number of extensions being applied.
To prepare for the application, your lash artist will apply an under-eye gel to your lower lash line to keep your lower lashes out of the way and offer a contrasting background to work with.
The eye gels will then be fastened with tape on both sides of the eye.
Application Procedure
Your lash artist will use tweezers (see best eyelash tweezers for extensions) to dip the end of each extension in the lash adhesive and then apply it to your individual lash.
In most cases, one eyelash extension is put per natural lash; however, for more voluminous effects, numerous extensions per natural lash may be required.
The application isn't painful, although you might be nervous about having tweezers that close to your eyes when they're closed. (See Extra Strong Eyelash Extension Glue)
Drying
Although the eyelash glue dries quickly, the eyelash artist will most likely have you sit for 15 minutes once all of the extensions have been put.
Sometimes a portable fan is used to speed up the drying period of your extensions.
Final step
After your lashes are totally dried, under-eye gels and tape are removed.
Next, your lash artist will most likely brush them through with a spooly, and you will be urged to slowly blink your eyes wide.
How to make your eyelash extensions last longer
Use an Eyelash Sealer
Clean and Brush Them
Don't Use Waterproof Mascara With Extensions
Sleep on Your Back
Schedule Regular Fills
Starting a lash business from home
Do you have a passion for beauty products and are thinking about starting your own lash business?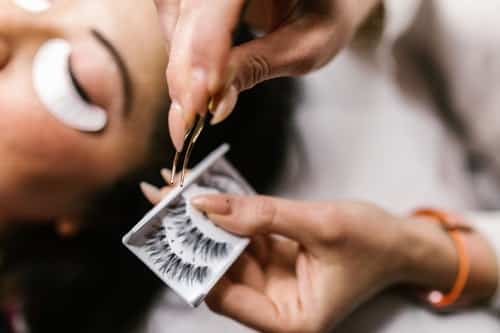 Consider this.
The lash extension industry is shattering expectations all over the place, on its way to becoming a $1 billion industry. Don't you want to be a part of that?
The time to start your own lash business has never been better. Lash extension companies are a fantastic alternative to starting from home since they provide flexibility that other job opportunities do not.
If you're currently trained in lash extensions or want to learn how to apply for extensions or raise lashes, consider being your own boss and watching this video below!
Best lash extensions near me
See some of the top lash boutiques around the United States! Whether you are looking for eyelash extensions for professionals and more, these eyelash business names are sure to please!
Best eyelash extensions in Philadelphia
Lash Extensions
Eyelash Service
Cheap Eyelash Extensions
Eyelash Lift
"We use Keratin-based products that will help to maintain strength and prevent damage, such as dryness and breakage, to lash and brow hairs."
Lucia Lash/Brow is an appointment-based salon located at 528 Walnut St Ste 522, Philadelphia, PA 19102.
Family ran local business staffed with licensed & experienced technicians, offering our own brand of high-quality lash products since 2016.
Located at 1126 Walnut Street Second Floor, Philadelphia, PA 19107.
Bella Vista Lash Lounge
Offering semi-permanent eyelash extensions are carefully applied one by one to your natural lashes. Specializing in professional lash extension services.
Located at 529 Washington Ave, Philadelphia, PA 19147.
Best eyelash extensions in New York City
People also searched for these in New York:
Eyelash Lift
Eyebrow Threading
Dazzling Lash Bar
"Inspired by the magical power of lashes, Dazzling Lash Bar has treasure hunted for the highest quality materials, curated the most beautiful customizable styles, and perfected the coveted intricate technique of Russian volume handmade bouquets."
Located at  247 W 38th St #1604, New York, NY 10018
The Lash Loft Flatiron NYC
"The Lash Loft specializes in eyelash extensions. Our technicians are true artists and their work is simply amazing. Choose from "Classic", "Hybrid", or "Volume" application options, available in both "Natural" and "Glamour" looks."
Located at 34 E 20th St #2, New York, NY 10003
Ebenezer Eyelash Extension
"At Ebenezer Eyelash, our team of committed lash technicians has been providing the highest quality lash extension treatments for more than a decade."
Located at 1006 6th Ave 2nd Floor, New York, NY 10018
Best Eyelash Extensions Products
Sale
Bestseller No. 1
LASHVIEW Eyelash Extensions,Individual Lashes, Premium Single &Classic Lashes,0.15 Thickness C Curl 8-15mm Mixed Tray,Natural Semi Permanent Eyelashes,Soft Application-Friendly, Lashes
GREAT MATERIAL: The eyelashes made with Black PBT Material from Korea and handmade.As Korean silk lashes are so soft and light,it's the best choose for eyelash extensions.
EASILY REMOVABLE: The lash is easily removable from the tranfer strip, and the paper strip layer is easily removable from basis. Have no animal testing, and have obvious waterproof effect .
NATURAL EFFECT: C curl lashes extremely soft, makes the lashes slightly curlier than own lashes, it shows more natural.
Bestseller No. 2
ALLOVE Eyelash Extension Volume Lash Extensions 0.03mm D Curl 15-20mm Mixed Tray Easy Fan Lash Extensions Rapid Blooming Self Fanning Volume Lashes
Easy Fanning&Save Time - ALLOVE lash extension easy fan volume lashes can afford to making fans at one second, now you can choose a better way to save time for 30%, and serve more customers in the same amount of time.
No Residue & Zero Waste - There is no broken lash and glue remaining on the strip of eyelash extension. ALLOVE volume lash extensions will not stick to each other and you can make the most of each lash on eyelash extensions.
Stable Curl&Standard Size - ALLOVE easy fan lash extensions are all handmade and can keep its curl more than a year. The fan lashes will not be flatten at a water temperature of 194℉. Professional and skillful technicians made lashes whose length, thickness, and curl is up to market standards. Each box of volume lashes must undergo strict quality inspection.
Sale
Bestseller No. 3
Sale
Bestseller No. 4
Lash Clusters DIY Eyelash Extensions 72 Clusters Lashes C D Curl B&Q LASH Mega Volume Individual Lashes Eyelash Clusters Extensions Wispy Lashes Cluster DIY at Home (NM-D-8-16MIX)
【Lash Clusters DIY at Home】: 72 clusters in one tray. You can apply cluster lashes at home by yourself, and create a recent super popular manga effect. Easy to put lashes on, gorgeous results, and lash clusters are not easily fall apart. Clusters take less time to complete each eye. Now save so much money and time.
【Great Quality】: B&Q cluster lashes look real, not plasticky, gorgeous results, and lash clusters do not easily fall apart. They are reusable with proper care. Easy to take off and these individual eyelashes will not be broken when getting them off the backing with tweezers. The lash cluster extensions last for weeks. Soft, lightweight, vegan, knot-free, and matte dark.
【Suitable to Wear】: Use a tweezer to pinch the band of cluster eyelashes and apply lash clusters below your natural lashes. You can barely feel the cluster lashes. The bottom of the clusters is flat and hardly noticeable. The lash band part will not stab your eyelid area when you blink. Bring you a perfect experience during lash application.
Sale
Bestseller No. 5
Eyelash Extension Supplies Kit for Professionals 1 Mini Fan Lash Dryer,Lash Extension Silicone Pad,2 Tweezers,Tapes,10 Under Eye Gel Pads,50 Mascara Brush,100 Micro Applicator,100 Glue Ring (Pink B)
【What You Will Get】 The package contains 266 pieces of eyelash extension supplies,including 1 piece of USB air conditioning blower,1 piece of straight tweezer and 1 piece of curved twezers,50 piece disposable eyelash mascara brush,100 piece disposable micro applicator,100 piece glue ring holder,2 piece lash extension tapes,10 pairs under eye gel pads,1piece lash extension silicone pad.
【Handheld Size】The eyelashes dryer fan is about 12 × 7.2 × 1.5 cm/4.7 × 2.8 × 0.6 inch, compact in size and light in weight,easy to carry and store,won't take up much space,the built-in lithium battery,equipped with the USB charging cable,very convenient to charge,you can carry it around you for travelling or business trips in your pocket or bag,and apply it anytime and anywhere.
【Rechargeable Cooling Fan】this USB rechargeable cooling fan is designed without blades,which is safe enough,the built-in cooling system can blow out cold air to help the glue grafted eyelashes dry quickly,there is a T-shaped bracket on the back,which can stand on the table to help nail glue dry quickly.
Support FitFab50 by using the links in my articles to shop. As an Amazon Associate and other brands, I receive a small commission (at no cost to you) on qualifying purchases which enable me to keep creating amazing free content for you. Thanks!
If you enjoyed, Best Eyelash Extensions Brand Reviews, be sure to review other related articles below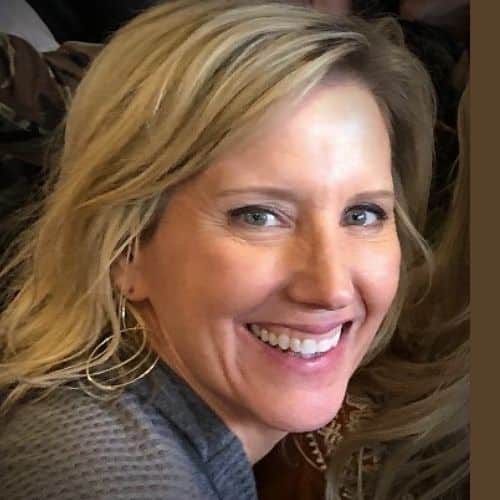 Claudia Faucher is a full-time fitness training expert and lifestyle blogger. She is also been a certified Les Mills BodyPump instructor for the past 5 years and a fitness instructor for over 20 years. Claudia is a personal trainer and creates fitness training programs for seniors and people of all ages. She likes to use her skills and experiences to help others on their fitness journeys.
Last update on 2023-11-28 / Affiliate links / Images from Amazon Product Advertising API