It's a new year and yes, the start of the new season of denim trends. Nothing is closer to the heart and more exciting than jeans styles for women. What style of jeans are in?
In this post, we will share the latest trends in denim, and how to look your absolute, stunning best!
As an Amazon affiliate, I may receive a commission for qualifying purchases
One of the most popular fashion staples every woman should have in her closet, besides that classic white tee (of course), is a pair of stylish jeans. While the denim trends featuring skinny ripped jeans, and pleat-fronts are not going away anytime soon, the 2021 jeans trends bring some fresh options.
Jeans Trend 2021
Don't toss out your favorite pair of jeans just yet! Denim styles 2021 should be used as a guide to compliment your current wardrobe with fresh fashion trends, not replace it.
Recent retailer data show a dramatic spike in denim sales. As more people take advantage of work from home arrangements, the "normal" workplace attire has taken a major shift to more casual clothing.
Where jeans were once popular mainly for weekend attire, we're seeing all styles of denim pants growing in sales across the board.
The styles trends for jeans this year is incredible. While I will never give up my skinny jeans, here are some very cool styles worth checking out:
This jean steals a few style design elements from, what for it, your boyfriend's jeans. There are so many low rise jeans styles to choose from. The result is a super comfortable and relaxed fit you won't want to take off! In considering what styles of jeans are in, this comfy-cool jean boosts a wider leg design for that unique fashion statement, that's all yours. Boyfriend jeans are primarily designed with a classic low rise fit and are relaxed through the thigh area, widens near the ankle area to elongate the appearance of your legs, and display your footwear.
60s-inspired vibe patchwork denim is all the rage. Here are some great patchwork jeans styles. This patchwork denim trend features multi colored denim panels for that unique and eye-catching style.
Slim bootcut jeans feature a slim thigh down the leg with a slight taper out around the bottom, permitting for a boot or boot style footwear to comfortably fit underneath. These jeans put a modern twist in a slim design to this traditional work clothing classic.
High waist jeggings are the fashionable play on the popular leggings style trend and denim skinny jeans. Great fit, super comfortable. Come in a variety of colors and patterns.
Super trendy, 60's and 70s-inspired nostalgia for patchwork denim style. Funky and fun jeans with these wide-leg jeans. Ultra high-rise waist, twisted inseams, and flared cuffs. When thinking about what style of jeans are in, it interesting how cyclical fashion really is. Feather and fading details add vintage character to this style.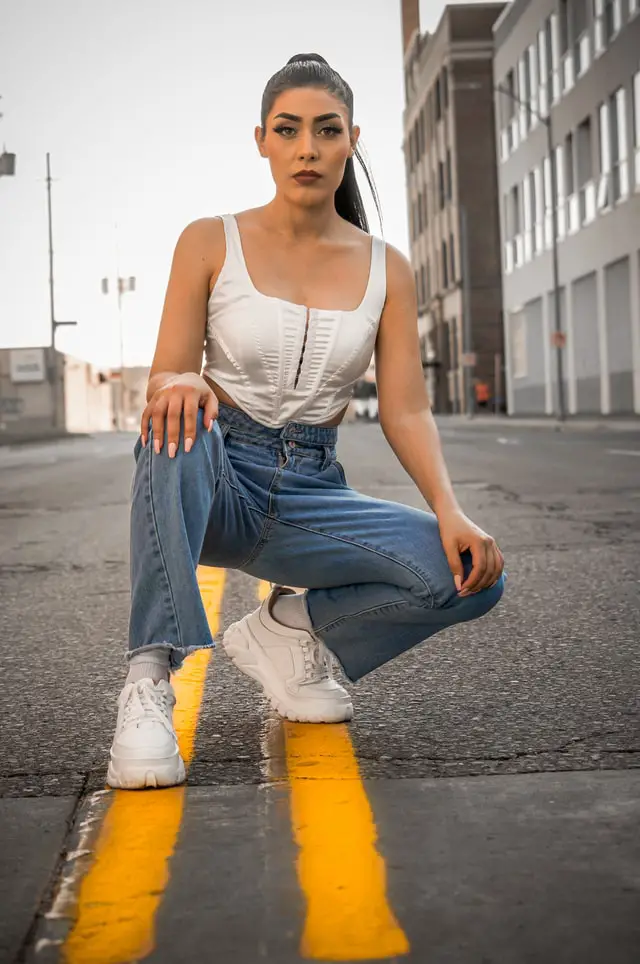 High Waist Ankle Straight Leg Jeans
Classic ankle jeans with a slim cut are shaped from classic-wash denim that's softly sanded and whiskered for a broken-in look. The fit is slim through the leg and straight at the bottom. A high waist provides extra comfort. If you still have questions about what style of jeans are in, the classic ankle jeans never left the table! Love them.
This low rise jean is slim through the waist and thighs. Super stylish. Perfect for summer fashions. Low rise site on the. Skinny leg openings. When shopping for what style of jeans are in, slim and skinny jeans come and go quite often. But for now, there are definitely front and center.
Mom jeans are super comfy, made with a high-waisted design, relaxed fit, and vintage-inspired textures and colors you'll love for everyday wear. Great styling, great fit… High rise Mom jeans are so awesome, you'll not want to take them off.
High rise super flare stretch jeans
Stretching knit construction as the style of a jean meets the comfort of sweats. High rise stretch flare jeans provide total comfort – makes this a great choice for all day wear. Flexible construction move with you for great fit and feel.
---
What are the most popular womens jeans?
What styles of jeans are in? Can someone please tell me what to wear? These fashion questions are quite common, but the answer is very simple.
Keep what you love to wear! The number one rule of fashion is to wear clothes that give you confidence!
Your clothes should boost your self esteem meaning don't wear clothes just because they were on the latest hotlist when you feel terrible going out in them! Clothes can impact your confidence, so look good and feel good!
Cheap Jeans Online Womens
Where can I buy cute jeans online? With the exploding popularity of denim clothes, it should come as no surprise that the number of jeans stores has spiked as well. This works out great for us the consumer.
In business, more competition typically means lower prices. And this is exactly the case with the best prices for jeans.
Where can I buy good jeans for cheap? If you are looking for cheap jeans online womens, the selection of style trends and the quality of jeans are incredible.
Where is the best place to buy jeans online? ShopStyle is one of my favorite sites for the widest range of women's brands and fashion designers. They also feature pre-owned fashions and rentals as well!
---
Our Top Jeans Looks
Low Rise Jeans and Classic Tee
Just when it appeared they were on the way out, low rise jeans are making a strong comeback! While low rise denim jeans may not be for every body type, the latest low rise styles are super cute and offer a ton of great fashion options.
Women's Tuesday Low Rise Slim Bootcut Jean
You might also be interested in these items
Skinny Ripped Distressed Jeans With Heels
What a super chic look! Just love a casual outfit with jeans and heels. Distressed jeans can be dressed down or dressed up to meet your fashion needs. These classic destroyed jeans are the perfect piece for daily wear or a night out on the town.
Women's Stretch Skinny Ripped Distressed Jeans Classic Destroyed Hole Jeans
You might also be interested in these items
Womens V Neck Crochet Lace Strappy Cami Tank Top and Low Rise Skinny Jeans
You may also be interested in
Be sure to check out Cute Field Jackets for Women!