Thanks to all the latest weight loss plans promoting high protein diets, you could be wondering what happens if you take too much protein. In this article, I will discuss the importance of protein in our everyday diets as well as recommended protein level guidelines.
One's most advanced whey exceeding all expectations!
Faster delivery advanced hydrolyzed whey protein isolates
30 grams ultra-pure protein per serving supports your muscle building goals
What exactly is protein?
Protein is one of a complex group of molecules that do all kinds of jobs in your body. They make up your hair, nails, bones, and muscles. Why protein is important is that it gives tissues and organs their shape and also helps them work the way they should. In short, protein is one of the building blocks that make you into who you are.
Eating protein before or after workout
Protein plays an important role in repairing and rebuilding your muscles after exercise, and many people use protein shakes after their workouts to aid this process. I personally love protein powder pancakes.
However, research suggests it doesn't matter whether you drink a protein shake before or after your workout. Interestingly, your total daily protein grams per day intake is what matters most.
LEVELS WHEY PROTEIN: Each scoop of Levels Pure Chocolate Whey contains 24g Protein, 5.4g BCAAs (branched-chain amino acids), and no added sugars.
NOTHING FAKE: Levels Whey is naturally delicious.
SIMPLE & CLEAN: No fake chocolate flavor here.
While protein shakes around workouts and between meals are helpful, make sure you're getting enough throughout the day. Both foods and supplements can be added to your protein list to help you meet your goals.
For healthy people, there are little or no health risks associated with using protein shakes while following a high-protein diet.
Benefit of eating protein
Are you getting enough protein in your diet? While you may watch your calories and macros, sugar and salt intake, you should also make sure you are ingesting enough protein. For instance, there are 35 grams of protein 4 oz chicken breast and 6 grams of protein 1 egg.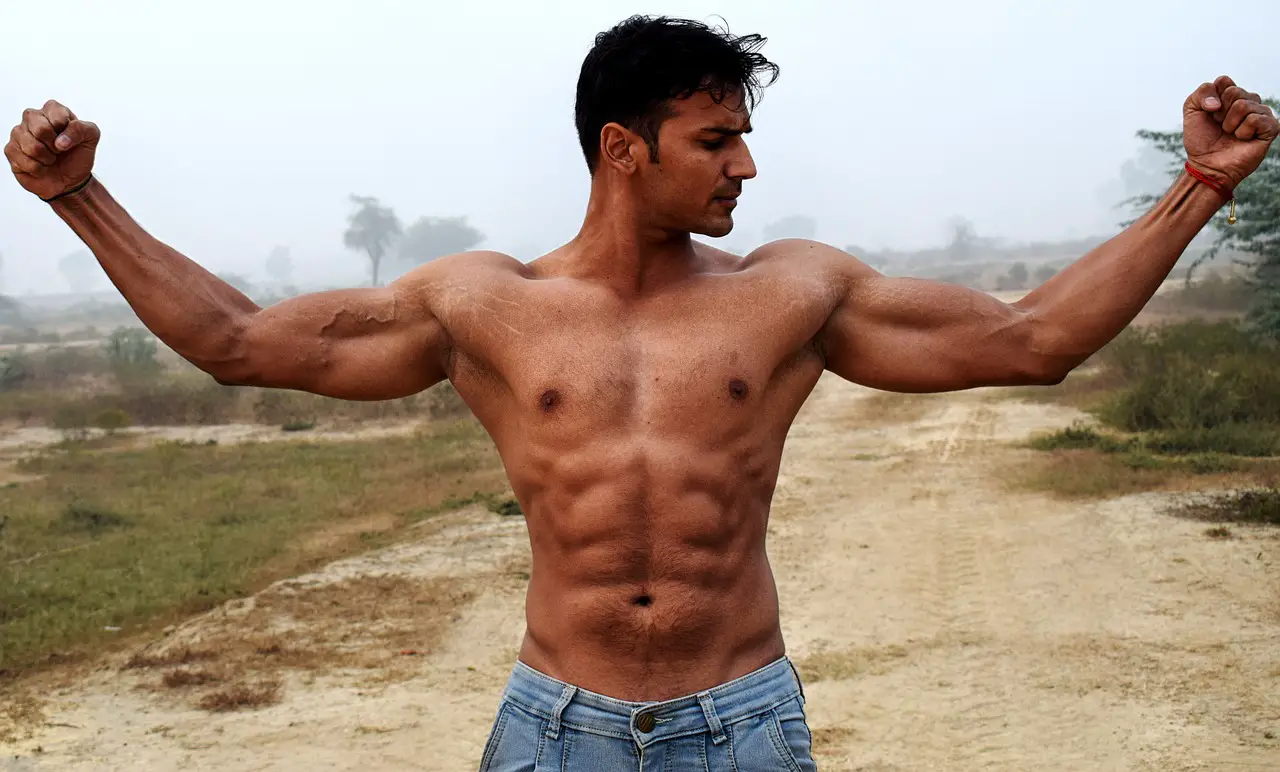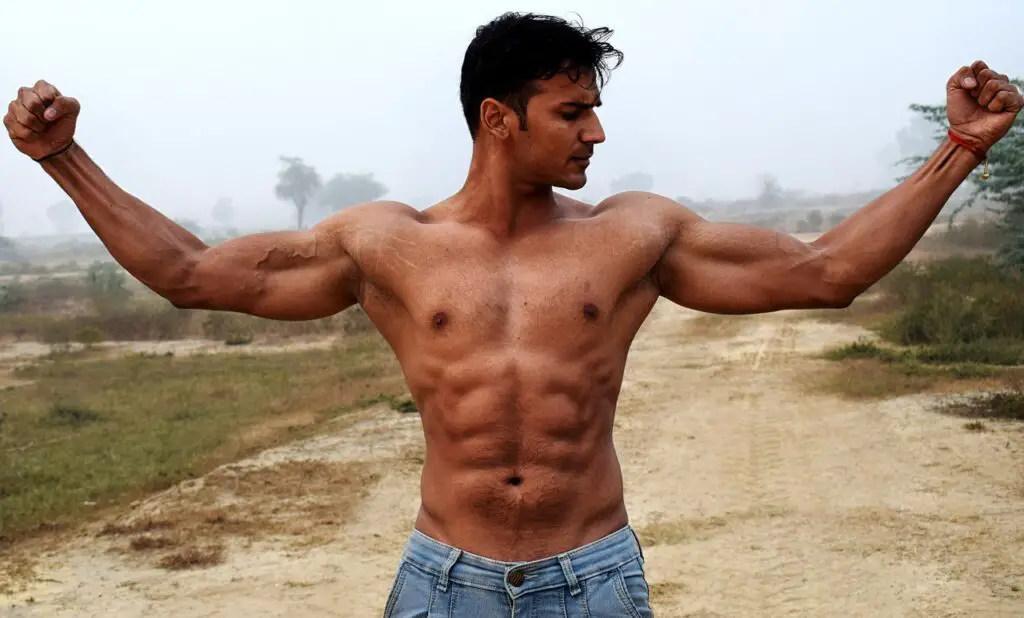 Protein plays a vital part in the creation and maintenance of every cell in our bodies. It fuels our cells and powers our bodies.
It is important for individuals to consume the proper amount of protein grams per day. Daily protein intake plays a role in keeping your cells in good shape and should be part of your daily health maintenance plan.
Protein is made up of amino acids, also known as building blocks. It is also considered a "macronutrient," because you need large amounts of it to stay healthy.
Why protein is important?
Humans cannot survive without all nine essential amino acids. Eating an adequate amount of protein grams per day is essential to building strong bones, and body tissues, such as muscles, however, protein does much more than that.
All-in-one nutritional protein shake with 20g complete protein
7 alkalizing greens, 9 nutrient-dense fruits and vegetables, 6 carbs, 0g of sugar, 3g of fiber.
Add one scoop to 12 Oz or more to your beverage of choice.
Protein is involved in practically every process of a cell. It plays a part in metabolic reactions, immune response, protein provides a source of energy, assists in cellular repair, form blood cells, and more.
What foods to eat to gain muscles?
The goal for competitive bodybuilders is to increase muscle mass in the bulking phase and reduce body fat in the cutting phase.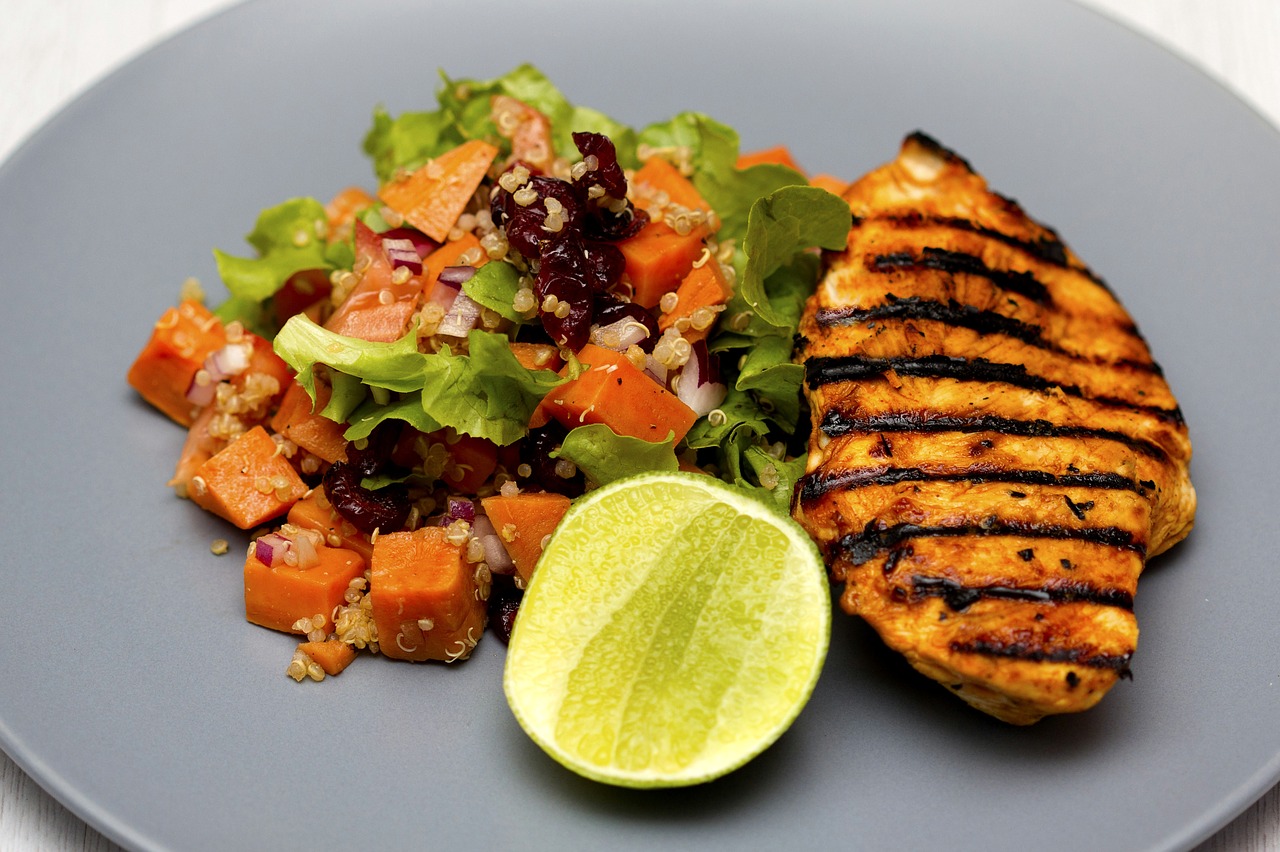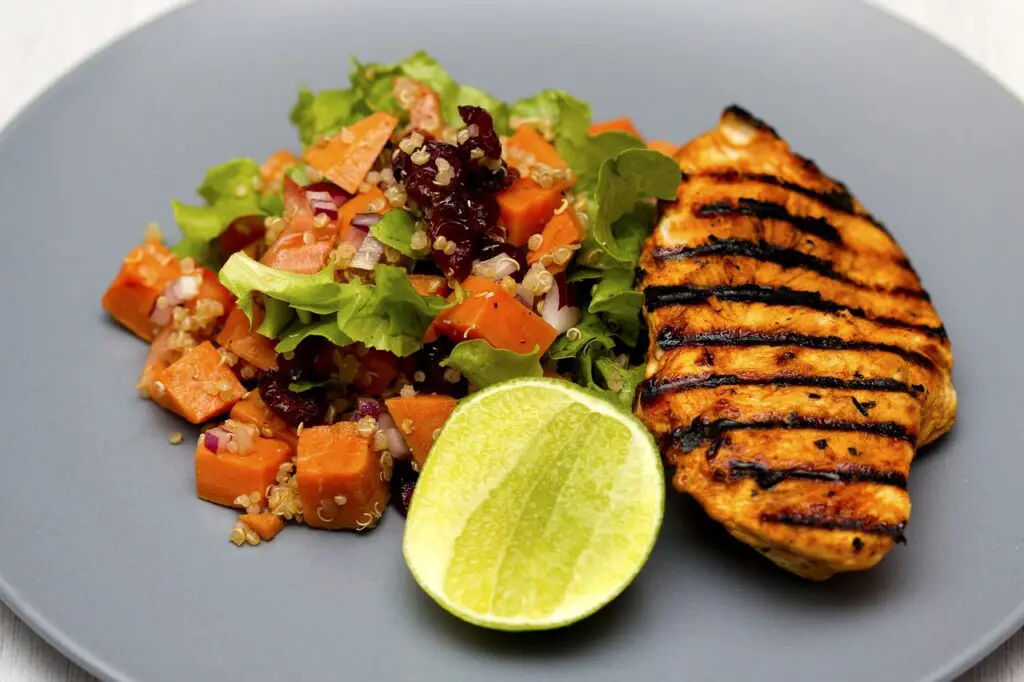 One thing to keep in mind – If your weight stays the same, the daily number of calories you eat is your maintenance calories — in other words, you're not losing or gaining weight, but maintaining it.
The foods you eat don't need to differentiate between the bulking and cutting phase — typically, it's only the amounts that do.
Foods to eat include (National Library of Medicine):
Meats, poultry and fish: Sirloin steak, ground beef, pork tenderloin, venison, chicken breast, salmon, tilapia and cod.
Dairy: Yogurt, cottage cheese, low-fat milk and cheese.
Grains: Bread, cereal, crackers, oatmeal, quinoa, popcorn and rice.
Fruits: Oranges, apples, bananas, grapes, pears, peaches, watermelon and berries.
Starchy vegetables: Potatoes, corn, green peas, green lima beans and cassava.
Vegetables: Broccoli, spinach, leafy salad greens, tomatoes, green beans, cucumber, zucchini, asparagus, peppers and mushrooms.
Seeds and nuts: Almonds, walnuts, sunflower seeds, chia seeds and flax seeds.
Beans and legumes: Chickpeas, lentils, kidney beans, black beans and pinto beans.
Oils: Olive oil, flaxseed oil and avocado oil.
What macros for weight loss work best?
Each macro is used a little differently by the body, and understanding how each one supports your daily health and fitness needs is key:
Carbs are your preferred source of quick energy, and excess carbs can be stored in your muscles for fuel or as body fat.
Fat is your source of long-term energy, used as immediate fuel or stored as body fat.
Protein is the builder macro, used to build and maintain a majority of the cells throughout your body, including your DNA, bones, and muscle mass – any excess protein can be used as energy or stored as body fat.
Protein is the most unique of all macros because it is not a preferred source of energy and is the least likely to be stored as body fat.
Do protein shakes suppress appetite? Protein also helps maintain your lean muscle, takes more energy to digest, and is thought to help control hunger and reduce cravings.
Here is an easy-to-use macro calculator that shows your optimal macronutrients and calories based on your age, height, weight, gender, and activity level.
It serves as a weight loss calculator or a muscle gain calculator. Use your results with macro dieting, flexible dieting, or IIFYM to reach your goals faster.
How much protein do women need?
According to the Dietary Reference Intake report for macronutrients, an average adult should consume 0.8 grams of protein per kilogram of body weight, or 0.36 grams per pound. Hence, the protein requirements for women on average are about 46 grams, which comes out to about one cup of diced chicken.
Does protein grow muscles? How much protein do men need?
According to Mark Tarnopolsky, M.D., Ph.D., who studies exercise and nutrition at McMaster University in Hamilton, Ontario, highly trained athletes thrive on 0.77 grams of daily protein per pound of body weight. That's 139 grams for a 180-pound man.
Men who work out 5 or more days a week for an hour or longer need 0.55 grams per pound. So a 180-pound guy who works out regularly needs about 80 grams of protein a day. Some sources recommend state the protein needed to gain muscle is closer to 1 gram of protein per pound of body.
Eating protein for weight loss
A higher protein intake actually increases levels of the satiety (appetite-reducing) hormones and reduces your overall hunger, which lowers your daily calorie consumption.
Because protein has a much higher thermic effect, a high protein diet tends to boost metabolism.
Protein can have a large effect on both cravings and the desire to snack at night. Again, protein makes you feel fuller longer, resulting in less hunger and overall reduced calorie consumption.
Eating protein only
As crazy as it sounds, yes, you can lose weight while eating steak, burgers, cheese, and bacon. High-protein, low-carb plans like Atkins and the Zone are very effective. However, you should consider the pros and cons before you decide to try one.
Women need at least 46 grams of protein a day — men about 70-80 grams per day. With a high-protein diet, it can be much more than that. This extra protein can come from beans, meat, nuts, grains, eggs, seafood, cheese, or vegetarian sources like soy. These diets often restrict carbs like cereals, grains, fruits, and possibly vegetables.
When you eliminate carbohydrates, you lose weight quickly because you lose water. With these extra carbs, the body begins burning more fat for fuel, which can lead to ketosis.
Ketosis may make losing weight easier because you feel less hungry. This can cause temporary headaches, irritability, nausea, bad breath, and sleeping problems for some people.
The best high-protein diet plans focus on lean proteins and include some carbs. Avoid huge servings of fatty meats and make sure to include vegetables.
Can protein shakes cause constipation?
In some people, protein powders can cause constipation and/or bloating based on the type of protein and sugars used.
If constipation is the issue, using a protein powder with fiber may help. If you experience bloating, it may be that you are sensitive to lactose (milk sugar). Be sure to carefully read the ingredient labels.
Many whey protein isolate formulas add an over-the-counter lactase supplement. So be sure to read the labels if you are experiencing discomfort.
Some people have reported using a blender to mix the protein powder causes the problem of gas.
Consider using a shaker bottle to mix your meal replacement by hand. This will reduce the amount of air in the drink and help with gas.
Which is the best protein powder?
You don't need to be a hard-core gym-goer to use protein powder in your diet. It's true that it helps build muscle, but the right protein powder is capable of doing much more.
Protein is an important macronutrient that boosts your immune system, keeps your internal organs functioning properly, and helps control your appetite.
With so many options out there, this is really a topic for an entire article. The two major categories are plant-based protein and animal-based protein.
Next are the sub-categories of protein powder:
Protein concentrates: Contain 60 to 80 percent protein, with the remaining 20 to 40 percent being fat and carbohydrates. They're created by using heat and acid or enzymes on whole foods to extract the protein.
Bestseller No. 1
BulkSupplements.com Whey Protein Concentrate - Low Calorie Protein Powder - Flavorless Protein Powder (1 Kilogram - 2.2 lbs)
🩹 AIDS MUSCLE RECOVERY* - Whey Protein Concentrate is a protein supplement that may aid in muscle recovery after strenuous exercise.* Our whey protein is pure protein powder, with no additives, fillers or flavorings. Use it with ease in smoothies, pancakes, shakes and endless recipes.
💪 MUSCLE GROWTH - Whey Protein Concentrate is widely used in the athletic and bodybuilding communities to support muscle growth when used in conjunction with exercise.* It has been used for years as a quick source of protein after workouts. Whey Concentrate is a low carb protein powder and sugar free protein powder.
✔️ SOURCE OF BCAAs - Whey Protein Concentrate is also thought to be a source of BCAAs, essential amino acids that are largely found in muscle tissues. The BCAA powder in Whey Concentrate is used primarily in the production of proteins and is used often by bodybuilders to gain muscle.*
🚫 SOY FREE - This Whey Concentrate is free of soy, fillers, additives and flavors, and is a lean protein powder that has been used for muscle growth and recovery.*
💙 MADE IN USA - Our Unflavored Whey Protein powder is made in the USA. Whey Concentrate is widely used as a high protein powder for post-workout recovery.*
Bestseller No. 2
Bestseller No. 3
Nutricost Whey Protein Concentrate (Vanilla) 5LBS
High Quality, Undenatured, Whey Protein Concentrate
5LBS of Whey Protein Concentrate Per Bottle
Delicious Vanilla Flavored Whey Protein Concentrate
Non-GMO & Gluten Free
Made in a GMP Compliant, FDA Registered Facility
Protein isolates: Contain less fat and carbs. Protein isolate powders contain 90 to 95 percent protein.
Here are the best selling whey protein isolates:
Bestseller No. 1
Dymatize ISO 100 Whey Protein Powder with 25g of Hydrolyzed 100% Whey Isolate, Vanilla 5 Pound
5 lbs of Dymatize ISO100 Gourmet Vanilla Protein Powder (76 Servings)
25 grams of protein, 5.5 grams of branched-chain amino acids (BCAAs), and 2.7 grams of Leucine per serving. 1 gram or less of sugar and fat per serving
Scientifically formulated, fast-absorbing, hydrolyzed, 100% whey protein isolate. If your goal is gains in muscle size and strength, ISO100 is your perfect partner
Easy on the stomach, gluten free with less than 0.5g of Lactose. Sweeteners like sucralose, steviol glycosides are present
With 110-120 calories per serving, ISO100 can help support your keto diet, low carb diet or high protein diet. Add to your favorite recipe or high protein shakes!
Sale
Bestseller No. 2
Optimum Nutrition Gold Standard 100% Whey Protein Powder, Double Rich Chocolate, 5 Pound (Packaging May Vary)
Packaging may vary - New look, with the same trusted quality
Gold standard 100% whey blend – 24 grams blended protein consisting of whey protein isolate, whey protein concentrate, and whey peptides to support lean muscle mass – they don't call it the Gold Standard of quality for nothing
Over 5 grams of BCAAS – help build lean and strong muscles with BCAAs.Keep out of reach of children
3-4 grams carbs, 1-3 grams sugar, and 1-1.5 grams fat, gluten free, no sucralose in double rich chocolate flavor
Instantized – Improves mixability to prevent lumps and clumps
Bestseller No. 3
Nutricost Whey Protein Isolate (Unflavored) 5LBS
5LBS Of Pure, Unflavored, Whey Protein Isolate Powder.
68 Servings of the Best, High Quality, Undenatured, Whey Protein Isolate Per Bottle
30 Grams of Protein Per Serving (Scoop Included)
Non-GMO & Gluten Free
Manufactured In a GMP Compliant, FDA Registered Facility
Protein hydrolysates: Through the process of using heat with acid or enzymes, the amino acid bonds are broken down. This allows for quicker absorption. Hydrolyzed whey protein isolate is the best option for those athletes and sports enthusiasts that do intense, frequent training.
Bestseller No. 1
Rule One Proteins, R1 Protein - Chocolate Fudge, 25g Fast-Acting, Super-Pure 100% Isolate and Hydrolysate Protein Powder with 6g BCAAs for Muscle Growth and Recovery, 5 Pounds, 76 Servings
Our Flagship Protein Powder: 25 grams per serving of clean 100% whey isolate, fast-acting whey hydrolysate, over 6g of BCAAs and virtually nothing else.
Super-Pure Protein Sources: super-pure isolate/hydrolysate protein with no whey concentrates, creamers, gums, amino spiking, or other fillers – without sacrificing quality and great taste.
Fast Acting: Whey protein isolates and hydrolysates are great for athletes and body builders who are looking fast-acting Amino Acids for muscle repair and recovery.
Anytime Formula: works well first thing in the morning, pre workout or immediately after workouts, between meals, as a snack, or even a treat.
Clean Manufacturing: Our fast acting, super-pure protein is proudly made in our own state-of-the-art GMP certified facilities in the USA and produced clean, with no banned substances.
Bestseller No. 2
Whey Fantastic 5LB 100% Pure Grass Fed Whey Protein - Unflavored Bulk - Optimum Blend of Undenatured Whey Isolate, Concentrate & Hydrolysate - Non-GMO, Soy & Gluten Free - 75 Servings
A UNIQUE BLEND OF ALL THREE (3) WHEY PROTEINS FOR BETTER RESULTS - Our blend of whey protein isolate, concentrate and hydrolysate makes this the best protein for men and women wanting to stimulate muscle growth, manage weight and enhance recovery. Why settle for products with only whey concentrate? Maximize your results with Whey Fantastic!
FANTASTIC NUTRITION IN EVERY SERVING: Each 30g serving provides 25g of cold processed, undenatured whey protein with 5.8g of BCAAs, 1g of Fat, No Added Sugars and 1g of carbs.
TRANSFORM YOUR BODY: Scientific research indicates that adding a clean whey protein like Whey Fantastic, with its naturally occurring immunoglobulins, lactoferrin, and protein cofactors, to your daily regimen will help raise your metabolic rate, improve glucose tolerance and allow you to achieve your goals for a healthy fit body faster.
COMPLETELY NATURAL, GRASS FED, HORMONE FREE: Try a healthier cold processed, non-denatured whey protein that is free of synthetic growth hormones (no rBGH or rBST) and is higher in key nutrients. Strawberry Whey Fantastic is Gluten Free, Soy Free, Non-GMO and containers no flavors, fillers or preservatives, plus it's Keto and Paleo Diet friendly.
MIXES EASILY AND TASTES GREAT: Make fantastic clean high protein, low sugar pre- and post-workout shakes, smoothies and meal replacements for faster gains in lean muscle and improved recovery.
Bestseller No. 3
Rule One Proteins, R1 Whey Blend - Vanilla Ice Cream, 24g Fast-Acting Whey Protein Concentrates, Isolates, and Hydrolysates Per Serving, With Naturally Occurring EAAs and BCAAs, 5 Pounds, 68 Servings
High Quality Protein and Essential Amino Acids: 24 grams of 100% Whey Protein from whey concentrates, isolates, and hydrolysates with naturally occurring EAAs, BCAAs, and glutamine.
Three-Whey Blend Benefits: provides the perfect mix of nutritional quality, richer taste, creamier texture, and superior value for your dollar.
Fast-Acting: three fast-acting whey protein varieties that contain vital amino acids for muscle repair and recovery.
Anytime Formula: works well first thing in the morning, pre workout or immediately after workouts, between meals, as a snack, or even a treat.
Quality Manufacturing, Banned Substance Tested: proudly made in our own state-of-the-art GMP compliant facilities in the USA for safety and purity.
A whey hydrolysate will be advantageous to attenuate muscle damage and replenish glycogen quickly so that you enjoy a full recovery much quicker than with other types of whey.
However, if you're looking for a cheap protein, training just once-twice per week and you've got plenty of time in between workouts to allow your muscles to naturally rebuild, then whey concentrate or isolate is an option you can stick to. 
If you're dieting, choosing a whey hydrolysate post-workout will be advantageous to promote recovery in the presence of limited carbohydrates. It will help you maximize the muscle-building response with fewer calories, since it has a significantly higher leucine content compared to whey isolate.
If you're looking to increase your endurance and feel the effects of your high-intensity workouts, the choice is obviously a hydrolyzed whey protein isolate. 
What is the best protein meat to bodybuilding?
When considering what foods are protein rich, chicken and fish are bodybuilding staples, due to their high nutrient profile and low fat. However, every so often you want to let stick your fork into a thick piece of steak.
Let's remember, beef is high in protein and other nutrients that are essential to an active body. However, depending on the cut you choose, steak can quickly go from a best-in-show bodybuilding food to one of the worst choices you can make due to the calories and saturated fat.
Whether you're eating at your favorite steakhouse or choosing a cut from your local butcher, it pays to know your cuts of beef, especially if you're watching your calorie intake to get lean.
The most flavorful cut of beef is typically the one with the highest levels of saturated fat and calories.
Whether you're looking to build muscle or burn fat, one of the main sources of protein for bodybuilders tends to be skinless chicken breast.
You always see a bodybuilder eating chicken breast from their plate, Tupperware, or whether they go out for dinner simply because it is loaded with protein with very little fat or carbs.
No lean protein has a more respected reputation than chicken breast. Specifically boneless, skinless chicken breasts have consistently been at the top of the list of lean proteins to eat for fat loss.
In addition to being a fat-burning powerhouse, ½ chicken breast has just 142 calories and just 3 grams of fat.
What happens if you take too much protein?
People should normally eat 2 g of protein per kg of their body weight daily, long-term, without any significant side effects.
Some people, such as elite athletes, may be able to eat as much as 3.5 g per kg of body weight daily without any side effects.
Some research has shown eating more than 2 g per kg of body weight daily of protein for a prolonged period of time can cause health problems.
Symptoms associated with too much protein include:
digestion problems
dehydration
fatigue
nausea
irritability
headache
diarrhea
Additionally, some serious risks associated with eating too much protein include:
heart disease
blood vessel disorders
liver and kidney injuries
colon cancer