This post may contain affiliate links so I earn a commission. Please read my disclosure for more info.
If you have suffered through the embarrassment of smelly feet, you can totally enjoy reading my list of the 11 best mens slippers for sweaty feet.
Everyone loves wearing slippers! They are super comfortable, easy to get on and off, and warm.
But there's nothing worse than not being able to wear your favorite footwear because of foot odor!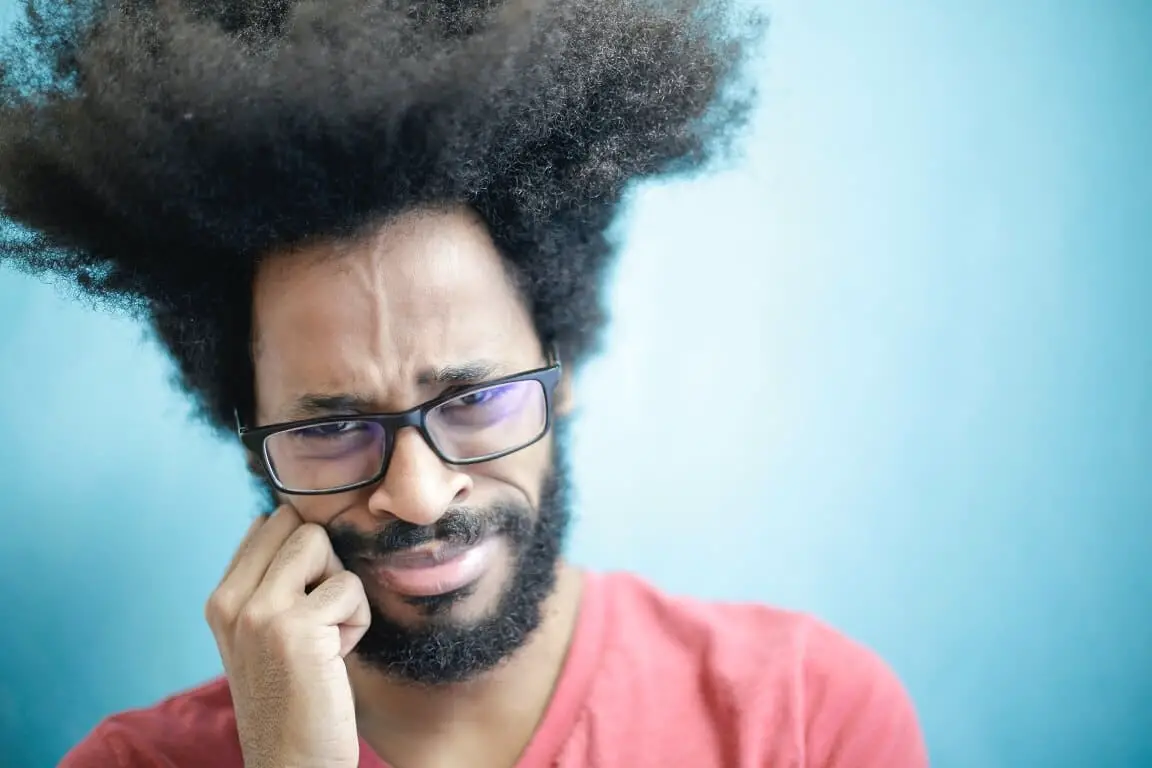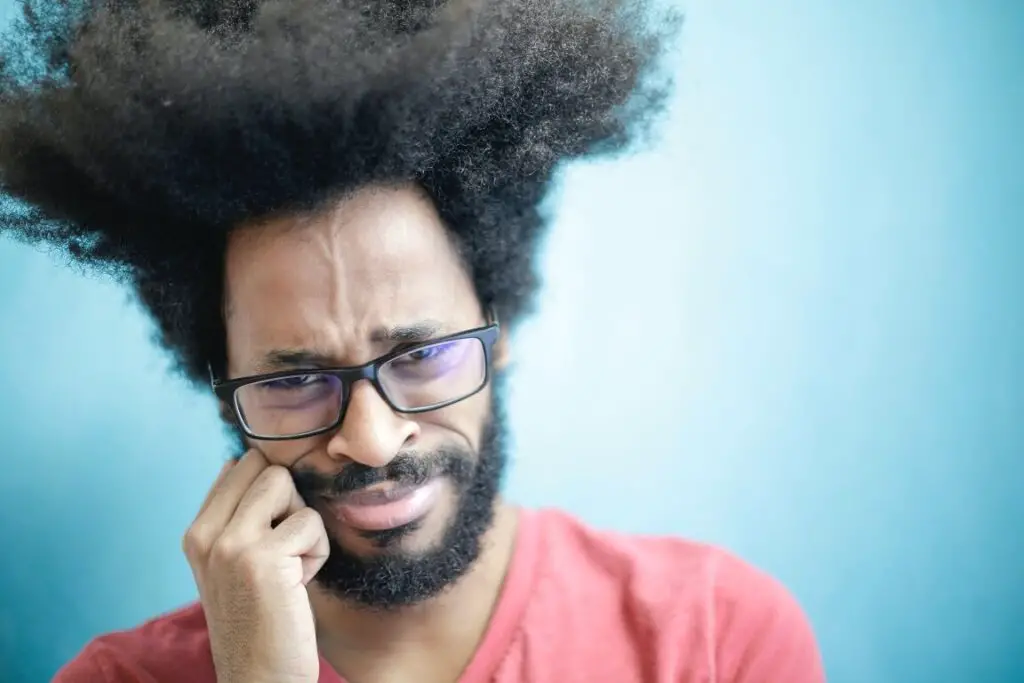 Sweeting feet got you feeling down?
It is common for people to have sweaty feet. So don't feel like you're the only one!
And nobody knows for sure what causes sweaty feet in some people.
Most people sweat when it's hot out, but stress, medications, and hormonal changes can also trigger your body to sweat more.
But excessive sweating can be caused by a condition called hyperhidrosis. Sweaty feet can also lead to other health issues, such as foot odor, athlete's foot, and toenail fungus.
How much do feet normally sweat?
The total amount of sweat we produce depends on the number of working sweat glands and their activity. This activity is regulated by nerves and hormones. Men sweat more than women. When all the sweat glands are working at maximum capacity, the rate of perspiration for a human being may exceed three liters an hour.
source – https://patient.info/skin-conditions/excessive-sweating-hyperhidrosis/sweaty-feet
Sweating is embarrassing. It stains clothes. It can also complicate, okay… ruin romantic moments and other social interactions.
But sweaty feet smell takes uncomfortable encounters to a whole other level!
If there was only a simple remedy for sweaty feet that didn't involve foot powders or sprays.
If I am describing what you experience on a daily basis, I have good news for you.
Most people are shocked that learn that some of the best slippers may cause excessive sweating. Unless your slippers are specially designed to reduce foot odor and excessive sweating, you may be wasting your money. These products can make your condition even worse!
In this buying guide, I share valuable shopping tips for slippers for sweaty feet men love!
Best Mens Slippers for Sweaty Feet [2021]
| Brand | Model | Shop Now |
| --- | --- | --- |
| RockDove | Two-Tone Memory Foam | |
| Amoji | Garden Clogs | |
| Walk-Hero | House Slipper | |
| LongBay | Classic loafer | |
| EVGLOW | Orthopedic Slippers | |
| ULTRAIDEAS | Slip-on Clogs | |
| UGG | Ascot1 Slipper | |
| HomeTop | Memory Foam Slipper | |
| Hanes | Indoor / Outdoor Clog | |
| Acorn | Fave Gore | |
| Hanes | Moccasin Slipper | |
Features & Benefits
What's not to love about slippers, right?
Without a doubt, wearing slippers has so many benefits. Below, you'll find a list with some of them:
Protect your feet from germs, bacteria, and dirt
Help you recover from serious foot injuries
Prevent excessive foot sweating
Provide additional ankle and foot support
And yes, they're softer than shoes and extremely comfortable!
---
The reasons I selected this collection as the best slippers for sweaty feet are as follows:
Each slipper is made with soft breathable materials.
Slippers are made with upper linings draw out uncomfortable foot moisture and regulate interior temperature. Moisture-wicking at it's best!
Feature indoor / outdoor sole for versatility
Quality construction for longer wear and usage
Many of my selections listed above offer great options for a variety of foot ailments, besides just preventing wet feet.
Are you suffering from sore feet from plantar fasciitis or flat feet?
Wearing slippers around the house can sometimes help sore feet.
So whether you shopping for slippers that control moisture or the best slippers for plantar fasciitis, I have provided details of each selection to help you in the decision-making process.
Let's dive into the details for each of the featured slippers!
Top 11 Mens Slippers for Sweaty Feet Reviews
Finding a pair of slippers for sweaty feet can be difficult. I have provided details to help you consider the best ones for you.
Stop wasting time trying sweaty feet home remedies! Spend your time reviewing my top 11 list below!
Sale
RockDove Men's Original Two-Tone Memory Foam Slipper, Size 13-14 US Men, Dark Gray/Blue
Easy on/off clog style slipper with a secure heel collar.
Waffle knit upper and plush lining keep your feet toasty warm all winter long, without making them sweat. Made of 100% vegan and machine washable materials.
Memory foam insole conforms to the contours of your foot for pillow soft comfort; pamper yourself after a long day at work, or that hard working husband or Dad in your life by giving his tired feet a well deserved rest.
Sale
Plantar Fasciitis Slippers for Men with Arch Support, Canvas Orthotic Slipper for Men with Fuzzy Wool Insole and Velvet Lining, Slip on Clog House Slipper with Indoor Outdoor Anti-Skid Rubber Sole
[ALL DAY FOOT CARE]: Skin-friendly and moisture-wicking velvet lining and fuzzy insoles which really make you enjoy the comfy wearing,feeling easily slip on whenever you want your feet relaxed; [When you get home, slip on these house slippers, totally relax your feet after a long day of tiring driving and work.
[FASHION SIESTA STYLE]: Casual clog slippers with a weathered canvas upper. The everyday style you can count on. These convenient slip-on slippers are fashioned with a casual fabric upper with fray details. The siesta design is great for all occasions. No matter indoor or outdoor, the fashion appearance for comfortable all-day wear.
[UNIQUE ARCH SUPPORT DESIGN]: The Mules & Clogs with orthotic insoles which measures biomechanically accurate foot bed, featuring contoured arch support and a deep heel cup that aligns the feet to reduce foot pain and control foot motion. The orthopedic slipper can help ease stress and pain caused by flat feet (Pronation). Relieve from Plantar Fasciitis (heel pain & heel spurs), Achilles Tendonitis and also Ball of Foot pain
LongBay Comfy Cotton Knit Slippers Breathable Sport Memory Foam House Shoes with Anti Skid Rubber Sole (X-Large / 13-14, Gray)
BEST HOUSE SHOES - Classic loafer style in woolen cloth upper and lined with soft plush fleece which keep your feet toasty and comfy. The closed back heel with adjustable elastic design perfectly combines the customized and fit of an outdoor shoe with the comfort of a slipper.
CUSHIONING & SUPPORT - High density 70D memory foam cushions your every step and feels like ergonomic pillows under your feet. Supportive insole relaxes your arch and soothes common foot pains (e.g. plantar fasciitis) from all-day walking or standing.
NON SLIP RUBBER SOLE - Durable rubber sport sole provides non skid traction. So you can wear them freely at home in living room or bedroom. You can also step outside the house to fetch the morning paper or check the mailbox without switching shoes.
Mens Slippers with Arch Support,Orthopedic Slippers Fleece Lining,Adjustable Plantar Fasciitis Orthotic Diabetic Foot Pain Relief House Shoes,NON SLIP Christmas Clog Indoor Outdoor,Plaid Red,size 11
🌠 ORTHOPEDIC INSOLE- with ERGONOMICS design that feature BEST ARCH SUPPORT and multiple cushioning layers and deep heel cup provide soft,pillow-like stabilizing support that works amazing to enhance COMFORT and relieve pain on the foot and heel caused by flat feet,plantar fasciitis and Achilles Tendonitis.
☪ THICK OUTSOLE- with Scaly Pattern Design and 4cm/1.6" Durable MD sole,feature NON-SLIP,lightweight and shock-absorbing provides excellent cushioning and stability to give you more COMFORT and SECURITY.
✨ SLIP ON casual fashion house slippers with plaid upper and soft fleece lining are environmentally friendly,skin-friendly,and long-lasting warm,providing excellent COZY and protection for sensitive feet.
ULTRAIDEAS Men's Original Boucle Memory Foam Slipper(Limonite, 9-10)
The easy slip on male house slippers with low back heel let you walk effortlessly and steadily.
Classic boucle collar slippers are machine washable, knitted fleece upper ventilates the interior, sherpa lining provides fluffy and cozy feeling.
High density memory foam and cushioning eva insole makes you feel like walking on pillows. The layer of memory foam can give you enough support and reduce foot stress.
HomeTop Men's Warm Bedroom Memory Foam Slipper Fuzzy Sherpa Lined Slip on House Shoes with Anti-Skid Rubber Sole (11-12, Navy Blue)
CLASSIC SLIDE DESIGN delivers both style and comfort, which really perfect for gift choices and the people of all ages. Featuring trendy moccasin appeal, this home slipper complements your robes, loungewear or any causual garment well. Take these HomeTop slip ons from weekday lounging to a Saturday excursion
ULTRA SOFT TWEED UPPER create a fashion house slipper edit that's never going to let you down. Wool-like fabric keeps your feet all-day warm in cold winter. Hand and machine washable material also makes cleaning more easier
FUZZY & COMFY SHERPA lining not only confirms the warmth on cold days but wicks moisture away to keep your feet from stuffiness. Stay comfortable from bedroom to living room with this go-to lounge style and let your feet unwind in the comfort of this classic slide slipper
Acorn Fave Gore Slipper, Black Tweed, 9-10
Premium design: Men's signature moccasin house shoe in slip-on closed back design with indoor and outdoor support. Double gore elastic panels for easy on and off ensures a secure fit.
Stylish and breathable: Handsome uppers in wool blend; knit or tweed deliver timeless style and warmth; while moisture-wicking Sherpa fleece lining keeps feet dry.
Memory foam comfort: Flexible multilayer Cloud Cushion insole memory foam foot bed for support that cradles the contour of your foot for a therapeutic fit. Helps alleviate sore and tired feet and foot pain associated with Plantar Fasciitis; Flatfoot; Talipes Valgus; and Splayfoot.
Hanes Mens Moccasin Slipper House Shoe With Indoor Outdoor Memory Foam Sole Fresh IQ Odor Protection , Black , X-Large
SIZING: Available in size Small (Mens US 6, 5 -7, 5), Medium (Mens US 8 9), Large (Mens US 9, 5-10, 5), X-Large (Mens US 11-12), XX-Large (Mens US 12, 5-13, 5), XXX-Large (Mens US 14-15)
COMFORT: Thick memory foam cushioning provides support while contouring to your foot providing you with ultimate comfort
ODOR PROTECTION: Made with Hanes Fresh IQ advance odor protection technology keeps your slippers fresh season after season
---
FAQ
What type of slippers are best for sweaty feet?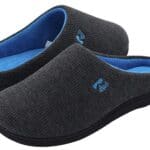 With more than 100,000 positive ratings on Amazon, RockDove's memory foam slippers are shopper favorites when it comes to being sweatproof and comfortable. They're made with a breathable cotton and spandex blend with a waffle-knit structure that'll keep your feet cool.
How do you keep your feet from sweating in slippers?
One popular remedy is putting medicated insoles, which have a deodorizing effect, in your slippers. Using a quality foot powder to absorb sweat can also help out.
Can slippers make your feet smell?
Moisture from your bare feet can get trapped in your slippers, which can result in a sweaty odor. Prolonged moisture in your slippers creates that smelly odor.
One trick is to sprinkle table salt into your slippers to help soak up that odor-causing moisture!
Why do my feet smell so bad even after I wash them?
It is natural for some bacteria to be on the feet. These bacteria help break down sweat on the feet as it's released. However, if this bacteria and sweat are allowed to build up, a foul odor can develop. Extra bacteria can form if slippers are used frequently without allowing them to fully dry.
Last update on 2022-04-01 / Affiliate links / Images from Amazon Product Advertising API