Florida! Whether you've only spent an extended weekend on holiday or a lifetime resident, we can all agree it is incredibly beautiful, and yes, VERY humid. In this post, I share the best dehumidifier for Florida to reduce air conditioning costs and control home humidity levels.
As an Amazon Associate, I may receive a small commission (at no cost to you) on qualifying purchases which allows me to keep creating amazing free content for you. Support FitFab50 by using the links in my articles to shop. Thank you!
✔ My Top Pick
Honeywell Smart WiFi Energy Star Dehumidifier for Basements & Large Rooms Up to 4000 Sq. Ft. with Alexa Voice Control & Anti-Spill Design, White, TP70AWKN
POWERFUL DEHUMIDIFIER FOR ROOMS UP TO 4000 SQUARE FEET: This powerful beast effectively removes up to 70 pints of moisture from the air (50-Pint 2019 DOE Standard) to protect walls, curtains, furniture and appliances from excess household moisture. Ideal for large basements, living rooms, cellars, and storage rooms.
PEACE OF MIND WITH A BRAND YOU TRUST: Honeywell Dehumidifiers are top rated by an independent, US-based product safety-testing agency since 2016 and all Honeywell Dehumidifiers are backed by an outstanding warranty. Plus, if you ever need help, the Honeywell Home Comfort customer service hotline connects you directly to an in-house customer support team who are ready to help (during office hours).
SMART & VERSATILE: Wi-Fi-Enabled and compatible with Amazon Alexa voice commands, the Honeywell Smart Dehumidifier can be controlled from almost anywhere. Change humidity and fan-speed settings without moving away from your busy routine.
Best Dehumidifier for Florida Residents
Check for lowest prices!
---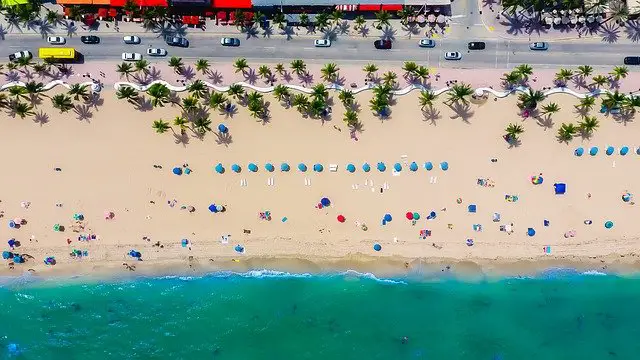 Florida climate
Humidity is very high
Because it is surrounded by water on both sides, Florida is extremely humid all year round. While Florida average's over 75% humidity for the year, it is not uncommon to have 90% humidity days throughout most of the summer season.
Temperature
Although Florida is called the "Sunshine State", temperatures rarely surpass 92 degrees even during the summer months.
Rain
Florida is one of the wettest states in the US and gets over 55 inches of rain annually versus the US average of just 38 inches.
You can also expect it to rain over 115 days a year.
As a result, Florida is extremely humid!
---
What is a dehumidifier?
A dehumidifier is an appliance that removes moisture from the air, lowering the humidity level in a given area.
What does a dehumidifier do?
A dehumidifier is a device that uses electricity to lower and maintain humidity levels in the air. People buy dehumidifiers to get rid of musty smells and avoid mildew growth. Water is extracted from the air by the device.
How does a dehumidifier work? Dehumidification
The majority of the best dehumidifiers work by pulling air from the room over a coil that has been chilled to a very low temperature by a refrigeration system. The water drips into the water collection bucket underneath as the water vapor condenses on the chilly surface.
What is the ideal humidity level in a house or living space?
Humidity is the measure of the level of moisture vapor suspended in the air around you. Although you can't see it, you can definitely feel it. The best relative humidity for health and comfort is somewhere between 30-50% humidity, according to the Mayo Clinic. This means that the air holds between 30-50% of the maximum amount of moisture it can contain.
➥Read also… Do dehumidifiers cause Legionnaires' disease?
Dehumidifier benefits
Prevent mold
A dehumidifier reduces the possibility of mold formation by eliminating moisture from the environment. Mold spores are removed from the air by an air purifier, making it more difficult for mold and mildew to establish new colonies. One of the best instruments for mold removal is HEPA filters.
Remove odor
You want your home to smell clean and fresh when you walk in. Moisture in the air tends to retain and trap odor. A dehumidifier will dry the air and eliminate the musty odor.
Control asthma
Dehumidifiers can help alleviate asthma symptoms by removing excess moisture from the air, limiting mold growth, and producing a less inviting habitat for dust mites.
Improve performance of A/C unit
A dehumidifier helps in the cooling of your house. As a result, you won't need to use your air conditioner as much, or you may raise the temperature on your thermostat. This allows your air conditioner to work at its best, more efficiently, saving you both energy and money.
Improve air quality
Yes. Dehumidifiers improve indoor air quality by minimizing the growth of bacteria, mold, and dust mites. Because mold spores flourish in relative humidity (RH) levels greater than 70%, reducing humidity will definitely halt their growth and, as a result, improve air quality.
Protect household items
Mold, fungus, rot, dust mites, and moisture damage to your personal things can all be prevented by using a dehumidifier in your house. Using a dehumidifier can help protect, maintain, and extend the life of valuable items in your house.
Reduce bug and pest-related issues
Dehumidifiers work by removing moisture from the air, making it drier, and creating a less inviting environment for bugs and pests. This includes pests like silverfish, roaches, and others that are drawn to dampness out of your house.
Reduce interior condensation problems
Mold and mildew can cause musty odors, that can be reduced by using a dehumidifier. Mold growth and dust on furniture, drapes, bed linens, and clothes can be minimized as well.
Alleviate allergies
Dehumidifiers can help dry out moist surroundings where allergens such as dust mites and mold spores grow.
Lower energy costs
Dehumidifiers remove moisture from your home's air, making the temperature seem slightly cooler. Although both dehumidifiers and air conditioners require power, dehumidifiers use less, saving you money on your utility bill.
Improve respiratory issues
A dehumidifier can make it easier for the lungs to breathe in and out. The humidity vanishes, and the air becomes cooler and more pleasant.
Improve comfort
Using a dehumidifier to maintain a 50 percent or lower humidity level will make you feel cooler and more comfortable without the need to keep your air conditioner continuously.
Important features
Capacity
What does the capacity of a dehumidifier mean? Dehumidifier capacity is determined by the amount of moisture removed in 24 hours, so a 50-pint humidifier is rated to remove 50 pints of moisture in one day.
Energy efficiency
The energy efficiency of dehumidifiers is measured by its energy factor, in liters of water removed per kilowatt-hour (kWh) of energy consumed or L/kWh. In general, a higher energy factor means a more efficient dehumidifier.
CFM
What is CFM? It stands for Cubic Feet per Minute or the amount of air your dehumidifier can move. Airflow is critical for humidity control because a dehumidifier can only remove moisture from the air that passes through it.
Noise output
Noise output is a calculation considering the fan noise + compressor noise.
Moisture collection
Moisture collection is how the dehumidifier collects the water removed from the air. All dehumidifiers have a removable reservoir that varies in size based on the type of unit. Many dehumidifiers also have a port on the side or back to attach a hose to provide an optional way of disposing of water without the need of emptying the collection reservoir.
Build quality
Build quality refers to the craftsmanship, design, and durability of the dehumidifiers. Consumer reviews are the best way to identify superior products or ones that have a large number of reported issues.
Warranty
The industry standard is 1 year. This can vary by brand. Some retailers offer extended warranties.
What are the different sizes of dehumidifiers?
The most common size of dehumidifiers for residential spaces ranges from 20 pint to 70 pint. This is the amount of moisture the dehumidifier can remove from the air in a 24-hour period. The 50 pint is the most popular size dehumidifier.
For best results, it is recommended to go at least one size up from what you calculate your need for optimum performance and energy efficiency.
What size dehumidifier do I need? [chart]
A dehumidifier's capacity is a rough estimate of how large of a space it will cover in square feet. If you know the square footage of the area you'd like to dehumidify, you can get a good idea of the capacity you will need. (see chart below)
Dehumidifier Sizing Chart
Square Footage of Your Space
Conditions
300 sq ft
500 sq ft
800 sq ft
1200 sq ft
Slightly Damp
50-60% Humidity
20 pint
25-30 pint
35-40 pint
50 pint
Moderately Damp
60-70% Humidity
20 pint
25-30 pint
35-40 pint
50 pint
Very Damp
70-80% Humidity
25 pint
30 pint
45 pint
55 pint
Wet
80-100% Humidity
25-30 pint
35-40 pint
45-50 pint
60 pint
How much does a dehumidifier cost?
Portable dehumidifiers cost from $30 to over $800, depending on the size and brand.
Do home dehumidifiers use a lot of electricity?
A small 30-pint dehumidifier consumes 300W of power. A typical large 70-pint dehumidifier consumes 700W of power. A dehumidifier uses far less power than a water heater, air conditioner, or even a hairdryer. A dehumidifier uses roughly the same amount of electricity as a computer.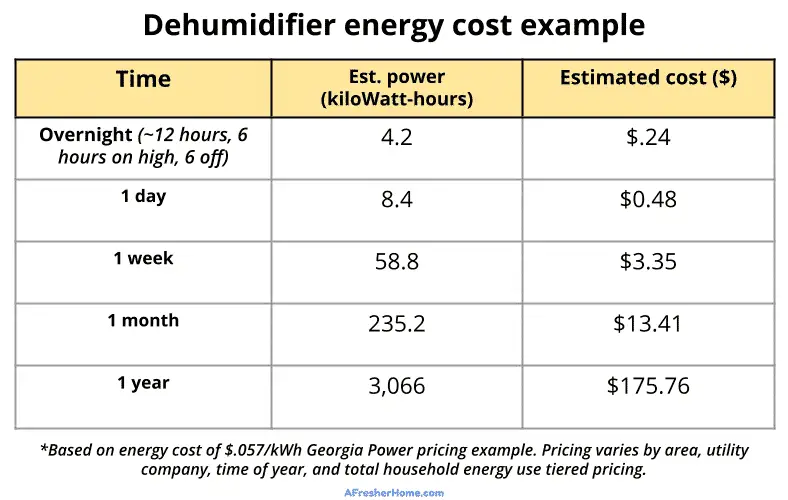 How much does it cost to run a dehumidifier?
The cost of running a dehumidifier depends on several factors, including the size of the dehumidifier, the humidity levels of the area, and the square feet of the area being treated.
The average cost of running a dehumidifier 8 hours a day is $15.36.
Is a dehumidifier worth it?
Yes. A dehumidifier has been shown to offer numerous health benefits. The best advantage is that allergies and irritants are reduced in humid parts of your home. There's also some evidence that a dehumidifier might help asthma sufferers breathe easier. Dehumidifiers are relatively inexpensive to purchase and operate.
Are dehumidifiers a waste of money?
No. Dehumidifiers have been shown to have health benefits, improve the efficiency of your air conditioning unit, reduce power consumption, and prevent damage to housing structure and contents within it.
Do dehumidifiers save you money?
Yes. Dehumidifiers have been shown to improve the efficiency of air conditioning units, reduce the presence of mold and bacteria caused by moisture, and improve the comfort level within the home.
Dehumidifier Energy Star
Here's expert advice from Energy Star on getting the most from your dehumidifier.
Set the humidity level
The optimal relative humidity level is between 30 and 50 percent(and 30 to 40 percent in colder areas during the heating season).
Humidity higher than that can breed dust mites, mildew, and mold, and trigger allergies.
Pick a good location
Allow enough room for air to freely flow into and out of the dehumidifier.
There should be plenty of space all around the dehumidifier, whether your unit is a top or side vent.
Close all doors and windows
Enclosing your space permits the dehumidifier to work more efficiently.
Empty the tank regularly
When the collection tank is full, an indicator lights up and the dehumidifier shuts off.
Keep the dehumidifier running even when you're out of the house.
Empty the tank regularly for best results.
Connect a hose dehumidifier to utilize continuous draining capabilities and round-the-clock operation.
Keep it clean
The filter cleans the air that flows through the dehumidifier. Most filters can be rinsed off to clean. Keep the filter clean for the best performance and efficiency from your dehumidifier.
Some models have an indicator light to tell you when it is time to clean the filter.
Reference the owner's manual for proper instructions on washing filters. [1]https://www.energystar.gov/products/appliances/dehumidifiers/dehumidifier_basics/
Dehumidifier Research Methodology
Air humidity is one of the important factors that constitute the human body's thermal
comfort. Inappropriate humidity will affect people's comfort and health. With the improvement
of people's living standard, people have higher and higher requirements for indoor air quality,
and air humidity is important factor that affect air quality.
This is why it is important to control appropriate air humidity in air-conditioning engineering. This paper will briefly discuss and analyze the existing dehumidification technologies of air conditioning, compare the advantages and disadvantages of various dehumidification technologies, and look into the future research direction
Conclusion
If your house or living area is damp, has a high humidity level, or is moldy, dehumidifiers are well worth the investment. If any of these symptoms apply to your house, a dehumidifier should be considered.
Whatever type or size humidifier you use, be sure to place it on level ground and only plug it into a grounded outlet. Place it at least six inches away from walls or other surfaces to ensure airflow.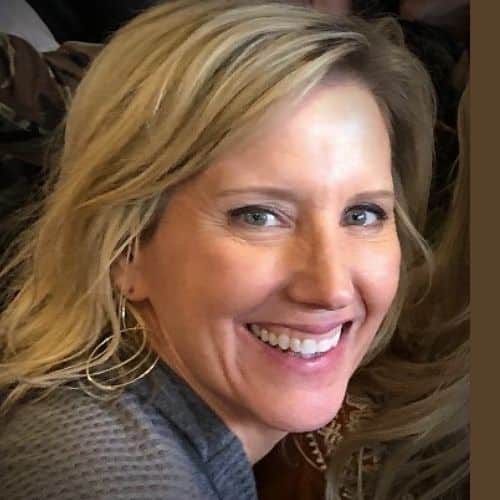 Claudia Faucher is a full-time fitness training expert and lifestyle blogger. She is also been a certified Les Mills BodyPump instructor for the past 5 years and a fitness instructor for over 20 years. Claudia is a personal trainer and creates fitness training programs for seniors and people of all ages. She likes to use her skills and experiences to help others on their fitness journeys.
Last update on 2023-02-20 / Affiliate links / Images from Amazon Product Advertising API