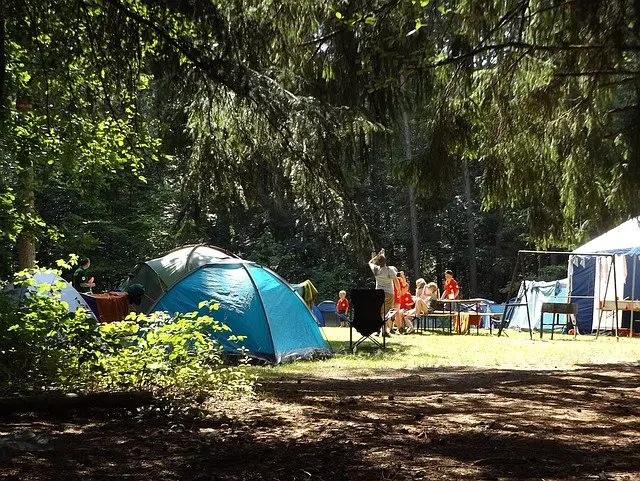 Ultimate family camping checklist. Use the family camping checklist to ensure the safety of your camping trip. You need the right camping gear in order to make an excellent camp. Consult our camper's checklist to ensure that your trip goes as smoothly as possible. Do your research to determine what is necessary for your family camping packing list. While some campsites offer amenities such as toilets, showers, or toilets, remote campsites may not.
$179.99 – Shop this tent
One of the best things about family camping is that there are no rules and there is no one way to have fun. However, there are a few things you should bring with you to make the most of your trip. Many articles of buying advice are dependent on your specific circumstances, such as where you will be staying and what type of family camping experience you desire.
Be sure to check out my best hitch cargo carriers for camping!
Remember to follow all local rules and family campground regulations while you shop and pack for your campsite necessities. Some things, such as fireworks and out-of-state firewood, may be restricted. Remember that many campgrounds include an on-site store with basic items and necessities. When a family tent camping trip, you should also think about if you'll be staying at a campsite with electricity and running water.

Indoors
Indoor campsite essentials can vary depending on what type of lodging you will be staying in. For example, a pop-up tent requires more supplies than a furnished cabin or RV does. If you're staying at a family campground with partially furnished lodging and not sure what is provided with your lodging, definitely call ahead. My experiences with family campground personnel are that they tend to be very accommodating when it comes to what items they provide you and which ones you need to bring. So be sure to reach out if in doubt.
Some common indoor items to consider include:
Blankets
$43.99 – Shop this product
When it comes to staying warm, my rule is you can always take it off, so be sure to bring it! The Rumpl is one of my favorite blankets for family camping and any outdoor activities. It is puffy, warm, and super lightweight!
If you prefer a traditional down blanket, DOWN UNDER OUTDOORS, is super soft and warm.
Pillows
If you are sleeping indoors or in your tent, just stick to your preferred pillow style as you would at home. My go-to family camping pillow is the Klymit Drift Camping Pillow. This memory foam pillow has a water-resistant shell, has an easy-to-clean surface, and packs down well if space is a concern while traveling.
Campsite Cots
Even though you're staying indoors, bedding is often quite limited. And nothing is worse than not getting a good night's sleep because of an uncomfortable bed!
$159.99 – Shop this product
If you have the space, go bigger than you think when it comes to tent camping cots. TETON Sports Outfitter is my top choice for the best indoor camping cot. It is lightweight, oversized, can accommodate small to large body frames, and is extremely comfortable.
The KingCamp camping cot is another good choice that is slightly smaller and has less overall weight capacity.
A sleeping bag with an insulated liner
$58.98 – Shop this product
One of the best parts about family camping is you never know what to expect! When it comes to sleeping bags, be prepared with the Litume All Season Sleeping Bag. It adds up to 27F degrees of temperature, features a half-zip for ventilation should you start to get too warm, as well as an easy exit capability. Lightweight and easy to store.
A plug-in or battery-operated fan
Since we're talking about camping indoors, a fan is a must! Be prepared with the Odoland Portable LED Camping Lantern with Ceiling Fan which runs off of D batteries. It's the perfect emergency fan / light combo, should you happen to lose power.
Also, see the AC-powered fan if you have commercial power available.
A camp sleeping pad or mattress topper
$39.99 – Shop this product
If you require a bit more padding to use with your sleeping bag, be sure to check out the POWERLIX Sleeping Pad. The sleeping pad is made of durable, outdoor-grade materials, such as 75D nylon. It includes thermal insulation, to keep your body warm from the cold winter ground. It is 100% waterproof, making it perfect for any indoor or outdoor family activities.
An air mattress, pump, and repair kit
When it comes to the ultimate in sleep comfort the SoundAsleep Dream Series Air Mattress tops the list! This air mattress features 40 internal air coils for added durability and supports your bed will remain flat and firm.
Spring a leak on your current air mattress? PVC Stitch is the ultimate tool for inflatable repairs. I keep this in my pack, in case of emergencies.
Earplugs and a sleeping mask
$18.99 – Shop this product
Ever try to fall asleep with someone snoring nearby? We can all agree it's not easy. The BUENSUENO noise cancelling ear plugs are an affordable solution to help provide a good night's sleep for your next family camping trip.
Hot water bottle for camping to warm your sleeping bag
Sometimes a tent can get quite cold. When you need a little more warmth than your clothing provides, this hot water bottle for camping is the perfect sleeping buddy!
A portable charging station
The Jackery Portable Power Station Explorer 240 is an entry-level portable power station equipped with a 240Wh lithium-ion battery pack, weighing only 6.6 pounds. This device supports pass-through charging and can last up to 10 hours when operating under 10W.
A tent-safe heater
For additional heat, you may consider Mr. Heater. This indoor-safe portable propane heater is perfect for family camping for rooms up to 95 square feet.

Outdoors
At the campsite, families spend more time outside than inside. You want the space to be as practical as possible while not taking up too much room. As a result, consider lightweight, weather-resistant multi-use goods.
For the outside area of your campsite, you will need the following items:
Family Camping Tents and tent stakes
$78.44 – Shop this tent
For a weather-tested tent available at an affordable price point, the Coleman Sundome is a great choice. WeatherTec system's tub-like floor, welded corners, inverted seams, and taped seams on rainfly help keep water from getting in and clothing dry. This strong tent frame has been tested to withstand up to 35 mph winds
Don't forget extra tent stakes and rope to secure your tent. It never hurts to have plenty of these handy!
Mallet or hammer to install and remove tent stakes
This is an easy one to forget. This Camping Hammer Heavy Duty with Tent Stake Remover is super inexpensive, but so indispensable when it comes to setting up and breaking down any campsite.
Stabilization jacks (optional for RV users)
Don't forget to use stabilizing jacks if using an RV or travel trailer. The WEIZE Slide Out Support Jacks save wear and tear on slide-outs by reducing sag, can effectively solve the sagging and bending in the slide-out rails, and also help prevent costly slide-out frame repairs.
Campsite cinderblocks
Perfect for placing under stabilizing jacks or anchoring a tarp during high winds.
Waterproof tarp
The camping tarp works well for anything from protecting items from the elements to creating a moisture-blocking foundation for a tent.
Mosquito netting
$19.99 – Shop this look
When it comes to family camping, nothing ruins an outdoor experience quicker than pesky mosquitos. Keep out mosquitoes, noseeum, black flies, wasps, bugs, and other pesky insects with MEKKAPRO's Natural Mosquito Net. Rest easier by hanging the screen netting over the tent, bed or hammock.
Flashlights and/or headlamps
A flashlight is an essential item to include in a family camping kit because of how reliant we with seeing at night. Just as important are headlamps, which allow you to use both hands while working in limited lighting situations.
A flashlight and or headlamps are one of the most inexpensive, yet important parts of your camping packs for don't skimp here. Go for quality… and don't forget to have plenty of batteries on hand.
Lanterns (battery-powered)
Just as important as the flashlight, this family camp lantern allows you to light a large area. The Volt Lantern has 30 super-bright LEDs, that cut through 360 degrees of darkness on the stormiest, dimmest nights. Easily lights up the entire tent or room.
Large cooler with plenty of ice
Price not available – Shop this product
Quality coolers, like the RTIC, can keep ice for up to 10 days! You may not need this type of performance for a weekend trip, but experienced campers rely on top brand coolers to protect perishables during extended stays.
➥Read also… Best coolers as good as Yeti
A refillable water dispenser
When it comes to family camping essentials, water is near the top of all camping advice gear guides. This refillable water dispenser comes with a foldable space-saving design to store away easily. It remains soft and flexible even when cold yet retains shape and is easy to fill, dry, drain, and reuse.
➥Read also… 11 great insulated tumblers
Matches, firestarter, or a lighter
$12.99 – Shop this product
Fire and camping go together like peanut butter and jelly. You can go with a fancy lighter like this on from Ronx or a classic flex wand lighter from BIC. The important takeaway here is to have plenty on hand in your family camping gear pack.
Kindling to help start a campfire
Starting a fire can sometimes be quite difficult if your wood source gets wet or damp. These fire starters will have your flame going safely, easily, and quickly. Not having several dependable fire-starting options could be a recipe for disaster.
Citronella candles
This TIKI Brand BiteFighter Citronella Wax Candle provides up to 35 hours of burn time. Each bucket features a metal handle that makes it easy to arrange your setting. For outdoor tabletop use only.
Outdoor lighting, solar or tiki torches
$12.99 – Shop this product
Besides the traditional campfire, you have a lot of options when it comes to campsite outdoor lighting. Tiki torches are a nice touch. Solar light ropes and strings are easy, safe, and affordable. They look great outside your tent or lodge.
Tablecloth clips
Look for a tablecloth that is scratch and water-resistant. The durable table covering makes it the perfect companion for any camping trip. The family and kids will love them.
Approved firewood
Most family campsites offer firewood on-site or nearby. You can also find bundles of firewood online if you prefer to buy ahead.
Survival straw/water purifier
If you plan to go dispersed camping, camping off the grid, or just believe in emergency preparedness, LifeStraw is the top choice! The microfiltration membrane removes 99.999999% of waterborne bacteria (including E. coli and salmonella), and 99.999% of waterborne parasites (including giardia and cryptosporidium).

Tools and Gear
Buying advice gear. Even if you don't think you'll need them, it's a good idea to bring several of these outdoor tools during a family tent camping trip. Many of these items can be used for a variety of applications and are a must-have for all repair skills checklists.
Cargo carrier
$190.50 – Shop this product
Safety and securely haul all your camping supplies with a hitch cargo carrier. Be sure to read the weight capacity of the carrier while researching your purchase. Look for 400-500 weight capacity. Also, add a hitch stabilizer to your purchase to prevent camping gear from wobbling, rocking, and hitch movement on hitch-mounted carriers.
➥Read also… Best hitch cargo carriers
A wood axe for firewood
A wood axe is an essential tool for any camping trip, regardless of how long you plan to stay. The WilFiks 15" Wood chopping axe is designed for easy chopping of firewood, logs, kindling, and branches.
A multi-tool pocket knife
$109.95 – Shop this product
The Leatherman Wingman is a classic multi-tool, multi-function pocket knife. The Wingman is the go-to tool for projects around the house, on the job, or at the campsite. No guides skills checklists are complete with this beauty!
Duct tape
Duct tape has evolved into a multifunctional tool that can be used for anything from general sealing to fixing holes, patching sleeping bags or tents, packing boxes, and repairs. Duct tape may adhere to rough and uneven interior and outdoor surfaces including wood, stone, plaster, brick, and metal.
Paracord
If you go tent camping frequently, you are aware that you should not store food in your tent at night. In many cases, it's better to keep it safe in a "bear bag." Lift your cooler or barrel off the ground using a paracord. Through the night, a hanging bear bag will keep you and your food secure.
Bungee cords
$14.99 – Shop this product
Experienced campers have a large collection of bungee cords in a variety of lengths. Safely strap things down to your bike, roof rack, pickup truck, or any vehicle. Tie-down tarps, secure trash can lid, or even use it as a makeshift clothesline!
A small trowel for waste disposal
This simple, basic trowel is lightweight and super sturdy. It does what it's designed to do-do.

Furniture
When purchasing camping furniture and tents, look for items that are weather-safe, easily portable (foldable), and rated for outdoor use. Keep in mind that not all regular outdoor furniture is suitable for family camping.
Most campsites have a picnic table, but you might also want:
A pop-up pavilion
$217.99 – Shop this product
Depending on your family camping location, shade can be hard to come by. Protect yourself from the sun's rays with a pop-up pavilion. Regular tents can get quite hot during the heat of the day. This portable tent great protection from nature's elements as well as provides cool shade.
A hammock
A camping hammock offers everything you need to keep comfortable and protected throughout the night for your next camping, or hiking vacation!
An outdoor rug
Keep your tent or lodging cleaning with an outdoor rug. This is a great way to keep dirt and grass away from your living space or sleeping bags.
Camping foldable chairs
$69.99 – Shop this product
Look for a foldable chair that is sturdy with steel frame support, and oversized with padding. You tend to spend a great deal of time sitting while family camping, so make sure your chair is comfortable.
A folding table
A folding table to extra space to an already crowded picnic table when family camping. Be sure to look for corrosion-resistant models during your shopping.

Cooking
One of my favorite parts of any camping trip is sitting down to enjoy a hearty meal together, especially easy hamburger recipes with few ingredients! Whether you plan to use electricity or a roaring campfire, make sure you have some way to cook your food at the campsite.
You have several options, and you can mix-and-match for different types of meals:
A grill and fuel
$159.99 – Shop this product
With the Blackstone 22″ tabletop griddle, your outdoor experiences will be delightful. This portable griddle is equipped with everything you'll need to simultaneously prepare breakfast eggs, crunchy hash browns, crispy bacon, and fluffy pancakes. Don't forget the grilling accessories!
A grate to cook food over the fire
The cooking grate is basic yet highly functional to create a heavy-duty campfire grill! This is one of the most popular cooking items among veteran campers.
A roasting fork or stick for each person
What is camping a roasting fork or marshmallow stick? This is an easy item to overlook, so double-check this is onboard before leaving the house!
A cast-iron dutch oven
$67.95 – Shop this product
A cast iron dutch oven is the perfect portable camp stove. Ideal for braising, stewing, and boiling. The flanged lid holds hot coals and inverts for use as a griddle.
A campfire coffee pot
This sleek and streamlined campfire coffee pot brews in a huge 32-ounce container. Whether you need a fresh cup of coffee or want to reheat up some soup to warm your bones this is the perfect camping companion!

Utensils
Camping utensils are available at many outdoor retailers. They're usually built of more durable, anti-rust materials and are simple to store. Cups and bowls, for example, are easily stackable or come in collapsible forms. Depending on how often you expect to use them, you can select between disposable and normal utensils.
Here is what you need:
A plate per person
$28.99 – Shop this product
The lightweight stainless steel plates with three compartments (great for picky eaters that don't like their food touching) are ideal for extended journeys across the mountains, camping, or hiking with family. A stylish mesh travel bag is included with the set, ensuring hassle-free transporting on all of your outdoor adventures.
Shatter-proof cups and mugs
The Coleman 10 Ounce Enamelware Mug is the perfect cup for coffee in the morning or other beverages during the day. Style in a great classic look!
A knife, spoon, and fork for each person
$129.99 – Shop this product
There are many eating utensil sets for camping available. Look for corrosion-free, and stackable sets. One of my favorite eating utensil sets is the MAGWARE Magnetic Camping Utensils Set.
A washable cutting board
A cutting board, peeler, bottle opener, fruit knife, and serving tray are included in the kitchen set. This cutting board package includes everything you'll need to make your camping kitchen more functional and enjoyable. Ideal for everyone who enjoys cooking indoors or outside!
➥See Best Charcoal Grills for Beginners
Campfire frying pan
The Pinnacle frying pan is exactly what you want in an outdoor cooking pan – lightweight, durable, and constructed with top-notch materials. The frying pan has a non-stick coated that helps evenly distribute heat and reduce hotspots.
Measuring cups
This measuring cup set conveniently nests inside one another, allowing you to store them in any drawer, cabinet, or cupboard. Premium food-grade stainless will never rust or corrode.
Spatulas, mixing spoons, and tongs
This cooking utensil set comes complete with a carrying case, and stainless steel utensils.
Cooking knives
$28.99 – Shop this product
This 5-Piece boxed knife set includes an 8″Chef Knife, 8″ Bread Knife, 7″ Santoku Knife, 5″ Utility Knife, 3.5″ Paring Knife, and an easy-to-carry knife roll bag, perfectly meeting your needs for indoor or outdoor activities.
Oven mitts
A pair of oven mitts is essential when cooking over an open flame for all of your meal prep. This pair of heat-resistant cooking mitts can withstand high heat and steam up to 500 Fahrenheit and the lowest temperature down to minus 104 Fahrenheit. Second layer polyester cotton for double protection & comfortable.
An instant-read food thermometer
It's always good to be on the safe side when it comes to preparing meat. This grilling thermometer features a temperature probe and advanced, highly accurate technology with a 2-3 seconds response time.
A bottle opener
$11.89 – Shop this product
This multifunctional wing corkscrew with a built-in bottle opener is designed for wine beer and other bottles with caps or corks to meet all your needs.
A can opener
This KitchenAid can opener is made from strong 420 J2 stainless steel that is designed to easily puncture and open all types of cans and bottles.
A bearproof food vault
$48.99 – Shop this product
Enjoy your tent camping excursion without the need to worry about critters seeking out your food. The bear bag is made with stainless steel mesh, designed to withstand all kinds of intruders on the campsite.
Kitchen scissors
The ultimate in kitchen shears. Easily cut through meat, skin, and bone. You can also use it to scrape scale fish, and cut all kinds of vegetables, and fruit.
Stainless steel cooking skewers
While not really a necessity, these cooking skewers are a great plus at the barbecue gathering for meat, shrimp, veggies, kebabs, and more.
Food storage containers
These reusable Zipper Snack Bags are made of durable PE materials, which are space-saving, environmentally friendly, tasteless, non-toxic, reusable, etc.

Hygiene and Toiletries
Although being clean on a camping vacation can be difficult, it is necessary for your health. Based on the resources accessible to you, create a hygiene and toiletry list that includes public or private restrooms and wash spaces, as well as clean water and electricity.
You can find many of these items in travel sizes:
Hand soap
$7.50 – Shop this product
DIRECT 2 BIODEGRADABLE CAMPING SOAP works great in hot or cold water whether fresh, salt, brackish or chlorinated. Great biodegradable soap for camping, biodegradable dish soap, campers soap, dish soap biodegradable & environmentally safe soap.
Bath towels and washcloths
4Monster camping towels are super absorbent, fast-drying microfiber travel towels. These ultra-soft, compact towels are perfect for camping and hiking.
Hand and body lotion
This Eucerin dry skin cream is a 2 in 1 formula that moisturizes dry skin while helping protect from sun exposure
Body soap, shampoo, and conditioner
$14.95 – Shop this product
The Stream2Sea All Natural 3 in 1 Shampoo, Conditioner & Body Wash is designed to cleanse, condition, and strengthen hair & skin. Made with natural & organic ingredients, this nourishing soap will keep you refreshed after the shower – leave your body smelling fresh and clean all day!
A hairbrush
Ecoistka detangling brush is created with 100% biodegradable substance. This hairbrush serves your hair a wide range of hairstyles and textures with natural conditioning.
A toothbrush and toothpaste
SmilePro easy-to-pack travel toothbrush and toothpaste. It can comfortably fit in your bags with your travel toiletries kit.
Cotton swabs
$5.59 – Shop this product
Biodegradable 500ct cotton swabs. Made of 100% cotton tips and carbonized bamboo stick.
Toilet paper
RV specialty toilet paper. Designed specifically to ease the flow of wastewater through RV sewer hose kits and reduce clogs in black tanks, marine holding tanks, RV holding tanks, septic systems, camper holding tanks, and porta-potty,
Glasses and/or contacts and lens wipe and/or contact solution
Care Touch Lens Wipes for Eyeglasses. Care Touch eyeglasses wipes have a high-tech formula to clean effectively and dry quickly without leaving behind streaks or residue. These lens wipes easily clean everything from your eyeglasses, phone, screens, and other surfaces.
A handheld mirror
$11.99 – Shop this product
If you're traveling, you'll want to pack this light, compact, durable mirror and its included wall suction cup into your bag for shaving, applying and removing makeup, and other purposes. Hold a mirror under the water stream to equalize the temperature differential for an instant fog-free experience for the duration of your shower.
Tissues
The great outdoors can be a breeding ground for bacteria. Be sure to keep tiny fingers out of noses and eyes, with an ample supply of Kleenex facial tissues.
Dental floss
Keep your teeth free from food and plaque build-up with dental floss picks. They easily slide between teeth to remove unwanted and unsightly food debris. Features pick to remove additional plaque and food debris in tough-to-reach areas with a protected tartar pick-in handle.
A razor and shaving cream
Kai About Face men's razor shaving kit contains everything you need to shave, including a handy travel pouch. This travel grooming set is far superior to hotel razors, making this a perfect kit for travel, no matter where you go.
A water-safe shower bag
$21.99 – Shop this product
Tired of spending time in ice-cold showers on your camping vacation? There's actually a great solution! The Kipida solar shower bag is made of environmentally friendly and leakproof materials which are safe for human health. It heats water to 113°F (45°C) in 3 hours with direct sunlight.
Menstrual products
Playtex Sport tampons. Features 360° SPORT LEVEL PROTECTION designed to fit and adjust to your body with every move for powerful leak protection. Perfect for activities like camping and hiking.
Deodorant
Lume is the world's first whole-body deodorant and is safe for any external use. Use on armpits, private parts, and feet. Lume never uses aluminum, artificial fragrances, baking soda, phthalates, sulfates, parabens, or talc.
Body wipes
Don't have access to a shower? Clean yourself with Surviveware unscented biodegradable wipes from head to toe without being overwhelmed by a smell or attracting unwanted bugs on the trail. Our wipes are alcohol-free, pH balanced and made with aloe. Suitable for sensitive skin. Fully biodegrades in 6 months.

Recreational gear
Camping getaways are all about the enjoyable activities that you can do and play while you're there. Consider the location you'll be visiting, local attractions, the time of year, weather prediction, cost, and interests while planning your camping schedule. Back at your campsite, plan lots of indoor and outdoor games to keep you entertained.
➥See Best Hitch Cargo Carriers
For a memorable experience for the family, especially the kids, bring along some of the following items:
Fishing poles and tackle
$24.99 – Shop this product
Who doesn't dream of bringing home fresh lake trout during the ultimate family camping trip? The famous Zebco 202 spincast combo features a 5-foot 6-inch 2-piece fishing pole, size 30 fishing reel, and 27-piece tackle kit. You will be ready to hit the water with the patented no-tangle design and simple push-button mechanics for ease of use making this reel great for both beginners and experienced anglers.
Lifejackets
Stay safe around the water with an O'Neill Superlite USCG Life Vest. 4 heavy-duty 1.5 wide webbing belts with quick-release Delrin buckles allow for an adjustable fit and easy fastening
A hiking daypack
Whether you are going on a hiking expedition or just want to be able to carry items during a day walkabout, the RuRu Monkey 50L Hiking Backpack is a great option. This pack is an affordable choice, that is spacious, lightweight, and waterproof.
➥Read also… Most comfortable flip flops for women
Lawn games, like badminton and cornhole
What better way to pass the day away with families and kids than playing cornhole and enjoying a few bold beverages! This cornhole kit comes complete with 2 boards, 8 bags, and a carrying case.
Playing cards
Don't forget a waterproof deck of cards, and also try the game Phase 10, if you haven't done so already.
Bikes
$432.11 – Shop this product
Tight for space but still want to bring a bike? Try the Schwinn Loop Adult Folding Bike. Features a lightweight step-through frame, that folds for easy storage. A folding frame with 20-inch wheels fits riders 56 to 74 inches tall
A music player and speaker
Enjoy your family's favorite music with this waterproof Bluetooth speaker. Provides crisp sounds and a powerful battery guarantees up to 24 hours of continuous use!
Trekking poles
Whether you're hiking on rugged terrain or snowshoeing on fresh powder, you need hiking gear that can keep up! Trailbuddy trekking poles are strong enough to withstand any weather condition.
➥Read also… Best shoes for walking all day
Binoculars
Enjoy the camping and the great outdoors in vivid detail with these compact, yet super powerful field glasses. These binoculars have 12x magnification, 25mm objective lens, and a wide field of view, 273ft/1000yds, letting you look farther and see wider.
Campsite glow sticks
Green light sticks have so many applications that they are a must-have item. You'll be surprised at how helpful they are when you need them.
FAQ section
Download Printable Camping Checklist
After reviewing several camping essentials checklists, here are the ones I viewed as the most comprehensive:
Family Tent Camping Checklist PDF by REI
Family Camping Trip List by Taste of Home
Free Family Camping Gear Guide Care by Thrift Northwest Mom
If you enjoyed this camping feature, be sure to check out the related posts below!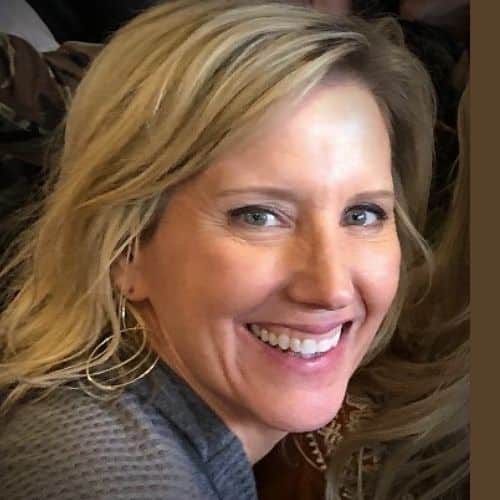 Claudia Faucher is a full-time fitness training expert and lifestyle blogger. She is also been a certified Les Mills BodyPump instructor for the past 5 years and a fitness instructor for over 20 years. Claudia is a personal trainer and creates fitness training programs for seniors and people of all ages. She likes to use her skills and experiences to help others on their fitness journeys.
Last update on 2022-08-30 / Affiliate links / Images from Amazon Product Advertising API