Do your toenails turn yellow, split, or peel? If so, you could be one of over an estimated 40 million Americans who live with toenail fungus. The good news is, you don't have to live like this. A number of remedies can help you walk with confidence. Here are 7 best toenail fungus over the counter treatments that you can buy at your local drugstore.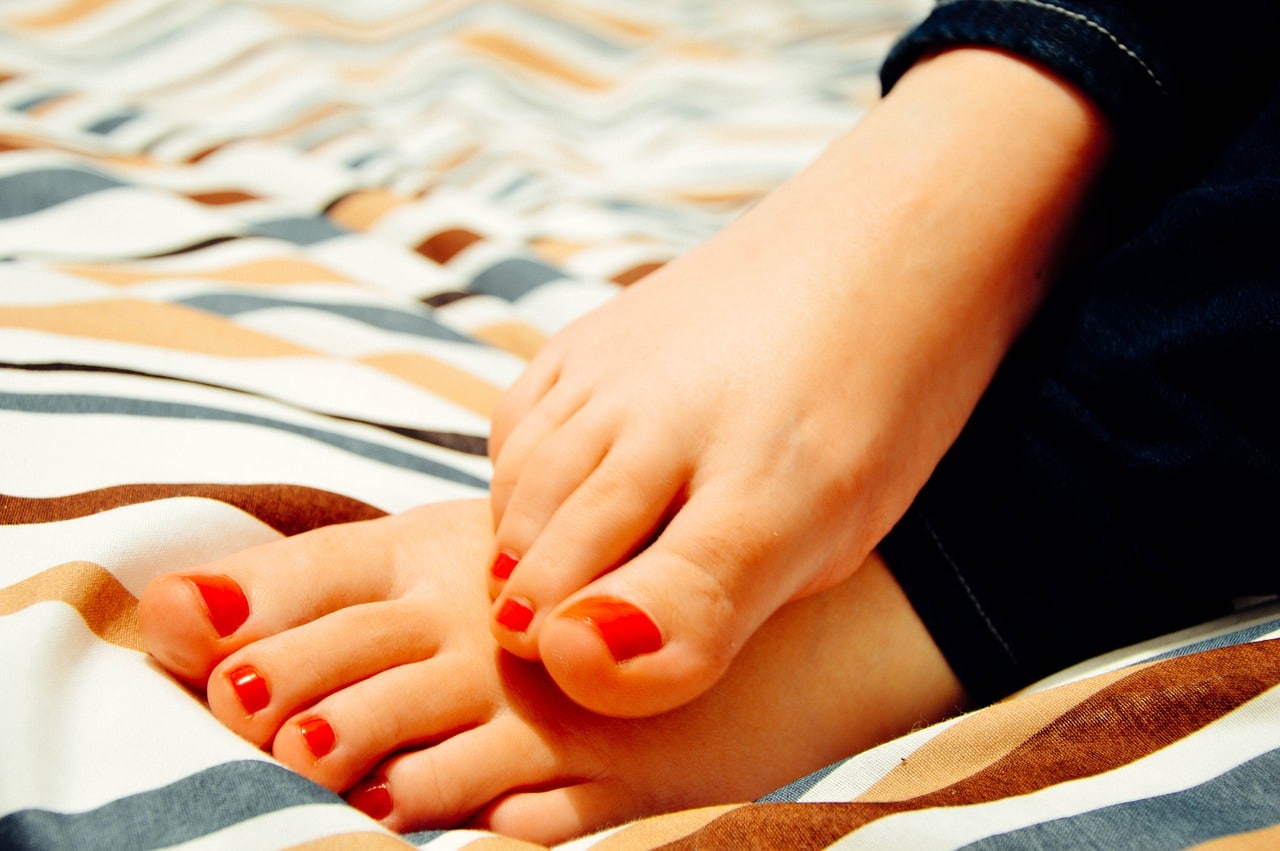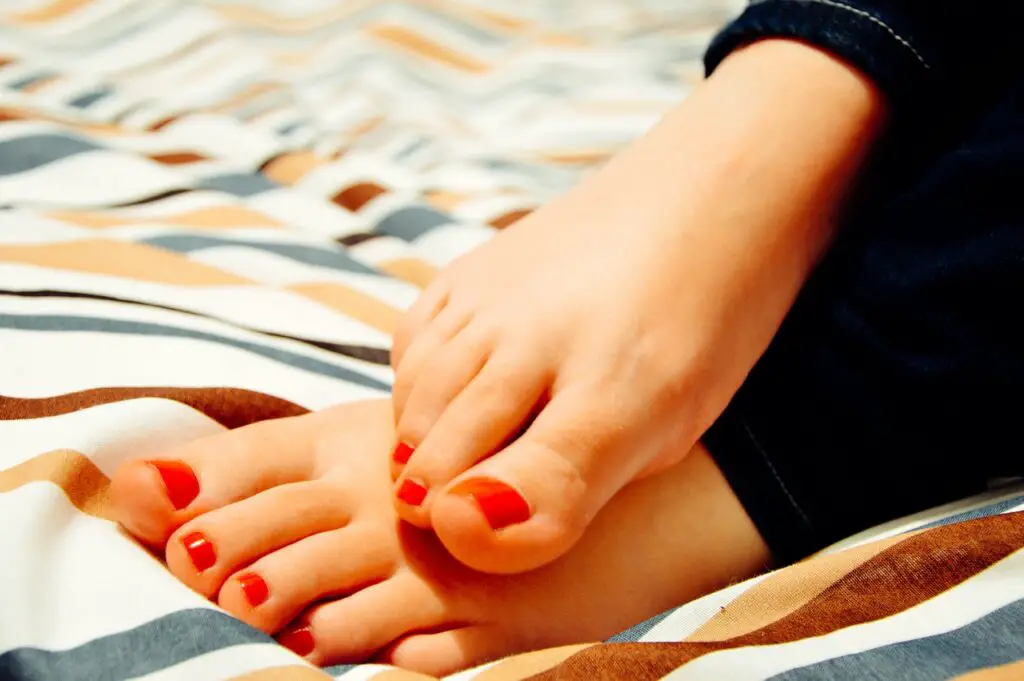 Nail fungus is the most common nail problem, and the treatment can be very difficult. Aside from the ugly appearance – nail fungus can also be quite painful. Toenail fungus spreads fast and can be very hard to get rid of.
As an Amazon Associate, I may receive a commission for a qualifying purchase.
What is toenail fungus?
Toenail fungus, also known as onychomycosis, is a common fungal infection of the toenail. The most visible symptom is a white, light brown, or yellow discoloration of your toenail. It can spread causing the nails to thicken or crack.
With summertime just around the corner, it's time to think about beautiful swimsuits and sandals. Toenail fungus isn't what anyone wants to see when you looking at your feet. Good news! There are several treatments you can available for your to try.
Prescription drugs to treat toenail fungus
Prescription oral antifungals, such as Lamisil (terbinafine) or Diflucan (fluconazole), are the most popular drugs used to treat toenail fungus. These treatments are quite effective but can cause serious side effects, like an upset stomach and dizziness, as well as severe skin problems and jaundice.
Because of these side effects, many people try home remedies instead.
Here are 7 of the most popular toenail fungus over the counter treatments.
Even though over the counter treatments may not be as effective as a medical prescription, they are definitely worth considering:
Tolnaftate
Tolnaftate (INN) is a synthetic thiocarbamate used as an anti-fungal agent that may be sold without medical prescription. This is popular in OTC products for athlete's foot, ringworm, and jock itch. It comes in a cream, powder, spray, or liquid. Treatment should be for at least 2 weeks after symptoms disappear.
No products found.
Undecylenic Acid
Undecylenic acid belongs to the group of medicines called antifungals. It is used to treat some types of fungus infections. Lately, undecylenic acid has been replaced by newer and more effective medicines for the treatment of fungus infections. This anti-fungal medicine is the main ingredient in many over-the-counter products. You can find undecylenic acid in commonly sold products as a liquid or a polish you paint onto your nails.
Sale
FootCure Extra Strong Finger & Toenail Fungus Treatment - Made In USA, Best Nail Repair Set, Fungi Fingernail & Toe Nail Solution - Fix & Renew Damage Fungal Nail, Broken, Cracked & Discolored Nails
A NATURAL & POWERFUL DIY SOLUTION: No need to waste time and money on nail solutions with harmful chemicals that don't work. Our toe nail solution uses natural tea tree oil and oregano oil to obliterate nail damage and save you from embarrassment. If your battling toenail damage, use FOOT CURE at home to get rid of it without having to go to a professional!
HEALTHY, BEAUTIFUL FEET & NAILS DESIGNED BY NATURE: Stop the spread of nail damage. Using a natural blend of tea tree oil and oregano oil, FOOT CURE's nail solution is designed to penetrate to the core of nail damage and remove it for good. Our foot solution nourishes skin and nails and repairs toenail and fingernail damage to give you beautiful skin and nails.
SAVE YOURSELF THE EMBARRASSMENT: Walking around with nail damage can be humiliating. FOOT CURE's toenail solution delivers exactly what damaged nails and skin need to recover and stop the spread of damage. Kick off your shoes without worry, show off your beautiful toes, and get comfy!
Clotrimazole
Clotrimazole is an antifungal medicine. It's used to treat skin infections caused by a fungus (yeast). You'll find clotrimazole in many over the counter yeast infection creams. However, it's also used to treat toenail fungus. Research has found it worked for most of the patients who used it in a 12-week treatment period. It is available as a cream or lotion.
Tea Tree Oil
Tea tree oil is an essential oil that can be used for several purposes, including keeping skin, hair, and nails healthy. This treatment comes from a tree in Australia. It's a popular treatment for many conditions, including foot fungus. Recent research has shown tea tree oil to works as well as clotrimazole, which is found in many OTC treatments.
Tea Tree Oil Wonder Balm by Puriya, Use with Jock Itch, Athletes Foot, Body Acne, Back Acne Cleansers, Fast Acting Comfort Cream for Dry, Itchy Skin, Plant Powered, Extra Strength, Physician Approved
Tried And True Formula: Our effective, fast acting tea tree oil balm received the "Family Tested Family Approved" seal for its gentle yet powerful and fast acting relief for skin conditions developed in warm, moist, sweaty environments. Wonder Balm is a proven formula you can trust
Forms Defense Layer On Skin: Our extra strength cream is powerful to provide fast relief for itchy and irritated skin and is gentle enough to use all over the body daily to form a skin defense layer, including on sensitive areas where moisture and sweat get trapped, such as the groin and between toes
Extra Strength, Plant Rich Ingredients: Potent doses of tea tree essential oil and eucalyptus essential oil soothe itchy burning skin, nourishing macadamia oil relieves dryness and discomfort. Olive oil quickly penetrates and is absorbed by the skin barrier to work fast for your comfort. No preservatives, parabens, or petroleum, only safe and clean ingredients
Mentholated Cream
You may already use this common treatment for chest colds. However, did you know vapor rub is a popular home remedy for toenail fungus? While there is not a lot of research around using mentholated cream for the treatment of toenail fungus, but it does have its supporters.
Sale
PurOrganica Urea 40% Foot Cream - No Pumice Stone - Callus Remover - Moisturizes & Rehydrates Thick, Cracked, Rough, Dead & Dry Skin - For Feet, Elbows and Hands - Made in USA
THE TREATMENT YOUR FEET DESERVE: Uncomfortable shoes, a fast paced life, sports your feet have to endure a lot every day and its only natural that your heels end up cracked and dry! With the PurSources Urea 40% Foot Cream you can have the smooth feet of your dreams in the easiest and quickest way possible! The amazing formula of the cream will deeply moisturize and soften your feet for phenomenal results!
AMERICAS FAVORITE FOOT CREAM: The PurSources Urea 40% Foot Cream is made with pride in the USA with premium quality ingredients, so you can rest assured that youre getting only the very best! And if you dont believe us, just ask the thousands of Americans that trust and prefer our Amazon Best Selling products!
PREMIUM QUALITY FORMULA: This wonderful foot care cream is specially formulated with carefully selected ingredients that will give you unique results fast. Urea cream is commonly used to reduce itching and prevent dry and scaly skin. The pure formula of the cream is incredibly effective yet gentle on your skin so it can be perfect for all cases and skin types.
Snakeroot Extract
This fungus fighter comes from a plant, so don't be nervous. There has been some feedback from users who tried this natural remedy found it worked almost as well as ciclopirox, a medicine used to treat skin infections caused by a fungus.
Baking Soda
In some studies, the use of sodium bicarbonate was shown to limit the growth of the most common types of fungi that cause skin and nail infections.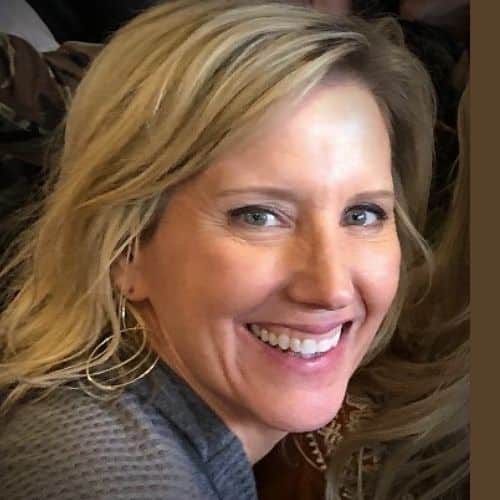 Claudia Faucher is a full-time fitness and lifestyle blogger. She is also been a certified Les Mills BodyPump instructor for the past 5 years and a fitness instructor for over 20 years. She likes to use her skills and experiences to help others on their fitness journeys.
Last update on 2022-06-22 / Affiliate links / Images from Amazon Product Advertising API