Do your toenails turn yellow, split, or peel? If so, you could be one of over an estimated 40 million Americans who live with toenail fungus. The good news is, you don't have to live like this. A number of remedies can help you walk with confidence. Here are 7 best toenail fungus over the counter treatments that you can buy at your local drugstore.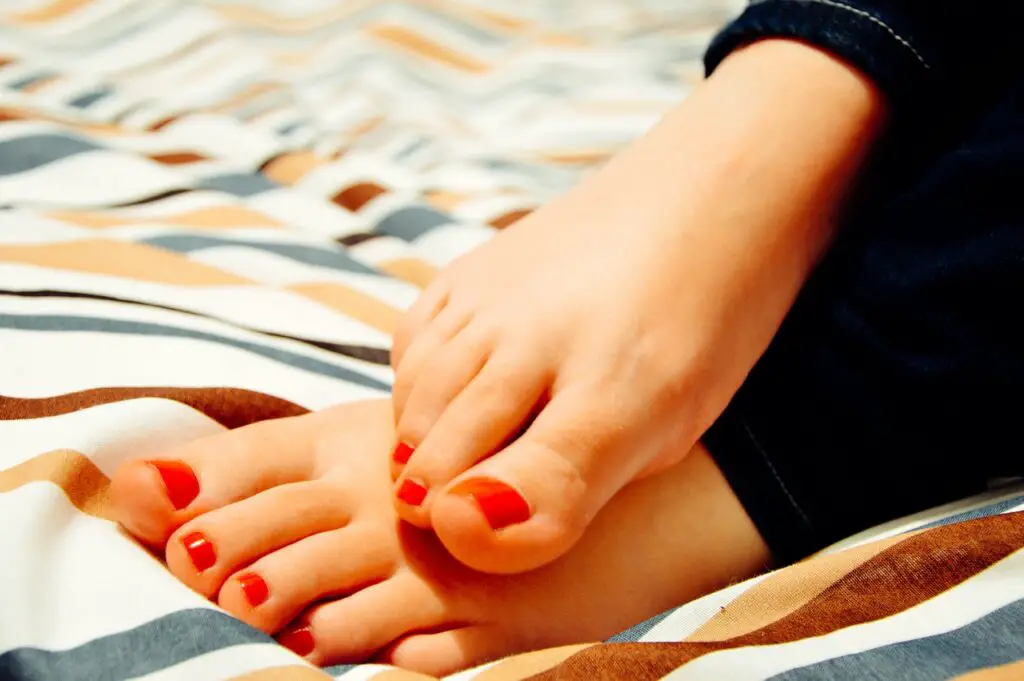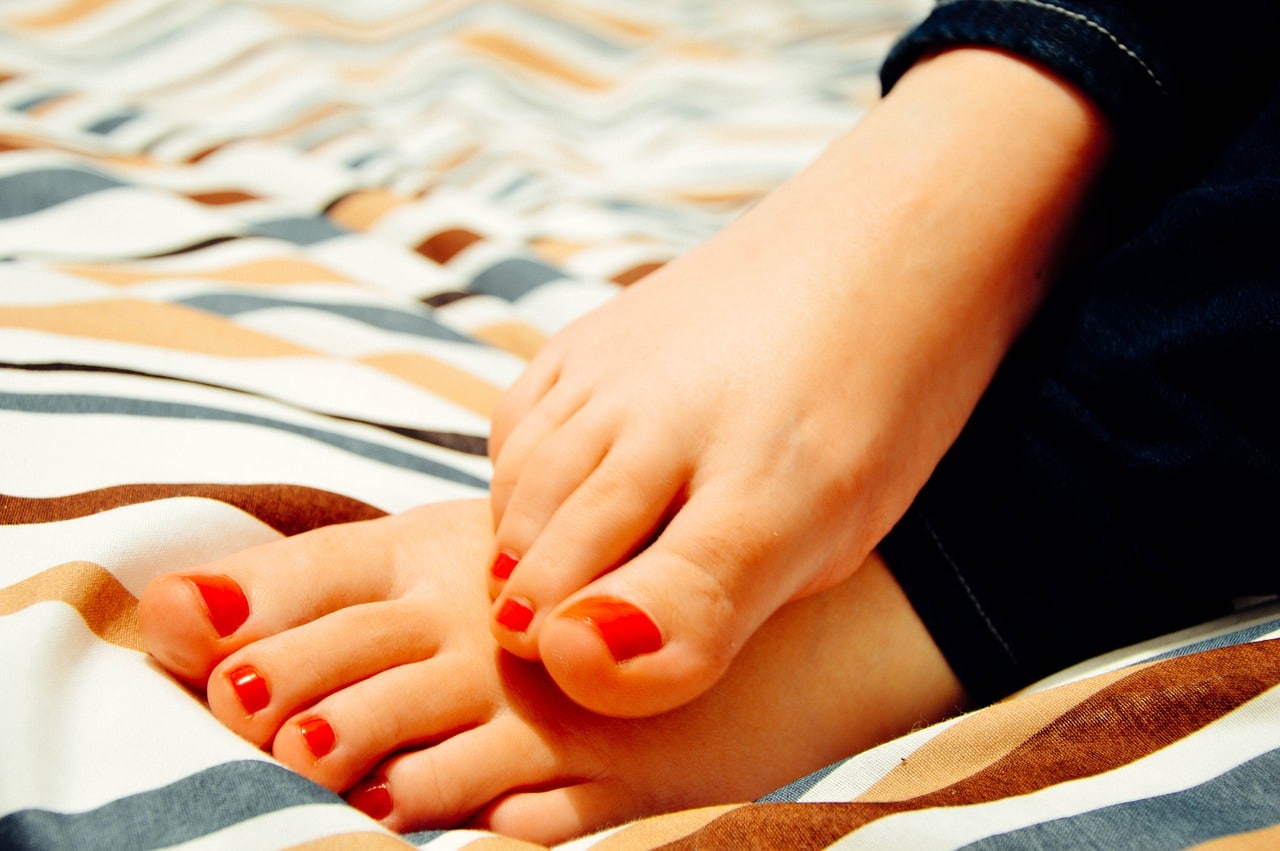 Nail fungus is the most common nail problem, and the treatment can be very difficult. Aside from the ugly appearance – nail fungus can also be quite painful. Toenail fungus spreads fast and can be very hard to get rid of.
As an Amazon Associate, I may receive a commission for a qualifying purchase.
What is toenail fungus?
Toenail fungus, also known as onychomycosis, is a common fungal infection of the toenail. The most visible symptom is a white, light brown, or yellow discoloration of your toenail. It can spread causing the nails to thicken or crack.
With summertime just around the corner, it's time to think about beautiful swimsuits and sandals. Toenail fungus isn't what anyone wants to see when you looking at your feet. Good news! There are several treatments you can available for your to try.
Prescription drugs to treat toenail fungus
Prescription oral antifungals, such as Lamisil (terbinafine) or Diflucan (fluconazole), are the most popular drugs used to treat toenail fungus. These treatments are quite effective but can cause serious side effects, like an upset stomach and dizziness, as well as severe skin problems and jaundice.
Because of these side effects, many people try home remedies instead.
Here are 7 of the most popular toenail fungus over the counter treatments.
Even though over the counter treatments may not be as effective as a medical prescription, they are definitely worth considering:
Tolnaftate
Tolnaftate (INN) is a synthetic thiocarbamate used as an anti-fungal agent that may be sold without medical prescription. This is popular in OTC products for athlete's foot, ringworm, and jock itch. It comes in a cream, powder, spray, or liquid. Treatment should be for at least 2 weeks after symptoms disappear.
Sale
Antifungal Cream - Toenail Fungus Treatment & Athletes Foot Cream - Made in USA - Powerful Skin Fungus Cream - Natural Anti Itch Cream - 2 oz
Antifungal Cream - If you're looking for the most powerful non-prescription fungus treatment, Bioveco is here for you! It is a great antifungal remedy with an advanced formula that effectively relieves the most сommon types of fungus.
Body & Foot Fungus Treatment - Improve your skin condition with Bioveco! Antifungal Cream instantly relieves peeling, cracking, and scaly skin. Fungus treatment shows the fastest and long-lasting results owing to its beneficial composition of herbs!
Organic Ingredients - The powerful antifungal agents like Aloe Vera, Grapefruit Seed Extract, Licorice Extract, Turmeric, and Apple Cider Vinegar work together in a perfect balance to relieve symptoms of fungus. Our safe and natural fungus remedy treats your skin without side-effects and harmful consequences. Bioveco intensively protects the skin while moisturizing and soothing it. Perfect for everyone!
High Quality Cream - Bioveco Antifungal Cream contains effective ingredients to provide you with safe treatment that works! All the ingredients, in combination with non-greasy texture and fast-absorbing formula, helps to improve common and stubborn skin conditions! We produce each jar of fungus treatment cream in the USA according to the American Manufacturing Law.
Satisfaction Guarantee - Bioveco is a brand you can trust! Our primary purpose is to make you happier and healthier. That is why we produce only high-quality products and offer you excellent results! We stand for 100% satisfaction of each customer. If you need any assistance, feel free to contact us. Our customer support team is 24/7 ready to help you!
Undecylenic Acid
Undecylenic acid belongs to the group of medicines called antifungals. It is used to treat some types of fungus infections. Lately, undecylenic acid has been replaced by newer and more effective medicines for the treatment of fungus infections. This anti-fungal medicine is the main ingredient in many over-the-counter products. You can find undecylenic acid in commonly sold products as a liquid or a polish you paint onto your nails.
Foot Cure Extra Strong Nail & Toe Fungus Treatment - Made In USA, Best Nail Repair Set, Fungi Fingernail & Toenail Solution, Fix & Renew Damage Fungal Nail, Broken, Cracked & Discolored Nails 1 Pack
A NATURAL & POWERFUL DIY SOLUTION: No need to waste time and money on nail solutions with harmful chemicals that don't work. Our toe nail medication uses natural tea tree oil and oregano oil to obliterate nail damage and save you from embarrassment. If your battling toenail damage, use FOOT CURE at home to get rid of it without having to go to a doctor!
HEALTHY, BEAUTIFUL FEET & NAILS DESIGNED BY NATURE: Stop the spread of nail damage and athlete's foot. Using a natural blend of tea tree oil and oregano oil, FOOT CURE's nail treatment is designed to penetrate to the core of nail damage and remove it for good. Our athlete's foot treatment nourishes skin and nails and repairs toenail and fingernail damage to give you beautiful skin and nails.
SAVE YOURSELF THE EMBARRASSMENT: Walking around with a nail infection can be humiliating. FOOT CURE's toenail treatment delivers exactly what infected nails and skin need to recover and stop the speard of damage. Kick off your shoes without worry, show off your beautiful toes, and get comfy!
BUILDS STRONGER NAILS & REPAIRS DAMAGE: Athlete's foot and nail discoloration can cause significant damage to toenails and skin if left unchecked. That's why FOOT CURE's toenail treatment is made with extra care in the USA. It uses natural tea tree oil and oregano oil to nourish and repair irritated nails while simultaneously getting rid of toenail irritations. Expect to see results in as little as 4 weeks.
100% GUARANTEED RESULTS OR YOUR MONEY BACK - NO QUESTIONS: The health and wellbeing of our customers will always come first above everything else. If for any reason you're not satisfied with the results that FOOT CURE brings you, we're happy to offer you a 30-day Money Back Satisfaction Guarantee with no questions asked. This way you can try out our nail treatment full of confidence, without having to worry about wasting your money!
Clotrimazole
Clotrimazole is an antifungal medicine. It's used to treat skin infections caused by a fungus (yeast). You'll find clotrimazole in many over the counter yeast infection creams. However, it's also used to treat toenail fungus. Research has found it worked for most of the patients who used it in a 12-week treatment period. It is available as a cream or lotion.
Sale
(5 pack) Globe Clotrimazole Antifungal Cream 1% (1 oz) Relieves the itching, burning, cracking and scaling associated with fungal infections | Compare to the Name Brand Active Ingredient
EFFECTIVE TREATMENT: Effective treatment for Athletes Foot, Jock Itch, Skin Fungus, Nail Fungus, and ringworm.
RELIEVING FORMULA: Relieves Itching, Burning, Cracking & Scaling. Antifungal Cream Skin. Compare to the active ingredients in the leading name brand.
FRESH PRODUCT: Our Customers will always receive a fresh product. Globe Clotrimazole is one of the most popular pharmacist recommended brands in the United States.
PROVEN TO CURE MOST JOCK ITCH AND RINGWORM: Treat tinea cruris, commonly known as jock itch, with the proven power of Globe clotrimazole cream.
BULK BUY: You received five tubes of Globe Clotrimazole 1% Cream for the price if one tube of the leading name brand.
Tea Tree Oil
Tea tree oil is an essential oil that can be used for several purposes, including keeping skin, hair, and nails healthy. This treatment comes from a tree in Australia. It's a popular treatment for many conditions, including foot fungus. Recent research has shown tea tree oil to works as well as clotrimazole, which is found in many OTC treatments.
Tea Tree Oil Balm, Fast Acting Comfort for Sweat-Prone Skin Areas, Doctor Approved, Extra Strength for Athletes Itchy Foot, Groin and Body, Feel Protected, Smell Fresh All Day, Wonder Balm by Puriya
Tried And True Formula: Our effective, fast acting tea tree oil balm received the "Family Tested Family Approved" seal for its gentle yet powerful and fast acting relief for skin conditions developed in warm, moist, sweaty environments. Wonder Balm is a proven formula you can trust.
Forms Defense Layer On Skin: Our extra strength cream is powerful to provide fast relief for itchy and irritated skin and is gentle enough to use all over the body daily to form a skin defense layer, including on sensitive areas where moisture and sweat get trapped, such as the groin and between toes.
Extra Strength, Plant Rich Ingredients: Potent doses of tea tree essential oil and eucalyptus essential oil soothe itchy burning skin, nourishing macadamia oil relieves dryness and discomfort. Olive oil quickly penetrates and is absorbed by the skin barrier to work fast for your comfort. No preservatives, parabens, or petroleum, only safe and clean ingredients.
Stay Put Formulation Safeguards Skin For Active Lifestyles: Puriya Wonder Balm is uniquely formulated with beeswax that shields skin from irritants (ones that cause itchy feet, groin discomfort, and ring shaped rashes) lurking in moist areas, such as gyms, showers, saunas, locker rooms, and swimming pools. Wonder Balm forms a barrier between surfaces and your skin no matter how active you are or how h