Feeling overwhelmed by all the choices for the best sunscreen for mature skin products on the market? You're not alone!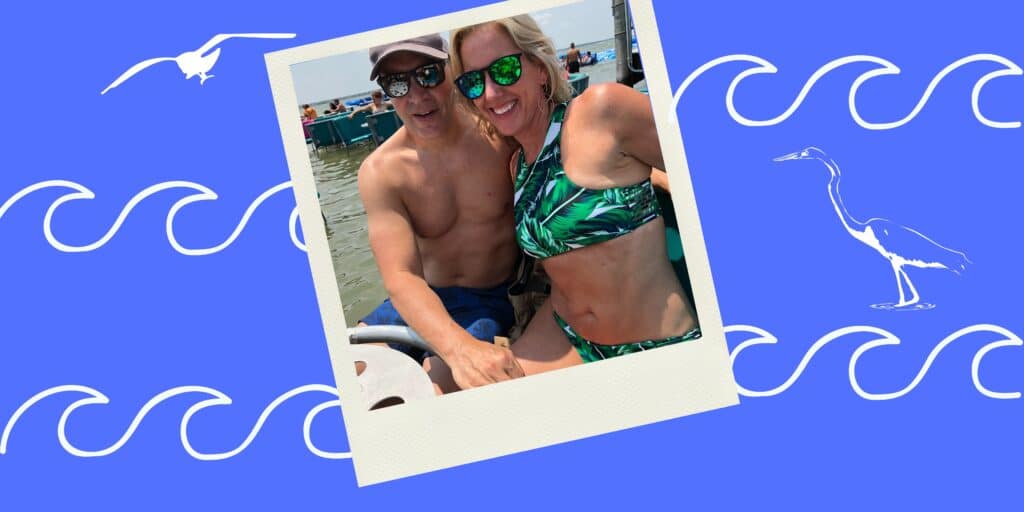 This article doesn't list every sunscreen you will find on the shelves where you buy beauty supplies for your face.
As an Amazon associate and other brands, I receive a small commission (at no cost to you) on qualifying purchases which allow me to keep creating amazing free content for you. Support FitFab50 by using the links in my articles to shop. Thank you!
Instead, it lists the products I have personally used and trust. An estimated 90 percent of skin aging is caused by the sun,[1]Taylor CR, Stern RS, Leyden JJ, Gilchrest BA. Photoaging/photodamage and photoprotection. J Am Acad Dermatol 1990; 22:1-15. which is why I, like many of you, take protecting my skin from harmful UV rays seriously.
In other words, wearing sunscreen everyday results in less sun damage and helps protect you from skin cancer and skin changes.
Let's get to it!
---
Best Sunscreen for Older Skin
$39.00 – Add to cart 
Since my mid 30's, sunscreen on my face every day is an important part of my daily skincare regime.
What I look for in sunscreen protection for daily use, is a product that a) contains a high SPF, b) a sunscreen under makeup lotion that works well with my sensitive skin and doesn't clog my pores, and finally, c) is fragrance-free.
EltaMD UV Clear Facial Sunscreen Broad-Spectrum checks all 3 boxes!
Since I frequent the beach quite often during the summer months, I take all the precautions I can the prevent skin damage throughout the year. After a brief scare with precancerous skin issues, I only use a high-quality sunscreen with an SPF 30 or greater.
This sunscreen is my go-to for daily use for a variety of reasons, not least of which is its highly effective sun protection qualities.
➥See Best Exfoliators for Dry Skin
In addition to providing excellent UVA and UVB protection, EltaMD UV Clear also contains niacinamide which has been shown to significantly reduce the appearance of skin blemishes, improve skin smoothness and skin radiance over time. [2]Niacinamide – Uses, Side Effects, and More. (2022, October 13) Retrieved from https://www.webmd.com/vitamins/ai/ingredientmono-1534/niacinamide
>>Click here for lowest price<<
---
Best Sunscreen for Face Under Makeup
$32.00 – Add to cart 
With my current job, I tend to spend quite a bit of time outdoors during the warmer times of the year.
And while I don't wear makeup every day when I'm in the field, there are occasions when I want to do so.
I use RAIN OR SHINE in the morning under my makeup. It protects my skin the entire day. If it is a really muggy and humid day, I will apply again.
The two things I like the most about RAIN OR SHINE is it feels very lightweight and fragrance-free.
I really dislike the oily feel many sunscreen lotions on the market today have. The lotion fast-absorbing goes on smoothly and is perfect for my sensitive skin.
Like most premium beauty products, RAIN OR SHINE does cost more than your best drugstore face sunscreens. However, when it comes to protecting my skin, I don't shop from the sale rack. I just don't.
RAIN OR SHINE uses a hypoallergenic formula made from Green tea extract, a powerful antibacterial agent for treating acne & unclogging pores making it a potent facial sunscreen for acne-prone skin as well.
So, whether you use sunscreen under makeup or are just looking for an all-around great sunscreen to wear that's easy on your skin, RAIN OR SHINE is definitely one to consider.
>>Click here for lowest price<<
---
Best Sunscreen for Water Activities
$8.97 – Add to cart 
For me, summertime means going to the beach or pool as much as possible. I love the sun and being in the water. Sort of like peanut butter and jelly!
I know I am not alone in my love for outdoor activities and especially water sports or activities. Because of this, it is extremely important to use a long-lasting water-resistant sunscreen that won't let you down.
Time flies when you are having fun. And the last thing you need is to realize, too late, that your water-resistant sunscreen, wasn't too water-resistant after all.
The FDA prohibits the use of the term "waterproof" as it relates to sunscreen products. So when you're searching for the best sunscreen for water activities, just know that is why you may have difficulty finding the exact match.
I say this often, and I'll say it again. If you want to save a few dollars on your purchases, buy generic potato chips or bread. But I'll never recommend purchasing interior health products. Quality is worth the price.
This brings me to the gold standard of waterproof sunscreens, Neutrogena Sport Face.
Neutrogena Sport Face Oil-Free Lotion Sunscreen has broad spectrum SPF 70+ and provides superior anti-aging protection against aging UVA and UVB rays to prevent sunburn and skin damage.
Not only is Sport Face perfect for outdoor activities, but this facial sunscreen also resists wear off from water, rubbing, sweating, or wiping, and is designed to be sweat-resistant and water-resistant.
It is made with Helioplex, a sunscreen technology for sun protection, that protects and nourishes your skin.
During a day where I am spending a great deal of time in and out of the water, I reapply Sport Face on an hourly basis, versus the recommended two-hour intervals.
I've never had any issues with this sunscreen, and always feel confident and protected when using it.
In my opinion, Sport Face is one of the best values in the sunscreen market.
>>Click here for lowest price<<
---
Best Sunscreen for Tanning
$13.59 – Shop this look 
Contrary to popular belief, can get a tan, even if you do wear sunscreen. However, no amount of deliberate tanning is considered safe.
But with that being said, I have found Australian Gold Botanical Sunscreen to be great for protection and getting a nice glow to my skin.
Applying a chemical- or physical-based sunscreen may help prevent the sun's rays from causing photoaging and skin cancer. This is why you should always use a quality sunscreen, even if you want to work on your tan.
Usually zinc sunscreens leave a white cast, but since Australian Gold is tinted, it doesn't leave the white cast and actually helps keep my skin tone.
Australian Gold is formulated with soothing ingredients like Kakadu Plum, Vitamin C, Eucalyptus & Red Algae, which help to fight free radicals and nourish the skin.
This is a water resistant sunscreen, but I prefer Sport Face if I am going to be in the water any length of time. Nothing against Australian Gold, it's just what I am most comfortable with.
I just love the subtle smell of Australian Gold, and how it feels on my skin. I apply every 90 minutes and you will really like the powdery-clean feel it gives you.
If you are in the market for a tinted sunscreen, that's water-resistant, and look and feels great on your skin, be sure to check out Australian Gold.
>>Click here for lowest price<<
---
Best Sunscreen for Lupus
$25.99 – Add to cart 
Lupus is a disease that occurs when your body's immune system attacks your own tissues and organs. If you have lupus or have a close acquaintance who suffers from this disease, you understand how challenging it can be to deal with.
The most distinctive sign of lupus — a facial rash that resembles the wings of a butterfly unfolding across both cheeks — occurs in many but not all cases of lupus. [3]What Are the Symptoms of Lupus?. (2020, July 18) Retrieved from https://www.webmd.com/lupus/understanding-lupus-symptoms
Because ultraviolet light can trigger a flare, wear protective clothing — such as a hat, long-sleeved shirt, and long pants — and use sunscreen with a sun protection factor (SPF) of at least 55 every time you go outside. [4]Lupus – Lifestyle and home remedies. (2022, March 25) Retrieved from https://www.mayoclinic.org/diseases-conditions/lupus/diagnosis-treatment/drc-20365790
Anthelios Melt-In Sunscreen Milk is a fast-absorbing sunscreen lotion that leaves your skin hydrated and smooth. This sunscreen provides broad-spectrum SPF 100 protection and is water-resistant for 80 minutes.
It is also one of the best sunblocks for face recommended by dermatologists.
This maximum SPF sunscreen is for anyone looking for the ultimate in UVA and UVB protection, specifically formulated to help protect skin that burns easily.
>>Click here for lowest price<<
---
Best Sunscreen for Sensitive Eyes
$17.99 – Shop this look 
What I like about Vanicream sunscreen is its shortlist of chemicals used. It is formulated with only one active ingredient, zinc oxide, this fragrance-free sunscreen provides broad-spectrum protection.
When it comes to shopping for beauty products for sensitive skin and eye areas, the shorter list the better bet it will be a good fit for you and your skin.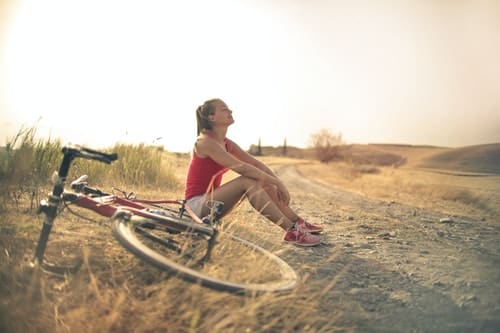 I have very sensitive eyes and will dab Vanicream around my eye areas, without any issues, such as red eyes or a burning sensation.
All Vanicream products are free of dyes, fragrance, masking fragrance, lanolin, parabens, and formaldehyde releases.
As with all the products I have recommended here, Vanicream is lightweight, applies smoothly, and is absorbed into your skin quickly.
It is a complete sunscreen and also is water-resistant for up to 80 minutes.
>>Click here for lowest price<<
---
Frequently Asked Questions
What is the best sunscreen that doesn't burn eyes?
Avobenzone is the number 1 for stinging, burning, or watering red eyes. Other chemicals and fragrances found in some sunscreens can irritate your eyes as well. Look for mineral formulas, made with zinc or titanium dioxide. They are good choices for sensitive skin and won't sting your eyes as you sweat.
Can you get a tan wearing sunscreen?
Yes. Sunscreen reduces your ability to tan, but you'll still get color. You experience safer sun exposure when you wear sunblock. Not all 100% of UVA and UVB rays from the sun are blocked by sunscreen. This is why it is possible to still experience some sun damage when wearing sunscreen lotion.
People who use sunscreen with an SPF of 15 or higher daily show 24 percent less skin aging than those who do not use sunscreen daily.

Sunscreen and prevention of skin aging: a randomized trial.[5]Hughes MCB, Williams GM, Baker P, Green AC. Sunscreen and prevention of skin aging: a randomized trial. Ann Intern Med 2013; 158(11):781-790
When should you apply sunscreen?
Every day! The general rule is to apply 30 minutes before going outside to allow the sunscreen to bind to your skin. Reapply every 90 minutes of exposure. It is also recommended to reapply immediately after swimming or excessive sweating.
How long does sunscreen last?
3 years. Sunscreens are required by the FDA to remain at their original strengths for at least three years. While you will be generally safe to use leftover sunscreen from one year to the next, be sure to check for an expiration date.
Can you get sunburn in the winter?
Yes, you can sustain sun damage just as easily as during the summer. The sun's ultraviolet rays can be just as damaging to your skin when it's cold and cloudy outside. UVB rays, the main cause of sunburn, are strongest in the summer. UVB rays can burn and damage your skin year-round, especially at high altitudes and on reflective surfaces such as snow or ice. [6]Winter Sun Safety: What to Know About Protecting Yourself During Colder Months. (2018 November 13) Retrieved from https://www.skincancer.org/press/2018-winter-sun-safety/
If you enjoyed "Best Sunscreen for Mature Skin", but sure to read my other recent post below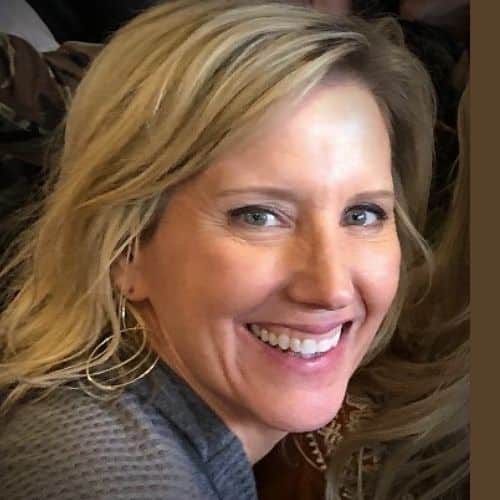 Claudia Faucher is a full-time fitness training expert and lifestyle blogger. She is also been a certified Les Mills BodyPump instructor for the past 5 years and a fitness instructor for over 20 years. Claudia is a personal trainer and creates fitness training programs for seniors and people of all ages. She likes to use her skills and experiences to help others on their fitness journeys.
Last update on 2022-08-30 / Affiliate links / Images from Amazon Product Advertising API
References

↑

1
Taylor CR, Stern RS, Leyden JJ, Gilchrest BA. Photoaging/photodamage and photoprotection. J Am Acad Dermatol 1990; 22:1-15.

↑

2
Niacinamide – Uses, Side Effects, and More. (2022, October 13) Retrieved from

https://www.webmd.com/vitamins/ai/ingredientmono-1534/niacinamide

↑

3
What Are the Symptoms of Lupus?. (2020, July 18) Retrieved from 

https://www.webmd.com/lupus/understanding-lupus-symptoms

↑

4
Lupus – Lifestyle and home remedies. (2022, March 25) Retrieved from 

https://www.mayoclinic.org/diseases-conditions/lupus/diagnosis-treatment/drc-20365790

↑

5
Hughes MCB, Williams GM, Baker P, Green AC. Sunscreen and prevention of skin aging: a randomized trial. Ann Intern Med 2013; 158(11):781-790

↑

6
Winter Sun Safety: What to Know About Protecting Yourself During Colder Months. (2018 November 13) Retrieved from

https://www.skincancer.org/press/2018-winter-sun-safety/