Best Bed and Breakfast Outer Banks | Travel Guide. Located off of North Carolina's coast, the Outer Banks are a set of barrier islands standing between the state and the Atlantic Ocean. Join me as showcase some of the best spots to vacation in this area.
As an Amazon affiliate, I may receive a commission for qualifying purchases.
Where are the Outer Banks?
The Outer Banks (frequently abbreviated OBX) are a 200-mile string of barrier islands and off the coast of North Carolina and southeastern Virginia, on the east coast of the United States. Each year, more the 2 million visitors flock to the area, with only 58,000 year-round residents, while pumping more the $2 billion in local economies.
Complete with stunning open-sea beaches, alluring state parks, and amazing luring shipwreck diving sites, the Outer Banks has something for everyone.
What is the nicest part of the Outer Banks?
When planning your journey to the Outer Banks, the best place to visit has a lot to do with what you really enjoy doing on vacation and what type of living arrangements you desire.
I have taken numerous vacations to the Outer Banks and have stayed in many different locations and have enjoyed them all. There are a few different ways to enter the Outer Banks, but the most popular entry point is in Kitty Hawk. Yes, the same one the Wright brothers made famous with that little plane ride they took over 100 years ago at Kill Devil Hills about four miles to the south.
Looking for large beachfront rentals?
Once you're in Kitty Hawk, if you head north you enter the towns of Duck and Corolla. Each town here is a very popular family destination, with lots of large rentals to choose from. While there are hotel rooms available, this area is known for large beachfront rentals and resort-style accommodations.
25 Best Swimsuits for Women over 50
Over the past few years, Duck and Corolla have been a couple of my personal favorite areas to vacation. As the family has expanded and the children have grown up, we really enjoy having a large getaway in these 6 – 8 bedroom weeklong rentals.
Pro tip – If you're in the Duck, NC area, you have to stop into Duck Donuts. That's all I'm going to say… and you can thank me later!
With grocery stores nearby, the couples enjoy taking turns preparing their favorite dishes for the house. So much fun.
Some rentals come with their own pools, while others provide access to the community pool. Let's not forget the beach is always a wonderful option.
Looking for Outer Banks hotel rooms?
Maybe you are traveling alone or with a companion, and a large beachfront rental does not suit your needs. The Outer Banks has you covered.
The best area to a book hotel room on the Outer Banks is in Corolla, Kill Devil Hills and Nags Head. While you will find the largest number of hotel rooms in those areas, there are still lots of other towns to choose from such as Buxton, Hatteras, and Avon.
Be sure to book well in advance, since these locations full up quickly!
Bed and Breakfast – For Those Seeking a Different Style of Vacation Getaway
For this coming summer, our family has decided to forgo our traditional large oceanfront rental and instead go with a bed and breakfast.
What is the point of a bed and breakfast?
After doing some research, we decided that staying at a bed and breakfast is a great choice of lodging, allowing us to relax even more! Previously, while staying with our family on the Outer Banks we found ourselves cooking and cleaning up all day long. While it is always enjoyable to have everyone together, there was still a lot of daily chores that needed to be addressed.
You can find B&Bs almost anywhere you go, and they provide much better value than home rentals and hotels. Let's start with breakfast, which is included in every bed and breakfast on the Outer Banks I've looked at so far.
Last year, we had 17 adults and children in our vacation home. You know what it is like to feed a crew that size, with the cooking and clean-up involved. Most mornings, it was almost noon before we cleaned up from breakfast. Then guess what? You got it. Time for lunch. Rinse and repeat, Sat to Sat!
Aside from having breakfast included, these places are amazing! Owners are focused on delivering you an incredible experience. Yes, from personalized attention to delicious food, there are many reasons to choose a bed and breakfast over a hotel.
Depending on the size of your group, some places will allow you to rent the whole house! Now that's something worth considering.
As the name implies, only breakfast is included in a bed & breakfast stay. However, this frees you up to go out and explore your surroundings even more. When we rent a house, we tend to stay around the house most of the time. A B&B vacation creates a different type of vacation.
What about amenities? From wi-fi to large screen TV's. Expect great accommodations here. Again, the owners understand the modern tourists and the anticipated amenities. These businesses thrive by word of mouth, so expect to be wowed.
I have entrusted with planning the family getaway this year, so the following are some of my favorite bed and breakfast locations I plan to choose from.
My Best Bed and Breakfast Outer Banks
After looking at dozens of B&B's, here are my top 3 B&B's.
The Castle B&B on Silver Lake Harbor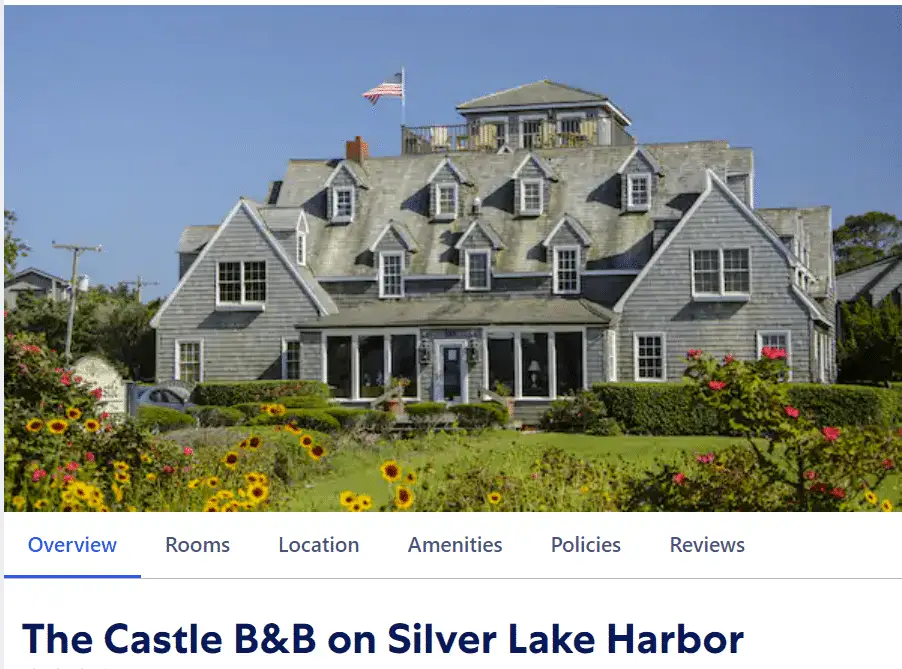 Located in Ocracoke, The Castle B&B on Silver Lake Harbor is on the waterfront, but then again this is a small island where there is no shortage of oceanview. I visited Ocracoke a few years ago and it's a hidden gem. One note, you will need to catch a ferry to visit this island, so plan accordingly.
Lakefront Bed & breakfast includes free breakfast and steam room. Nice!
This is a smoke-free bed & breakfast, which features a rooftop terrace. There is free wi-fi in public areas. Other amenities include a seasonal outdoor pool, concierge services, and a computer station.
Bathrooms include bathtubs or showers. Housekeeping is provided daily.
Here's what people are saying..."Unique B&B in a unique destination. Very charming. Good breakfast."
Learn more about The Castle B&B
---
The Burrus House Inn Waterfront Suites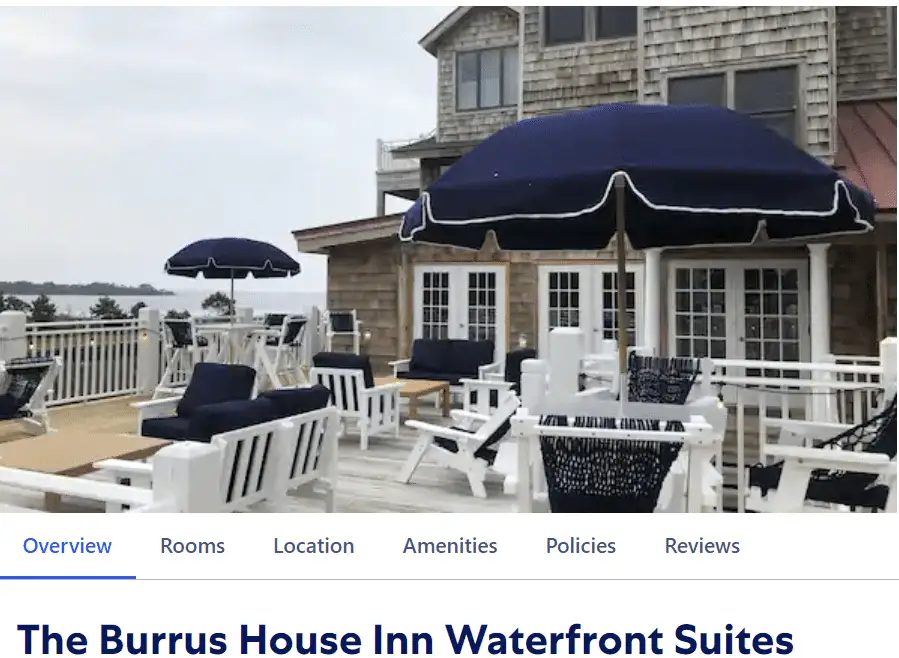 Located in Manteo, The Burrus House Inn Waterfront Suites is near the beach. If you are never been to Manteo before, it is located southwest of Nags Head and situated between the Croatan and Roanoke Sound. This small village is home to 2,000 year-round residents. The town of Manteo is known for fun festivals, museums, and great places to eat. This quaint town serves as a nice alternative to the "normal" surf and sun vacation destination.
The Burrus House Inn is a 9 bedroom destination, smoke-free living, free breakfast, and a seasonal pool. Accommodations also include fireplaces, kitchenettes, free wi-fi, refrigerators, microwaves, and coffee/tea makers. Each room is individually decorated. Bathrooms include separate bathtubs and showers.
Here's what people are saying…"We have simply loved staying at the Burrus! The property is very well maintained and every room is quite stylish, well decorated, and very comfortable! We stayed in room #3 and.."
Learn more about The Burris House!
---
White Doe Inn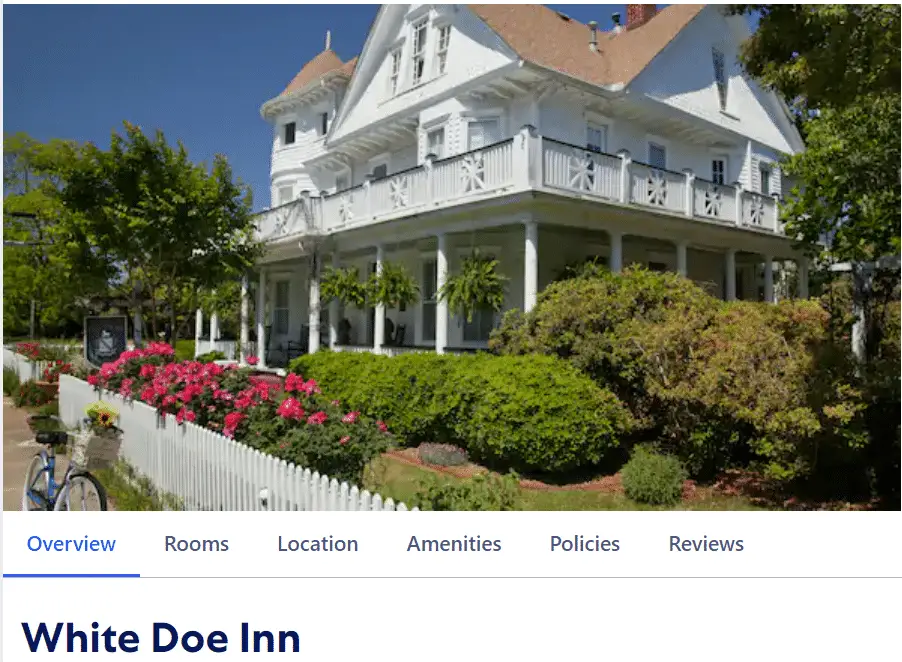 TOP CHOICE
Residing in Manteo, White Doe Inn is located within the historic district and near the beach. This luxury bed & breakfast with free breakfast and a restaurant. Along with a restaurant, this bed & breakfast has a bar/lounge and a snack bar/deli.
Additionally, coffee/tea is available in a common area, spa services, and free use of bicycles are onsite.
Guests can enjoy fireplaces, and other standard amenities include room service, Egyptian cotton sheets, and flat-screen TVs. White Doe Inn offers 8 air-conditioned rooms with fireplaces. Each accommodation is individually furnished and decorated.
Bathrooms include separate bathtubs and showers, bathrobes, designer toiletries, and complimentary toiletries.
Housekeeping is provided daily. Guests can pamper themselves by indulging in the onsite spa services. Services include deep-tissue massages, hot stone massages, and Swedish massages.
While White Doe Inn is a bit pricier than the other two I have selected, the amenities and rave reviews are the tipping points for me. Yes, most places I looked at have nice photos, the quantity of top reviews says a lot. I can't wait to head there this summer!
Here is what people are saying…"We already have booked a second stay ." …"WOW. This place is truly a gem. As soon as I walked into the door"…"This was an incredible place to stay. Pamela and Chip were fantastic and made us feel like we were at home."
Learn more about White Doe Inn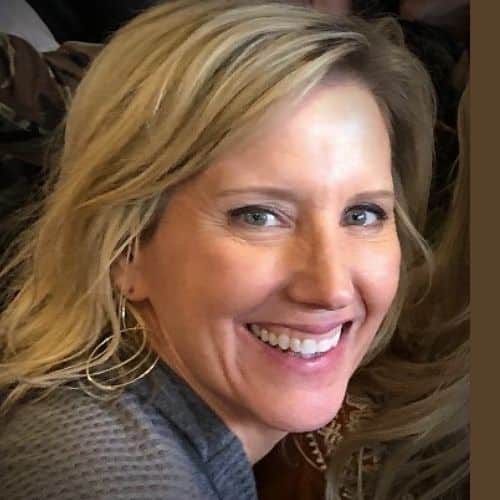 Claudia Faucher is a full-time fitness and lifestyle blogger. She is also been a certified Les Mills BodyPump instructor for the past 5 years and a fitness instructor for over 20 years. She likes to use her skills and experiences to help others on their fitness journeys.