Make your dating experience easier by writing a killer online dating profile!
If you've just started online dating and you're not happy with the results so far, don't worry! I've put together some best online dating tips (and online dating profile tips) on how to crush the online dating game and learn how to stand out from the crowd. And it all starts with creating a killer online dating profile!
Regardless of past stereotypes related to meeting people online, the facts show that online dating definitely works.
As an Amazon Associate, I earn from qualifying purchases.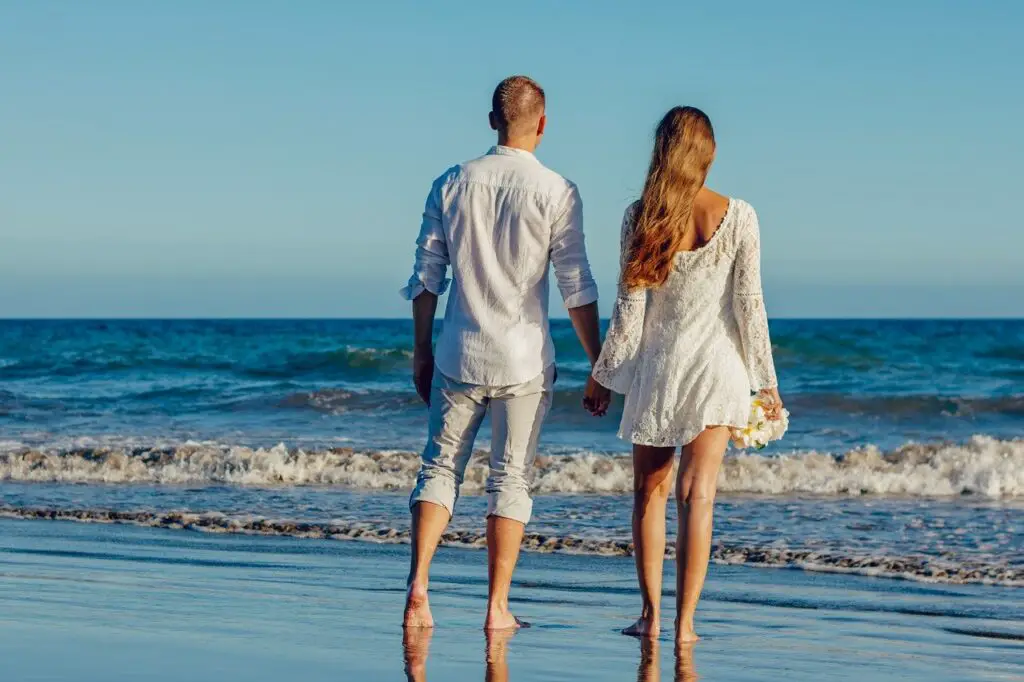 Facts about online dating
How many people use online dating apps?
Research has shown that 40% of Americans use online dating. It's proof of how successful it can be to meet the love of your life.
How many women use online dating sites?
Men make up 52.4 % of online dating users compared to 47.6% who are women. However, these online dating statistics can change based on the site being used and its location.
What do people lie the most about on their online dating profiles?
20% of women surveyed by the global research agency Opinionmatters admitted to using an older photo from when they were younger and thinner. More than 40% of men said they lied about their jobs in an effort to sound more successful.
Most online dating users have a positive experience
Roughly six-in-ten online daters (57%) say they have had an overall positive experience using online dating apps platforms, including 14% who describe their experience as very positive and 43% who say it was somewhat positive!
People really enjoy online dating
After reviewing plenty of research with online dating experiences, the data shows the majority of people using dating apps really enjoy them. User satisfaction is the same for both men and women.♥
Time to start building the perfect online dating profile!
1. Don't Forget Online Dating Is Just Dating Online!
While you may be focused on how to create the perfect online dating profile, the true measure of success comes from how many real face-to-face dates you go on.
Messaging people online isn't really dating, when to you get down to it. There's only so much you can gather from someone from a computer. The rubber hits the road when you meet in person.
The perfect match is only known when you meet with that special someone face to face. It only takes a few minutes to decide if there is "chemistry" or not. The language of love is undeniable!
Dating is not just about finding someone you are compatible with, but that you have natural chemistry with someone.
Reminder – The idea behind creating a killer online dating profile is to move to meet in person as soon as possible!
2. Know The Outcome You Want
Many people start out with online dating without having defined what it is they want in a relationship getting started.
Some think they want a relationship… some want to date casually… while others think they just want aimless hookups or meetups.
What do you want?
Without a clear goal of your expected outcome, expect to waste a lot of time dating online or the dating game, in general.
Take time to get a clear idea of what exactly you want.
Once you have a clear understanding of your relationship goals, you will be able to craft the perfect online dating profile to allow prospective love interests to better understand the real you!
3. Your Photos Are THE most important part of your dating profile!
If a photo is worth a thousand words, a dating profile photo is worth much more!
While a well-written dating bio can be compelling, it's the photos that grab the initial interest. It's the photos that stop the bus!
Posting bad profile photos guarantees NO ONE will read that awesome profile you spent days writing.
However…
When you combine amazing pictures with a well-written profile, you weed out the majority of the "Hey Baby" trolls and improve your chances of finding a real match.
Good quality photos will allow you to attract MORE men or women and more of the right ones!
Good quality photos greatly improve the chances of getting plenty of comments as well.
4. Keep your About You interesting but brief
The best length for the About Me section should be between 150-250 words.
Fewer than 150 words and you run the risk of sounding more like an old Craigslist personal ad than a dating profile. Too few words allow your potential match to fill in too many blanks about you, and that's not a good thing.
More than 250 words and your About Me section starts to look closer to a CV than a dating profile.
The reason a 150-250 word range works best for creating a perfect online dating profile, is because it allows you to pique interest without telling the whole story. Think short, positive, and to the point.
5. Keep it positive
Did I mention about the importance of keeping your dating profile positive?
The positive voice is a powerful one. Think about sales and selling for a moment. You could actually view the online dating interaction as a cold call.
How effective is negativity when it comes to successful sales? Any salespeople out there that could help me out?
[Spoiler alert] The answer is no one wants to be around negativity.. period.
Make the best of the precious time you have to talk or chat to make it an enjoyable experience
Positivity = SEXY. Negativity = not sexy.
The better you become at attracting the right people, the better the odds are the wrong ones won't be attracted to you.
6. The not so secret technique to win people over
There's a great technique used to win friends and influence relationships.
It's very easy to learn, but it does require some practice to get it just right.
Once you have mastered this technique, you will be surprised at how much better conversations and relationships with others become.
The secret…
Are you ready?
Focus your attention, not on promoting yourself, but on learning more about the other person.
Do you ever find yourself in a conversational situation where you are more focused on what you want to say versus actually listening to the person you are talking with?
Don't worry. This issue is quite common.
Actually, the ability to be an effective listener and to truly want to learn more about the people you meet serves you well beyond just dating.
People are drawn to others that are engaged with what they have to say. It's really that simple.
Clearing your mind to give your undivided attention to the speaker is an amazing and powerful quality to possess.
This technique cannot be overstated!
But when will I get to talk about myself?
Well, the answer is when someone asks you a question. Think about it like this. If the person you are potentially dating has no interest in learning more about you, why would you even be interested in them?
7. Don't show all your cards too soon
Give a peek at who you are, the lifestyle you live and the relationship you are seeking.
The perfect online dating profile should start out by describing your most positive character traits. Do you have a sense of humor? Creative? Intellectually curious? Select a few you feel best to describe your personality.
Ask a best friend to help in describing yourself. How would they describe you to someone else?
It's fine to share things you enjoy doing, such as fine dining, ballroom dancing, attending dog shows, traveling to amazing beaches, but not too much information in the beginning. If things start to progress well, there will be plenty of time to divulge more of the finer print of your life.
Finally, be honest about what you are looking for or not looking for. Don't be afraid to state your desire to be in a committed relationship if that is what you want. After all – you want to attract the right person, not waste time with the wrong fit. If you want a relationship, just say so!
8. Little White Lies – Don't do it!
Six out of every ten survey respondents stated they wouldn't consider a relationship with someone who "stretched the truth" about their characteristics on their dating profile. Tempting as it may be to sneak in a couple of white lies into your online profile, don't do it!
Not only will profile exaggerations be doing yourself a great disservice, but it also prevents your potential match from falling for the real you.
9. Keep it real
The secret to the perfect online dating profile is being able to show people the real you. Present yourself in an authentic way– imperfections and all.
Do you love running? Perhaps you're into old movies. I personally enjoy a good cup of bulletproof coffee every morning. Be willing to share some of the finer points that make you, you!
The whole point of online dating is to find compatibility and a healthy relationship. Be proud of the things that make you unique and share them in your dating profile.
The beauty of honesty and dating profiles is that whoever is drawn to you, is attracted for who you really are, not who you pretend to be.
The tips on how to create the perfect online profile will help improve your chances of finding a compatible partner. By creating a profile that truly embodies the best of you, you're greatly increasing the chances of finding that special someone in your life.