Make your dating experience easier by writing a killer online dating profile!
If you've just started online dating and you're not happy with the results so far, don't worry! I've put together some best online dating tips (and online dating profile tips) on how to crush the online dating game and learn how to stand out from the crowd. And it all starts with creating a killer online dating profile!
Regardless of past stereotypes related to meeting people online, the facts show that online dating definitely works.
As an Amazon Associate, I earn from qualifying purchases.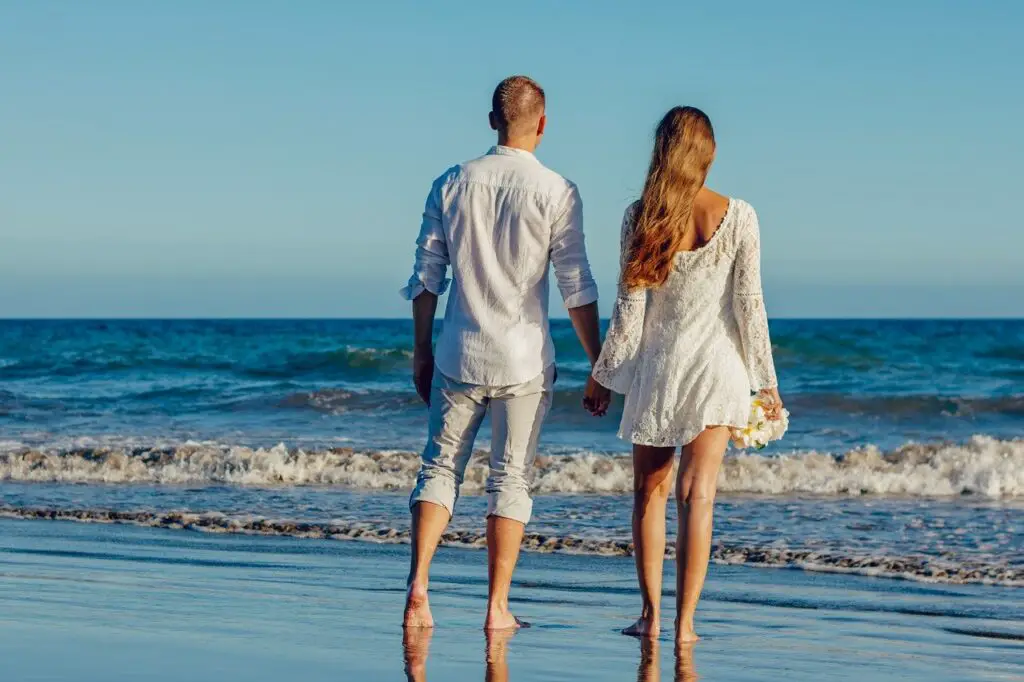 Facts about online dating
How many people use online dating apps?
Research has shown that 40% of Americans use online dating. It's proof of how successful it can be to meet the love of your life.
How many women use online dating sites?
Men make up 52.4 % of online dating users compared to 47.6% who are women. However, these online dating statistics can change based on the site being used and location.
What do people lie the most about on their online dating profiles?
20% of women surveyed by the global research agency Opinionmatters admitted to using an older photo from when they were younger and thinner. More than 40% of men said they lied about their jobs in an effort to sound more successful.
Most online dating users have a positive experience
Roughly six-in-ten online daters (57%) say they have had an overall positive experience using online dating apps platforms, including 14% who describe their experience as very positive and 43% who say it was somewhat positive!
People really enjoy online dating
After reviewing plenty of research with online dating experiences, the data shows the majority of people using dating apps really enjoy them. User satisfaction is the same for both men and women.♥
Time to start building the perfect online dating profile!
1. Don't Forget Online Dating Is Just Dating Online!
While you may be focused on how to create the perfect online dating profile, the true measure of success comes from how many real face-to-face dates you go on.
Messaging people online isn't really dating, when to you get down to it. There's only so much you can gather from someone from a computer. The rubber hits the road when you meet in person.
The perfect match is only known when you meet with that special someone face to face. It only takes a few minutes to decide if there is "chemistry" or not. The language of love is undeniable!
Dating is not just about finding someone you are compatible with, but that you have natural chemistry with someone.
Reminder – The idea behind creating a killer online dating profile is to move to meet in person as soon as possible!
2. Know The Outcome You Want
Many people start out with online dating without having defined what it is they want in a relationship getting started.
Some think they want a relationship… some want to date casually… while other think they just want aimless hook ups or meetups.
What do you want?
Without a clear goal of your expected outcome, expect to waste a lot of time dating online or the dating game, in general.
Take time to get clear idea on what exactly you want.
Once you have a clear understanding of your relationship goals, you will be able to craft the perfect online dating profile to allow perspective love interests to better understand the real you!
3. Your Photos Are THE most important part of your dating profile!
If a photo is worth a thousand words, a dating profile photo is worth much more!
While a well-written dating bio can be compelling, it's the photos that grab the initial interest. It's the photos that stop the bus!
Posting bad profile photos guarantees NO ONE will read that awesome profile you spent days writing.
However…
When you combine amazing pictures with a well-written profile, you weed out the majority of the "Hey Baby" trolls and improve your chances of finding a real match.
Good quality photos will allow you to attract MORE men or women and more of the right ones!
Good quality photos greatly improve the chances of getting plenty of comments as well.
4. Keep your About You interesting but brief
The best length for the About Me section should be between 150-250 words.
Fewer than 150 words and you run the risk of sounding more like an old Craigslist personal ad than a dating profile. Too few words allow your potential match to fill in too many blanks about you, and that's not a good thing.
More than 250 words and your About Me section starts to look closer to a CV than a dating profile.
The reason a 150-250 word range works best for creating a perfect online dating profile, is because it allows you to pique interest without telling the whole story. Think short, positive, and to the point.
5. Keep it positive