This article will discuss the safety concerns, risks, and cost of nose reshaping without surgery.
This post contains affiliate links. I may receive a commission from a qualifying purchase. For more information, see our affiliate disclosure.
Each year nose reshaping is the most popular cosmetic surgical procedure performed. In 2020, it beat out eyelid surgery, facelifts, breast augmentation, and liposuction as the top cosmetic procedure requested.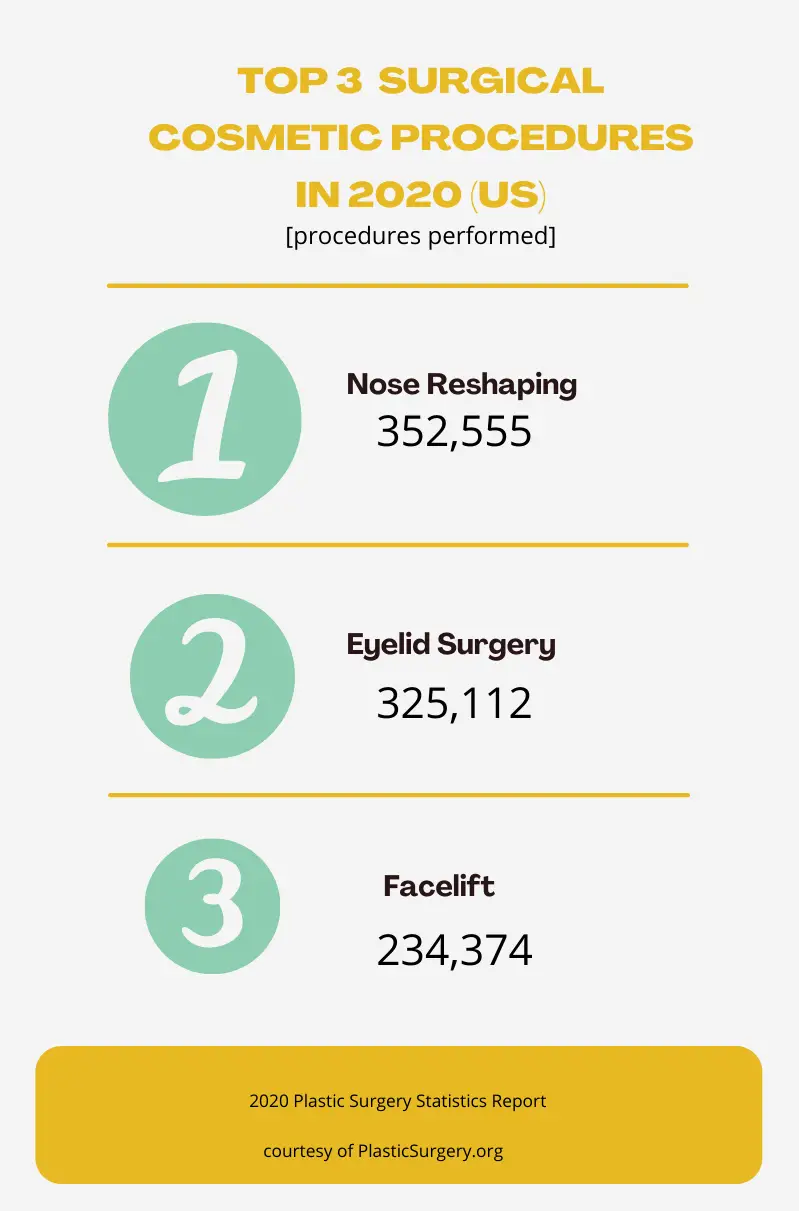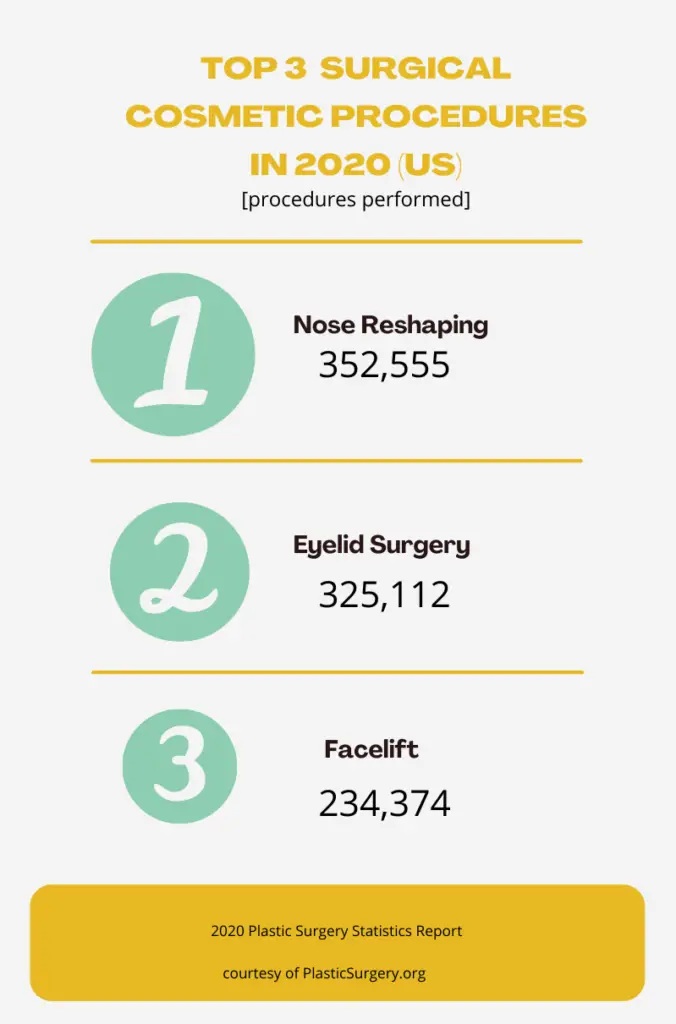 In fact, twice as many people each year choose to get nose reshaping than breast augmentation!
More people want the results of nose reshaping but are afraid to go "under the knife."
See this video on the nose reshaping without surgery procedure.
Because of this, non surgical cosmetic procedures are seeing a rise in popularity.
What is nonsurgical rhinoplasty?
Non-surgical rhinoplasty is a dermal filler procedure to reshape your nose without surgery. It is also referred to as a "liquid nose job" or "15-minute nose job", or "nose reshaping without surgery."
This procedure changes the shape of your nose from 4 months, to up close to 3 years.
Who should get nose reshaping without surgery?
This procedure is ideal for people who are looking to smooth out bumps on their noses. Nonsurgical rhinoplasty produces more subtle results than traditional rhinoplasty.
It is perfect for those who are not ready for a permanent solution. You don't have to worry about the risks and recovery time involved with normal nose surgery.
Going under the needle is less complicated than going under the knife for a nose job!
Understand that changing the nose's shape is never risk-free.
But, it can produce results you have long awaited!
Should I get surgical or non-surgical rhinoplasty?
Surgical rhinoplasty involves restructuring the nose with the use of surgery. With this procedure, the nose is reshaped, and issues are resolved.
To perform surgical rhinoplasty, the inner nose structure is accessed from within the nostrils. The procedure can also involve placing an incision on the small strip of tissue that separates the nostrils.
In non-surgical rhinoplasty, dermal fillers are injected. They are used to smooth a minor bump on the nose bridge, correct asymmetry, or create slight changes for a more desirable nose appearance.
What are the advantages of a surgical rhinoplasty?
A surgical rhinoplasty may be the appropriate way to achieve the look you want. The results achieved last a lifetime.
Your nose will be reshaped creating a more attractive balance between your nose and your other facial features. Successful surgical rhinoplasty can resolve the following nose issues:
Large bump on nose bridge
Drooping nose tip
Pointed, pinched nose appearance
Enlarged nostrils
Wide nostrils
Assymetry
Flat nose bridge
How much does it cost?
Nose reshaping without surgery or nonsurgical rhinoplasty is a cosmetic procedure. As is the case with most cosmetic procedures, insurance won't cover it.
This procedure has no medical benefits. But it can improve the way you feel about your appearance.
The cost you can expect to pay will differ from person to person. It all depends on the type of filler you decide on, the number of injections you need, and where you live.
After your initial consultation, you will have a good idea of what you can expect to pay.
The average price for nose reshaping without surgery is $1100.
How does it work?
The nose reshaping process is really quite simple.
Nose reshaping without surgery uses dermal filler ingredients to change the shape of your nose.
To get the look you desire, hyaluronic acid is injected into the targeted areas.
These injections create smoother lines. It can also create increase volume where needed
The filler ingredient (hyaluronic acid) settles into where it's injected.
The new look for your nose will hold its shape from as little as 4 months, to up close to 3 years.
Your skin type will determine how long your nose reshaping will stay intact.
Targeted areas
A non-surgical rhinoplasty targets the bridge, tip, and sides of your nose.
Fillers are used around your nose to change its shape.
This nose reshaping without surgery procedure works great if you want to:
smooth out small bumps in your nose
make the tip of your nose more filled out
lift the tip of your nose
If you have a mild bump of the bridge of your nose, this process will hide it and smooth the shape of your nose profile.
But there are limitations.
Liquid rhinoplasty will not be able to make your nose look smaller. It also cannot smooth out more prominent bumps.
What to expect during the procedure
The procedure for liquid rhinoplasty is simple, especially compared to surgical rhinoplasty.
During the initial consultation, you will discuss desired outcomes.
When you go in for the procedure, your doctor will have you lie on your back with your face tilted up.
A topical anesthetic is applied to your nose and the surrounding area so you won't feel pain from the needle.
After a few minutes, the anesthetic will take effect and the doctor will begin to inject the filler.
The dermal filler is injected into the nose with a very fine needle.This ensures the least amount of pain and discomfort.
The injection areas depend on your original nose shape. It can be 3-points, 4 points, 5 points, or 6 points depending on your particular requests.
You will feel a slight pressure around the nose are during the process. Expect the entire process to take between 15 minutes to 1 hour. The results are instant!
There is no need to take days off for the surgical nose job. There are no days or weeks with bandages on your face while you wait for your nose to heal after your nose job.
This nonsurgical nose job procedure is available in all major cities. Again, the results are instant and it will give you a great and beautiful nose immediately.
Side Effects
You can expect to see minor redness, bruising, or swelling on the nose after the injections. But this is much less than any surgical cosmetic procedure. This is the best way to get a nose job done.
Risks
For most people, the only side effect of liquid rhinoplasty is a little redness and sensitivity in the area of the injections in the day or two after the procedure.
Other possible side effects include:
bruising at the site of the injection
filler migration. This is where the injectable ingredient migrates to other areas of your nose or the area under your eyes. It can create a "wavy" or "overfilled" look
The nose is a sensitive area. It is filled with blood vessels and close to your eyes. This is why liquid rhinoplasty is more complicated than other types of injectable filler procedures.
An experienced plastic surgeon will err on the side of caution, by using less filler in your nose rather than overfilling the area.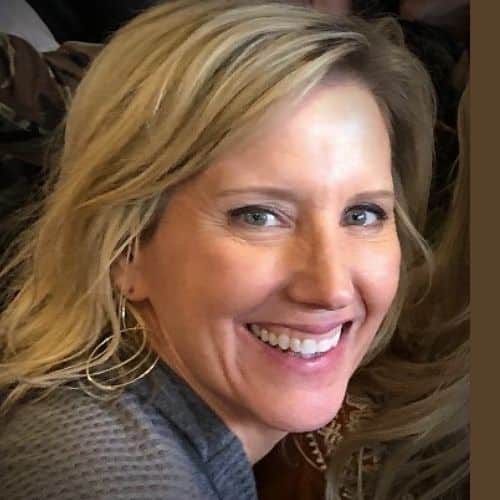 Claudia Faucher is a full-time fitness and lifestyle blogger. She is also been a certified Les Mills BodyPump instructor for the past 5 years and a fitness instructor for over 20 years. She likes to use her skills and experiences to help others on their fitness journeys.